Macro-Friendly Hotel Room Hacks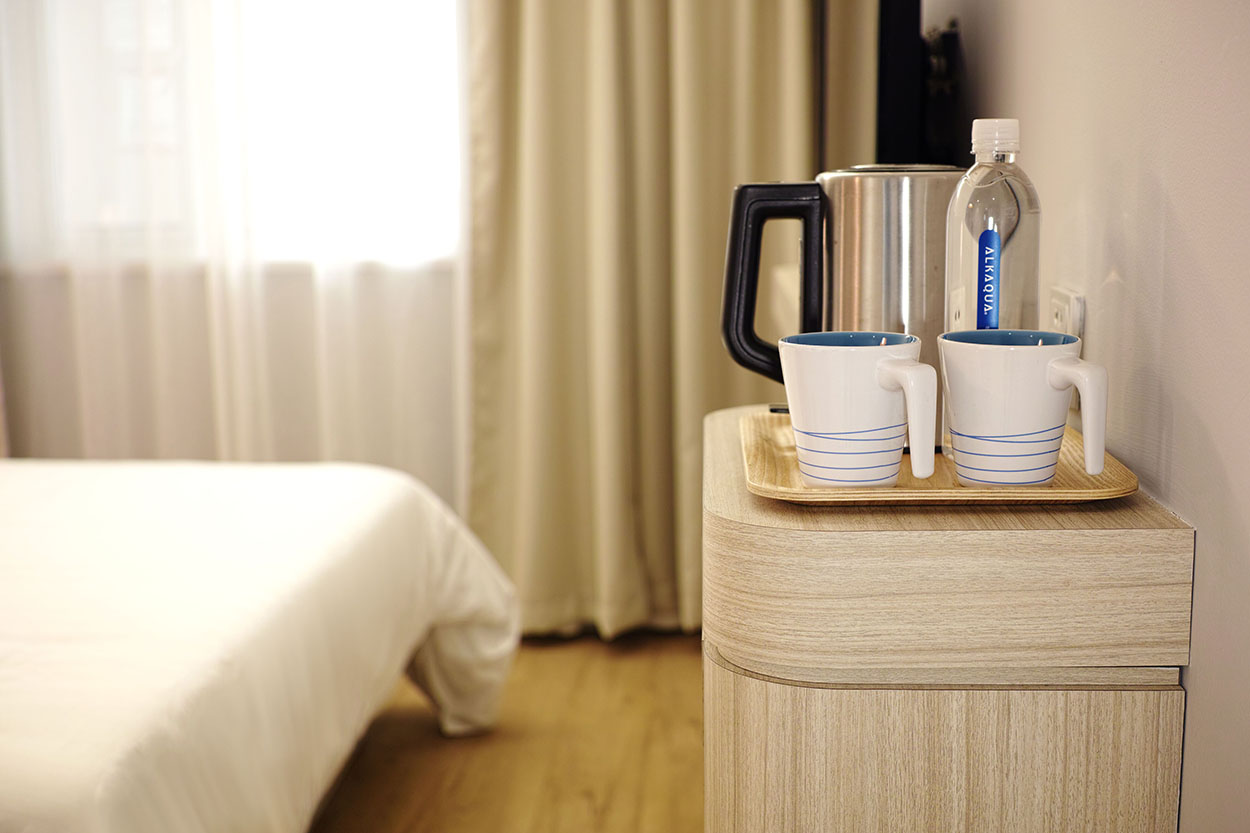 For people like us, traveling can be tough. Often the thought of interrupting our training and nutrition routine can leave us feeling a little anxious and uneasy about upcoming trips.
However, there's some good news. With a little planning and out-of-the-box thinking, you'll be amazed by the tasty meals you can whip up in the hotel microwave or with a coffee maker! You can enjoy meals that are not only cost-effective, but that also allows us to stay on track with our macro goals.
Pack a Portable Kitchen
If you can afford the space, having the essentials like a cutting board, cutlery, a mixing bowl and microwavable containers will make hotel food prep as easy and simple as it is in your own kitchen! Even spending just $10 at a dollar store will save you time, money and worry over the long term. Many hotels may have what you need, but keep in mind that these purchases usually cost less than the tip on a meal out to eat. Egg poachers, omelet makers, pasta cookers and veggie steamers can all be purchased for the microwave, and all doubled up as storage containers in your luggage!
BYOM
While it may not always be practical based on your travel plans, prepare as many of your own meals as possible to bring with you on the trip. Freeze the meals at home, and pack them in your cooler. Overnight oats, boiled eggs and breakfast bakes are also great to bring!
Order In
Meal prep services are another great option to see you through your stay. Many places offer pre-made meal services. Either bringing these meals from home or having them delivered can work in your favor.
Grocery Delivery
Companies such as Amazon Pantry or Instacart are just two of many who will deliver your groceries right to your hotel, saving you time, unnecessary stress and money!
Breakfast Buffet
After successfully navigating the breakfast buffet, be sure to load up on condiments, cold meats, fruits and breads that can be eaten later. It's an easy way to save you time, money and worry.
Make Your Own
Many hotel rooms come equipped with a microwave, and almost all come with a fridge, hairdryer, iron and coffee maker. Using these simple appliances, you can whip up countless combinations of macro-friendly magic.
Microwave Meals
Poached eggs, scrambled eggs, omelets, oatmeal, bacon and pre-made meals are just a few of the many meals that can be cooked in the microwave!
Straight From the Fridge
Load that hotel mini fridge with salads, cold cuts, cheese, wraps, fruit, yogurts, rotisserie chicken and even overnight oats from home. Here is a list of some of our favorite Trader Joe's and on-the-go options.
From the Ironing Board
Turn that ironing board into a Panini press. Wrap your sandwiches in foil, press with the iron and boom, a tasty warm sandwich to-go!
Coffee Pot Luck
In the absence of a microwave, use the hot water from your coffee pot to cook oatmeal, soup and instant rice.
While nothing will beat what you can make in the comfort of your own kitchen, doing your best to maintain as much regularity in your routine as possible will make a world of difference to your progress and traveling experience!
Get a Taste of WAG
The WAG Crash Course is OPEN for enrollment. This 30-day course will teach you the ins and outs of macro tracking, building healthy lifestyle habits and sustaining results without restricting the foods you love. Get personalized macros from a WAG Coach, join the members-only Facebook Group and participate in quarterly Live Q&A sessions with WAG Coaches.
Posted by Melanie Barnshaw
Latest Posts: