WAG
Meal Plans
Learn exactly what to eat to reach your body composition and performance goals from Registered Dietitians at Working Against Gravity.
Personalized Macros
Take our quiz to receive a daily calorie target based on your body and goals
1,000+ Meal Combinations
Mix and match over 100 breakfast, lunch, dinner, and snack ideas
Easy to Implement
Get clear instructions and tips to make the most out of your meal plan
No Tracking Needed
Choose four meals per day and confidently hit your targets; no macro math needed
Quick and Cost Efficient
View meals organized by protein source to make grocery shopping a breeze
Continued Learning and Support
Get the WAG Nutrition Guide Ebook with your meal plan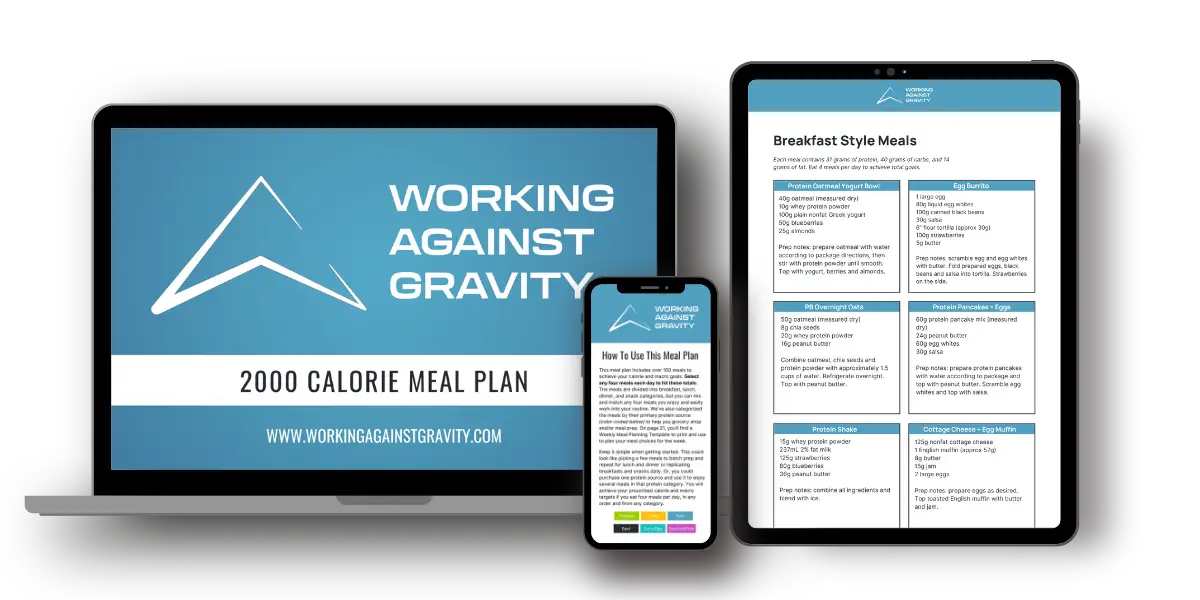 Picking your Meal Plan
Already have a daily calorie goal? Choose your meal plan:
If your goal is weight loss and you have a calorie target from a nutrition coach or medical professional, feel free to select your plan. If not, we recommend taking our quiz to ensure you eat an appropriate amount based on your body and goals. If you know your maintenance or bulking macros, pick the calorie range that best suits you.
Choose Your Meal Plan
Pick from our 1600, 1800, 2000, 2200, 2400 and 2600 calorie options.
Need Help Choosing?
Take our quiz to find out how many daily calories you need.
Take the Quiz
Do I Need to Track Macros With My Meal Plan?
Our meal plans don't require you to track the foods you eat. If you choose four meals per day, you can enjoy them confidently, knowing that you'll hit your daily targets. But if you want to try macro tracking, a meal plan will take the guesswork out of food choices and quantities so you can focus on getting to know your tracking app and building other healthy habits.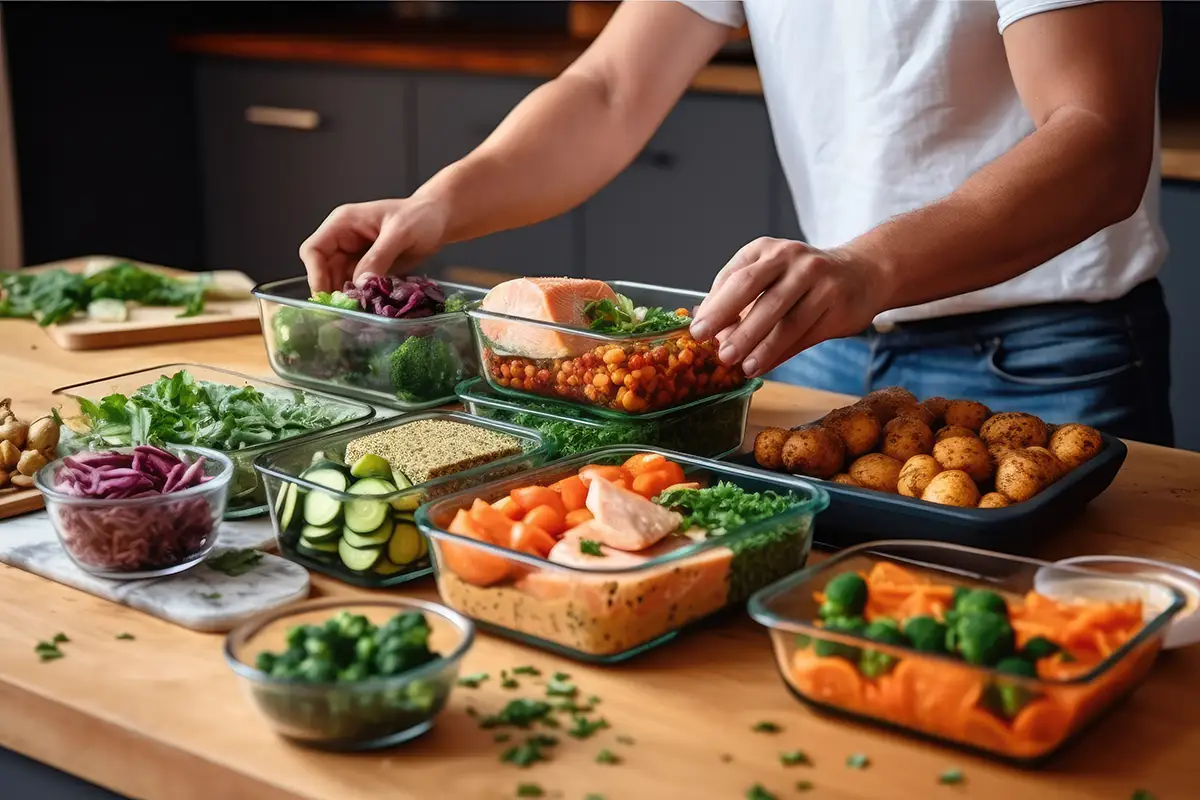 You may decide to track if:
You've tracked your food in the past and enjoy having a daily log
You need accountability to stick with your plan
You'd like to try swapping different meal ingredients
You'd like to eventually move away from following a meal plan and try flexible dieting
You may decide
not

to track if:
It's overwhelming or adds more stress to your daily routine
You want to follow your plan without paying attention to any numbers (we're here for it!)
You've tried counting macros in the past, and it wasn't for you, or maybe you're just in need of a break from tracking
Reviews
We
love our meal plans

and so will you.
"I really enjoyed how easy this was to plug into my daily life. No worrying about macro math - just plug and play. It also simplified my weekly shop. And we had less food waste!"
"I never thought losing weight could be so straightforward. The quiz showed me which meal plan I needed and I just followed the instructions in the packet. There were also enough options that I didn't get bored like with some of the apps I've tried. Love it!"
"My performance coach and I have my nutrition pretty well set, but I was so tired of keeping up with macro tracking. With the meal plan, I just picked my calorie range and slotted in what sounded good from the list."
FAQ
We've compiled a list of our most frequently asked questions regarding meal plans.
If you don't see an answer to your question, you can send us an email from our contact form.
All FAQ
Yes! Our meal plans include mostly whole foods and widely available options instead of specific brands.
Our weight loss meal plans cannot be customized to your exact preferences. That being said, we provide over 100 breakfast, lunch, dinner, and snack ideas that you can mix and match to create over 1,000 meal combinations. This allows you to work around many food allergies and preferences while following your meal plan and seeing progress. 
*Fully customized meal plans are available as an add-on for all WAG members, and an initial customized meal plan is included in our Nutrition Coaching Plus Membership—these meal plans are personalized to your macros, goals, and food preferences.
You don't! You can follow your meal plan using just your food scale. That being said, tracking your food with an app like MacrosFirst is a skill that will help you continue making progress post-meal plan.
*Our Nutrition Coaching Plus membership includes 50% off a yearly macros first premium subscription.
To make the very most of your weight loss meal plan, you'll need a food scale, body weight scale, tape measure, and your phone. We'll teach you how to accurately measure progress using different body composition metrics (weight, pictures, and measurements). You'll use your food scale to measure portion sizes and ensure you stick to your plan.
Meal plans are perfect for anyone who wants to lose weight and doesn't have any super-specific performance goals. If you are a high-level athlete or have very time-bound weight loss goals, we recommend getting more personalized support from a Working Against Gravity coach. 
Our Nutrition Coaching Plus membership includes a seven-day personalized meal plan based on your coach-prescribed macros, and food preferences. This membership also includes monthly video calls, weekly check-ins, unlimited messages, and more, so you can optimize your performance and recovery with an experienced coach.
Meal plans are a great way to get to build food awareness, make your meal choices quick and easy, and start working towards your goals. But meal plans are not a long-term nutrition solution—what happens when the grocery store is out of the food you're prescribed, a special occasion pops up, or you forget your prepped lunch at home?
If you're craving more in-depth, ongoing support, learn more about WAG membership options HERE.
You should always consult your physician before starting a new diet. Our meal plans cannot and should not be used to treat any medical conditions. If you're unsure of whether or not this applies to you, send an email to info@workingagainstgravity.com.
WAG in the Media
Trusted by elite athletes, health professionals, and major publications.
Get Your WAG Meal Plan
Sign up today, tell us more about yourself and we'll direct you to the meal plan that is best for you.