Defined simply, a hormone is a compound in your body that is created by one cell before traveling to and stimulating a response (or series of responses) in another cell. Hormones are chemical messengers and are imperative for healthy body functioning.
Hormones help regulate hunger, satiation, eating behavior, stress, sleep, mood, reproductive health, overall energy and so many other processes in your body.
So how does this apply to you? Well, the nutrients you consume from the foods you eat can impact which hormones are being produced, when and in what quantities. This means that caloric deficits and surpluses can affect hormonal balances in your body!
Here is a look at some of the major players in the hormone, hunger, and dieting game: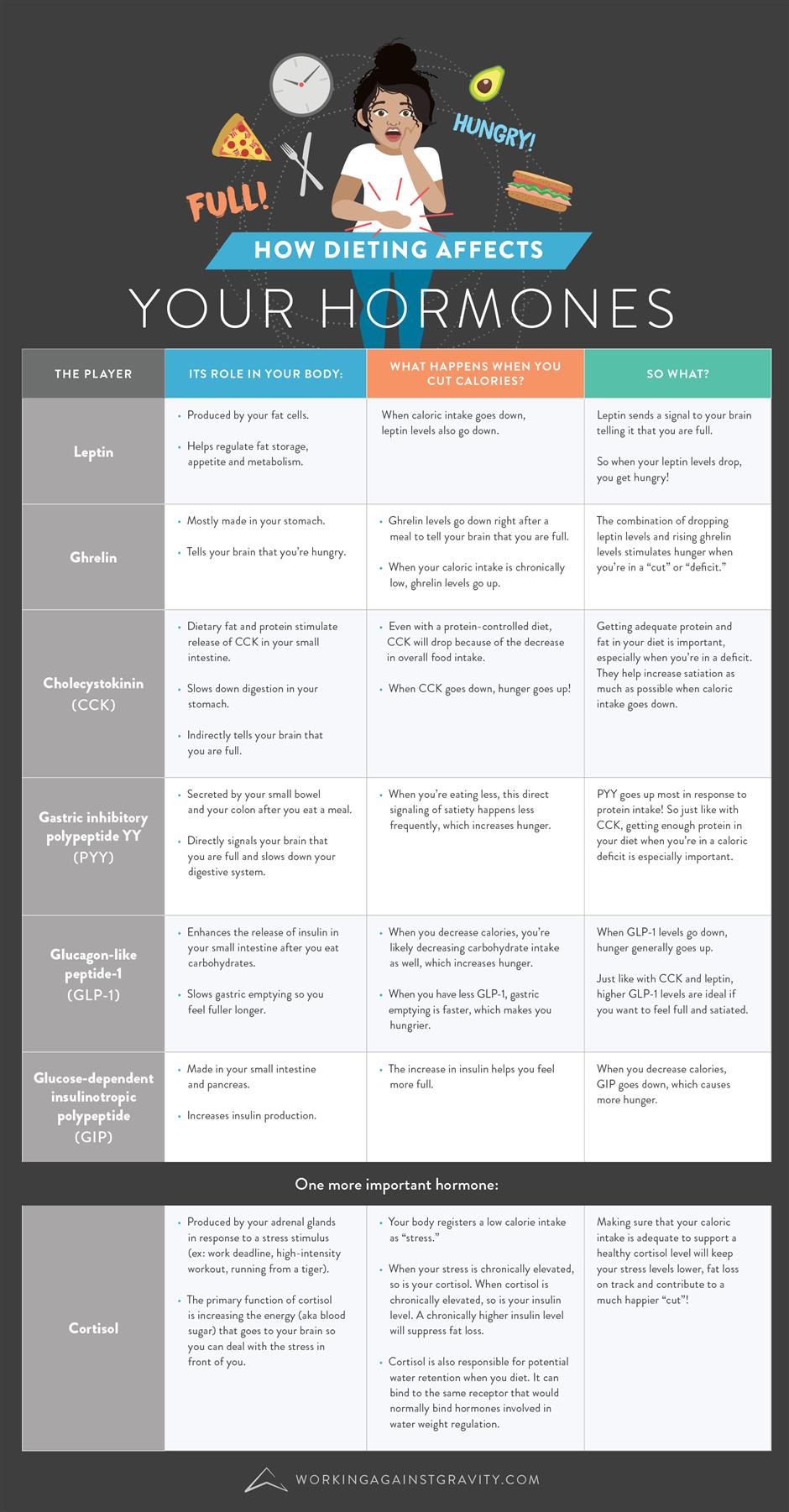 The big takeaway here is that your body is smart! When you are in a caloric deficit, your hormones will shift in a way that encourages you to consume more calories. This is not a bad thing, it is an evolutionary attribute that has contributed to the survival of our species. This is also why being in a caloric deficit for a very long time can start to feel really tough! Thankfully, there are ways to deal with a lower caloric intake that still allows you to be as satiated as possible.
At WAG, our coaches are here to help you track toward your goals while managing all the different changes that happen in your body in response to a lower calorie intake!
When you
sign up for Working Against Gravity
, we'll pair you with your own personal nutrition coach. You'll have formal weekly check-ins with your coach, plus the ability to message them 24/7 anytime you need to chat.
Together, you'll decide the steps to take to reach your goals and master healthy habits. You'll also join our exclusive online community, where you'll find additional accountability and support.