Non-Dairy Substitutes for Every Macro Need
Greek yogurt and whey protein seem to be the go-to's when we're low on protein, but what if you're unable to eat either of these foods? For many of us who choose to leave dairy (such as whey, casein, cow's milk, and goat's milk) out of our diet, finding adequate and creative substitutes for dairy can be a bit daunting, especially since many alternatives also have added carbs and fats due to the foods they are derived from. So we've put together this helpful guide, but you can also get your own WAG coach to help you navigate specific dietary needs!
Whether you find yourself accidentally out of yogurt in the fridge one day or intentionally leave dairy out of your diet, we hope this article and the corresponding infographic charts will give you more ideas for how to fulfill your macros with non-dairy sources. Many of these substitute foods will also work well for many of you following a plant-based or vegan diet.
Some tips to consider when using dairy alternatives:
Many of these substitutions won't exactly replicate the same high-protein, low-fat macros as the real deal.

Therefore, keep in mind that you may need to shift around some other macros to accommodate for those few extra grams of fat and carbs.

Macros can vary widely across brands and ingredient sources.

For example, some coconut yogurts are as low as 4 g of fat per serving, while others are as high as 38 g of fat! We've provided macros of some common brands, but be sure to check your label to see what macros you're actually getting per serving. Some may be higher in carbs or fat than anticipated.

Read the labels to know the ingredients that are in these substitutes, especially if you need to avoid soy, nuts or similar foods.

We've tried to provide a wide variety of options to cater to different dietary needs.

Consider making your own alternatives!

Many times, the brands we find in the store contain additives that increase their shelf life. Often, you can read the back of the labels, pick out the main ingredients in that list, and blend your own dairy-free concoctions without needing to incorporate those preservatives or additives.

Make it high protein.

Blend in a little extra protein powder to increase the protein ratio of these non-dairy liquids or products.
Milk Alternatives: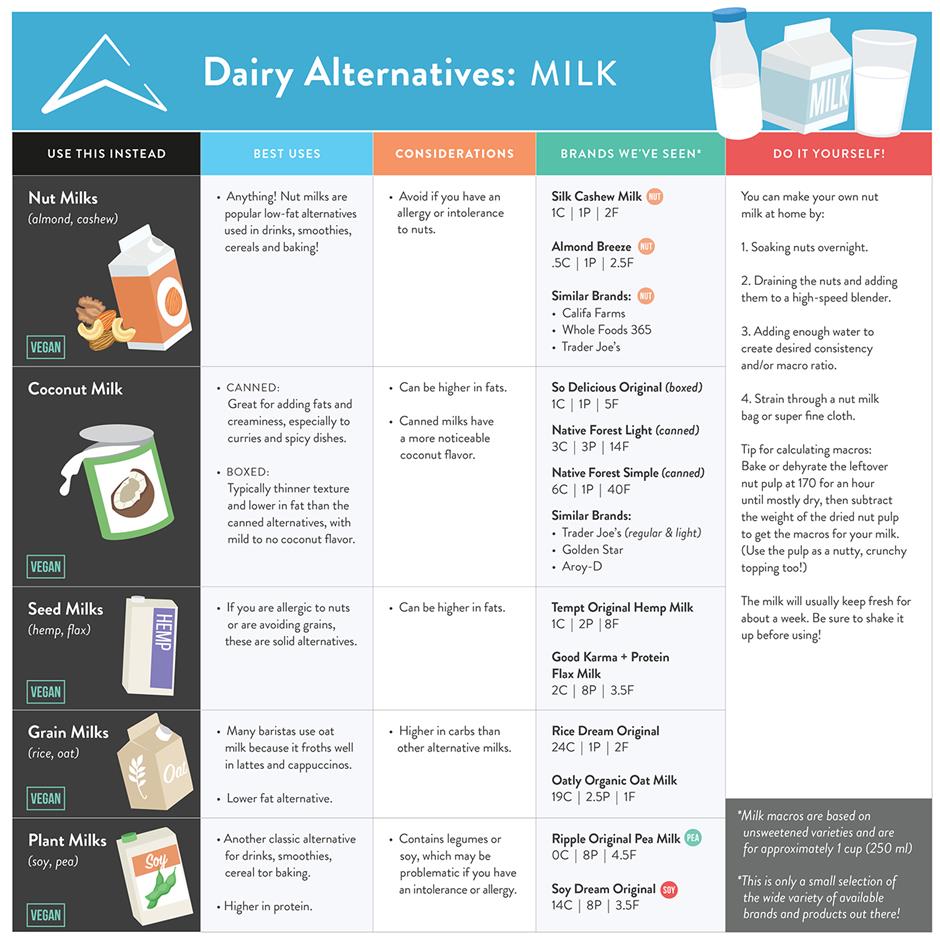 Coconut Milk: This can come in either a box or in a can. The purest (and fattiest) canned coconut milk will have no additives or thickeners such as guar gum. Most boxed coconut milks will be slightly lower in fat compared to their canned counterparts.
Nut Milk (almond, cashew, macadamia): These milks are typically made from soaking nuts in water, blending the mixture into a thick liquid and then straining out the chunky solids to leave a creamy milk.
Seed Milk (hemp, flax): These are similar to nut milks but are useful if you have a nut allergy. Hemp and flax tend to be a little higher in fat content compared to soy, nut or grain milk. 
Plant Milk (soy, peas): Soy milk is one of the most popular milk substitutes. If you have a problem digesting soy protein, pea milk is a delicious alternative.
Grain milk (rice, oat): Use these when you are looking for a higher-carb alternative. These starchier milks are good substitutes if you have nut allergies but can tolerate some grains. Fun fact: Many baristas like using oat milk because it froths well for lattes!

Whey & Casein Protein Alternatives: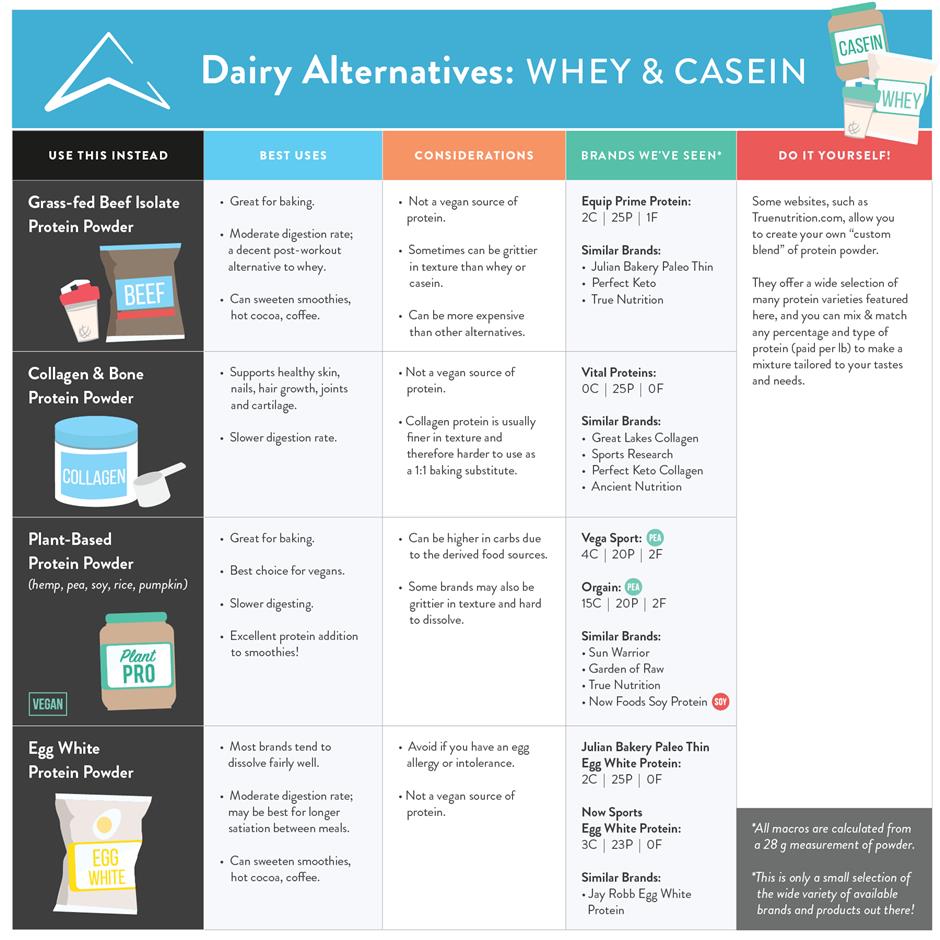 Protein powders are an easy way to sneak a bit more protein into your day or a quick way to replenish protein following a workout. Although many of the proteins below aren't as quick-absorbing as whey, they are great alternatives to use for that post-workout shake, in a smoothie, for baking in recipes, or even as a bedtime protein hot cocoa.
Plant Proteins (hemp, pea, soy, rice, pumpkin): Most plant proteins will have some carbohydrates (usually fiber) in conjunction with the protein macros, so a plant-based protein option is great if you are also looking to add some carbs. Since plant proteins tend to be slightly starchier and grittier in texture, they're often good additions for baking substitutes that usually call for whey or casein protein powder.
Here are just a few brands that carry plant-based proteins:

Orgain
Garden of Life
Vega
Sun Warrior
For a longer list of plant-based proteins, see our blog and infographic about vegan protein sources.
Collagen Protein: Although not as quickly absorbed as whey protein, many dairy-free and egg-free eaters are finding collagen protein to be an excellent supplement for meeting daily protein requirements. There are also many additional benefits to adding collagen to your diet, as it ensures you have plenty of building blocks to strengthen body parts that rely on collagen, such as skin, hair, nails, joints, tendons, ligaments, and cartilage.
Here are a few brands that we've found:
 Helpful Tips When Choosing Collagen Protein:
Do not mistake collagen for gelatin

. Note that some brands will also carry

gelatin

protein, which reacts differently with liquids than collagen does. Gelatin will turn into a thick gel when at a cooler temperature, so make sure that you use collagen if you want your powder to dissolve in that cold shake or smoothie!

Collagen protein may be more difficult to bake with as a 1:1 substitution.

It has a finer texture than other alternatives in this list. You may want to look at other protein powders that have more structure if you're planning to use protein in baked goods.

Look out for brand quality:

We recommend

sticking with brands that derive their collagen from 100% grass-fed sources and support the humane treatment of the animals used to make it.
Grass-fed Beef Isolate Protein: Recently becoming popular, there are many beef isolate protein powders on the market now made from 100% grass-fed beef (and not the cows' milk). Don't worry; most of these do not actually taste like meat. In fact, many of them are flavored just as well as the popular chocolate and vanilla varieties. Some brands that make beef isolate are:
Beef isolate proteins tend to be slightly grittier than smooth whey powders, but they can be used similarly to whey proteins in baking. While many beef isolate powders should dissolve in a standard shaker bottle, you will achieve the smoothest consistency mixing this powder in a blender. 
Egg White Protein:

For those of you who still enjoy eggs, egg white protein will give you a high-protein bang for your buck. 
Jay Robb Egg White Protein
Yogurt Alternatives: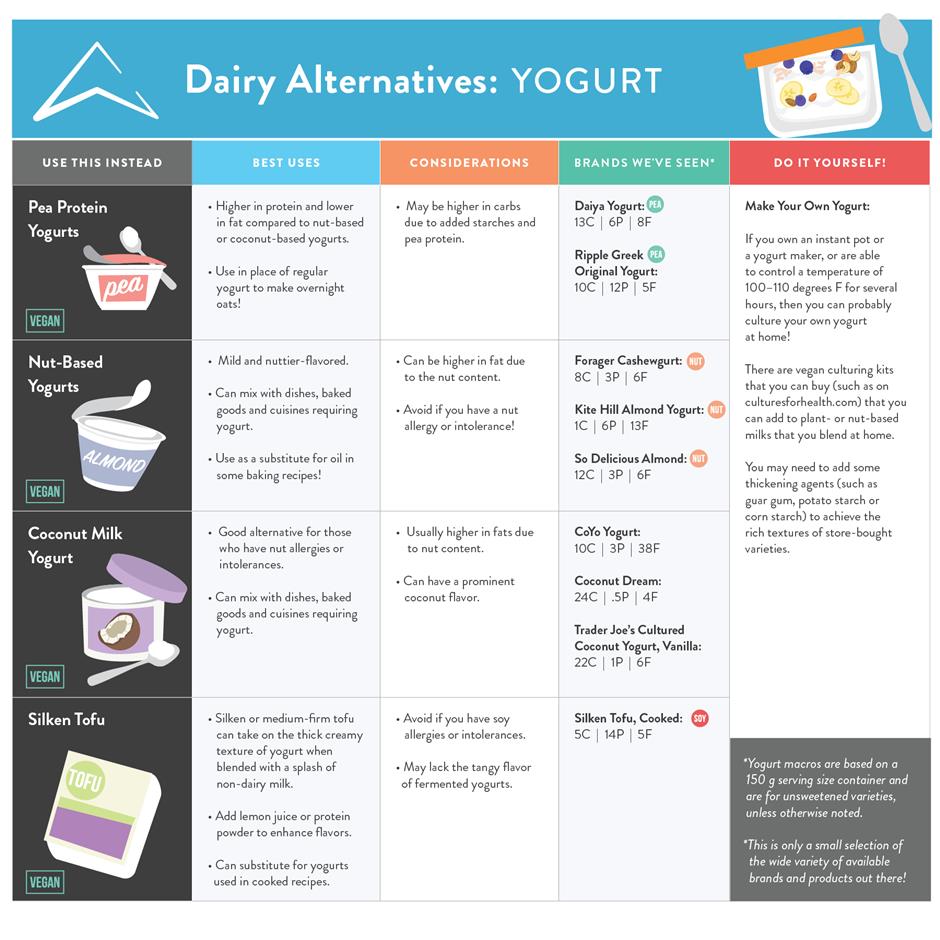 You CAN still make your overnight oats without using a cow's milk yogurt! While many yogurt alternatives may not be as high protein and low fat as traditional Greek yogurt, there are many brands and varieties that come close enough to the texture and taste of this fermented treat.
Plant-Based Yogurts (soy, pea)
Soy and pea yogurts will be some of your higher vegan protein alternatives that don't also have high amounts of fat. The texture of many pea-based yogurts can feel a little chalky (think milk with lots of pea protein powder added in to thicken it up).
Here are some brands of various pea and soy yogurts:
Daiya

Ripple

So Delicious (coconut, soy, almond)

Nancy's Soy Yogurt

Trader Joe's Soy Yogurt
Coconut Yogurts
Coconut yogurts will usually contain some fat (although the So Delicious brand is lower in fat than some others). The thicker texture in these yogurts is usually due to the high amounts of coconut cream and pulp used in the fermented liquid.
If you're a DIY person, it's also possible to culture your own yogurts at home if you have a vegan milk culture and a means of controlling the temperature to allow fermentation (either with an instant pot or a yogurt maker).
Brand examples:
So Delicious
Trader Joe's Cultured Coconut Yogurt
CoYo
Nut & Seed Yogurts (cashew, flax, almond)
There are some yogurt brands that utilize and ferment nut milk to make yogurt. These yogurts may have a milder flavor than coconut milk or pea-based yogurts.
Note that many yogurts in this list may incorporate some sort of thicker additive, such as guar gum, to achieve a thick, creamy texture without the addition of fat.
Brand examples:
Kite Hill (has both a thinner European style and a thicker Greek style)

Forager Cashewgurt

So Delicious Almond
Cheese Alternatives: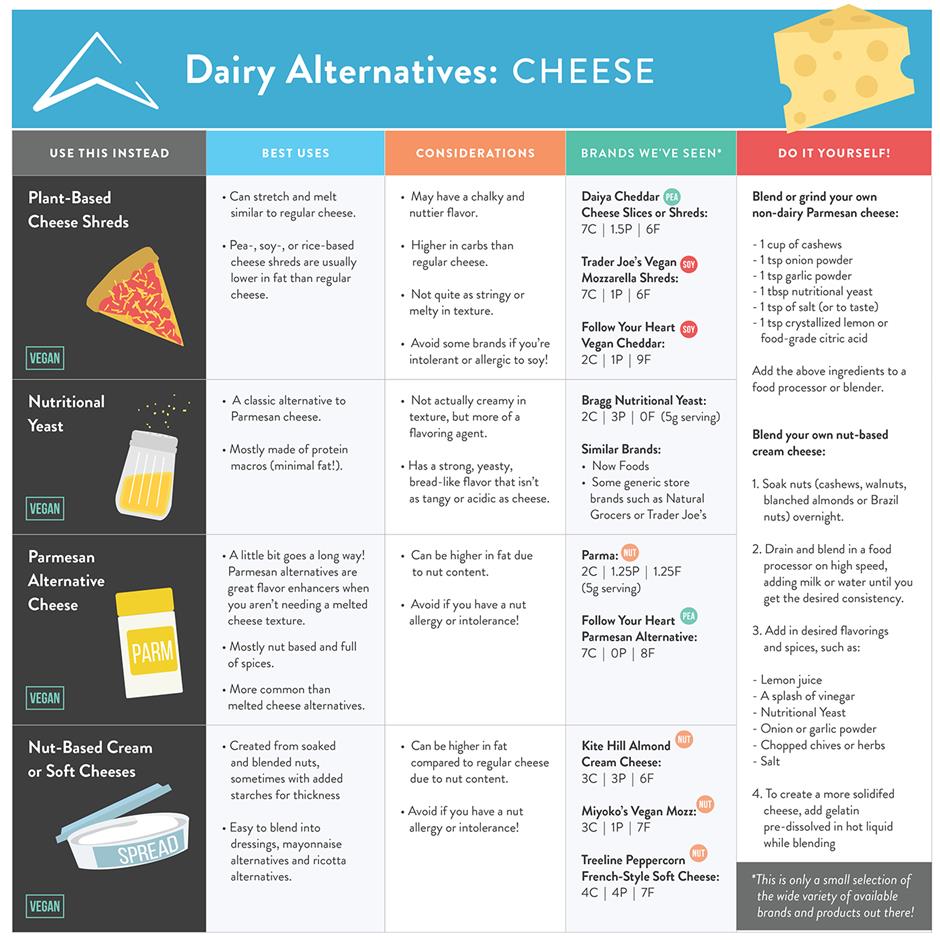 Shredded Cheese:
There are some brands that make cheese in shredded or sliced form that has a gooey, stretchy texture when melted:
Daiya's Slices / Shreds (pea-based)

Trader Joe's Almond Shreds (almond-based)

Vegan Gourmet Shreds (soy-based)
Many of these cheese-shred alternatives use soy or nuts, so read your labels if you are trying to avoid certain foods!
Parmesan Cheese
Go to any vegan section of your grocery store, and you will probably find several types of shaker cheese alternatives:
Thrive Market Vegan Parmesan-Style Cheese Alternative

Parma Vegan Parmesan

Make your own!

Grind up cashews, pumpkin seeds, or sunflower seeds in a grinder along with some nutritional yeast, onion powder, and salt to make a flavorful crumble topping that emulates Parmesan!
Cream/Soft Cheese:
Miyoko's Cheese Wheel or Fresh Mozz

Kite Hill Almond Cheese

Daiya Cheese

Treeline Nut Cheese
Make Your Own! Homemade "Cream Cheese"
It is actually very easy to make your own soft "nut" cheeses and spreads at home!
If you have a bullet blender or food processor, you can soak nuts (peeled Brazil nuts, cashews, almonds, walnuts) in water overnight.
The next day (or several hours later) drain the nuts, then blend until smooth in your blender or food processor, adding a little bit of liquid or milk at a time to reach the consistency you desire. You can also add unflavored protein powder (collagen protein is excellent for this) to increase the protein content of your cheese. Other flavor additives to help your cheese feel a bit tangier and "cheese-like" are:
Lemon juice or a splash of white wine vinegar

Nutritional yeast (a popular vegan Parmesan cheese alternative that's also mostly protein!)

Onion or garlic powder

Chopped chives or herbs such as parsley, dill or cilantro

Salt (either plain sea salt or a flavored salt)
If you would like your cheese block to be more solid, you can also blend in a small amount of gelatin powder dissolved in hot water. The gelatin will solidify when it gets cool and give your soft cheese a little more structure to cut through with a knife.
Butter and Coffee Creamer Alternatives:
Need ideas for how to cream up that coffee drink without the dairy? Here are a few:
Use a dollop of non-dairy ice cream, such as Halo Top.

Blend a half scoop of vanilla or chocolate protein powder. You can also dissolve protein powder into a thick paste with a milk alternative, and then add to your coffee.

Use canned coconut cream or coconut manna for a high-fat alternative.

Use a non-dairy creamer product, such as Laird Superfood Creamer.
Solid Spreadable Butter Alternatives:
Miyoko's Vegan Butter (made from cashews, coconut, and rice miso)

Earth Balance Organic Buttery Spread (soy-based)

 
Ice Cream Alternatives: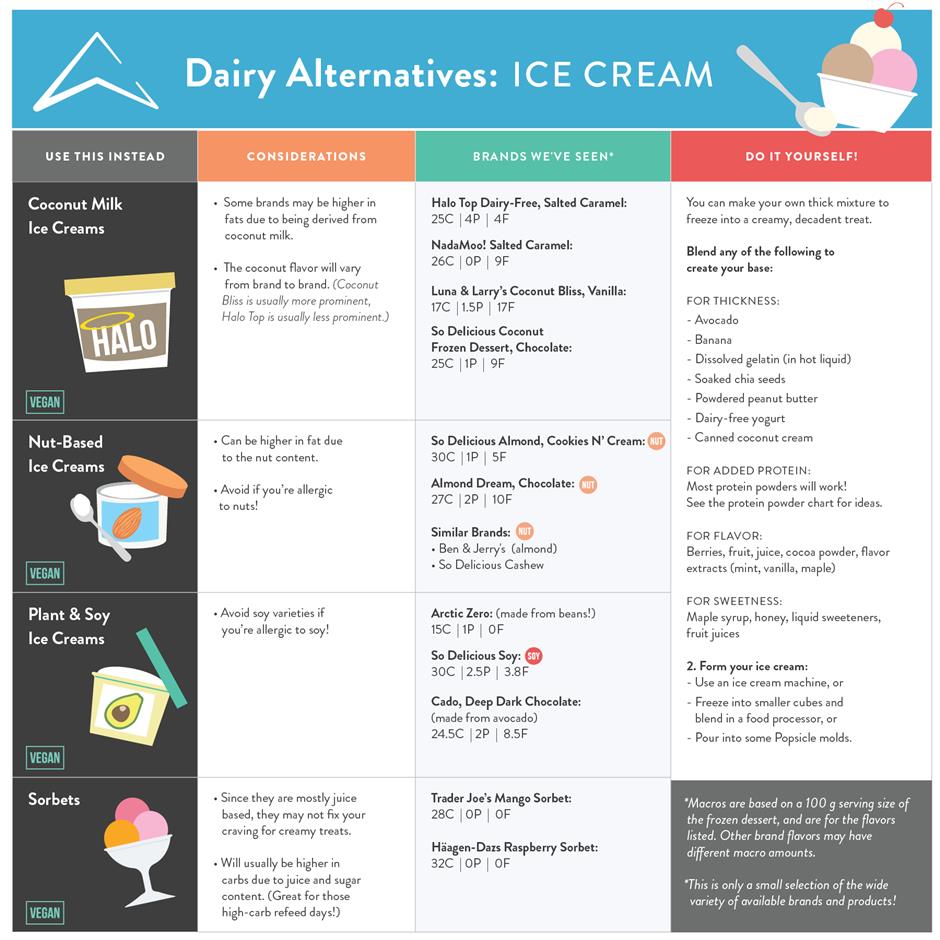 What fun would this article be if it didn't contain ice cream? Most frozen treats are pretty easy to find alternatives for (just browse your frozen food aisle and look for that "dairy-free" label!). Here are a few of our favorite go-to brands to get you started:
Halo Top Dairy-Free (although made from coconut milk, it is one of the lower-fat options in this list)

Luna & Larry's Coconut Bliss

Häagen-Dazs (almond milk-based)

Ben & Jerry's Dairy-Free

Häagen-Dazs Non-Dairy (contains soy)

Cado (avocado-based)

So Delicious (almond or soy varieties)
Don't forget that sorbets are dairy-free as well! These are usually exclusively carbs due to the high juice and fruit content and are excellent choices for those high-carb refeed days.
Make your own! You can purchase Popsicle molds and blend your own frozen treat. This is also a great method to add more protein to your Popsicles! Blend your favorite milk with a protein powder and juice or flavorings of your choice, pour into Popsicle molds and freeze until you just can't wait any longer. You can also pour the mix into an ice cream maker if you have one. Here are some ideas for homemade Popsicle mixes:
For thickness: Add avocado, banana, a teaspoon of dissolved gelatin (in hot liquid), soaked chia seeds, powdered peanut butter, a dairy-free yogurt or canned coconut cream.

For added protein: Most protein powders will work!

For flavor: Berries, fruit, juice, cocoa powder, flavor extracts (mint, vanilla, maple).

For sweetness: Maple syrup, honey, liquid sweeteners, fruit.
Where Can I Find Many of These Alternative Food Items?
Fortunately, the quest for "alternative foods" has become more popular, as many companies are noticing a demand from consumers who need to substitute foods due to food sensitivities, food intolerances, and allergies or just personal preference. We're always finding new products and brands on the shelf every day.
One of the biggest ways we come across these brands is through the recommendations of many of our members! We have many clients (and coaches) who choose to avoid or leave certain food groups altogether because omitting these foods makes them feel better overall.
At WAG, our quest is to help you find the foods and nutrition that make you feel your best, regardless of what you choose to leave out or leave in your diet. If you feel that you need some guidance when it comes to finding the right foods and nutrition that works for you, our WAG coaches can help you through the process.
One of the benefits of being a #TeamWAG member is having access to our supportive Facebook community, where we share a plethora of practical recipe ideas, unique product finds and ways to navigate dietary restrictions, as do other #TeamWAG members who may also be experiencing the same dietary needs as you.