Ultimate Travel Nutrition Guide: Flexible Dieting While Traveling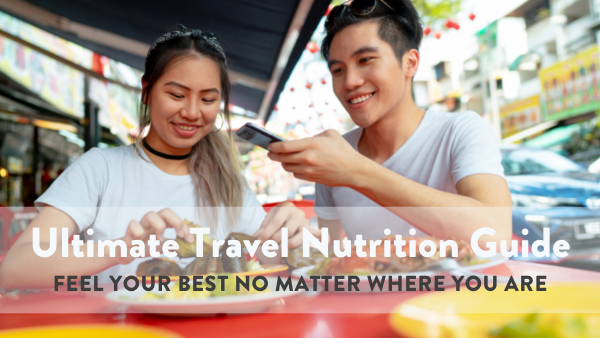 If you're looking for tips for tracking macros while traveling, you're in the right place. WAG's free Ultimate Travel Nutrition Guide is here! 
We're dishing out everything you need to know (and eat) so you can stick to your flexible dieting plan while traveling. If you want to continue working towards your weight loss or muscle gain goals our new guide will get you ready, no matter where you're headed.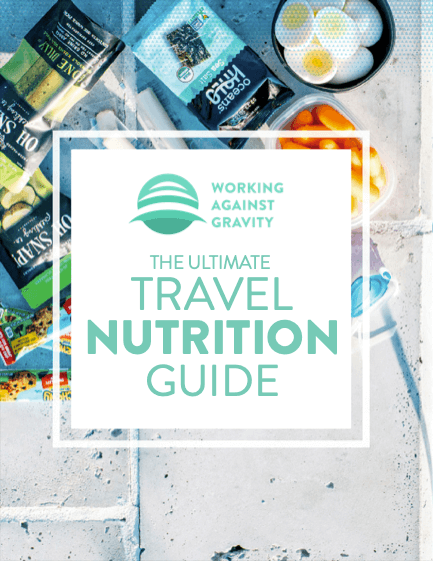 Macro Counting and Traveling
"Should I count macros on vacation?" The answer is a personal choice depending on your unique goals and where you are in your journey. As Working Against Gravity 1:1 nutrition coaches, we help our clients determine the level of flexibility that will help them enjoy their trip while feeling good in their skin. There is no right or wrong answer.
No matter how precise you need to be, our free Ultimate Travel Nutrition Guide guide is full of ideas to make healthier choices.
What is in the Nutrition Vacation Travel Guide?
Our success guide to traveling while counting macros is full of tips and tricks. Here are a few sneak peeks: 
Must-Haves for Counting Macros on Vacation
When you pack your bags for your next trip, there are a few things that will make tracking macros while traveling easier. We'll share the eight essentials you need to pack so your on-the-go meals are easier to throw together and stick to! We'll also share a few macro tracking travel extras!
Healthy Snacks While Traveling
Flexible dieting while traveling is a lot easier if you have healthy snacks to rely on. Whether you're in the car, on a plane or lounging on the beach, we have plenty of suggestions that take little-to-no prep.
Need a headstart? Here are a few protein bar suggestions based on your energy needs. You can also check out our healthy snack recipes and peruse for something yummy to try!
Quick Macro Friendly Travel Meals
When you're trying to hit your macros while traveling, on the run meal ideas keep the healthy choice the easy choice (so you can pick and choose when to enjoy a treat!). We'll share healthy hacks for burgers, sandwiches and other travel favorites.
How to Order Healthy at a Restaurant
After sharing some travel meal inspo, we'll teach you how to order at a restaurant when you're tracking macros so you can enjoy a meal out without any stress. We also have some awesome restaurant-specific guides HERE!
Macro-Friendly Drink Ideas
We totally get it, part of travel may be having a few beers, a glass of wine or (if you're me) a mojito! It is totally possible to enjoy a drink or two while working towards your goals. This section of the Travel Nutrition Guide will walk you through what to look out for and how to make your favorite orders a little more macro-friendly.
Want to get a jumpstart on your macro-friendly alcohol ideas and things to think about? Check out THIS ARTICLE about how to track alcohol in your macros!
The Best Travel Workouts
Whether you're looking for bodyweight workouts for the beach or you're looking for hotel gym workouts with limited equipment, we have you covered. Use our workout inspiration so you can focus on the people you're with and the places you're visiting.
There you have it! An inside look at our free Travel Nutrition Guide! And, if you want more personalized suggestions based on your goals and where you're headed, consider hiring a 1:1 online nutrition coach. At WAG, we're all about helping you find a flexible nutrition plan that allows you to enjoy your trip while working towards your goals (cause guess what, you can have both!).
Get a Taste of WAG
The WAG Crash Course is OPEN for enrollment. This 30-day course will teach you the ins and outs of macro tracking, building healthy lifestyle habits and sustaining results without restricting the foods you love. Get personalized macros from a WAG Coach, join the members-only Facebook Group and participate in quarterly Live Q&A sessions with WAG Coaches.
Posted by Ali Macy
Ali is a born and bred Vermonter who fell in love with nutrition and fitness in her early 20's and never looked back. She is a coach, blog editor and Program Lead for WAG with a BA in English Literature and a Master's in Nutrition and Human Performance.
Latest Posts: