Interview with #TeamWAG member Chris Middleton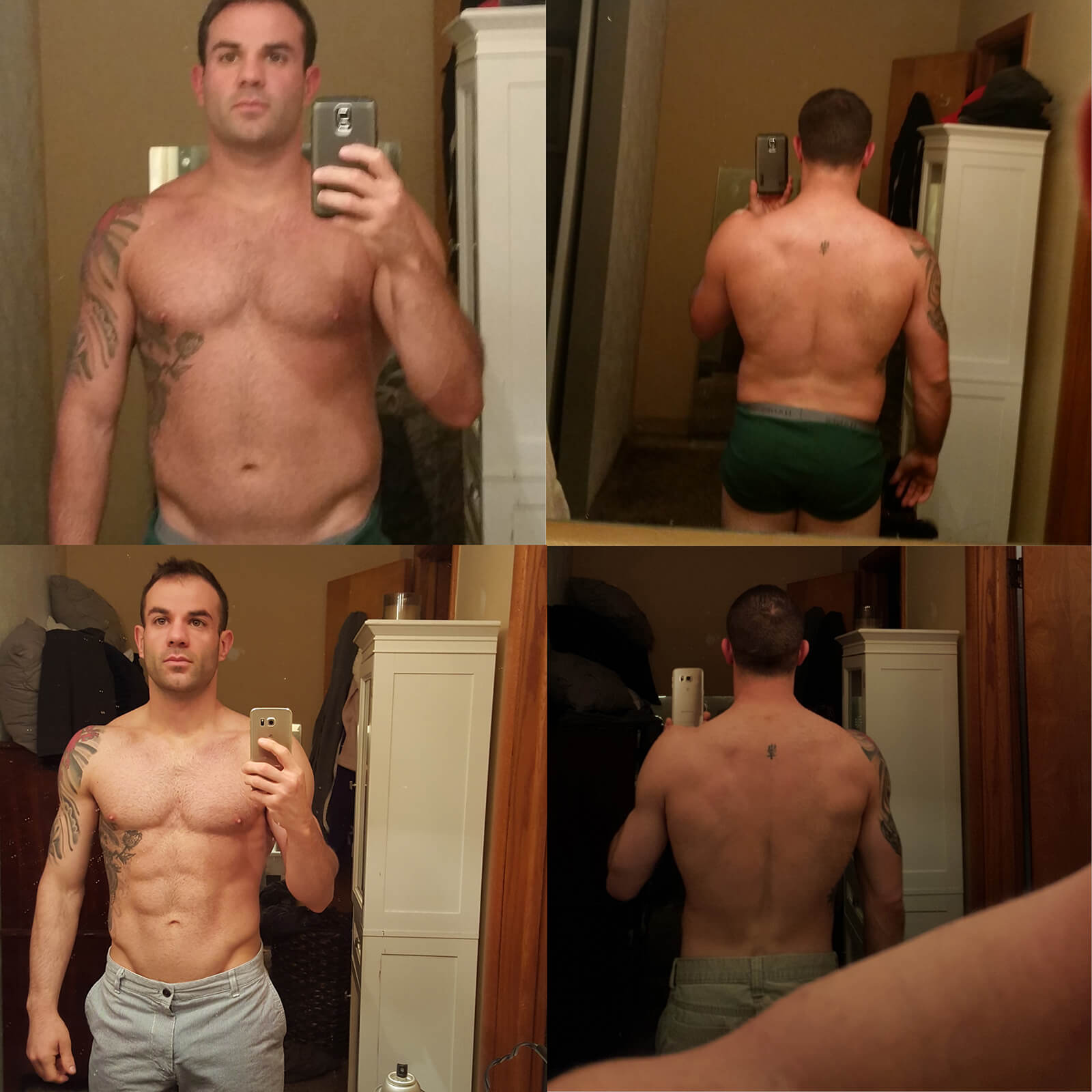 | | |
| --- | --- |
| Name | Chris Middleton |
| Location | West Virginia |
| Goal | When I started my goal was to look like an athlete |
| lost/gained to date | 20lbs lost |
| Sport (if applicable) | Crossfit |
Q: Why did you decide to join Team WAG?
A: I had just returned from a 4-month deployment overseas and somewhere along the line I had gained some unwanted weight. From my previous deployments, I would come back much thinner and weaker, but this time I came back heavier and weaker. I did some research online and came across WAG. I tried multiple eating patterns over the past few years from strict paleo to zone and nothing seemed to work. So I decided to give it a shot.
Q: Was there anything about the program that surprised you?
A: The biggest shock initially was the amount of carbs I was able to eat. Once that wore off, I was even more shocked by the amount of fat I wasn't able to have. Coming from paleo/zone (especially paleo), I found myself eating nuts and other fats whenever I felt hunger creeping on. I would eat until I was full and think nothing of it. I would like to be able to go back in time and track a few days to see the amount of fat I was eating. While these may not be labelled as bad fats, there was no accountability.
Q: How have you managed to stay on track while balancing all of your work and social commitments?
A: In the beginning, tracking was new, it was difficult, and at times frustrating. I think most people have that "shock" and the majority are able to get control pretty quick. Once I was able to get in the groove, it only took me about 30 minutes an evening to prep the next day's food. So far during the program I have only come off for 3 weeks and that was due to a training course where I was forced to be without a scale and sometimes food. It was easy for my coach to bring me right back up to speed once the training was over.
Q: How has your performance in the gym been affected by tracking, if at all?
A: The biggest change I have seen in the gym is my overall energy level. There were times when I would show up at the gym with nothing but a cup of coffee in my stomach or other times when I'd eat Arby's just before working out (didn't end well in either case). Given the guidance on when to eat and how much, has been a major help and shows me how to properly fuel myself. My performance in the gym has been great as well. Initially, with losing weight, everyone gets concerned with losing strength. This wasn't the case, as long as I was fueling before and after my workouts. My strength numbers actually went up and the most notable difference was my body weight exercises.
Q: What has been the biggest change you've made in your lifestyle since joining?
A: Overall the biggest change I've made is identifying my goals and pursuing them. In the past, I would go out to a restaurant and have 4, maybe 5 beers with dinner and think nothing of it. I come to realize that this type of eating/drinking didn't fall in line with what I wanted and just set me back. I ended up yo-yoing. I can still go out to eat, I can still have a beer or two every now and then, but I have the knowledge to know what those limits are. I also enjoy cooking at my house much more. Going out is fun at times, but being able to know what you're eating and how it's prepared is rewarding and will get you to your goals even faster.
Q: What advice do you have for other people considering hiring a nutrition coach?
A: Biggest advice I could give someone is stay positive. There's going to be times when the scale doesn't move. When that happens, I highly recommend bringing up some pictures of where you started and where you are. This will 100% motivate you and keep you on track. Another word of advice is don't guestimate. Be as precise as you can and be honest with yourself. If you blow up your numbers immediately jump back on the next day. Have a talk with your coach on the next check-in and let them know what happened. Usually they can identify why you broke down. For me, the times I went overboard are when I'm bored. I eat when there's nothing to do. Once I realized that, it was a major help and I could move forward with fewer hiccups.
Get a Taste of WAG
The WAG Crash Course is OPEN for enrollment. This 30-day course will teach you the ins and outs of macro tracking, building healthy lifestyle habits and sustaining results without restricting the foods you love. Get personalized macros from a WAG Coach, join the members-only Facebook Group and participate in quarterly Live Q&A sessions with WAG Coaches.
Posted by Team WAG
Working Against Gravity was established in 2014. Our nutrition coaches work one-on-one with clients to build custom programs that fit their needs. Our goal is to help each client discover a program that makes sense for them and produces lasting results, helping them develop a positive relationship with food—and themselves—along the way.
Latest Posts: