Strict Tracking While Traveling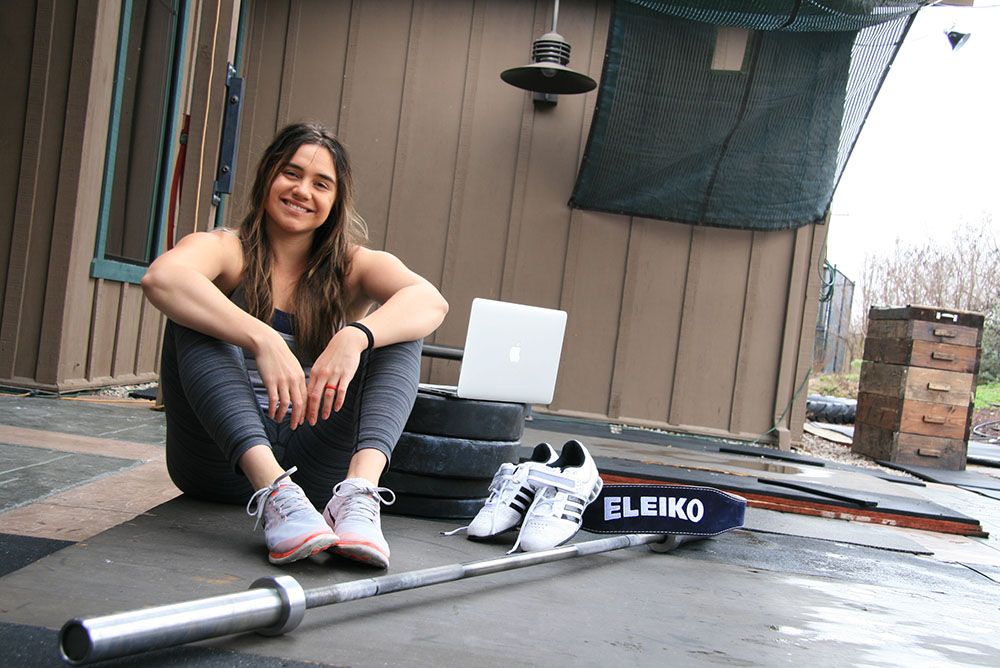 If you're serious about athletic competition you probably do — or plan to — travel somewhere to compete. Whether it's a few hours away, an overnight stay or an entire week, the challenges of traveling while tracking are heightened tenfold when there's the pressure of competing.
Last December I took a road trip from Southern California to San Francisco to compete in Olympic Weightlifting. Below are a few of the challenges I faced and how I responded to them.
Tracking macros on the road
Traveling with 3 friends who don't track
Navigating restaurant menus
Staying overnight at someone else's house
Trying to meet bodyweight requirements for competition
Staying loose and ready to compete when outside of my usual environment
Pre-Trip Preparation
Days before the trip I made a list of foods that fit in my nutrition plan. Keeping in mind that I needed to weigh under 69 kg for this meet I made some considerations:
Food that causes bloating or water retention will make it hard to weigh under 69 kg
My friends will want to eat out, so restaurant food should be accounted for
Food that doesn't have nutritional value won't help me perform well
Where, when and how will I get fresh food throughout the journey i.e coffee, water
Once I had my list I was ready to grocery shop and start prepping my travel meals.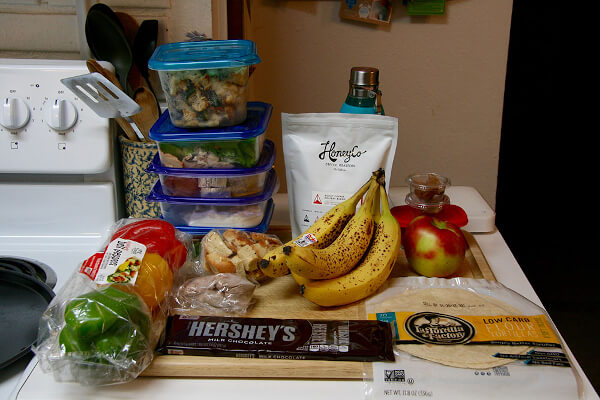 Food prep must-haves: A cooler bag or ice box, containers for pre-portioned meals, food items that are easy to track and eat on the go. Pictured: fruit, baked and fresh vegetables, deli meat, tortillas, cheese, salad, coffee, water and food scale.
Briefing Everyone
Feeling excited about the adventure, I invited friends to help make it a memorable trip. I told them ahead of time that I had certain weight requirements and would be eating differently than the rest of the group.
Explaining in advance meant my friends were more receptive and actively helped to accommodate my needs. They were now less likely to pig out in front of me and it even kept them mindful of their own food choices. The next day a friend asked me for help with their nutrition - no joke!
Restaurants on the Road
Knowing the struggles of navigating restaurants with strict macros, I researched the restaurant choices on the road, near our accommodation and where I was competing in advance. Since I didn't have to frantically search for macro-friendly options, eating on the road was stress-free.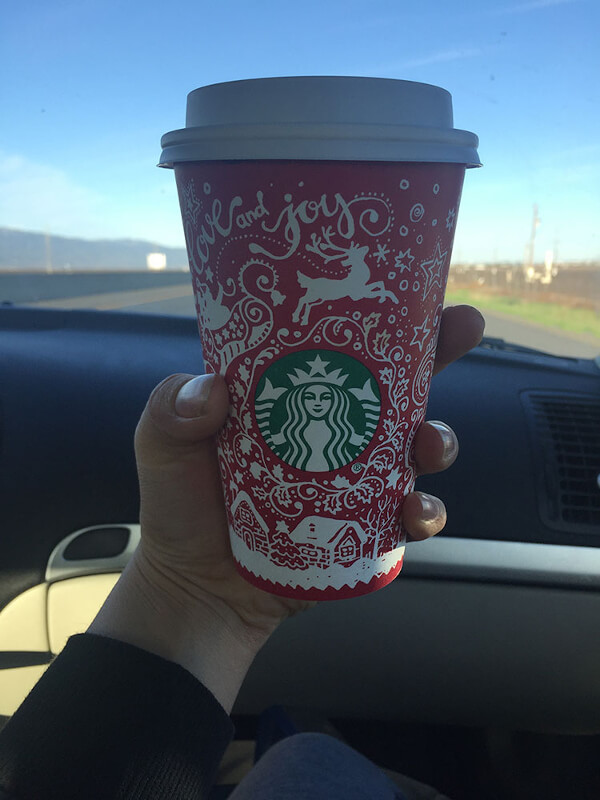 My favorite macro-friendly rest stops: Starbucks, Dennys, Whole Foods, and Chilis. All of their nutrition information is online and their menus are fully customizable.
When the question "what does everyone want for lunch?" came up I was first to voice my preferences. Being honest about which options work for me, since I'm the one competing, meant everyone was understanding...and just happy that someone made a decisive choice!
Being Persistent
The trip wasn't entirely smooth. At Starbucks, I was armed and ready with WAG Starbucks Macro Hacks. Strict macros mean that sometimes your order is complicated and can take a few tries for the chef or barista to get right. I sent my Starbucks back twice because of mistakes. I'm not afraid of a little hustle to get exactly what I asked for. Even if the order is as long as a book (aka a Grande Americano Misto Nonfat with 2 pumps of sugar-free vanilla).
Staying Limber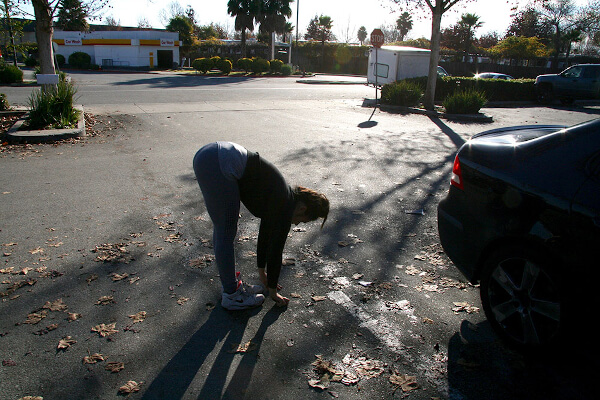 Sitting in cars and planes is a killer for the hips. When you're an athlete finding ways to stretch and stay moving is a must. I stretched every time we stopped the car for a break.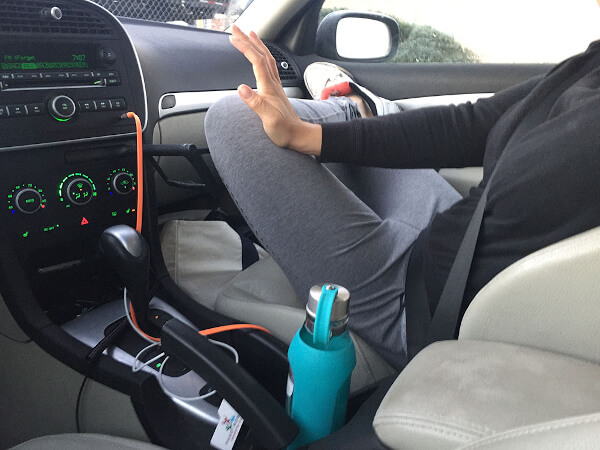 All the hip, leg and shoulder stretches! I brought a lacrosse ball too and did mobility in the car, parking lot and restaurants. Watch these Kelly Starrett Mobilitywod videos for some practical ways to survive long trips in your seat!
Surviving the Airplane Seat
Airplane Back Survival Trick
Keep Calm and Carry a Backup
My friends gave suggestions for dinner in San Francisco. I had never been to San Francisco and wasn't going to let a weight cut stop me from exploring. Restaurant food isn't generally macro-friendly and I was worried about leaving the restaurant still hungry. So I packed my own sides to account for any macros that I might miss out on and I ate one of my containers of baked vegetables before we left.
After checking out the menu online, choosing my meal and heading to the restaurant, we found this: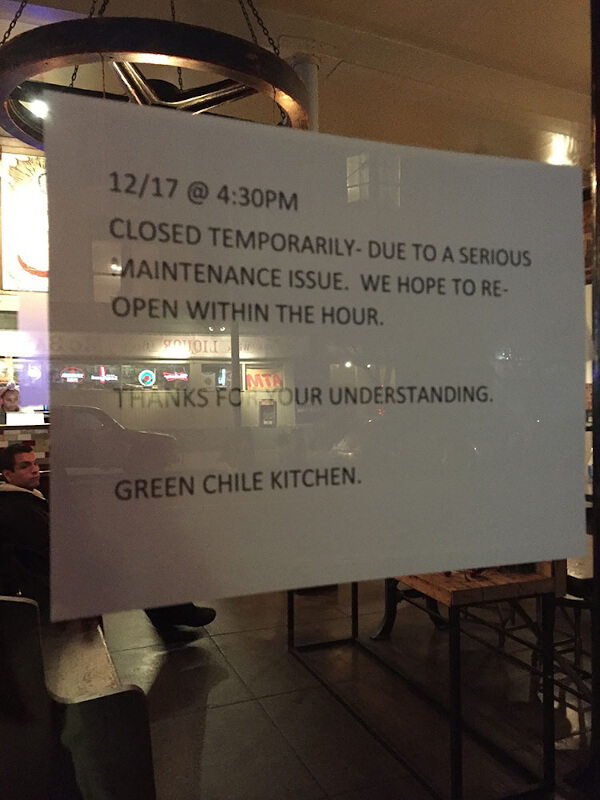 In the end, they were unable to resolve the issue and didn't open for business. What?! But I planned my macros around this!
With a group of hungry travelers and no other restaurants nearby, we had to think fast. Luckily I ate before we left.
Two more booked-out restaurants later, we finally found a table somewhere. I wasn't worried about where we ate since I wasn't very hungry. I knew how to manipulate a menu, and I had my food scale and my BYO sides. I could make this work!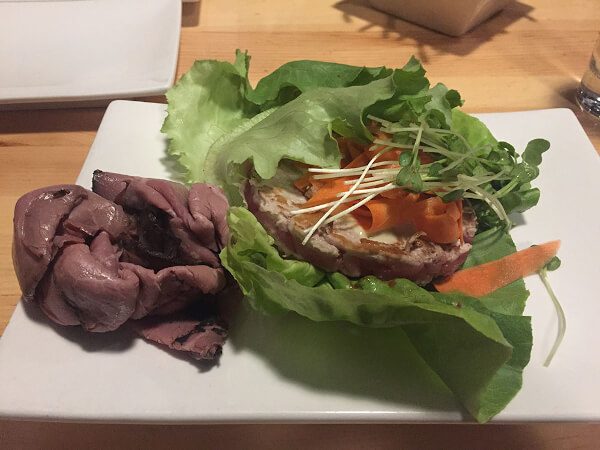 We ended up at Umami Burger. I checked their nutrition online and they had entries in MyFitnessPal - awesome! I tried the Ahi Tuna Burger (no bun please…) and it was delicious! They also had house-made pickles as a starter! I enjoyed that, drank three full glasses of water and was satisfied.
TIP: Be the first to say "no thank you" when the waiter offers dessert. People usually follow what the first person to act does.
Game Day Morning
I had no scale to check body weight, so I went by feel. Being careful not to overdo food and drink consumption, I took small sips of water, packed my pre, mid and post-competition meals and mapped out the best on-route coffee shop. Drinking coffee before training is my ritual, so I wanted to make it work and drink a small coffee to wake up (and get the bowel moving, nothing wrong with being extra light! hehe).
Usually, I'd eat at 6am, but wasn't able to at this competition today. Being outside of routine can make the nerves harder to handle. At the start of the week, I practiced correct, deep breathing and acceptance of a little bit of hunger. This helped me to suppress nerves and hunger and stay relaxed.
Competition
I weighed 67.1 kg, a healthy 1.9 kg under my weight category (what?!) and was ready to EAT! My coach gave me some extra carbs to eat on competition day, so I planned accordingly.
My meal consisted of chicken, fruit, a tortilla wrap with peanut butter and a milky coffee. Things I normally eat.
The first lift of the day was the snatch and the second was the clean and jerk. My snatches went well, placing first in my weight class. During the break between snatches and clean & jerks I drank water, ate more fruit and a pre-portioned chocolate bar. The high fat in chocolate stops me from feeling light-headed. It's all about what works for you. Again, I didn't want to eat and drink too much in between my lifts, otherwise, I might feel sluggish.
Clean and jerks went well and after a 5 out of 6 lift performance and first place in my weight category, I would say that my preparation was a success.
I learned that a little preparation goes a long way but a lot of preparation goes the whole distance!
If you've got a competition coming up where you need to make weight without cutting performance — check out the free WAG Weight Cutting eBook, it's full of strategies to guide you through the whole process!
Get a Taste of WAG
The WAG Crash Course is OPEN for enrollment. This 30-day course will teach you the ins and outs of macro tracking, building healthy lifestyle habits and sustaining results without restricting the foods you love. Get personalized macros from a WAG Coach, join the members-only Facebook Group and participate in quarterly Live Q&A sessions with WAG Coaches.
Posted by Dani Sheriff
Dani is the Project Director at WAG and has been a member since 2015. She is dedicated to creating amazing content for WAG clients and perfecting the client experience outside of coaching.
Latest Posts: