Low Calorie Protein Bars (That Still Keep You Full)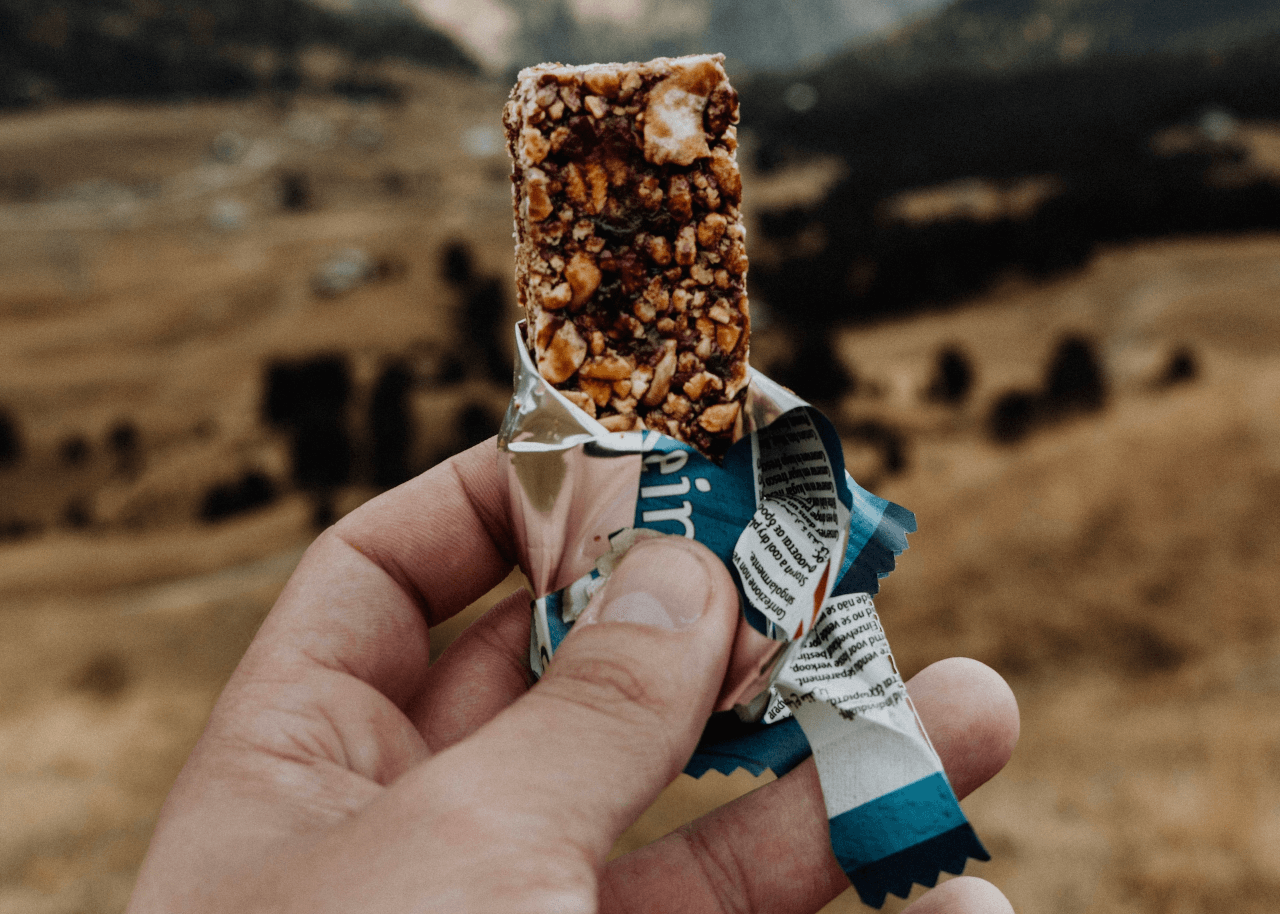 Shopping for a low-calorie protein bar can be overwhelming thanks to all the brands, flavors, macro profiles, ingredient lists, and misleading marketing. But, who doesn't love an easy, healthy snack?
Today, we're chatting about what to look for in a low-calorie protein bar if you have weight loss goals and you're working with fewer macros. In this case, having something reliable to grab is helpful when you need something quick and want to feel full without breaking the calorie bank.
Here's what to look for in a low-calorie protein bar and a list of some of our favorite options that will still leave you feeling full and satisfied.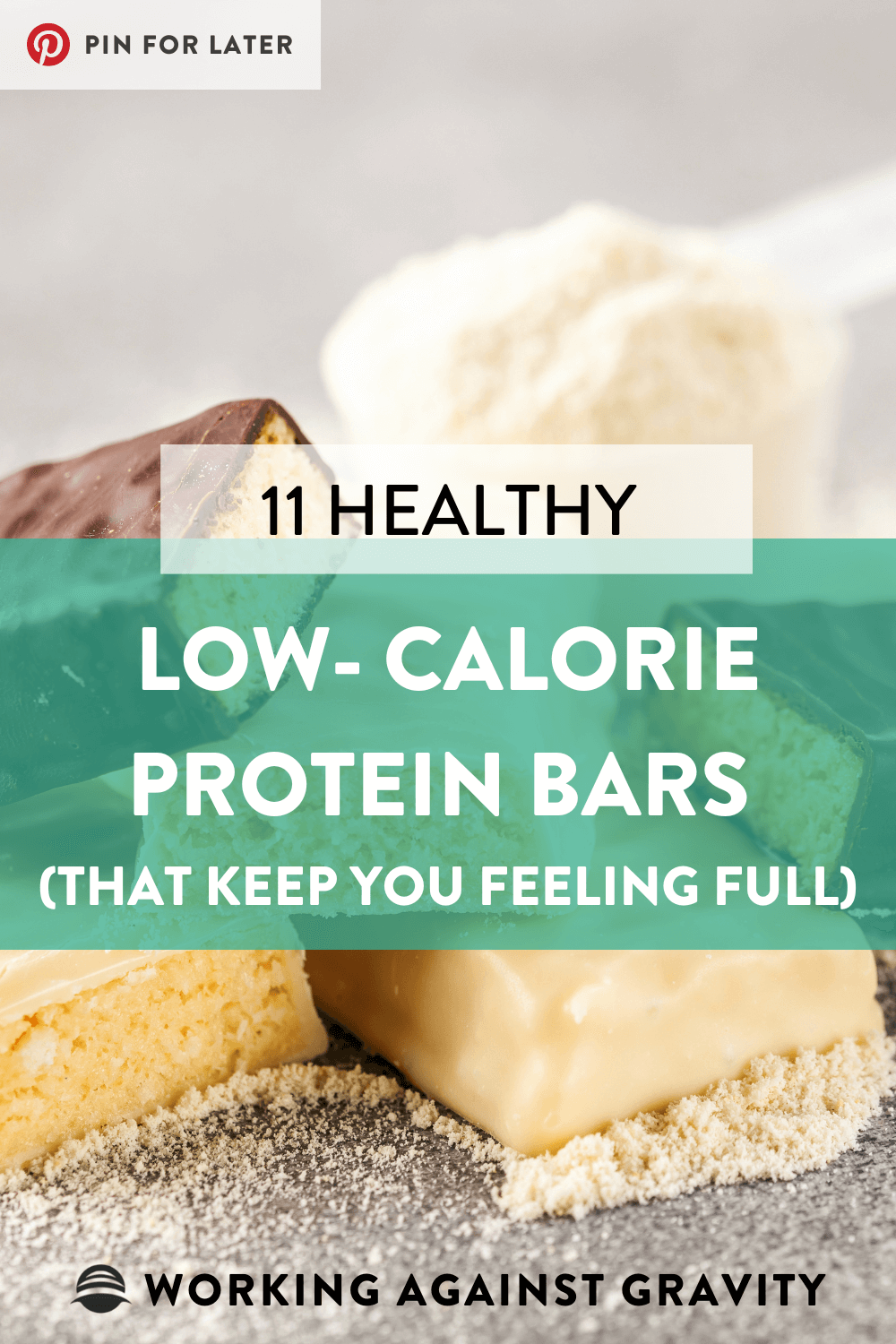 Are Low-Calorie Protein Bars Healthy?
While a diet rich in whole foods leads to better overall health, protein bars can help you reach your goals when you are on the go, or meal prep falls short.
The best healthy protein bar for you depends on your nutrition and performance goals. Dietary preferences also matter here. But, no matter who you are, opting for a bar with minimal ingredients is vital. Not only should the ingredients list be small, but it should include words you can actually pronounce (and recognize as real food).
Protein bars can be a healthy option if you know what to look for (and what to look out for).
Protein Bar Marketing (and How to Cut Through the Noise)
Marketing can easily trick you into thinking something is healthy with language, visuals, and even the texture of the packaging. Here are a few things you may see when scanning the grocery store shelves:
Diet descriptors like "gluten-free," "dairy-free," "vegan," or "Keto": Although these may be true, it doesn't mean they're healthy. A "gluten-free" protein bar can still contain tons of calories, processed ingredients, or added sugars that leave you feeling less than your best.
Playing off gender stereotypes or societal norms: You may see "muscle-building bars" for men and "skinny bars" for women. These are examples of "diet culture messaging" that tells you how to (or not to) eat and look.
Creative branding: This can be anything from the color choices to the feel of the wrapper in your hands.
So, before piling boxes of a "gluten-free" bar with that pretty matte wrapper into your shopping cart, flip it over and check the ingredients list.
What to Look For in a Healthy, Low-Calorie Protein Bar
The "best" protein bar for you depends on your individual preferences, allergies, macro goals, and macro ratios. But, there are some general things to look for in a healthy, low-calorie protein bar:
Quality of ingredients: Find a bar with minimal ingredients made from whole foods. Does the ingredient list include foods you can recognize and pronounce?
High protein and fiber: A protein-dense bar supports satiety and makes a healthy option. Fiber also plays a role in keeping you full, which is helpful if you're working with lower macros or you're finding yourself hungry between meals.
Total calories & macronutrient breakdown: If your primary goal is weight loss, pick a lower calorie bar that still supports fullness between meals. High-calorie protein bars used as meal replacements

may leave you feeling hungrier. Several popular brands that are high in total calories have "mini" options that meet low-calorie criteria and serve as a snack between meals rather than a meal replacement.

Added sugars & sugar alcohols: A few grams (ideally less than eight) of natural sugars in a bar is no big deal, but be on high alert for added sugars. Although not make-or-break, eat them sparingly. Also, check for sugar alcohols listed as these may not contribute to total calories but can be especially hard on your stomach when consumed regularly or in large amounts.
Take individual dietary needs into account: For example, if you are intolerant to gluten, look for a gluten-free option.
Low-Calorie Protein Bars and Weight Loss
When you're in a calorie deficit, opt for whole fruits, vegetables, and protein sources as much as possible; this will keep you feeling more satiated than a protein bar. Think about physical space in your stomach—you'll feel fuller from a big plate of veggies and grilled shrimp than a 60g protein bar.
But, protein bars are a great option to fuel your body when necessary. Here are a few times it may make sense to grab this quick snack:
If you are up and out in the morning and aren't hungry enough (or don't have a ton of time) to cook breakfast
When you need a snack before, during or after a workout
To help satisfy a sweet craving in the evening
On a road trip or on an airplane when you need something to hold you over until a larger meal
A few more perks? Protein bars are easily stored at home, at your office desk, in a gym bag, or in a hiking backpack. Protein bars are easy to track in apps like Macros First since you can scan the barcode and then keep moving through your day.
11 Best Low-Calorie Protein Bars
Now that we've covered what to look for in a protein bar, if they're healthy in the first place, and when they may be helpful in your weight loss journey, here are our top 11 winners for the best low-calorie protein bar.
#1: Bob's Red Mill Protein Bars
Bob's Red Mill Protein Bars are a delicious gluten-free option. While lower in protein, this bar has high-quality ingredients and flavor. Because the "added sugars" in this bar come from natural honey, we're not worried about the few grams and it is still going to be a better bet than processed sugar alternatives. Grab them from your local grocery store or on Amazon.
Macro Breakdown:
Calories: 210
Fat: 8g
Carbs: 28g
Protein: 7g
Fiber: 3g
*Macros for Peanut Butter & Jelly
#2: B.T.R Nation
Grab your B.T.R Nation Protein Bars right from their website or on Amazon. They're a great low-calorie, superfood-based protein bar with high-quality ingredients. B.T.R Nation bars are gluten-free, dairy-free, vegan, and low-carb. They also have high fiber content, boasting 9g per bar.
Macro Breakdown:
Calories: 140
Fat: 9g
Carbs: 14g
Protein: 7g
Fiber: 9g
*Macros for Banana Nut
#3 EPIC Meat Bars
Made with bison, beef, venison, salmon, chicken, turkey, pork, or duck, Epic Bars are a high-quality protein bar option. If you prefer a savory snack over a sweeter bar, EPIC is the way to go. Some flavors (like the one below) are also Keto or Whole30-friendly. 
Nutrient Breakdown:
Calories: 100
Fat: 5
Carbohydrates: 3g
Protein: 11g
Fiber: 2g 
*Macros for Chicken Sriracha
#4 F-Factor Protein Bar
There are so many adjectives we could use to describe F-Factor Protein Bars: high fiber, high protein, low carb, gluten-free, low sugar, soy-free, vegan, keto-friendly… we could keep going. These bars are a Peanut Butter lover's dream and we love the fullness that comes with the 20g of fiber in these bars.
Macro Breakdown:
Calories: 180
Fat: 5g
Carbs: 27g
Protein: 20g
Fiber: 20g
*Macros for Peanut Butter 
#5: GoMacro *Mini*
Found at some local grocery stores (I have good luck at Sprouts), or on Amazon, mini protein bar options take a great high-calorie bar and serve as a great low-calorie snack for adults and children. GoMacro bars contain organic, gluten-free, and vegan ingredients.
Macro Breakdown:
Calories: 100
Fat: 4g
Carbs: 13g
Protein: 4g
Fiber: 1g
*Macros for Peanut Butter Chocolate Chip
#6: Lärabar
Found at your local grocery store, Lärabar makes a delicious low-calorie bar with great flavor, texture, and high-quality ingredients. While lower in protein, they can make a great snack to hold you over or curb a sweet tooth. Any flavor containing chocolate chips will come with a bit of added sugar. Enjoy in moderation and you're good to go. 
Macro Breakdown:
Calories: 200
Fat: 10g
Carbs: 24g
Protein: 5g
Fiber: 4g
*Macros for Banana Bread
#7 Mighty Organic Bars
Just like Epic bars, Mighty Organic Protein Bars are meat-based and savory. Enjoy flavors like Sweet Chili, Sea Salt & Cracked Pepper, and Cranberry & Sunflower Seeds.
Nutrient Breakdown:
Calories: 80g
Fat: 2.5g
Protein: 8g
Carbohydrates: 2g
Fiber: 0g
*Macros for Sea Salt & Cracked Pepper
#8 Misfits Vegan Protein Bars
Misfits Vegan Protein Bars come in delicious flavor options like Birthday Cake, Chocolate Caramel, Cookie Butter, PB&J, and more. With at least 15g of plant-based protein per bar, they're great options for Vegans, vegetarians, or anyone needing a delicious, gluten-free bar.
Macro Breakdown:
Calories: 180
Fat: 9g
Carbs: 17g
Protein: 15g
Fiber: 9g
*Macros for Cookie Butter
#9: Primal Kitchen Coconut Lime Protein Bars
The protein in Primal Kitchen Protein Bars comes from whole food ingredients. These bars are also low in sugar, made with cage-free eggs, and they're keto-friendly, too!
Nutrient Breakdown:
Calories: 200
Fat: 16g
Protein: 8g
Carbohydrates: 9g
Fiber: 2g
#10: RX Bar
Found at Trader Joe's, other local grocery stores, and online, RX bars are a great gluten-free bar with minimal ingredients made from whole foods and popularized by its Whole 30 approval. RX bars come in a "Mini" option you can grab if you need a smaller, lower-calorie option with the same delicious flavor profile as their larger counterparts.
Nutrient Breakdown:
Calories: 210
Fat: 9g
Protein: 24g
Carbohydrates: 12g
Fiber: 5g
*Macros for Chocolate Sea Salt flavor
#11: SKOUT Organic
Found at Sprouts or on their website, SKOUT Organic protein bars made our list because of their high-quality ingredients. While slightly higher in calories, this bar contains all organic, gluten-free, and vegan ingredients making it a desirable option.
Nutrient Breakdown:
Calories: 200
Fat: 10g
Carbohydrates: 26g
Protein: 10g
Fiber: 8g
*Macros for Chocolate Cherry
From Grab-and-Go to Homemade Protein Bars
aStore-bought protein bars are an easy way to add protein to your day if you need a quick, on-the-go option when life gets busy. So, the next time you grocery shop, try picking up a few of these low-calorie protein bars.
If none of these flavor options do it for you, try making healthy protein bars at home. We have some yummy recipes with macronutrient breakdowns right on our website. Start with this Chocolate Mint Protein Bar.
If you are new to tracking macros or want to know the macros that will help you reach your goals, consider hiring a 1:1 nutrition coach. Our coaches provide individualized support and accountability to help you reach your goals, feel your best and determine if low-calorie protein bars will help you get there.
Join Team WAG
Love what you learned but still want more guidance and support? Get matched with an experienced coach who will get to know you, your lifestyle, and your preferences to give personalized feedback and suggestions. With a customized nutrition plan, weekly check-ins, unlimited messaging, and our personalized coaching platform, we'll help you reach your body composition goals and sustain your results.
Posted by Rachel Holcomb
Rachel is a WAG Certified Nutrition Coach living in Colorado Springs and loves working with people interested in making lifestyle changes for longterm success and wellness. In addition to nutrition, Rachel is passionate about CrossFit and Jiu Jitsu. When she is not in the gym training you can usually find Rachel in a local coffee shop or getting lost in the Rocky Mountains with her bulldog.
Latest Posts: