Ingredients to Watch Out for in Personal Care Products and Why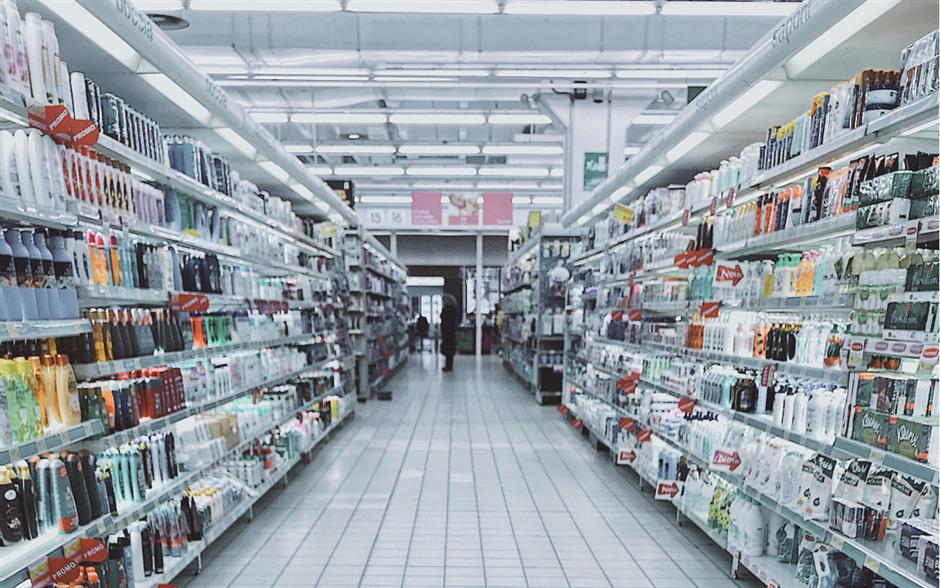 Most people who are interested in taking great care of their body understand the importance of putting high-quality nutrition in their system. Maybe you've even switched up your training habits or joined WAG one-on-one nutrition coaching because of how important these things are to you.
But what about those products we put on our bodies? For example: soap, body lotion, toothpaste, shampoo, and all other personal care products.
Should we be paying attention to the ingredients of these products, in addition to what we eat?

The answer is yes!

In the United States, the average person is exposed to more than a hundred chemicals from personal care products before they even have a chance to leave their house in the morning.[1] These chemical ingredients are mostly untested and largely unregulated because there is no government agency responsible for defining or regulating their manufacture.
The U.S. Food and Drug Administration has some legal authority over personal care products, but these products and their ingredients (with the exception of color additives) are not subject to FDA premarket approval.[2] So, if a label on your body lotion claims to be 100% organic, it isn't FDA verified.
Due to this lack of regulation, the best route is for consumers to do their research and seek out the safest personal care products.

Ingredients to Watch Out for and Why

Most personal care products have a long, complicated list of ingredients. As a consumer, it can be challenging to keep track of which ones to avoid (one company that creates non-toxic personal care products, for instance, has a list of over 1,500 ingredients that are not permitted in their products.[3]
Before you start memorizing all 1,500 of them, take a look at these seven incredibly common ingredients you might find in your personal care products (that you'll want to avoid).
We also included some keywords to look for when you are scanning your product ingredient lists since they often get tricky and go by different names.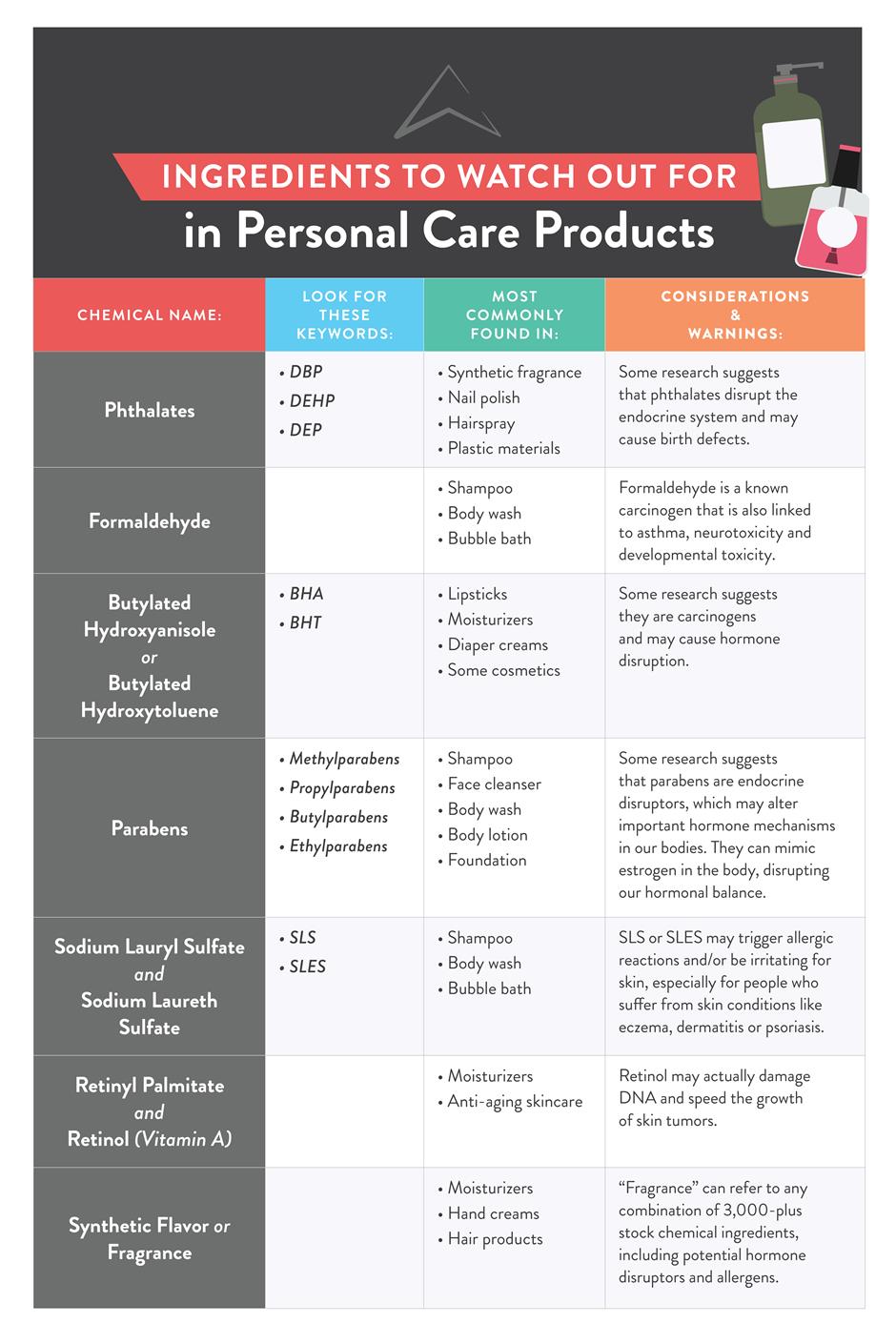 Phthalates
Phthalates are used to soften and increase the flexibility of plastics in cosmetics. This helps products stick to our skin.

Some research suggests that phthalates disrupt the endocrine system and may cause birth defects. The U.S. Congress has already banned several types of phthalates from children's products.[4]

Phthalates are found in: synthetic fragrance, nail polish, hairspray and plastic materials.
Look for these keywords: DBP, DEHP, DEP.

Formaldehyde
Most consumers have heard of formaldehyde as a product to preserve dead bodies, but did you know it's also used as a preservative in many personal care products? Formaldehyde is a known carcinogen that is also linked to asthma, neurotoxicity and developmental toxicity.[10]
Formaldehyde is commonly found in: shampoo, body wash, bubble bath.


Butylated hydroxyanisole (BHA) and butylated hydroxytoluene (BHT)
These are synthetic antioxidants used to extend shelf life. Some research suggests they are carcinogens and may cause hormone disruption.[11]
BHA and BHT are commonly found in: lipsticks, moisturizers, diaper creams, and other cosmetics.


Parabens
Parabens are a class of preservatives commonly used to prevent the growth of bacteria and mold (and thus preserve shelf-life).

Some research suggests that parabens are endocrine disruptors, which may alter important hormone mechanisms in our bodies. Parabens can mimic estrogen in the body, disrupting our hormonal balance.[6]
Parabens are found in: shampoo, face cleanser, body wash, body lotion, foundation.
Look for these keywords: methylparabens, propylparabens, butylparabens and ethylparabens.


Sodium lauryl sulfate and sodium laureth sulfate (SLS and SLES)
SLS and SLES are surfactants, which are products used for washing. They break up oily solvents produced by our skin.

Most experts agree that these ingredients are generally safe to use, but they can trigger allergic reactions and/or be irritating for skin, especially for people who suffer from skin conditions like eczema, dermatitis or psoriasis.[7]

SLES is often contaminated with 1,4-dioxane, which is a carcinogen linked to organ toxicity.[8] 1,4-dioxane is a byproduct of a petrochemical process called ethoxylation, which is used to process other chemicals in order to make them less harsh.[9]
SLS and SLES are most commonly found in: shampoo, body wash, and bubble bath.


Retinyl palmitate and retinol (Vitamin A)
Although many consumers think that retinol is a safe ingredient (it's found in many anti-aging skin care products), it may actually damage DNA and speed the growth of skin tumors.
Retinyl palmitate and retinol are commonly found in: moisturizers and anti-aging skincare.


Synthetic flavor or fragrance
"Fragrance" can refer to any combination of 3,000-plus stock chemical ingredients, including potential hormone disruptors and allergens. Fragrance formulas are protected under the federal law's classification of trade secrets, so companies aren't obligated to disclose them.[5]  It's best to look for ingredient lists that actually spells out the names of particular essential oils included in the product (i.e. "jojoba oil").
Fragrance is found in: all types of cosmetics, but most commonly moisturizers, hand creams, and hair products. 

Actions to Take

If you are feeling overwhelmed by all the information around potentially harmful ingredients in personal care products, we understand!

Here are some simple tips to avoid harmful ingredients and keep your products as safe as possible:

Keep it simple.
Choose products with simple ingredient lists and few synthetic chemicals. Avoid synthetic fragrance by skipping products with "fragrance" on the label, and limit product usage where you can. Also consider making your own products using simple, organic ingredients (like salt scrubs or body oils).
Do your research.
Since the personal care product and cosmetic industry is largely unregulated, read labels to seek out the safest products.

If you are unsure about a specific product's ingredients, double-check with an outside resource like the Think Dirty app, which ranks the safety of specific products and offers alternatives.
You can also review the Environmental Working Group's "Skin Deep" Cosmetics Database that cross-references the ingredients disclosed on personal care and beauty products with nearly 60 toxicity and regulatory databases of human health and environmental concerns.

Kudos to you for taking care of your body, inside and out!

References:
Roeder, A. (2014, February 13). Harmful, untested chemicals rife in personal care products. Retrieved December 27, 2018, from

https://www.hsph.harvard.edu/news/features/harmful-chemicals-in-personal-care-products/

FDA Authority Over Cosmetics: How Cosmetics Are Not FDA-Approved, but Are FDA-Regulated. (2018, July 24). Retrieved December 24, 2018, from

https://www.fda.gov/cosmetics/guidanceregulation/lawsregulations/ucm074162.htm

The Never List. (n.d.). Retrieved December 27, 2018, from

https://www.beautycounter.com/the-never-list

Phthalates Business Guidance & Small Entity Compliance Guide. (2018, April 25). Retrieved December 26, 2018, from

https://www.cpsc.gov/Business--Manufacturing/Business-Education/Business-Guidance/Phthalates-Information

"Trade Secret" Ingredients. (2018, August 8). Retrieved December 23, 2018, from

https://www.fda.gov/cosmetics/labeling/ucm414211.htm

Engeli, R. T., Rohrer, S. R., Vuorinen, A., Herdlinger, S., Kaserer, T., Leugger, S., Schuster, D., … Odermatt, A. (2017). Interference of Paraben Compounds with Estrogen Metabolism by Inhibition of 17β-Hydroxysteroid Dehydrogenases. International journal of molecular sciences, 18(9), 2007. doi:10.3390/ijms18092007

Geier, J. (2003, February). Patch testing with the irritant sodium lauryl sulfate (SLS) is useful in interpreting weak reactions to contact allergens as allergic or irritant. Retrieved December 23, 2018, from

https://www.ncbi.nlm.nih.gov/pubmed/12694214

.

1,4-DIOXANE. (n.d.). Retrieved December 23, 2018, from

http://www.safecosmetics.org/get-the-facts/chemicals-of-concern/14-dioxane/

1,4-Dioxane in Cosmetics: A Manufacturing Byproduct. (2017, December 31). Retrieved December 27, 2018, from

https://www.fda.gov/cosmetics/productsingredients/potentialcontaminants/ucm101566.htm

Swenberg, J. A., Moeller, B. C., Lu, K., Rager, J. E., Fry, R. C., & Starr, T. B. (2012). Formaldehyde carcinogenicity research: 30 years and counting for mode of action, epidemiology, and cancer risk assessment. Toxicologic pathology, 41(2), 181-9.

Pop, A., Kiss, B., & Loghin, F. (2013). Endocrine disrupting effects of butylated hydroxyanisole (BHA - E320). Clujul medical (1957), 86(1), 16-20.
Get a Taste of WAG
The WAG Crash Course is OPEN for enrollment. This 30-day course will teach you the ins and outs of macro tracking, building healthy lifestyle habits and sustaining results without restricting the foods you love. Get personalized macros from a WAG Coach, join the members-only Facebook Group and participate in quarterly Live Q&A sessions with WAG Coaches.
Posted by Team WAG
Working Against Gravity was established in 2014. Our nutrition coaches work one-on-one with clients to build custom programs that fit their needs. Our goal is to help each client discover a program that makes sense for them and produces lasting results, helping them develop a positive relationship with food—and themselves—along the way.
Latest Posts: