How to Prep Fresher Tasting Meals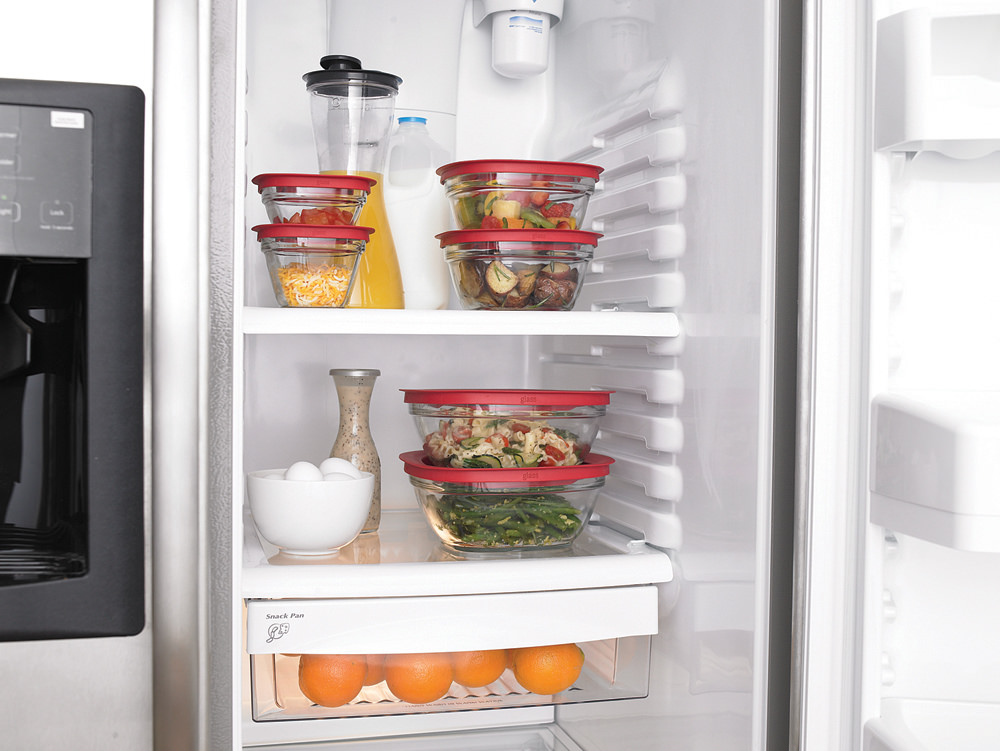 When it comes to tracking macros or eating healthy in general, meal prep can be a lifesaver. If time constraints mean you need to meal-prep one day a week, these tricks will be helpful in keeping your food fresh longer.


Salads
No one likes soggy salad. Wrap leafy greens or pre-spiraled veggies (e.g., zucchini noodles) in a paper towel to keep them crisp for longer. If you take premade salads with you, lay a paper towel over the top before putting the lid on and store upside down to collect the excess moisture!

Vegetables
Celery, zucchini, carrots, and cucumbers stay fresh much longer when wrapped in aluminum foil. Wrap them tight and store them in your fridge to keep them crisp longer.

Herbs
Cut the stems off of herbs and place in a jar or glass with water. Add them to the top of all of your meals to give them a fresh kick.

Grains
Cook grains (pasta, couscous, quinoa) and separate them by portion into containers. Adding olive oil can keep the grains from getting dry or sticky. If you have room, try allocating 2 to 3 grams to your macros so they'll taste freshly cooked once heated.

Make Freezable Meals
Take some inspiration from the frozen food aisle of the grocery store and make your own macro-friendly versions. Don't underestimate how much you can freeze!

Cakes and muffins taste absolutely fine after being frozen (this is often done in bakeries to make them easier to cut and decorate). If you want to avoid unplanned snacking on these treats, try freezing them so that you have to plan ahead for consumption.

Burritos and enchiladas

Soups

,

casseroles

,

stews

, curries, chilis and pasta sauces

Pizzas (but cook them before you freeze them)

Fruits and vegetables (yes, even avocados)

Beverages (juices, smoothies, milk)
When you've finished your meal prep, freeze the portions you plan on eating that week. Move them from freezer to fridge the night before you plan on consuming them and they'll be ready to reheat with a fresh taste!

Freeze Separate Servings
Let's say you're making a soup or casserole and want to portion it properly to get you through the week. Wait until your soup/casserole is cooled and then ladle your creation into freezable plastic cups. Freeze them for about two hours. Once frozen, cut them out of the cups and put them all in a large resealable bag. Place them back in the freezer and grab and go.

Use Glass
Food stores better in glass containers than plastic. Use glass food containers or utilize mason jars for a cheap alternative.

One-Pot Recipes
Prep your one-pot recipe (crockpot, stir-fry, sauces, soup) in full and separate by servings into large resealable bags. You can freeze an entire week's worth of prepared recipes in large zip-seal bags, then just take them out to thaw when you're ready!

Smoothies
Prepare your smoothie and divide it evenly into a muffin tray. Then, place your tray in the freezer. When you're ready to drink it, grab two chunks of smoothie, add some liquid and blend! Silicone trays are even easier for getting your smoothie portions out.

Vacuum Seal
You can buy home vacuum sealers to store meat, vegetables, and recipes. Pick one up for $10-$30 dollars. If you're doing a lot of vacuum sealing $50-$100 will get you a premium one.


Get a Taste of WAG
The WAG Crash Course is OPEN for enrollment. This 30-day course will teach you the ins and outs of macro tracking, building healthy lifestyle habits and sustaining results without restricting the foods you love. Get personalized macros from a WAG Coach, join the members-only Facebook Group and participate in quarterly Live Q&A sessions with WAG Coaches.
Posted by Dani Sheriff
Dani is the Project Director at WAG and has been a member since 2015. She is dedicated to creating amazing content for WAG clients and perfecting the client experience outside of coaching.
Latest Posts: