An Interview with Team USA Bobsled Athlete Lauren Gibbs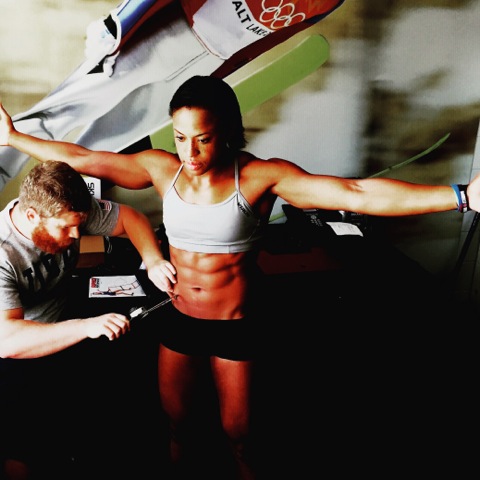 | | |
| --- | --- |
| Name | Lauren Gibbs |
| Location | Originally from LA |
| Goal | Win Gold in 2018 Winter Olympics and to weight 169 :) |
| Weight lost/gained to date | 10 lost |
| Sport (if applicable) | Bobsled |
| Instagram | lagibbs84 |
Q: Why did you decide to join Team WAG?
A: I joined Team WAG because I had to get to a lower weight for my sport than I was comfortable or knowledgeable enough to get into on my own. I did it last season on my own and I felt like crap, looked like crap and broke out with worse acne then I had in high school. I was miserable. I had tried paleo in the past and it worked for a while but that way of eating was not giving me the energy I needed to be explosive and powerful behind a bobsled. It was also really difficult to sick to when traveling abroad. 

Q: Was there anything about the program that surprised you?
A: The biggest thing that surprised me was that I ate a lot more carbohydrates than I was used to, because I was convinced that carbs were the reason that I couldn't lose weight.

Q: As an athlete, your training schedule is intense and varied. How have you managed to stay on track while balancing all of your commitments?
A: I have struggled staying on track at times but it was always because I failed to plan ahead. Now I have things that know I love to eat and make me real satiated so I put those into my tracking app first and then find things that fit in with my macros throughout the rest of the day. Eating right as an athlete is key to allow me to perform at my best everyday so I make sure to take the time to eat well.

Q: As an athlete in a weight based sport, how was using flexible dieting different from the approach you took in the past?
A: I have done paleo but I love carbs and really missed them. When I got desperate I would just skip meals which I knew was not healthy or good for my performance but if you can't make weight you don't race. It was miserable.

Q: How has your performance been affected by tracking, if at all?
A:I wake up excited to train and I am excited for meals again. I don't feel fatigued or unmotivated mid-workout and I can do as much volume as I need on a daily basis and recover much better as well.

Q: What has been the biggest change you've made in your lifestyle since joining?
A: It has been a lot easier to eat healthy because I don't get the cravings I used to since I can eat whatever I want as long as I have it planned.

Q: What advice do you have for other people considering hiring a nutrition coach?
A: Do it! Let someone with experience in nutrition and performance help you. There is nothing more disheartening to feel like you are doing everything you can but you can't lose weight or even worse you gain weight. Enjoy life, let them figure it out for you.
Get a Taste of WAG
The WAG Crash Course is OPEN for enrollment. This 30-day course will teach you the ins and outs of macro tracking, building healthy lifestyle habits and sustaining results without restricting the foods you love. Get personalized macros from a WAG Coach, join the members-only Facebook Group and participate in quarterly Live Q&A sessions with WAG Coaches.
Posted by Team WAG
Working Against Gravity was established in 2014. Our nutrition coaches work one-on-one with clients to build custom programs that fit their needs. Our goal is to help each client discover a program that makes sense for them and produces lasting results, helping them develop a positive relationship with food—and themselves—along the way.
Latest Posts: