An Interview with Kristina Barbusci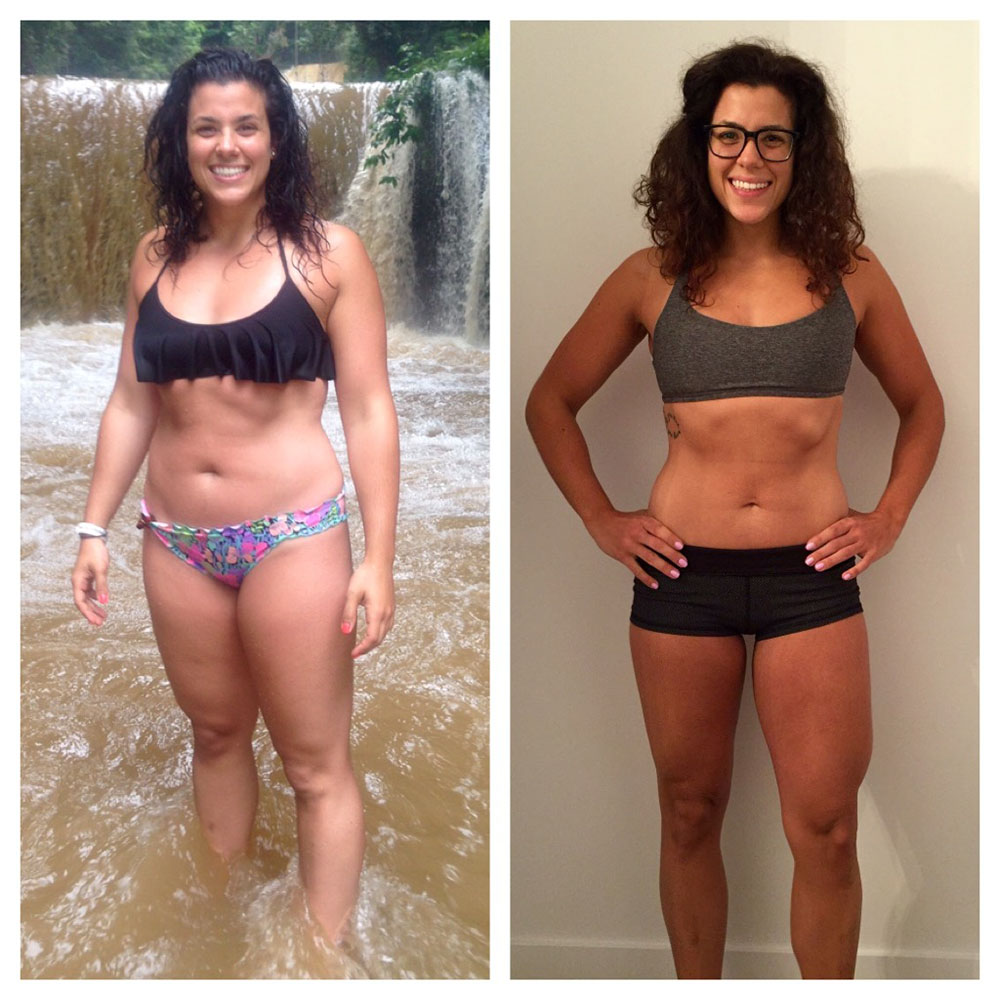 | | |
| --- | --- |
| Name | Kristina Barbusci |
| Location | Montreal, Canada |
| Goal | Gain strength & build confidence. |
| Weight lost/gained to date | 19 pounds lost. |
| Sport (if applicable) | Crossfit |
Q: Why did you decide to join Team WAG?
A: I decided to join Team WAG when I found myself looking in the mirror each day and not loving what I saw. I was working really hard in the gym, I (thought) that I ate well, but I just wasn't seeing the results I wanted, not even close. I would do really well eating healthy during the week, but I would fall completely off the wagon on the weekend. I am talking rock bottom, like the bottom of a Ben & Jerry's pint, bottom. I knew I needed a change and I definitely needed someone to hold me accountable to my actions every single week. With that, I decided to take the plunge and join Team WAG. What I didn't know was how much this program would change my life in more ways than just my eating habits.
Q: Was there anything about the program that surprised you?
A: The biggest thing that surprised me about the program was the support I found in my coach and other members of the WAG community. Checking in weekly with my coach not only holds me accountable all week, but I truly feel like I am emailing a close friend to checking and recap my week of training and eating. Knowing that my coach had my back, and was always believing in me was a huge shift in mindset for me. To have someone believe I could do it, allowed me the space to believe I could achieve my goals too!
Q: How have you managed to stay on track while balancing all of your work and social commitments?
A: Plan ahead! "Failing to plan is like planning to fail". Social commitments, vacations, holidays and weddings are all a part of life. But - they are no reason to jump straight into old habits, and forget everything that you know about tracking your macros. I've managed to stay on track through a lot of trial and error...I now know that what works for me is to plan ahead and give myself something to look forward to! If I know I am going to a wedding and I really want that piece of wedding cake, it will be the first thing I track, and I will work my entire day around it. Plan ahead, stay mindful, and enjoy the people you love, gatherings don't always have to be about food ;)
Q: What has been the biggest change you've made in your lifestyle and/or approach to food since joining?
A: I started this journey as a very self-conscious girl who was full of doubt, and self-destruction. I went through years of believing that I simply wasn't good enough. I believed that I wasn't good enough for a dream job, a great body, an amazing relationship, or reaching my goals in any and every way you could think of. Through my coaches kind words and patience, I have very slowly but surely turned into the girl I have always wanted to be. Don't get me wrong - I still struggle with those "I am not good enough" thoughts, but now I know where to throw them, because they serve me no positive purpose, at all. Sure, I have lost 19 pounds. But looking back, it really isn't the weight lost that I am most proud of. It is what I have gained that I am so thankful for. I am so proud of the clarity, balance and positivity that WAG has taught me. Do I still want ice cream? Absolutely! Do I still eat ice cream? Absolutely! I just know how to control myself now & that's huge. I can now say with all confidence; that I am not the same girl who started this journey, and while I have left her behind, I will always carry a small piece of her with me, because the old me, is what has allowed me become this new and improved version of me - & as my coach would say, I am 100% on "Team Kristina is Awesome" right now.
Q: What advice do you have for other people considering hiring a nutrition coach?
A: Forget about any preconceived thoughts you have about hiring a nutrition coach, and go for it! Being a part of Team WAG is like gaining a second family. There will surely be weeks that are going to be tough. Some weeks the scale doesn't move in the direction you want it to. Some weeks you don't plan as well as you should have. Some weeks you just can't stop eating almond butter (#reallife). Maybe you are stressed. Maybe you are having a tough time at work/school/home. Whatever it may be, your coach is going to help you through it and make you realize that life happens, and it is the way we choose to deal with the cards we are dealt that shapes our reality. Maybe you'll hire a nutrition coach and you'll learn more about fuelling your body and training to your maximum potential. Or, maybe you'll learn a lot more than that. Maybe, you'll lose weight, gain more confidence than you ever thought possible, all while learning just how powerful you truly are.
Working Against Gravity was established in 2014. Our nutrition coaches work one-on-one with clients to build custom programs that fit their needs. Our goal is to help each client discover a program that makes sense for them and produces lasting results, helping them develop a positive relationship with food—and themselves—along the way.
Get a WAG Coach
Love what you learned but still want more guidance and support? Get matched with an experienced coach who will get to know you, your lifestyle, and your preferences to give personalized feedback and suggestions.
With two membership options to choose from, you'll get a customized nutrition plan, weekly check-ins, unlimited messaging, our personalized coaching platform, and the ability to add monthly video calls and custom meal plans.
We'll help you reach your body composition goals and sustain your results.
CHOOSE YOUR MEMBERSHIP
Latest Posts: