An Interview with Crossfit Athlete Rasmus Anderson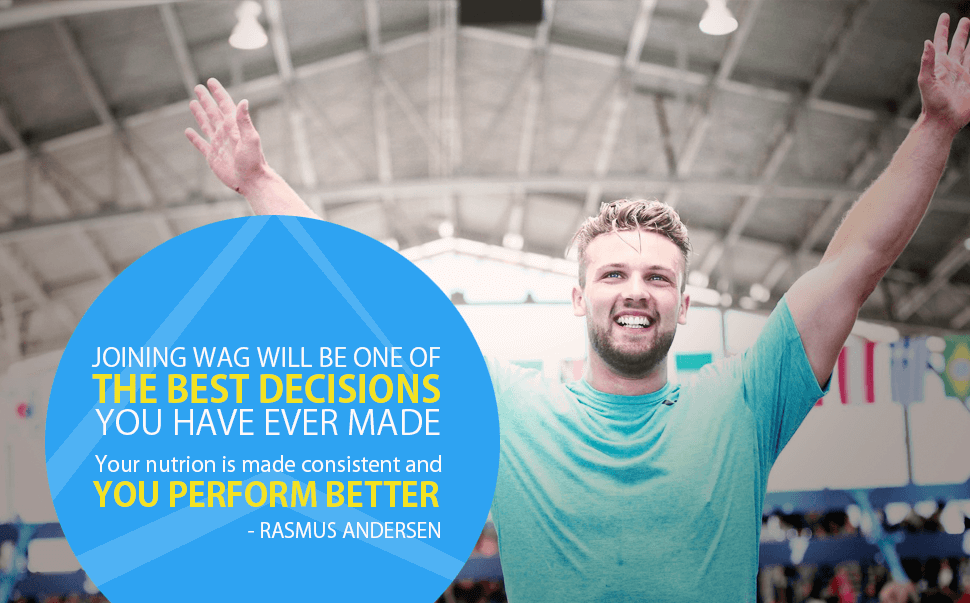 | | |
| --- | --- |
| Name | Rasmus Andersen |
| Location | San Diego, CA |
| Goal | Qualify for the CrossFit Games |
| lost/gained to date | 13bs |
| Sport (if applicable) | Crossfit |
Q: Why did you decide to join Team WAG?
A: I've tried so many different meal plans over the past 3-5 years and never really had any success. I competed last year at the SoCal Regionals and was only a few spots away from qualifying for the CrossFit Games due to being too heavy (or too weak depending on how you see it) and not able to perform high volume strict HSPU. So in another desperate attempt I contacted Adee and WAG to see if this would be any different from the many other things I've tried. Fortunately, it was!
Q: Was there anything about the program that surprised you?
A: I knew about the principle of tracking macros so wasn't really surprised by anything. I got a little surprised a few weeks into the program when I started to figure things out and everything just got a lot easier.
Q: As an athlete, your training schedule is intense and varied. How have you managed to stay on track while balancing all of your commitments?
A: To be honest, it is hard. I think for me the hardest part has been that on certain days I feel a lot hungrier due to a high volume training than I do on other days. I manage to stay on track due to the weekly check in, which allows me to adjust things as needed.
Q: How has your performance in the gym been affected by tracking, if at all?
A: To be honest my performance hasn't change much. I never have a really bad day anymore which I used to have once in a while because I went completely overboard with certain foods. So the consistency is great!
The biggest part for me has definitely been the weight loss. The fact that I'm now 13 lb. lighter makes a huge different when doing gymnastics and other stuff. So because of that my performance has indirectly gone up. By a lot!!
Q: What has been the biggest change you've made in your lifestyle since joining?
A: Carrying a pocket scale around with me no matter where I go. I used to eat out a lot and don't do that as much anymore, simply because it's hard to track my macros on restaurants. Other than that, much haven't changed.
Q: What advice do you have for other people considering hiring a nutrition coach?
A: DO IT!! It will be one of the best decision you have ever made. It just makes your nutrition more consistent and makes you perform a lot better. I'm so glad I joined team WAG!
Get a Taste of WAG
The WAG Crash Course is OPEN for enrollment. This 30-day course will teach you the ins and outs of macro tracking, building healthy lifestyle habits and sustaining results without restricting the foods you love. Get personalized macros from a WAG Coach, join the members-only Facebook Group and participate in quarterly Live Q&A sessions with WAG Coaches.
Posted by Team WAG
Working Against Gravity was established in 2014. Our nutrition coaches work one-on-one with clients to build custom programs that fit their needs. Our goal is to help each client discover a program that makes sense for them and produces lasting results, helping them develop a positive relationship with food—and themselves—along the way.
Latest Posts: