An Interview with 2015 & 2016 Crossfit Games Champion Katrin Davidsdottir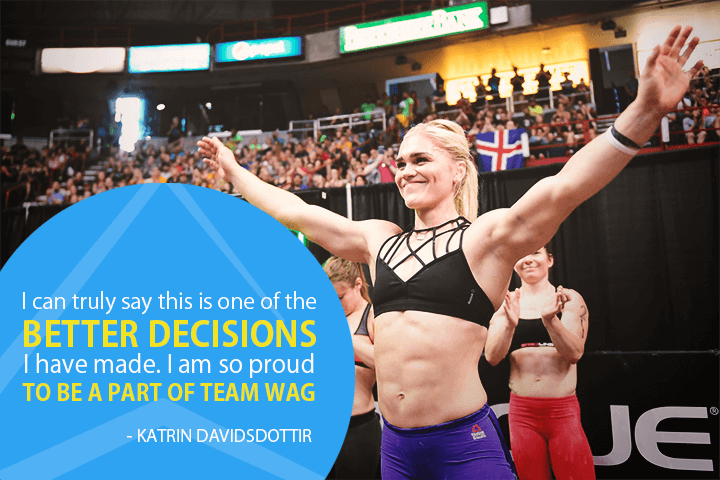 | | |
| --- | --- |
| Name | Katrin Davidsdottir |
| Location | Iceland / Boston |
| Goal | To win the CrossFit Games |
| lost/gained to date | Dropped 5lbs (that has nothing to do with my goal - my goal is better performance) |
| Sport (if applicable) | Crossfit |
Q: Why did you decide to join Team WAG?
A: I was heading into the 2016 CrossFit Games season, I had been training well and I was feeling good. Ben Bergeron, my coach always talks to me about taking care of all the 1 percent's. Make sure we are maximizing every day and my potential. I would always try to eat pretty clean but in all honesty I had no clue as to what I was eating so even though I was performing well we didn´t want to look back and think MAYBE there was more room for more improvement, maybe I could have been performing EVEN BETTER. So we decided to start working with WAG and the experience has been incredible. There in fact WAS room to improve my performance!
Q: Was there anything about the program that surprised you?
A: At the beginning, hitting my macros was actually way harder than I had ever imagined. It took me a good 3-4 weeks to start learning the different foods, making changes and finding what worked for me. After that you kind of know what you can eat and what choices to make. The second thing that surprised me is how much I love this. I didn´t think I would like counting my food, but after getting the hang of it I can´t imagine how I ever went about not knowing what I was eating. This both keeps me on track with eating ENOUGH some days and other days it simply keeps me on track with making healthier, better food choices.
Q: As an athlete, your training schedule is intense and varied. How have you managed to stay on track while balancing all of your commitments?
A: When I am home I have a very structured routine. I do the same thing every day. That makes it very easy to stay on track and that is how I feel best. I cook breakfast in the morning and then I always bring lunch and snacks with me to the gym so I have food for the day prepared already with me. I find this is the most important thing to staying on track, just making it easy for yourself. Then I prepare dinner when I am back home at night and that is when the little ´tetris´ game begins! Filling into any macros you have left and making it work.
Q: How has your performance in the gym been affected by tracking, if at all?
A: I am lighter than I was before AND I am stronger than I was. So just an all around performance improvement. My running feels great, I feel fit, my gymnastics is good AND my lifting numbers are going up.
Q: What has been the biggest change you've made in your lifestyle since joining?
A: I LOVED fat. Loved all the whole eggs in the mornings, all the avocados, I LOVED chicken & tuna salad (those with all the mayo in) and I was scared to death of carbs! Really the only carbs I would eat was fruit here and there so there wasn´t much to fuel all the high intensity training I was doing every day or much to help me recover. When I started I had to, (what felt like), cut out all fats and start eating a lot more carbs. Of course I wasn´t cutting out all fat but I reduced my breakfast from 4 whole eggs to 2 whole eggs and 2 egg whites. I also took the avocado out and I eat oatmeal and a banana with my breakfast. I now eat either rice or sweet potatoes with both lunch and dinner and I normally have a snack during long training sessions. Depending on what I have eaten through the day I can then get my avocado in at night with my dinner, yummy! I am eating a lot more food than I used to so my body has so much more fuel than it has ever had before while being at the weight I´d like to be at.
Q: What advice do you have for other people considering hiring a nutrition coach?
A: Find someone who you can really trust and talk to. Communication will be key and you have to be open and honest if this is to work for you. It WILL take time, effort and even a little bit of frustration, but it WILL all be worth it! Nutrition is the foundation to any good performance and a healthy body. I can truly say this is one of the better decisions I have made - I am so proud to be a part of team WAG!
Get a Taste of WAG
The WAG Crash Course is OPEN for enrollment. This 30-day course will teach you the ins and outs of macro tracking, building healthy lifestyle habits and sustaining results without restricting the foods you love. Get personalized macros from a WAG Coach, join the members-only Facebook Group and participate in quarterly Live Q&A sessions with WAG Coaches.
Posted by Team WAG
Working Against Gravity was established in 2014. Our nutrition coaches work one-on-one with clients to build custom programs that fit their needs. Our goal is to help each client discover a program that makes sense for them and produces lasting results, helping them develop a positive relationship with food—and themselves—along the way.
Latest Posts: