An Interview with 2014 Crossfit Games Champion Camille LeBlanc-Bazinet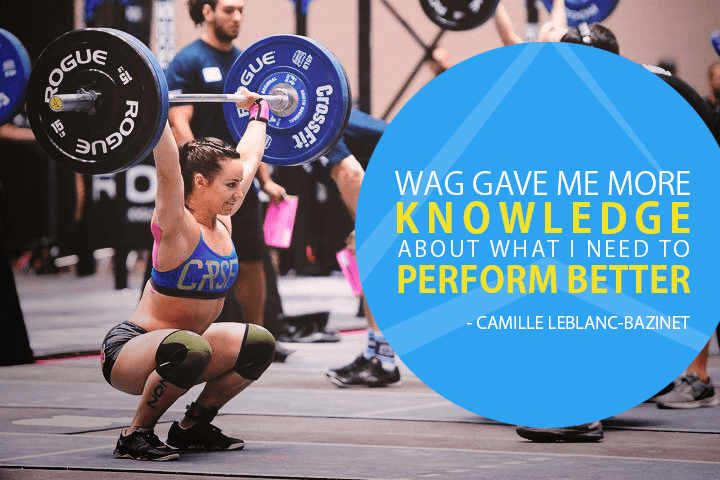 We recently caught up with the 2014 Fittest Woman in the World, Camille LeBlanc-Bazinet to talk about her experience with Working Against Gravity and what she learned about her nutrition by tracking her macros.
| | |
| --- | --- |
| Name | Camille Leblanc-Bazinet |
| Location | Colorado |
| Goal | Maximizing body composition for performance |
| Sport (if applicable) | Crossfit |
Q: Why did you decide to join Team WAG?
A: I heard good things about Working Against Gravity from a friend and I am always open minded to trying new things and see if I like it for myself.
Q: Was there anything about the program that surprised you?
A: I was surprised by how much fat is in my food normally and also just being more aware of macros content generally..
Q: As an athlete, your training schedule is intense and varied. How have you managed to stay on track while balancing all of your commitments?
A: I stay on track mostly by being prepared in advance! It took a bit at first to organize my day nutrition wise especially with this new way of eating but once you prepared in advance everything is easier.
Q: How has your performance in the gym been affected by tracking, if at all?
A: I think it's always better to weight and measure your food. It gave me more knowledge about what I need to (eat to) perform better.
Q: What has been the biggest change you've made in your lifestyle since joining?
A: The biggest change has been eating less fat and more carbs.
Q: What advice do you have for other people considering hiring a nutrition coach?
A: I think (people) totally should! Even if it's just for a little bit just to gain knowledge and build a base understanding.
Get a Taste of WAG
The WAG Crash Course is OPEN for enrollment. This 30-day course will teach you the ins and outs of macro tracking, building healthy lifestyle habits and sustaining results without restricting the foods you love. Get personalized macros from a WAG Coach, join the members-only Facebook Group and participate in quarterly Live Q&A sessions with WAG Coaches.
Posted by Team WAG
Working Against Gravity was established in 2014. Our nutrition coaches work one-on-one with clients to build custom programs that fit their needs. Our goal is to help each client discover a program that makes sense for them and produces lasting results, helping them develop a positive relationship with food—and themselves—along the way.
Latest Posts: