A Complete Guide: Tracking While Traveling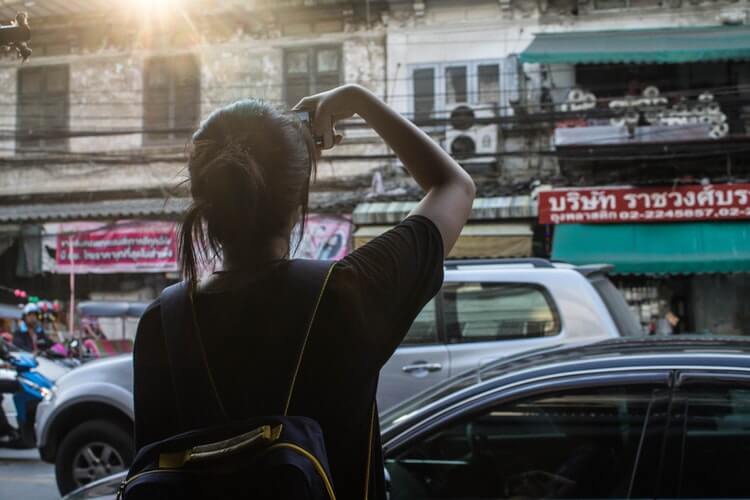 Whether you're traveling for business or for pleasure, it can be challenging to juggle your travel plans with your nutrition goals. There are plenty of excuses to indulge. After all, travel is about new experiences and enjoying things you normally wouldn't, right? But you can still enjoy vacation or travel without returning full of regret. Below is our guide to strategies for enjoying your travels and still feeling your best when you return.


Plan Ahead

The key to success is planning. Before you start packing up your swimsuit and goggles, or trading in your sandals for skis, stop and think about your goals for the trip.
Ask yourself:
Why are you taking this trip?

Do you want to stay precise when tracking or focus on intuitive eating?

Is there anything coming up after your trip that requires you to be at a certain weight, such as a competition or event?
If your goals allow you to be a little more lenient in your tracking habits, listen to your body and do just that by practicing intuitive eating or indulging when you feel appropriate. You can still make progress in your goals while giving yourself some leniency.
But if your goals require that you track on your vacation or maintain the rate you've been going, there are plenty of strategies for success.
Want to track strictly while you are gone? Read this success story of one person's experience tracking strictly while moving across the world.
For food choices, you will find some options available on the road and in airports, but your best bet will be to pack as much ahead as you can. Then use the things available as you travel to give you more options for some fresh foods. If you are flying, you'd be surprised at the things you can actually pack to bring through security. In addition, here are some ideas of what you can grab while you are on the go.
Another great resource is the internet, many chain restaurants you'll find along the way or during your layover provide their nutrition details online. Do some quick research before you head out, and see what's available to ensure a terrific travel day, from departure to arrival. Finally, add some of these essentials to your suitcase to help you nail your goals and stay accountable while gone.
While planning for the road is great, planning ahead also applies to your final destination. What are your flight numbers? Do you know the best route? The more that you know ahead of time, the easier the travel will be. If you've done all this work before you leave, you can truly relax during your vacation.


Feel Your Best

When you are traveling, a whole host of things happens to your body. The actual transportation can leave you sitting for long hours, potentially in small spaces. If you change time zones, you'll have to manage new sleep patterns. You might not have access to the same food choices while you are gone and dehydration is always a possibility. Check out some of these strategies for combating those common travel woes.
It can be easy to use travel as a reason to skip exercise. While you might not have the time or ability to pursue your usual training regime, it doesn't mean you can't stay active while you are seeing the sights. A great way to keep moving on vacation is to incorporate things that keep you active, like finding local trails or attractions to walk around.
When the weather isn't cooperating, check out your hotel gym (if it has one). They'll usually have a few different machines available for some cardio, or even some weight training options. If you're crashing at a cool little B&B in town or staying somewhere without a gym, no problem! There are plenty of ways to get a burn on, even when you have no gym, like these bodyweight exercises.


Track on the Go

Fresh surroundings don't have to become a reason to give up tracking completely. There are many different ways you can still eat nutritious food, even if you are staying at a hotel. These hotel room hacks give you ideas for how you can rock your macros and travel too. Find even more ideas here.
You have more options than you might think when it comes to food on the go. Try some of these macro-friendly on-the-go meal options the next time you're stuck with no snacks on hand. And just because you're pressed for time doesn't mean you can't find real food options for some easy on-the-go meal prep.
Eating out can seem tricky, but there are ways to find something to eat at nearly every type of restaurant. These guidelines work well at most restaurants and give you an idea of how to approach any menu. Otherwise, useful information can usually be found on their website. Sometimes you are going to a more specific restaurant, such as Mexican or sushi. Guides to those restaurants and more are available on this guides page.


Location, Location, Location

Depending on where you're going or why you're there, you might encounter some common scenarios. A lot of hotels include a free breakfast, but much of the time it's a buffet. Don't let that stop you! There are plenty of ways to stay macro-friendly at the breakfast buffet.
Or, if you're traveling to a conference for your job, you don't have to sweat it. Try some of these strategies for navigating the food situation. You don't have to pass up a free work lunch, either. Here's how to make a free lunch macro-friendly.
A lot of these strategies can be used in other countries as well, though you may not always find the same options. Check out these location-specific options below: 

Customized Plan

Want more information on keeping your travels macro-friendly, or are you looking to come up with a customized strategy of your own? A Working Against Gravity Coach can help you figure out how to approach your exact situation and help you create a plan to feel your best during and after your travels so that you can come home feeling better than when you left!
Get a Taste of WAG
The WAG Crash Course is OPEN for enrollment. This 30-day course will teach you the ins and outs of macro tracking, building healthy lifestyle habits and sustaining results without restricting the foods you love. Get personalized macros from a WAG Coach, join the members-only Facebook Group and participate in quarterly Live Q&A sessions with WAG Coaches.
Posted by Team WAG
Working Against Gravity was established in 2014. Our nutrition coaches work one-on-one with clients to build custom programs that fit their needs. Our goal is to help each client discover a program that makes sense for them and produces lasting results, helping them develop a positive relationship with food—and themselves—along the way.
Latest Posts: