10 Kitchen Tools for Macro Tracking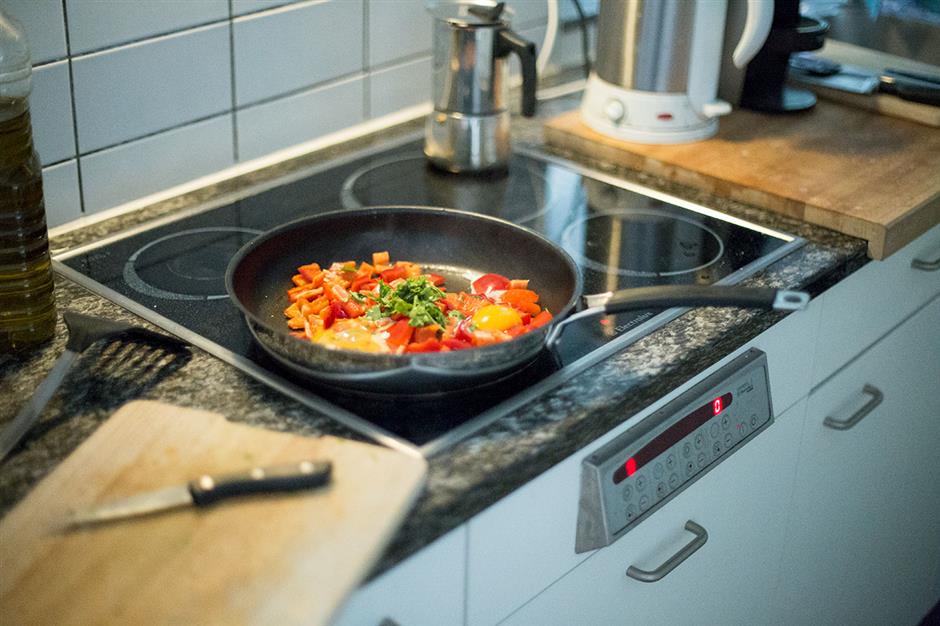 No matter which way you slice it, taking control of your nutrition means cooking more than you were before. Whether you love spending time in the kitchen or it feels like a necessary evil, we collected the top tools that we consider worthwhile investments to make your meals more enjoyable — or at least more efficient. A few of these are novel items, but knowing when to splurge is worth it.

Kitchen Tools

Pan Dam
Available on Amazon for around twenty bucks, a silicone pan dam allows you to prep two portions at once or cook more than one meal in the same pan. This is a lifesaver for anyone with a partner who tracks macros or anyone who hates doing the dishes!
Quality Nonstick Pan
A good nonstick pan will save you from epic omelet fails in the morning, and save you precious fats by skipping whatever you use to grease it up. These basic Kitchenaid pans are sturdy, long lasting and you can usually find them for a great price at department stores.
Quality Chef Knife
This is a big-ticket kitchen tool, but a well cared for chef knife will last for years to come. Save time preparing your food, save yourself from writer and forearm fatigue (yes, this is real!) and protect yourself, because a sharp knife is a safer knife. J.A. Henckels produces a range of knives, but their Classic 8" French Chef's Knife is a perfect all-purpose knife.
Mini Spatulas
When you track macros, you want to eat every last bite #lickthebowlcrew. Save yourself from having to clean your dish undercover and grab some cheap mini silicone spatulas. This might sound silly, but when you see how much yogurt gets trapped on a bowl you'll be wondering how you ever made gains before.
Scale
Yes, this might be obvious, but having a scale that functions poorly can make mealtime a headache. If your scale shuts off prematurely, doesn't register smaller changes in weight, or you just plain don't like it, grab a new one. One of our favorites is from Ozeri, it will put you out about $20, but will provide you peace of mind with your prep.

Accessories and Appliances

Spiralizer
Spiraled veggies are one of the hottest trends in health food for a good reason. They're high volume, low in calories and let's be real, they look pretty too. Whether you're spiralizing zucchini for pasta, or beets to throw on top your salad, a spiralizer is a fun accessory to have.
Food Processor
A food processor is one kitchen gadget that has practical use no matter what type of diet you're following. You can use it to make cauliflower rice, use a time-saving attachment to chop or shred vegetables or blend up some protein ice cream. It's well worth the cupboard space, and Cuisinart makes models ranging from 4-20 cup capacity, so you can choose the right fit for your home.
Instant Pot
With the Instant Pot, gone are the days of playing a dangerous game of Jenga to find a buried appliance. Combining your usual staples into an all-in-one appliance, this thing is a slow cooker, pressure cooker, rice cooker, and it will steam and saute your recipes. It's nearly foolproof too because the Instant Pot self-regulates temperatures based on the setting for a perfect dish.
These are our favorite tools, but no doubt you've got your own. What products are indispensable to your macros success?
For more macro-friendly kitchen hacks and ideas, sign up for our one-on-one nutrition coaching now!
Get a WAG Coach
Love what you learned but still want more guidance and support? Get matched with an experienced coach who will get to know you, your lifestyle, and your preferences to give personalized feedback and suggestions.
With two membership options to choose from, you'll get a customized nutrition plan, weekly check-ins, unlimited messaging, our personalized coaching platform, and the ability to add monthly video calls and custom meal plans.
We'll help you reach your body composition goals and sustain your results.
CHOOSE YOUR MEMBERSHIP
Latest Posts: