Tips for Planning Your Daily Meals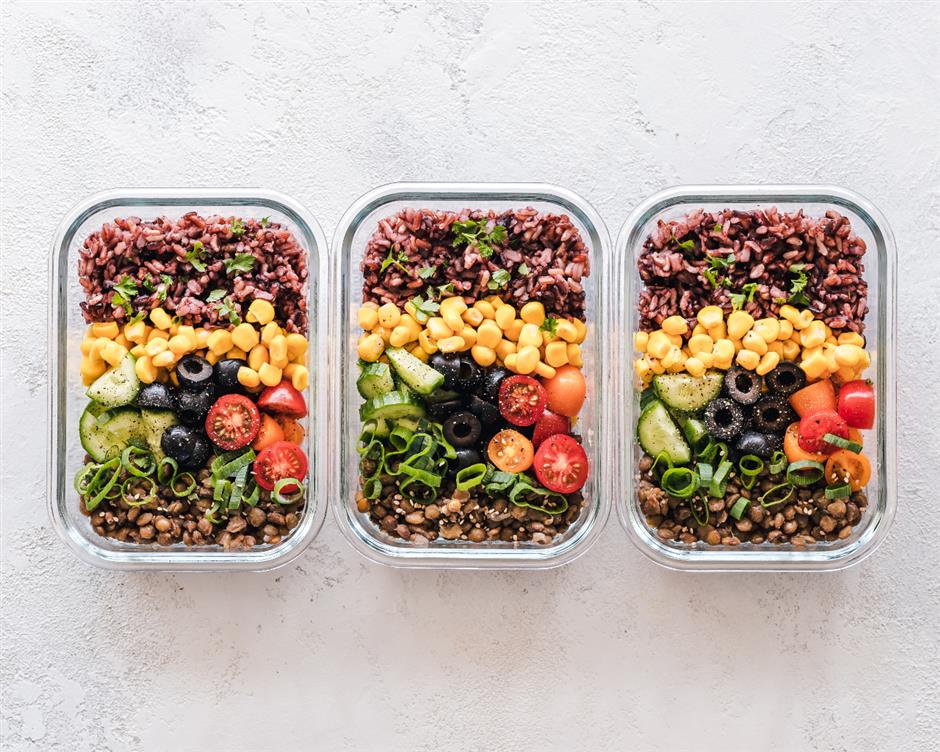 We often get asked why we don't write meal plans, but we think once you see how straightforward it can be with a bit of practice, you'll be glad you did it yourself!
There is no one-size-fits-all approach to what to eat, when to eat, or how to eat. That's why your WAG nutrition coach provides you with personalized tips on how to build your day of eating, with your needs in mind.
Even with those guidelines, we understand that figuring out a method that works for you can be hard, so we're sharing our universal tips to approach meal planning that can work for almost any level of health and fitness needs.
Set a Schedule 
Decide how many times per day you'd like to eat or can reasonably fit in a meal/snack. This helps you anticipate how many opportunities you have to eat throughout the day and makes it easier to pace your intake. If your schedule is irregular, you can create templates to follow on specific days of the week. For example, if you know that Tuesdays and Thursdays bring back-to-back classes followed by a quick car ride to work, then it's reasonable to assume that you probably can't follow a six-meal-a-day plan on these days. Find ways to adjust your schedule to compensate.
Divide and Conquer
Once you determine how many meals you can or would like to eat each day, divide your total macro targets.
This gives you a guideline of how much of each macro you should eat per meal to evenly space it throughout the day. This is a great tool if you find yourself under or over one macro on a consistent basis since it promotes including an appropriate balance of each macro at each meal.
For example: 200 C / 45 F / 145 P split between five meals per day = 40 C / 9 F / 29 P per meal.

Once you have made that determination, you can begin tweaking and planning how you will structure your meals to account for nutrient timing around your workouts. Keep in mind that we want to set a strong foundation first. Building consistency with your intake will have more of an impact than meal timing, so try sticking to the basics before worrying about more nuanced details.
The example below is based on four meals per day, but you can divide up the macros outside of the pre- and post-workout meals however you'd like. We still recommend prioritizing carbohydrate and lean protein intake around training to help fuel your body for energy and recovery, so we suggest not moving those macros around too much.
Breakfast – 25% of protein / 20% of carbs / 35% of fats
Pre-workout – 25% of protein / 30% of carbs / 15% of fats
Training session post-workout –  25% of protein / 30% of carbs / 15% of fats
Dinner –  25% of protein / 20% of carbs / 35% of fats
We get that your busy schedule might mean a training session early in the morning or late at night. If that's the case, you may benefit from our blog post on nutrient timing for workouts.
Customize Your MyFitnessPal
Did you know you can edit the number and names of your meals on MyFitnessPal? If you go to the desktop website for MyFitnessPal, you can easily customize them using this tutorial to match up to your day. If you find yourself eating the same meals on a consistent basis, you can also save these "meals" to make adding them faster. Click here for the tutorial and save yourself time from having to manually insert every food each day.
Taking It Day by Day
If you value variety in your food and eating the same thing each day doesn't appeal to you, that's okay too! You can make meal plans just for each day based on your preferences at the time.
Put your preferred foods in MyFitnessPal ahead of time (the night before or in the morning) so you can see how close you will get to your daily macro goals. Then go back and either adjust portions on different foods to round out your macros or add in another little snack—boom!
Remember, these are just tips for getting started—as you experiment with different strategies for eating, you can always adjust your plan based on what works and what doesn't.
If you've got the timing down and are hitting your macros every day but still find yourself in a state of constant hunger, you may want to consider these strategies for eating to actually feel full. Or, consider hiring a nutrition coach who can help plan your meals based on your needs and preferences.
When you
sign up for Working Against Gravity
, we'll pair you with your own personal nutrition coach. You'll have formal weekly check-ins with your coach, plus the ability to message them 24/7 anytime you need to chat.
Together, you'll decide the steps to take to reach your goals and master healthy habits. You'll also join our exclusive online community, where you'll find additional accountability and support. 
Photo credit: How to Meal Prep: The Ultimate Guide to Saving Time and Eating Healthy
Get a Taste of WAG
The WAG Crash Course is OPEN for enrollment. This 30-day course will teach you the ins and outs of macro tracking, building healthy lifestyle habits and sustaining results without restricting the foods you love. Get personalized macros from a WAG Coach, join the members-only Facebook Group and participate in quarterly Live Q&A sessions with WAG Coaches.
Posted by Team WAG
Working Against Gravity was established in 2014. Our nutrition coaches work one-on-one with clients to build custom programs that fit their needs. Our goal is to help each client discover a program that makes sense for them and produces lasting results, helping them develop a positive relationship with food—and themselves—along the way.
Latest Posts: