Real Food Made Easy (On-The-Go Meal Prep)
Sometimes we're traveling, too busy or just simply not in the mood to cook. Whatever the reason, there are times when we need real food requiring no cooking and no time.
If you need help hitting your macros on the go, here are some suggestions for meals and snacks that you can prep in a pinch at home or grab at the grocery store.
Help out the team by sharing your go-to, no-cook meals in the comments or on social media with #TeamWAG!
Wrap and Go!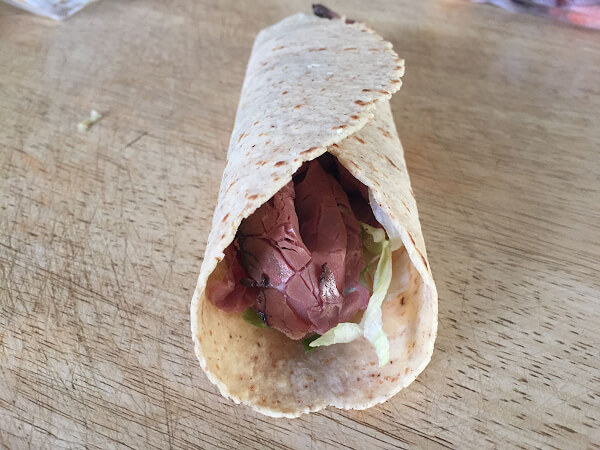 Never underestimate the ingredients that can go with low carb tortillas or wraps...and how easy they are to eat when you're running late!
One Laughing Cow cheese spread, a few slices of rare roast beef or ham and a small handful of spinach leaves. Have some pre-prepared and cling-wrapped for on the go!
Calories 158 | P 18 g | C 12 g | F 4.5 g
For something sweet and slightly higher on carbs, spread 10 grams of nut butter, slice up half a banana, wrap and run!
Calories 158 | P 7.5 g | C 25 g | F 7 g
Lean Green Protein Salad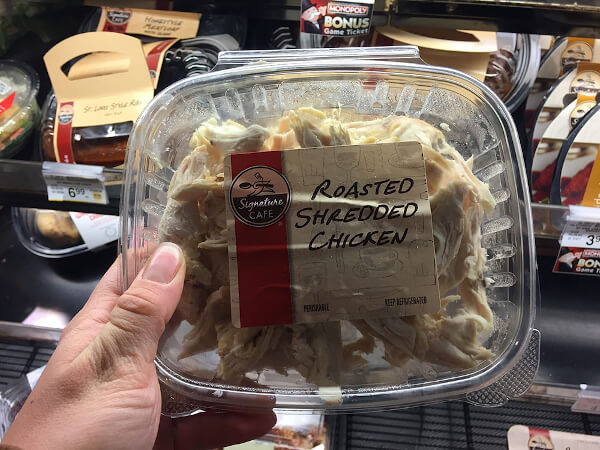 Out and about with no food on hand? Find a grocery store and buy a bag of pre-washed salad leaves, cherry tomatoes and some lean meat. Add all the ingredients into the salad bag and you have a really filling (and extremely quick) salad. Buy the meat straight from the deli, so you can order exactly what you need by weight!
Calories 236 | P 26 g | C 22 g | F 2 g
Vacuumed Veggies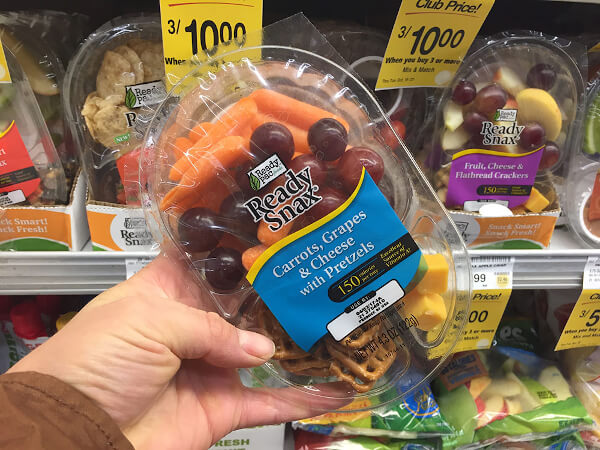 It's crazy easy to find pre-cut fruit, vegetables and other healthy snacks, vacuum sealed for freshness! Find them in the produce section of the grocery store. They're easy to weigh and many brands include macros on the label!
Keeping snacks simple is the key. Celery, carrots, cheese and crackers are an easy go-to with plenty of carbs and fats to keep you satiated while you're out and about.
Ready to Yogurt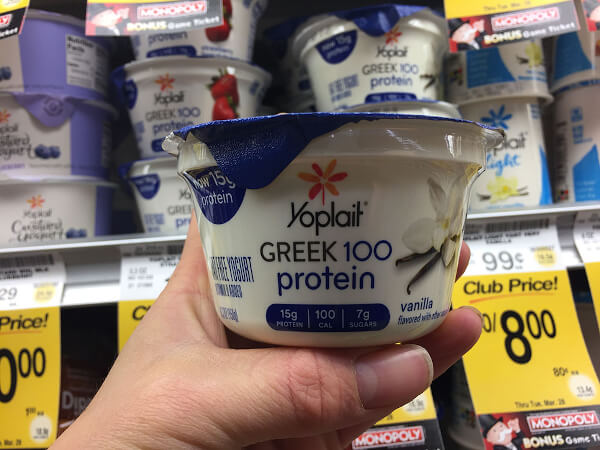 It's SO easy to find a yogurt brand that fits just about any macros. Our favorite yogurts based on flavor, texture and macro profile are Chobani 0% Fat Greek Yogurt, Trader Joe's 0% Greek Yogurt, Siggi's Skyr and Yoplait Greek 100 Protein.
Turkey Hot Dogs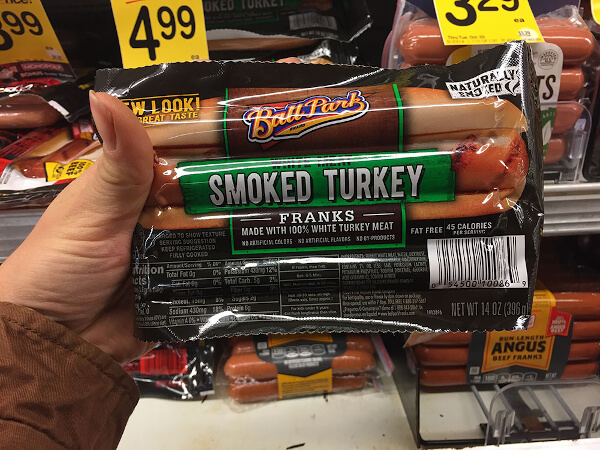 Heat two turkey dogs in the microwave for 1-2 minutes on high with mustard and ketchup and you've got a yummy protein snack. Have a packet of hot dog buns or low carb bread on hand and you'll be wondering how it's possible to be snacking on hot dogs and reaching your nutrition goals at the same time. PRO TIP: white meat turkey dogs have 0 g of fat!
Calories 209 | P 15 g | C 33 g | F 1.5 g
Pre-prepared Proteins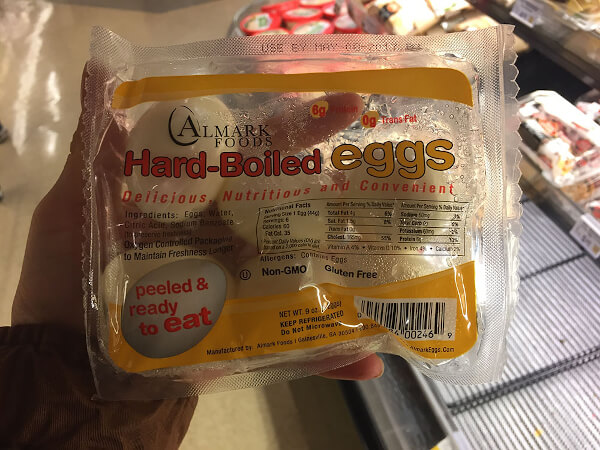 Eggs are a staple at cafes, diners, salad bars and grocery stores. Buy them pre-wrapped or order them to go! Only need egg whites? Hard-boiled/poached eggs are easy to peel off the egg whites and leave the yolk. Pre-boil at home, go to your nearest grocery store or stock up at a salad bar.
Cooked meat is easy to find. Salad bars, rotisseries, grocery stores and most restaurants will have an option that's easy for you to grab and go.
Calories 100 - 150 | P 20 - 30 g | C 0 g | F 1 - 5 g
No fridge? No problem. Try jerky or bison bars!
Calories 85 | P 16 g | C 3 g | F 1 g
So Easy Sushi
Sushi is simply rice and meat with some soy sauce to taste. Order sushi without sauces and high fat fillings (like avocado or tempura) and always order lean protein seafood or chicken.
Calories 200 - 250 | P 5 - 15 g | C 20 - 30 g | F 0 - 5 g
Bank on a Bakery
If you have carbs to fill, choose easy things to track at a bakery. Select options without fillings because you never know what, or how much filling there is. Stick to plain breads, croissants, bagels–that kind of thing. Be extra careful, they're carb-dense!
Calories 150 - 350 | P 0 - 5 g | C 20 - 60 g | F 0 - 30 g
Easy to Eat Fruits and Vegetables
Just wash and eat!
Bell peppers/capsicums
Bananas
Apples
Pears
Strawberries
Raspberries
Blueberries
Grapes
Carrots
Cherry tomatoes
Cucumbers
Salad leaves
Dani is the Project Director at WAG and has been a member since 2015. She is dedicated to creating amazing content for WAG clients and perfecting the client experience outside of coaching.
Get a WAG Coach
Love what you learned but still want more guidance and support? Get matched with an experienced coach who will get to know you, your lifestyle, and your preferences to give personalized feedback and suggestions.
With two membership options to choose from, you'll get a customized nutrition plan, weekly check-ins, unlimited messaging, our personalized coaching platform, and the ability to add monthly video calls and custom meal plans.
We'll help you reach your body composition goals and sustain your results.
CHOOSE YOUR MEMBERSHIP
Latest Posts: