Ugh, I just love Trader Joe's. Not only because the foods are delish, reasonably priced and there is always something new to try, but also because everything there is so darn easy to cook.
When you're a) trying to make mostly healthy choices and b) have better things to do with your time than slave away in the kitchen, keeping the healthy choice the easy choice is key. This is one of the things I find myself reminding my clients most often and I want you to remember through your nutrition journey: keep the healthy choice the easy choice.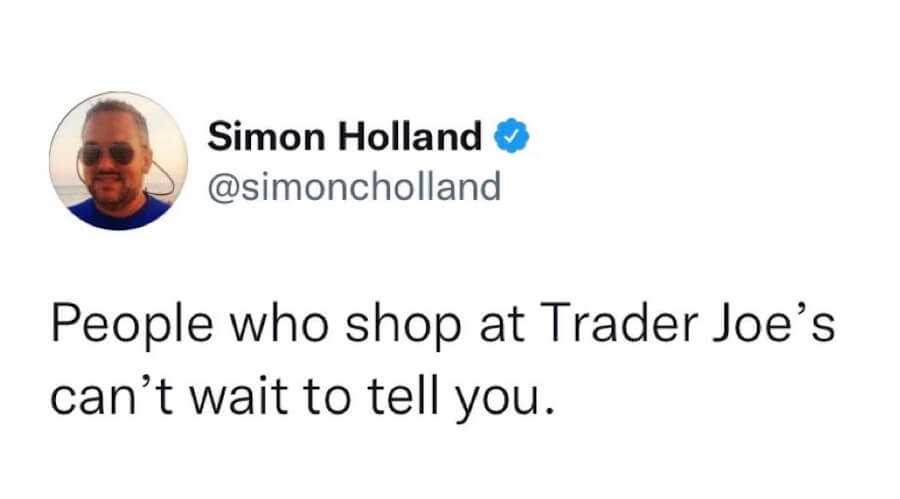 Moral of the story: I love it at Trader Joe's. And people know I love it there. When this tweet was going around, six separate people sent it to me on Instagram (I haven't quite made my way over to Twitter yet) asking if I was triggered and my answer was a resounding "nope, not even a little triggered" cause that is totally me.
Macro Friendly Trader Joe's Foods
If you're a fellow Trader Joe's junkie, you know that the seasonal options are delish but they're just that - seasonal. Today, I wanna share some of my macro-friendly Trader Joe's staples and the meals I use them for.
I'm going to break it down into different categories that will help you along with your macro counting/health journey:
Protein go-tos
Dressings, toppings, spreads & cheese
Fresh favs
Frozen favs 
Sweets & snacks
Let's do it!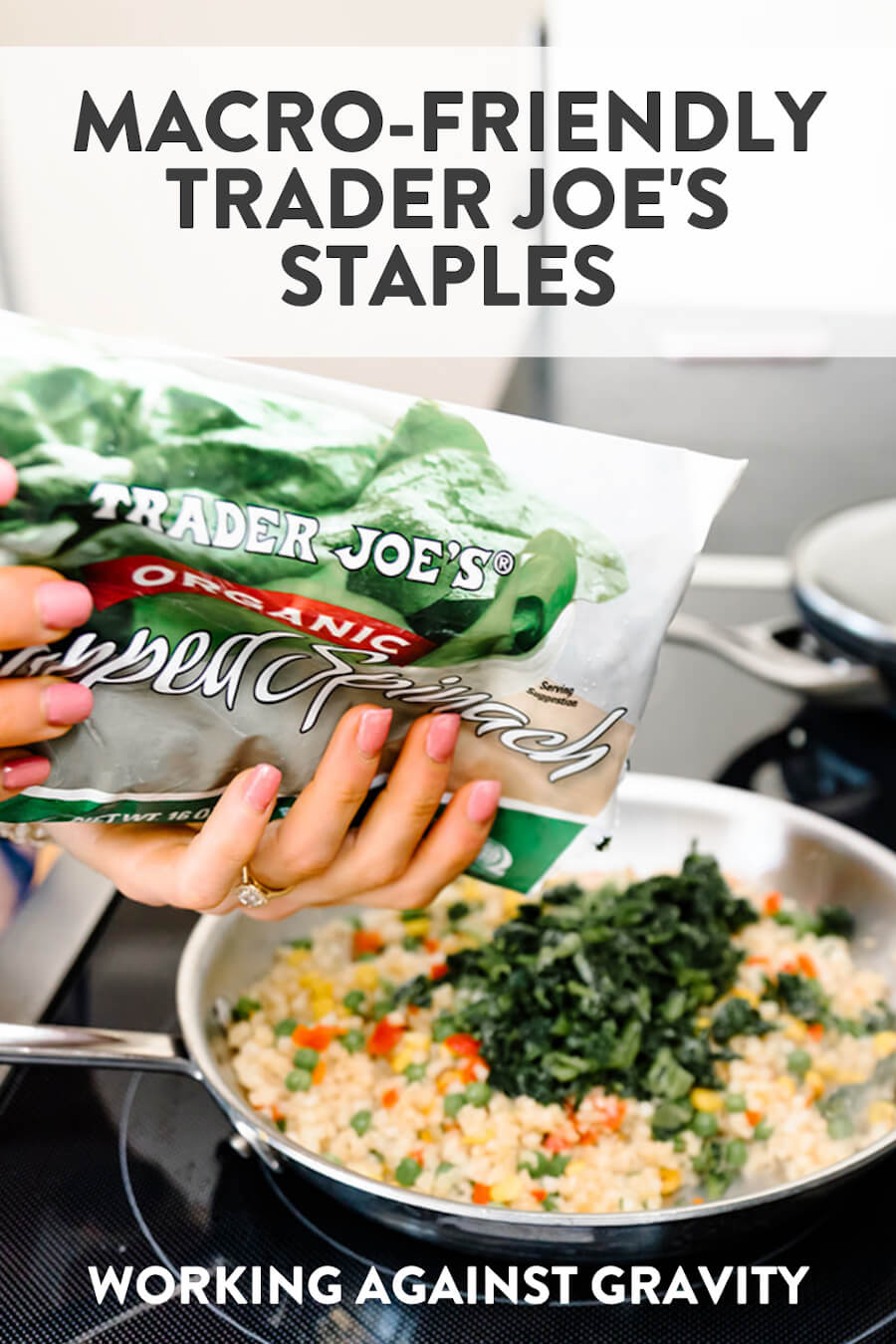 Macro Friendly Trader Joe's Protein
Oh, protein. 
If you're a macro-tracking pro, you know that the key to eating enough protein is having enough of it cooked and ready to go. If you're newer to counting macros, prepping protein needs to be the main focus of your meal prep.
Luckily, Trader Joe's has tons of quick, easy and healthy protein options (both raw and cooked). Here are some of my favorites…
Raw Protein from Trader Joe's
Gotta love some pre-marinated meat!
Top left: 96% lean ground beef is delish in rice/veggie dishes, made into burgers or thrown over some spaghetti squash. If you're working with higher fat macros, you don't have to go quite so lean here. 
Top middle + top right: Carne Asada and Pollo Asado are my go-tos for grilling or throwing in the oven (when it is too cold in VT to start the grill!). 
Bottom left: Raw shrimp is perfect for summer grilling and it is easy to prep since it is already deveined. Pull the tails off (if you want to), stick 'em on some skewers, top with some seasoning (cajun is my fav) and go. In the winter, these are quick and easy to cook in the oven or on the stove. 
Bottom middle: Eggs! Need I say more?
Bottom right: Pot Roast is spectacular in a crockpot…and so easy!


Protein prep pro tip: Use dinner as protein prep time. Cook 3-4x more protein than you need for your meal so you can put leftovers in the fridge for later.
Ready-to-Eat Protein from Trader Joe's
Remember when I said that keeping the healthy choice the easy choice is KEY? Well, having pre-cooked and ready-to-grab protein sources is SUPER helpful. Whether it is protein on top of a salad or a snack to grab before you hop in the car, pre-prepped options make it easier to hit your protein target no matter what life throws your way.

Deli meats can get a bad rap, but if you aim for organic, natural and lower sodium as much as possible, they make a solid protein snack. These are my go-to's for a longer travel day or when I know I'm going to be hungry on my 40-minute drive home from TJ's!

Pre-cooked chicken sausage (left) and turkey bacon (right) are awesome ways to get protein first thing in the morning. Get a good chunk of protein in the AM to help keep you from feeling like you have to play catch-up throughout the rest of the day. Add these to a few full eggs and extra egg whites then top with some cheese (my fav coming below!) and you're good to go.
As for the Turkey Jerky, it is another one of my travel favorites (and it is easier to bring on a plane than the cold stuff)!

Last but not least, dairy and more eggs (raise your hand if you definitely thought eggs were dairy products when you were little ✋✋). Cottage cheese and Greek yogurt make great protein snacks. Throw a little fruit in, mix it around and boom… there ya go!
The Best Macro Friendly Trader Joe's Toppings, Dressings & Spreads
If you're not eating Trader Joe's guac (make your own at home!) or using EBB seasoning we probably won't get along…
…Okay but seriously, the toppings, dressings and spreads tend to be the most talked about Trader Joe's items (outside of the holiday fun, obviously). Here are some of my macro-friendly go-to's. 
Macro Friendly Dips & Spreads from Trader Joe's

HERE is my favorite morning meal, topped with guac (and using 100% things found in this post). The avo dip is delish for veggie snacks and here is the best-kept Spinach & Kale Dip secret: add artichoke, top with parm cheese and throw it in the oven for a healthier spinach and artichoke dip!

I'm a huge nut butter girl (we get our PB in bulk from Costco!) so I like to have options - it is perfect to throw on top of my fruit and yogurt as a midday macro-friendly snack.
As for the preserves, throw it on a few rice cakes with some PB powder (also from Costco!) for the perfect pre-workout snack.
Healthy Trader Joes Dressings & Spices
Dressings… need I say more? Having a lot of dressing go-to's is one of my secret eat-more-veggies hacks. Switch up dressings as you rotate through protein leftovers (remember that pro tip?) to make salads more fun.

I also love using the Spicy Cashew Butter dressing as a chicken marinade or to throw on top of sauteed veggies.
Salad dressing pro tip: These dressings are all pretty thick! I like to pour a bit into a small container and then add water to make them a little runnier. It gives you more bang for your macro buck and your actual bucks!



Spices and toppings can give any meal a kick. When you're aiming for more macro-friendly foods, that usually means skipping the highly oiled and sugary sauces on your meats and veggies. So, adding these more macro-friendly Trader Joe's toppings can bring way more flavor into your lineup.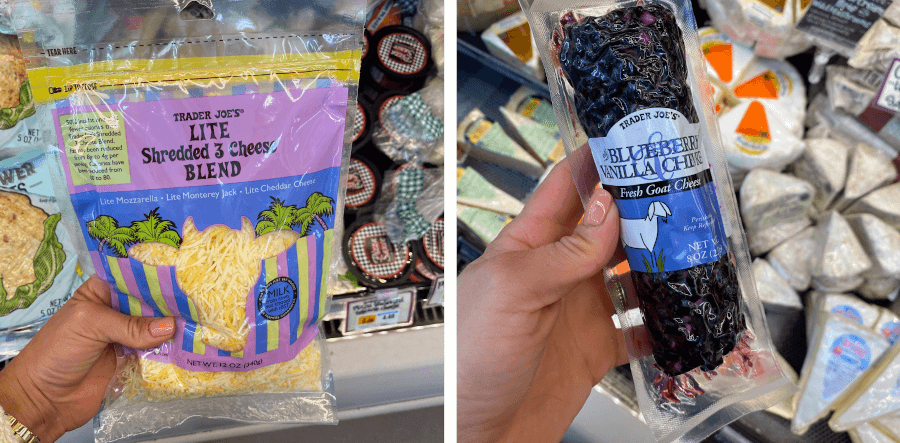 Last but not least, cheese! The Lite Shredded 3 Cheese Blend is my go-to for basically everything. And, I would have been remiss not to throw the blueberry-covered goat cheese in here because it is SO DELICIOUS. Not the most macro-friendly but it is great for entertaining (who doesn't love a good charcuterie board) and sometimes you just gotta enjoy some yummy cheese. ;)
Fresh Favorites from Trader Joe's
As much of a Trader Joe's stand as I am, it pains me to say that they're not my favorite when it comes to fresh produce.
(You know how I said a ton of people sent me that tweet? A ton of people also sent me THIS.)
I generally use the farm across the street or a traditional grocery store for most fresh fruits and veggies. BUT, there are still a few things I grab every time I head to Trader Joe's.

Cauliflower Thins are a recent obsession of mine. They're higher in protein and healthy fats and delish if you pop them in the toaster.
The Teeny Tiny Avocados not only have an amazing name but they're also exactly what they advertise: teeny tiny. They're the perfect portion size if you're working with a higher fat target and don't like when your ½ an avocado gets all gross in the fridge. You may be able to fit the whole thing in your macros (and on your avo toast with EBB seasoning on top!).

Trader Joe's bagged salads are also pretty bomb. The Cruciferous Crunch is my absolute FAVORITE - especially with the Spicy Peanut Vinaigrette pictured above. Stir Fry Veggies are another fav (although, I prefer to buy in bulk at Costco when I can!) and are super quick and easy to throw on the stove.

Last but not least, a few veggies I'll actually buy from TJ's. Mini peppers and carrots are GREAT for packed lunches, snacks or travel. I also feel like you can't really mess up mushrooms so I try to grab them from TJ's vs. a conventional grocery store cause they're a little cheaper. Then, I throw them in with a lot of my frozen veggie concoctions. This brings us too…
Healthy Trader Joe's Frozen Foods
Even though this isn't the section with the most pics, it is the section I am most excited about since SO much of what I eat on a daily basis comes out of a healthy Trader Joe's Frozen Food bag.
There is a myth floating around that frozen foods aren't as good for you as their fresh counterparts. The reality is that most frozen fruits and veggies are actually picked then flash-frozen during peak ripeness. As long as you make sure to grab bags that aren't full of tons of processed toppings, you're good to go. Frozen foods are almost always pre-cut and washed making them EASIER to cook and therefore MORE LIKELY to eat (sound familiar - healthy choice = easy choice).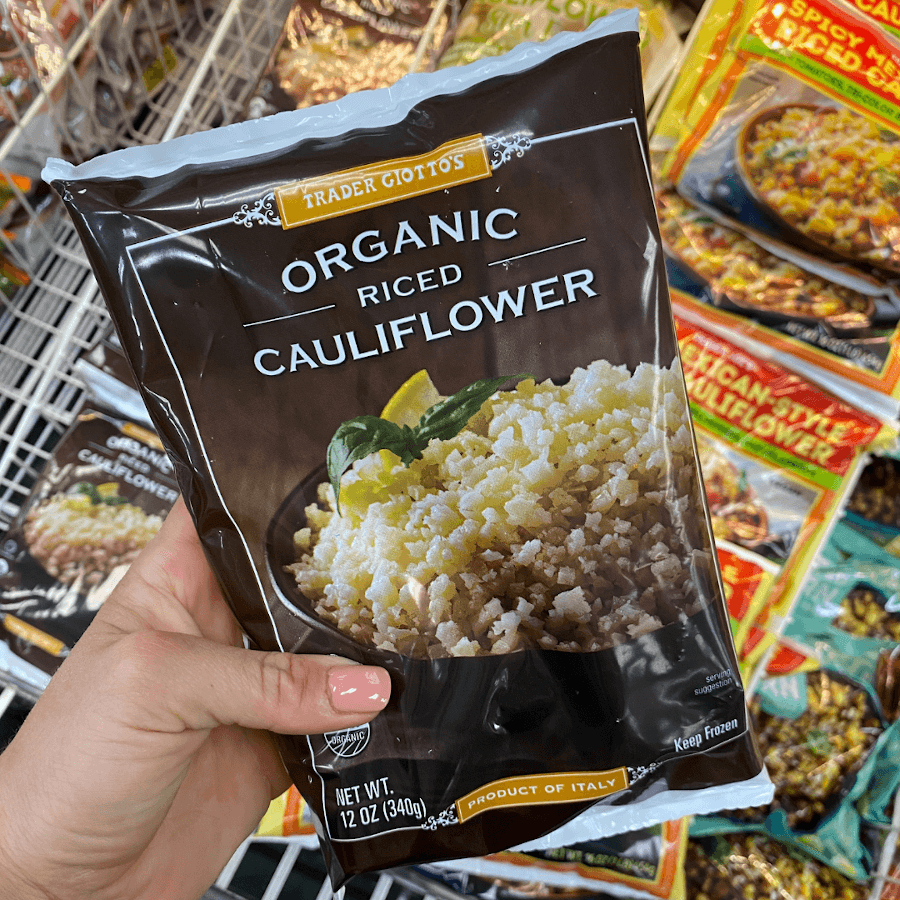 I'm a cauli girl. I know… basic of me. But I actually enjoy the taste and it is SUCH an easy way to add volume to almost any meal. Do I think we sometimes ask too much of it? For sure. I'm not tryin' to eat a cauliflower cupcake or anything like that. 
But, I think the Trader Joe's Gods nailed it with the rice and I am here for it. Frozen Trader Joe's cauli rice is one of my most used and eaten foods of all time (which is why it deserved its own solo pic!).
Some of my fav ways to use cauli rice are:
Mixed with frozen spinach (below), ground beef/turkey (above!), roasted broccoli (below), pasta sauce & seasonings for a quick and easy dinner.
Mixed into rice cauli stir fry (below) for even more volume
Mixed into oats for more volume (don't knock it till you try it!) 
Mixed with cheese for "cheesy rice"
Really anywhere you currently eat rice… you can either replace all of your rice or a portion of it depending on your carb needs!
Here are some of my other frozen favorites…


Trader Joe's Sweets & Treats
Flexible dieting is all about balance, right? Sometimes you just need some puffs or a gooey brownie. If you know anything about me you know that I consider chocolate (specifically, Cadbury chocolate mini eggs, if only they sold them at Trader Joe's… I'd live there…) a food group. Here are some of my favorite Trader Joe's treats…

Like I said, I'm a chocolate girl but I make sure to throw some Scandinavian Swimmers in my cart since my hubby and my BFF are gummy people. Hey, more chocolate for me. And speaking of chocolate, the Trader Joe's Chocolate Chip Brownie Mix is delish. I usually swap out the oil for yogurt when I bake them (and add more chocolate) to add more gooey goodness.

Snacks… for me, and the dog!! Tortilla chips are sometimes tougher for me to moderate, so I have to be intentional about when to let them into the house. It is all about knowing yourself and adjusting your picks to make sure you're making it as easy as possible to keep the healthy choice the easy choice. 
There you have it… My Trader Joe's favs! This list is in no way complete and I'm always adding other fun things here and there… but these are my staples. Stay tuned for more seasonal favorites and lists from other popular shops!
References:
Header Image taken by Ellen Sargent Photography