Keeping the Momentum Beyond the CrossFit Open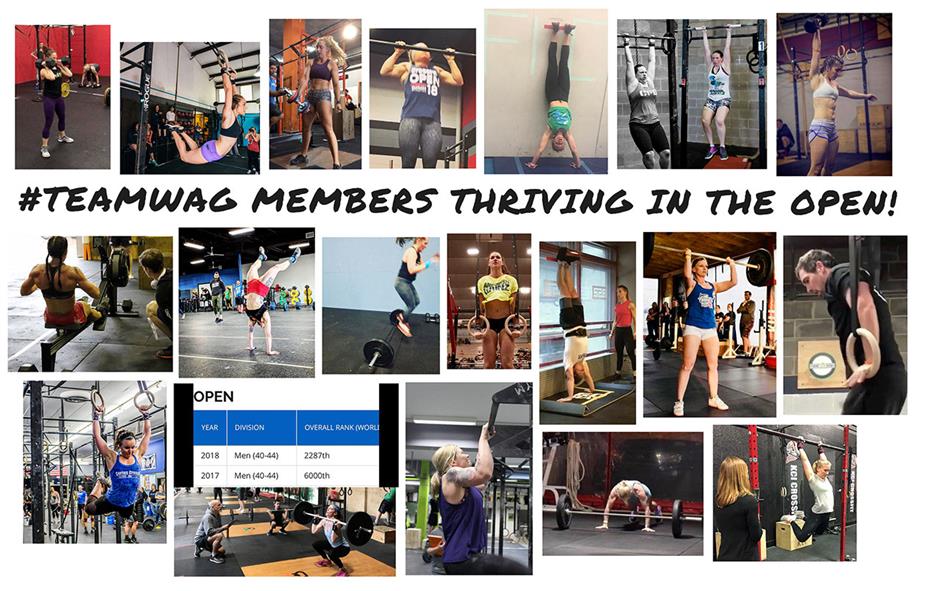 We are so proud of the many accomplishments that #TeamWAG members made during the CrossFit Open. The Open was not just a test of our fitness, but a celebration of all the hard work and consistent effort we've put in the last few months. In fact, here are just a handful of comments from members reflecting upon the last few weeks:
"It was my first open all RX and finished with no injuries ... the nutrition was key!" - Erico Rocha
"I made my first regions as an individual! Working hard in the gym is a given, but hard work in the kitchen is where I have seen a breakthrough in my fitness!" – Celene Steele
"WAG has helped me get stronger and that DEFINITELY helped my Open this year, but mostly it has helped me be more confident in myself and my ability as an athlete" – Hannah Douglass
"Thanks to WAG - light enough to get some handstand pushups and strong enough to deadlift this year." – Amanda Oatway
Now that the Open is over and the stress of anticipating Castro's workout announcement Thursday nights are beyond us, many of us are thinking…"What now? How am I going to stay on track and stay motivated?"
That's why we've put together some ideas on keeping the momentum and consistency going sans the Friday Night Lights.
1. Now is the BEST time to work on weaknesses.
The Open probably gave you plenty of insight into what movements or areas you could improve on. Did you have double unders (that you could actually string together under fatigue)? Were you able to hit the standards on the handstand push-ups this time around? Were you completely winded by 10 minutes into the rowing workout?
Most of the skills and feats of fitness that are tested in the Open aren't components that can be adapted relatively quickly (within 2-3 months). Movements such as overhead squats, muscle-ups or toes to bar take an extended amount of time to refine technique-wise and involve a lot of coordination and mobility. Coordination and mobility take time, repetition and practice to make them second nature to the way we move. Therefore, right NOW (a whole year in advance) is the perfect time to start learning and embedding the movement patterns so you can refine them and be very efficient at these high-technique skills by the time the 2019 Open rolls around.
Start by setting goals for yourself based on your weaknesses. Your ranking for each workout relative to everyone else worldwide is a great place to start, as well as some conversations with your coach.
Need to work on gymnastic skills? Look into trying out gymnastic-focused programming for the next 8-12 weeks.
Did your strength hold you back? Look into trying out an exclusive weightlifting-focused cycle so you can carry forward that strength into the coming year.
Was your internal gas tank running on empty by the end of the clock? You might benefit from training for an upcoming 5k race or short endurance-focused event where you can build that sustained engine.

Whatever your goals might be, make sure that they're specific, timely and measurable. For example, saying "I need to improve my strength" or "I need to get double-unders" isn't very specific, nor timely. How many double-unders do you need to have, and when do you want to achieve them by? What weights do you want to be able to hit for your lifts?
If you haven't checked out our goal setting worksheet, now is the perfect time to use this resource: It'll help you refine what you want to accomplish, while also helping you set up the process for how you'll follow through and achieve them.
One way to ensure that your goals are specific, timely, and measurable during this post-Open lull is to set a goal that has a "test date."
2. Set a deliberate test or "achievement" date for your new goals.
If you think about it, the Open was a test for many of us - when the testing window was open (workouts were released) you either knew the material or you didn't. The fact that the Open was a test gave us the motivation to work because we had a specific deadline to meet our goals. You knew that by the time February hit that you had to have certain movements or you wanted to be a particular bodyweight to make the workouts easier to manage.

Therefore, we should also find ways to test our new goals sometime in the future. How far out should this test be? Well, we don't want our test to be too far in advance because then the time will seem too long and overwhelming to see progress. 30 days is a great time frame for smaller goals that involve creating new habits. 2-3 months out can be a great time frame for larger goals that can't be achieved overnight, but that require constant daily and weekly focus.
What kinds of events can you use as tests?
A 1RM lift at the end of a lifting cycle
A race (obstacle course, 5k, marathon, triathlon, swimming)
A local CrossFit competition (there are some for every level, from beginner to advanced)
A "test" doesn't necessarily have to be an event promoting fitness. Your "achievement date" could also be an upcoming social event that you're attending, such as:
A reunion
A wedding
A birthday (by the time I'm 30...)
A planned vacation
Whatever that date is, make sure that it's a fixed date that you aren't able to easily change, because if you can manipulate the date, you'll be finding ways to procrastinate and put that achievement date off for later when things aren't going your way.
3. Make your nutrition your friend.
"This Open was amazing! Compared to 2017, pre-WAG, I am 20 lbs down or so. The inches lost and muscle gained are showing results big-time! My main goals were to do pull-ups, 1 RX'd event, and be ranked under 2000 in GA. All three were met! Not only that, but I felt physically and mentally better during this Open despite Open season occurring during college midterms. The nutrition was the constant I had going for me." – Jennifer Orlando
Your focus on nutrition can help you keep performing well in other areas in your life!
Why let your accomplishments end here? Imagine being able to maintain your improvements in performance over the next several months and keep up the momentum now that it's going!
Many of you saw and felt first-hand how being more mindful of your nutrition empowered you to accomplish more than you thought possible. Maybe you recovered quicker than ever before or maintained energy over the last few weeks. When we make nutrition our constant anchor, rather than just a variable for our performance, we can tackle the other feats and challenges that face us each day with full awareness and capacity.
Your WAG coach can help you determine how to best maintain the level of consistency of nutrition that works for you and your new goals.
4. Remember, your worth is more than how you did in the Open.
The Open is such a treasure because it's more than just about results and performance. The Open makes us aware and grateful of the vast community of supportive, like-minded individuals who love giving their best and share the joy in the successes of everyone around them. What other event connects so many people worldwide towards personal growth and achievement? Whether your goal was to improve your spot on the leaderboard, secure a spot at regionals, do a workout RX for the first time or perform a movement you didn't think you could do before, we hope this experience was a way to have fun, live in the moment and create bonds with other athletes, near and far.
Regardless of what your end result was on the leaderboard, make this 2018 Open a benchmark that you can look back on of where you used to be. Keep setting and crushing new goals...who knows where you'll end up next year?
Get a Taste of WAG
The WAG Crash Course is OPEN for enrollment. This 30-day course will teach you the ins and outs of macro tracking, building healthy lifestyle habits and sustaining results without restricting the foods you love. Get personalized macros from a WAG Coach, join the members-only Facebook Group and participate in quarterly Live Q&A sessions with WAG Coaches.
Posted by Team WAG
Working Against Gravity was established in 2014. Our nutrition coaches work one-on-one with clients to build custom programs that fit their needs. Our goal is to help each client discover a program that makes sense for them and produces lasting results, helping them develop a positive relationship with food—and themselves—along the way.
Latest Posts: