Tips for Macro Tracking During the Holidays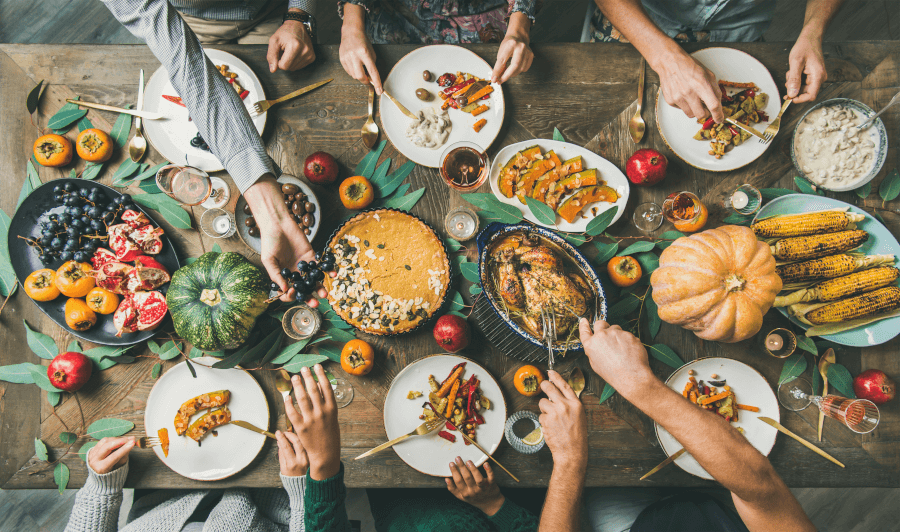 Are you able to enjoy your food through the holiday season or do you find yourself stressed about calories and possible weight gain?
If you have a difficult time through the holidays due to anxiety around socializing and food choices then take some time to consider what is bringing up these feelings. Are you holding onto an idea of perfection that you need to work through? Is it time to start introducing more flexibility into your nutrition plan? Does the feeling of being "out of control" around food or with your schedule add tons of stress to your plate?
During a time with so many last-second plans, parties, and engagements, I encourage you to find comfort in your daily routine so you can feel your best physically and mentally through this season. One way you can do this is by focusing on what is within your control and what you can keep consistent.
Finding Consistency Through the Holidays
The holiday season is a busy time for many. Finding consistency with your nutrition has many benefits like providing more structure at a time when you may not have as much due to changes in schedule and travel.
Tracking your intake allows you to:
Bring awareness to the foods that make you feel your best.
Find a routine that works for your schedule and lifestyle.
Gain confidence in yourself by reaching small daily goals that create lasting progress.
Enjoy foods that you have on occasion (like holidays) knowing that the majority of your diet consists of foods that benefit your health and wellness.
Establish habits that you can maintain through busy seasons and times of change.
Outside of what you eat, other things you can create consistency around are:
Hydration
Sleep schedule
Workout schedule
These things all impact the way you feel on a day-to-day basis. Although there may be events that throw off your regular bedtime or ability to track everything you eat, focusing on controlling these things whenever you can give you the wiggle room to enjoy a few events while still working towards your goals. Need a little more help? Check out this article: Schedule Success: 5 Steps for Crushing the Holidays.

Tips for Tracking During the Holidays
Here's the deal: You don't have to track to be successful over the holidays. But, some kind of accountability is a game changer when it comes to helping you enjoy the season while feeling your best.
Focus on what you can keep consistent from your current daily routine. This includes weekly trips to the grocery store and meal prep days. If the seasonal favorites at the grocery store are tempting, consider whether you do best when foods are available in moderation or if abstaining from certain foods better serves you. Check out the WAG podcast, Are You a Moderator or an Abstainer?
From there, consider:
If you are better as an abstainer, make a list to stick with while shopping.
Order groceries to be delivered so you are not tempted by seasonal treats.
If you enjoy treats in moderation, put them in the pantry instead of in a bowl on the counter.
Consider hiring a meal prep service if time is limited through the holidays to support consistency with macro goals.
Pick and choose when you want to be more flexible with your nutrition. Enjoy those times and prioritize consistency on the other more "normal" days.
At WAG Nutrition, we work with our clients to help them set goals for the holiday season and ensure that they are clear on their long-term goals—including how they want to feel throughout the holidays and as they enter the new year.
For some people, their goals may require more precise tracking. For others, they may work with their coach to introduce more nutritional flexibility and build mindsets around letting go of food guilt.
How to Enjoy Holiday Foods Without Over-Eating
At the end of the day, enjoying some holiday treats is part of the fun! Luckily, there are ways to do so while feeling confident in your choices and portion sizes. Here are a few quick tips:
Enjoy holiday-specific foods on the day that you are celebrating, and avoid keeping them in the house for an entire holiday season.
If you are hosting, send leftovers home with your guests.
If you are offered leftovers as a guest, opt for the protein leftovers.
Bring leftovers to work to share.
Socialize outside of the kitchen.
Find local events that are not food-related.
Alternatives to Tracking
If you're not tracking through the holidays, consider setting some alternative goals or focuses to work on during this time. Setting realistic goals will help you keep promises to yourself this season and support feeling your best!
Track protein only or set a minimum goal to aim for.
Set a hydration goal to work toward.
Set a daily movement practice.
Focus on building a balanced plate.
Embracing the Holiday Season
In addition to keeping tabs on what you want to keep consistent, focus on what you are looking forward to outside of your normal routine including special traditions and foods that only come around once a year.
There are many traditions you can look forward to that do not involve food, and if you do not currently have any traditions in place, this can be an exploratory season to create some!
Holidays often include time off from work and more time with friends and family, which can provide time for the things that matter most. This is a great time to unplug from screens and connect with your people through various gatherings and celebrations including time inside and outside of the kitchen.
Embracing Time in the Kitchen
This is a time to get creative and have fun with the meals you are preparing outside of your typical meal prep routine. Make a day of it with music and a healthy holiday beverage to sip on while you learn to cook a seasonal family recipe. If you are looking for inspiration, here are some of our favorites.
WAG's Holiday Recipe Favorites
Want even more inspo? Check out the WAG Holiday Guide for more recipes and tips for mastering the holidays.

Healthy Reminders
Over the next couple of days take time to consider your goals and remember why you got started on your nutrition journey in the first place. Ask yourself, what am I doing this week to serve my body physically? What am I doing this week to serve myself spiritually or emotionally?
Remember:
Progress is not lost over a couple of days spent outside of your routine.
You have control over your decisions every single day.
It's okay to say yes to something just as it is okay to say no; YOU decide what is best for you.
Set boundaries with people and spaces that are not contributing to your wellness.
Check-in with yourself each day and reach out to your coach if you need support!
If you do not already have a coach, consider hiring a nutrition coach or using an accountability buddy for additional support and check-in space.
Join Team WAG
Love what you learned but still want more guidance and support? Get matched with an experienced coach who will get to know you, your lifestyle, and your preferences to give personalized feedback and suggestions. With a customized nutrition plan, weekly check-ins, unlimited messaging, and our personalized coaching platform, we'll help you reach your body composition goals and sustain your results.
Posted by Rachel Holcomb
Rachel is a WAG Certified Nutrition Coach living in Colorado Springs and loves working with people interested in making lifestyle changes for longterm success and wellness. In addition to nutrition, Rachel is passionate about CrossFit and Jiu Jitsu. When she is not in the gym training you can usually find Rachel in a local coffee shop or getting lost in the Rocky Mountains with her bulldog.
Latest Posts: