High Protein Costco Foods (With Pictures!)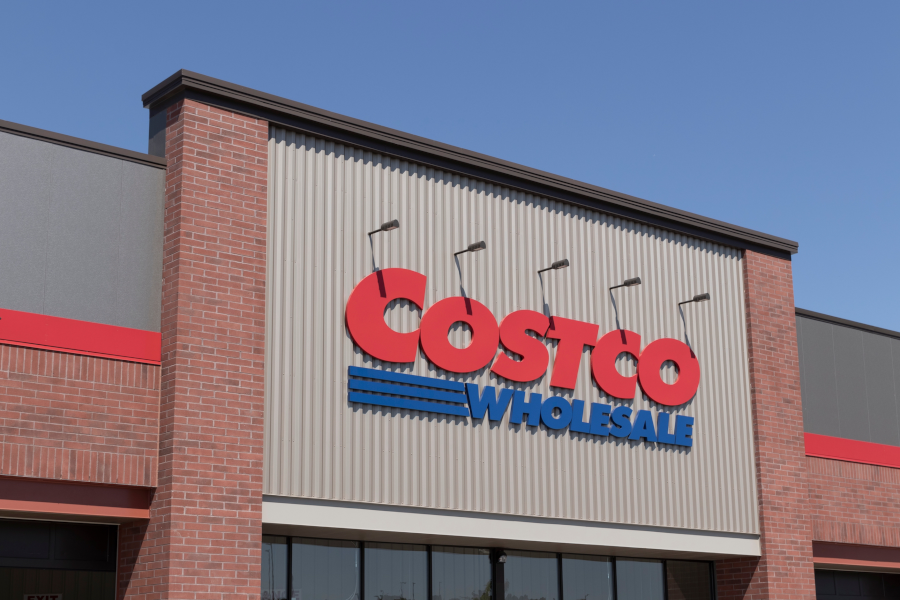 In search of high-protein Costco foods? Look no further! Today, we're (literally) unpacking our go-to high protein picks from one of our favorite box stores.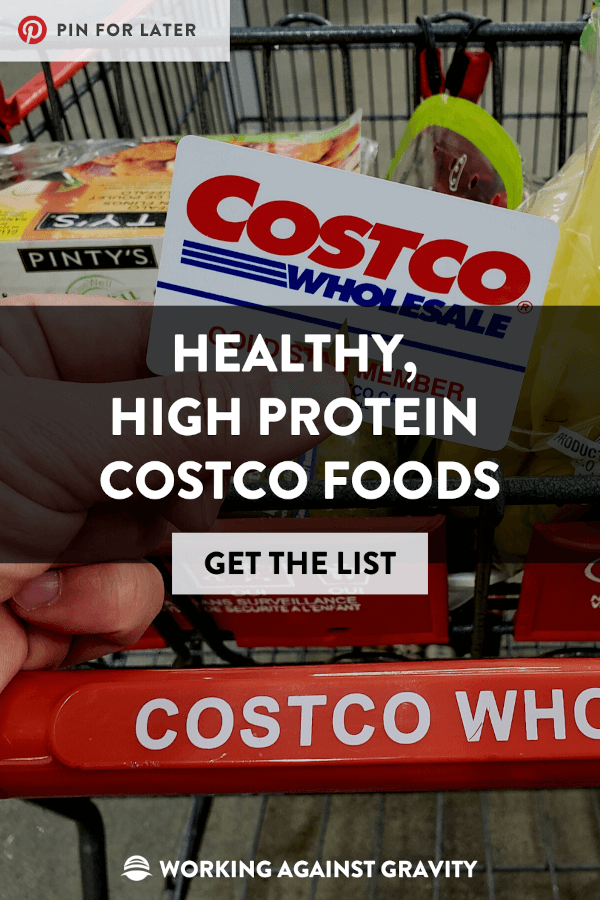 (pin this article!)
Why Buy Protein in Bulk?
Buying in bulk is where the big savings are. If you have any regularly consumed items on your grocery list and you live within a reasonable driving distance from a box store like Costco, BJ's Wholesale Club, or Sam's Club, buying those must-haves in bulk will save you time and money. Protein, especially, can be pricy at a traditional grocery store and bulk buying provides a more wallet-friendly option.
Beyond the high-protein Costco products we're sharing today, you can also find fresh and frozen fruits and veggies, cheeses, grains, snacks, drinks and so much more.
RELATED: How to Eat Healthy on a Budget
RELATED: Macro-Friendly Shopping at Costco
Bulk Buying Tips
Okay, you're down to give bulk-buying a shot. Here are a few things to keep in mind to make the most out of your trip and ensure you're grabbing what you need (and leaving what you don't):
Keep a running list of the things you buy in bulk. Once a week (or once every few weeks depending on your frequency of visits), run through your list and check the stock of all your bulk items. Add anything you need to your grocery list!
Don't forget your freezer! Sometimes, you may bite off more than you can chew… literally. If a big bag of fresh fruits or veggies starts going bad before you can eat them, chop 'em up and throw them in your freezer. Frozen fruits are great for smoothies and frozen veggies can be sautéed when you need something quick and yummy for dinner.
Pre-portion your snacks. We all know how easy it is to crank through a bag of chips without realizing how many servings you've had. Now, imagine that with a Costco-sized bag of goodies. Breaking open a bag and portioning your snacks into macro-friendly servings will ensure you can eat your chips… and have more later, too. Don't feel like puttin' in the time? That's okay! Costco sells plenty of options that are already broken into snack-sized bags. If you know you won't portion it yourself, buy a snack that has done the work for you.
Go Offbrand. If you're trying to save some money, off-brand or store-brand options are often just as good (if not better!) than the pricer on-brand foods. For example, Costco's home brand — Kirkland Signature

— is known for its quality.
RELATED: WAG's Macro & Calorie Calculator
What to Buy at Costco: Our High Protein Picks
Protein plays an important role in satiety, bone and muscle health, metabolism health and so much more. Plus, if you're participating in resistance training, it is a key component of muscle building and recovery.
So, why not pair your (new) favorite macro and your favorite box store? Here are high-protein Costco foods to throw in your cart next time you go shopping.
High-Protein Costco Snacks
Oh, snacks. We all love them! So, why not make sure your next one is protein-packed to help hold you over between meals?
Steak Strips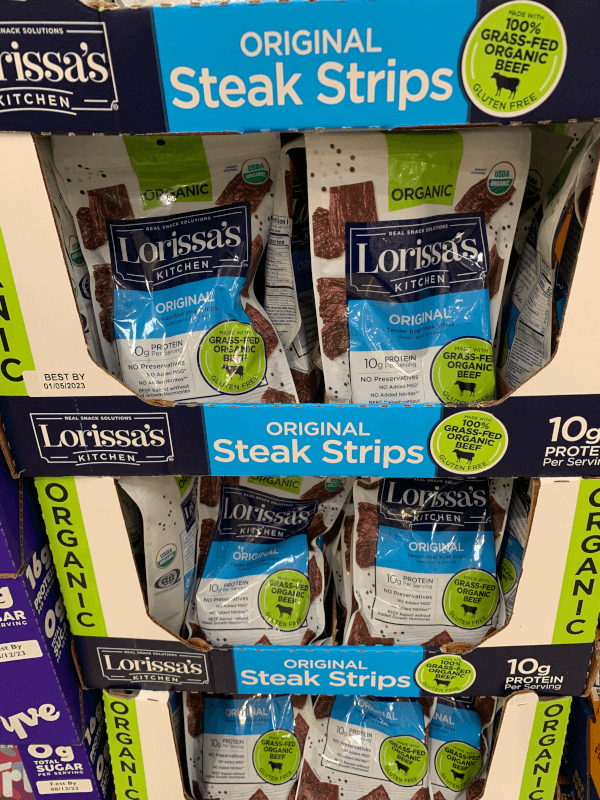 1oz (28g)
10P | 6C | 2F
Turkey Jerky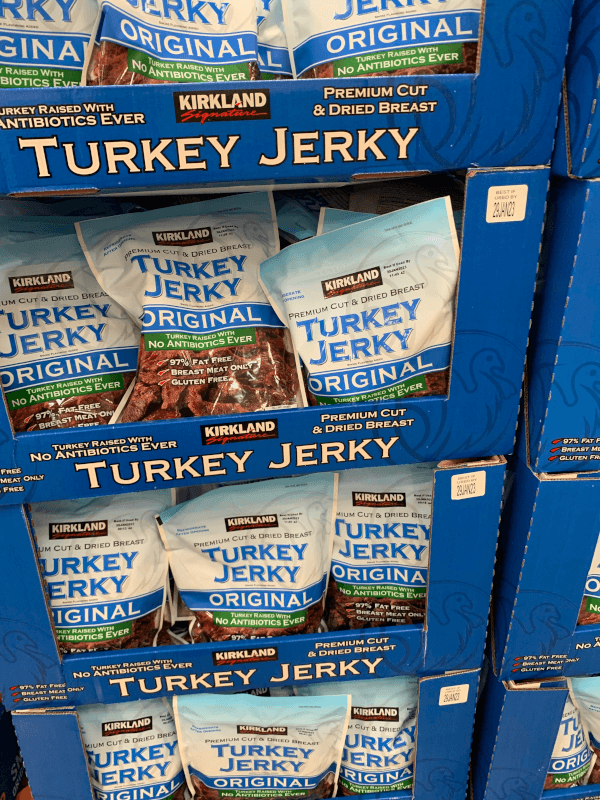 1oz (28g)
10P | 8C | 1F
Original Jerky Snack Packs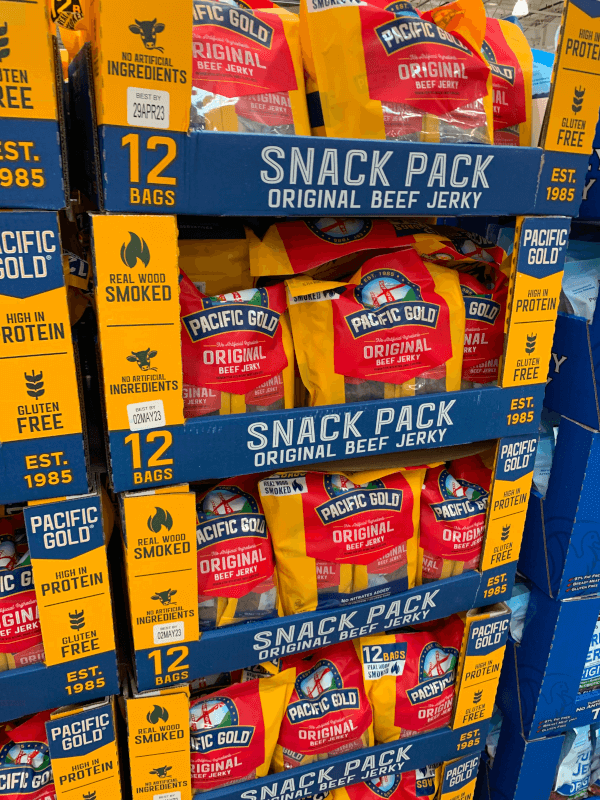 1 package (35g)
14P | 9C | 0.5F
Chobani Greek Yogurt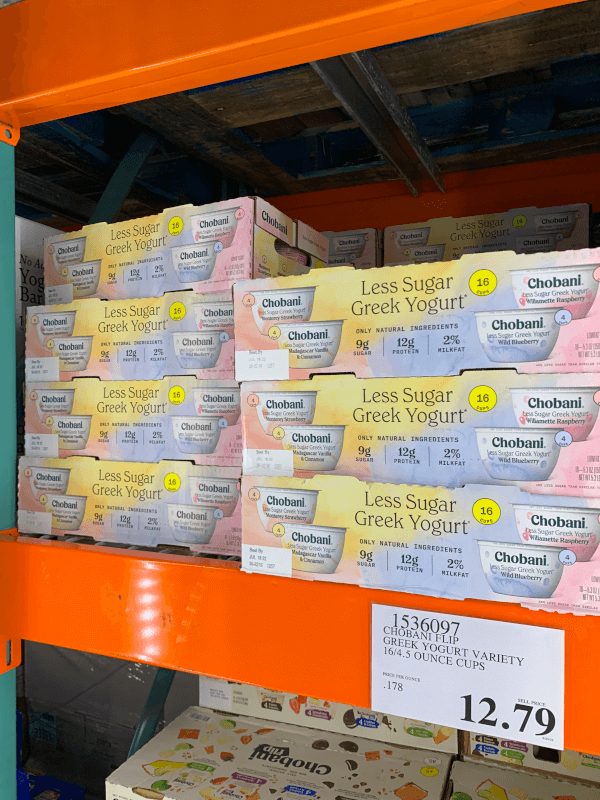 1 container (150g)
12P | 10C | 3F
Egg & Egg Products from Costco
If you think of eggs as a breakfast-only food you're not alone. Although the options below are perfect for a quick breakfast, don't forget to utilize them as high-protein grab-and-go snacks as well.
Cage-Free Egg Whites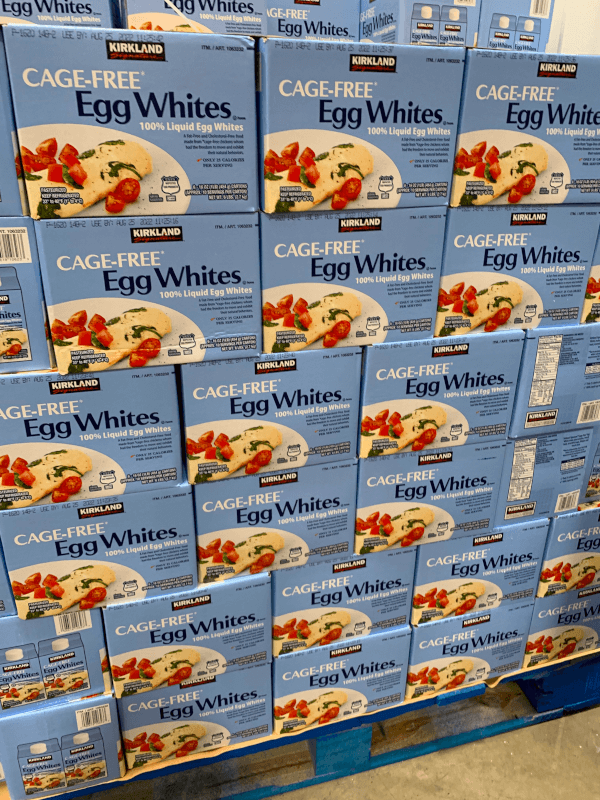 3tbs (46g)
5P | 0C | 0F
Spinach & Pepper Egg Bites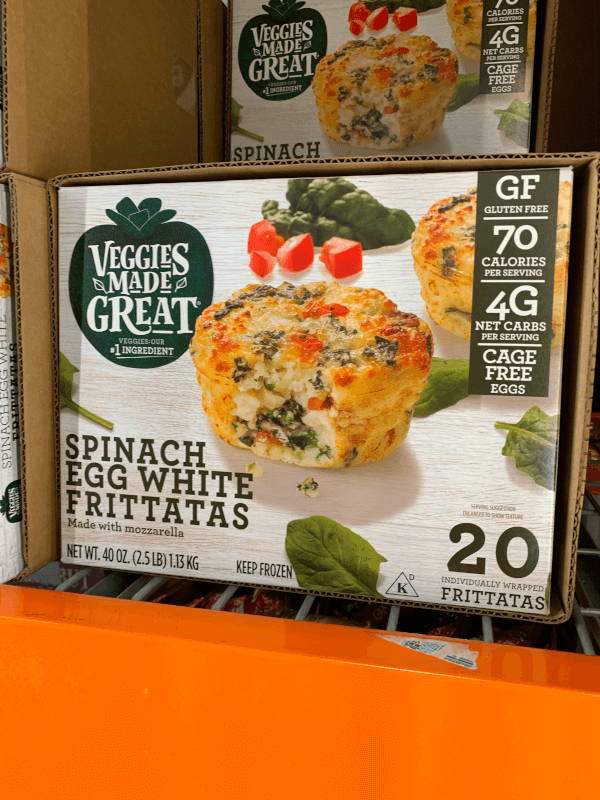 1 package (130g)
15P | 7C | 16F
Turkey, Sausage & Cheese Egg Bites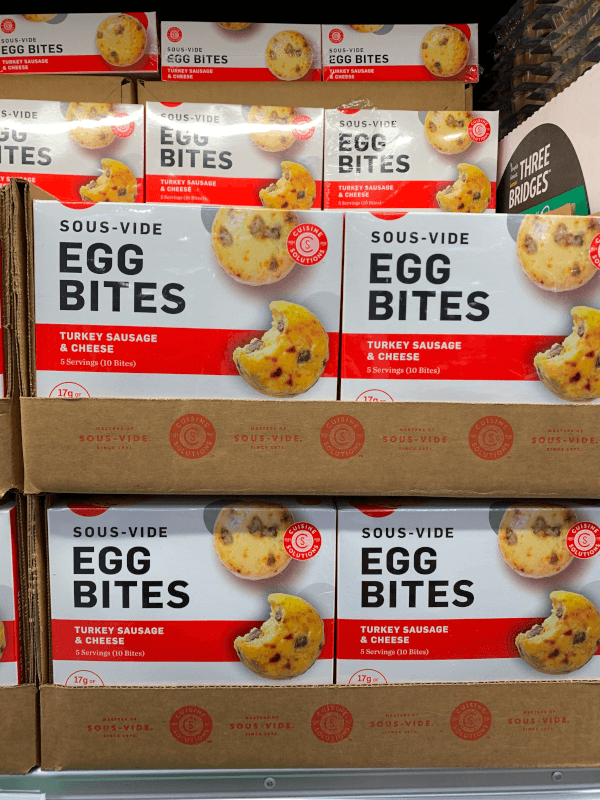 2 bites (119g)
17P | 7C | 22F
Chicken-Based Protein Options from Costco
Use these healthy Costco chicken options for lunch, dinner, or snacks. The burgers and chicken sausage are great options for a healthy summer BBQ or a quick dinner solution. The Mediterranean Chicken Skewers are an easy travel option next time you're headed out on a road trip or boarding a continental flight.
Just Bare Lightly Breaded Chicken Breast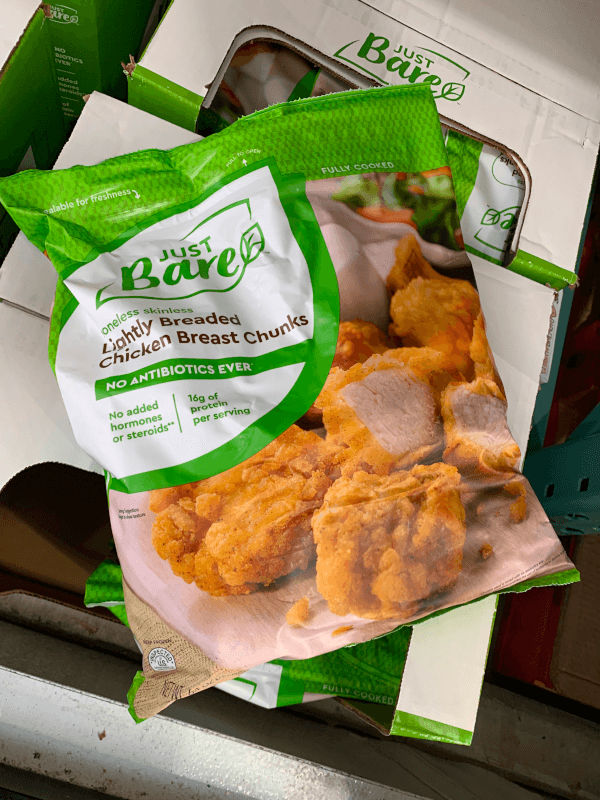 3oz (84g)
16P | 9C | 6F
Fresh Additions Fully Cooked Chicken Breast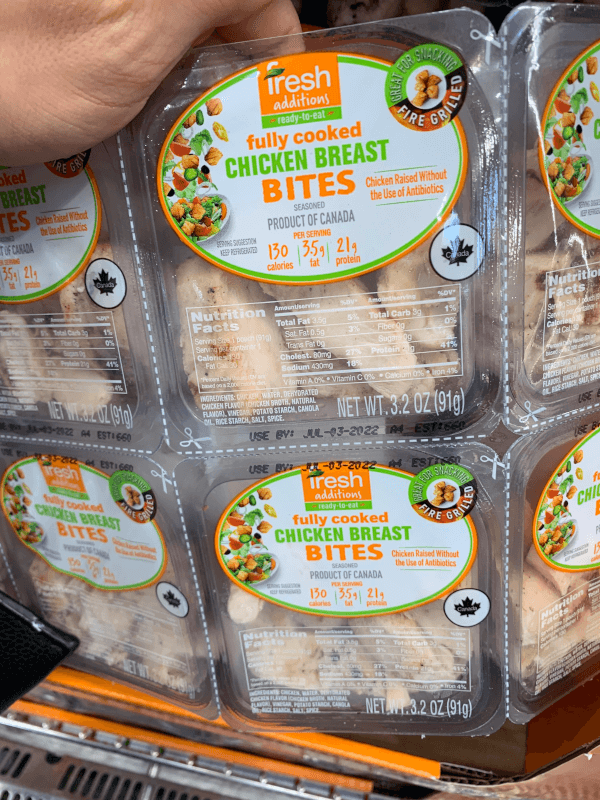 1 pouch (91g)
21P | 3C | 3.6F
Tru Grill Pre-Cooked Chicken Strips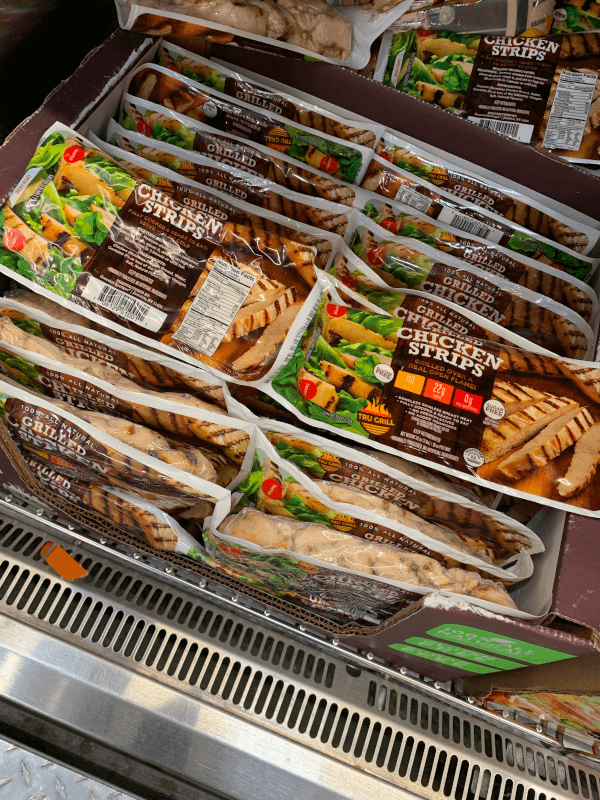 3oz (84g)
22P | 0C | 2.5F
Mediterranean Chicken Skewers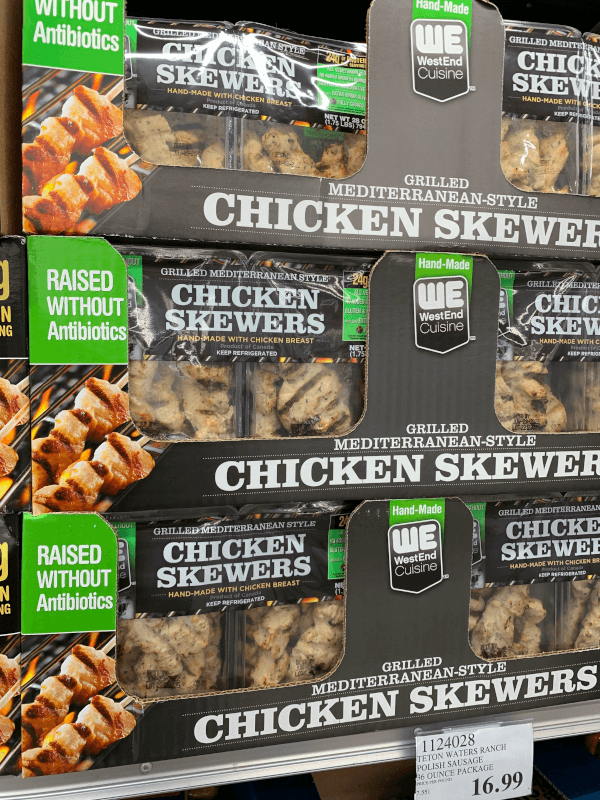 2 skewers (114g)
24P | 3C | 3.5F
Amylu Cowboy Chicken Burgers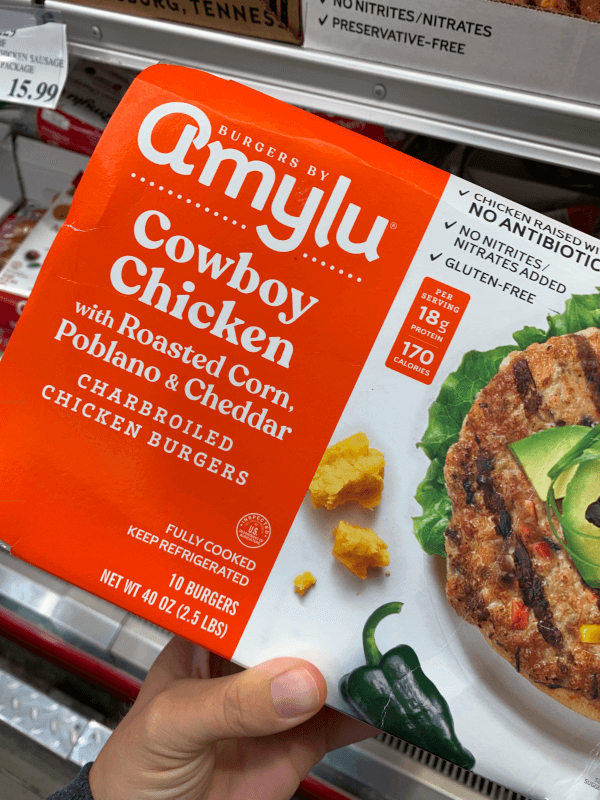 1 burger (112g)
18P | 5C | 9F
Amylu Chicken Chicken & Gouda Sausage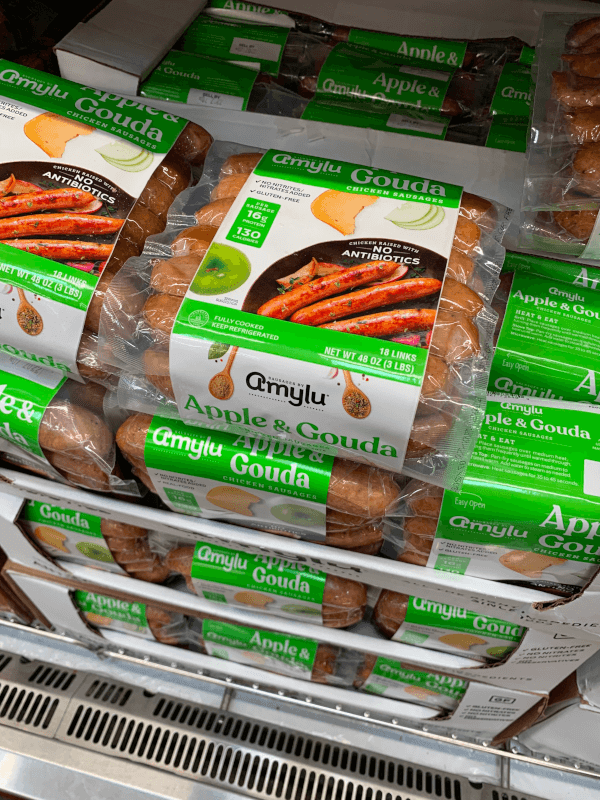 1 link (76g)
16P | 4C | 6F
Aidells Chicken & Apple Sausage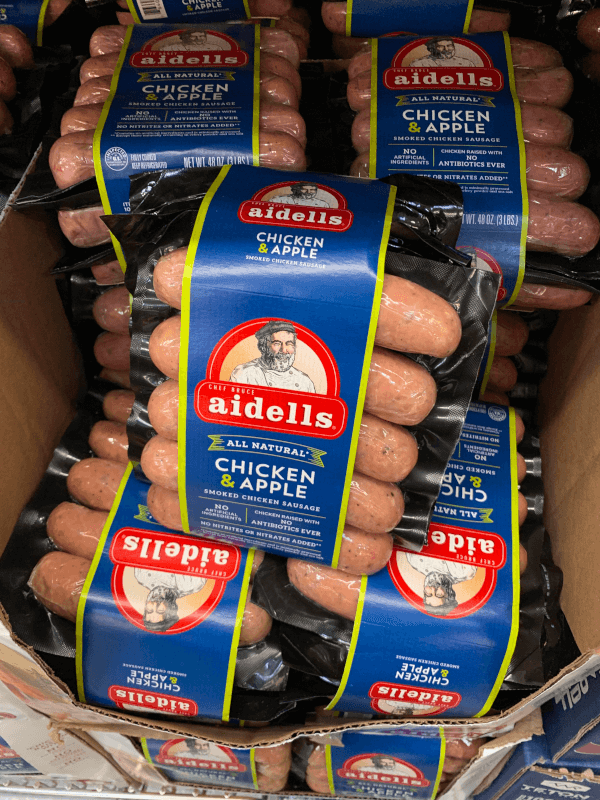 1 link 90g
13P | 4C | 12F
Costco Protein Powders & Bars
These are great options when you need something quick and protein-packed. Just keep hunger levels in mind. In general, drinking your protein or eating a protein bar will leave you feeling more hungry than chewing a higher-volume meal. Add collagen to your morning beverage and utilize protein bars when you need a quick, protein-packed option.
Unflavored and Chocolate Vital Proteins Collagen Powder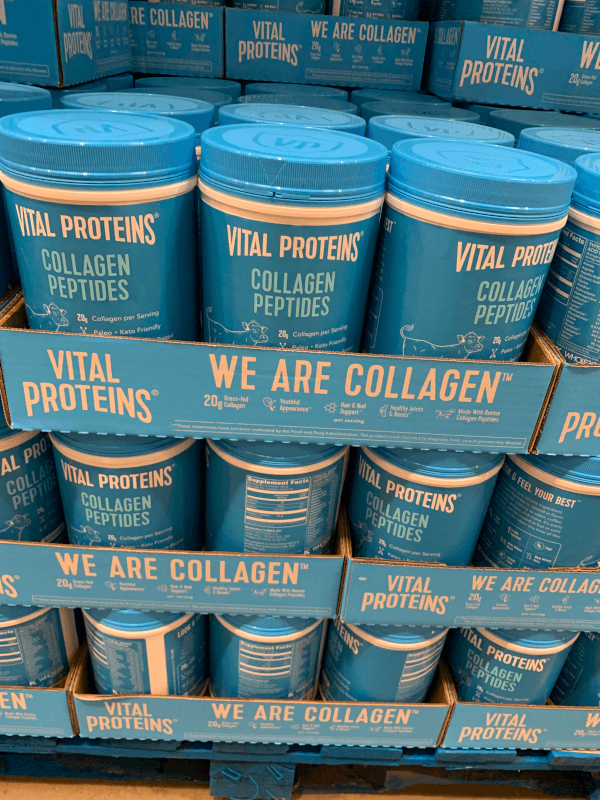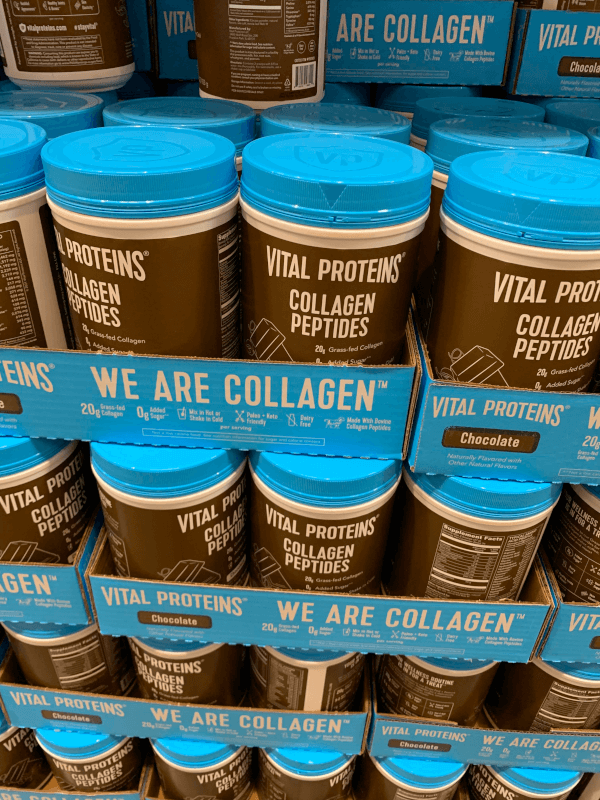 2 scoops (20g)
18P | 0C | 0F
18P | 4C | 0.5F
Kirkland Signature Protein Bars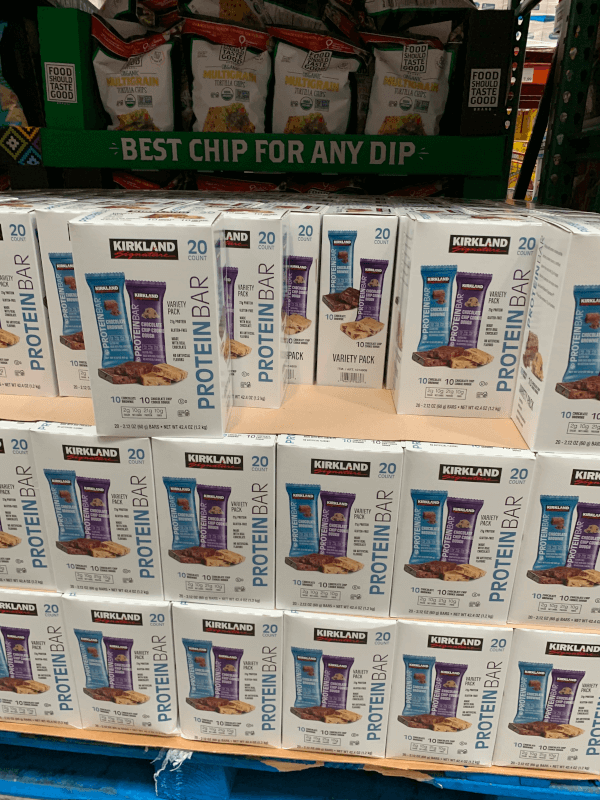 1 bar (60g)
21P | 22C | 6F
WAG Coaches place an emphasis on making sure our clients get enough protein. If you're wondering how much protein you need, start with our Macro Calculator Cheat Sheet. If you still want more guidance and specifics, consider hiring a 1:1 coach who can help you nail down what will work best for your body, goals, and preferences.
Join Team WAG
Love what you learned but still want more guidance and support? Get matched with an experienced coach who will get to know you, your lifestyle, and your preferences to give personalized feedback and suggestions. With a customized nutrition plan, weekly check-ins, unlimited messaging, and our personalized coaching platform, we'll help you reach your body composition goals and sustain your results.
Posted by Ali Macy
Ali is a born and bred Vermonter who fell in love with nutrition and fitness in her early 20's and never looked back. She is both a coach and the Marketing Director for WAG and has a BA in English Literature and a Master's in Nutrition and Human Performance.
Latest Posts: