WAG Coaches at RUM9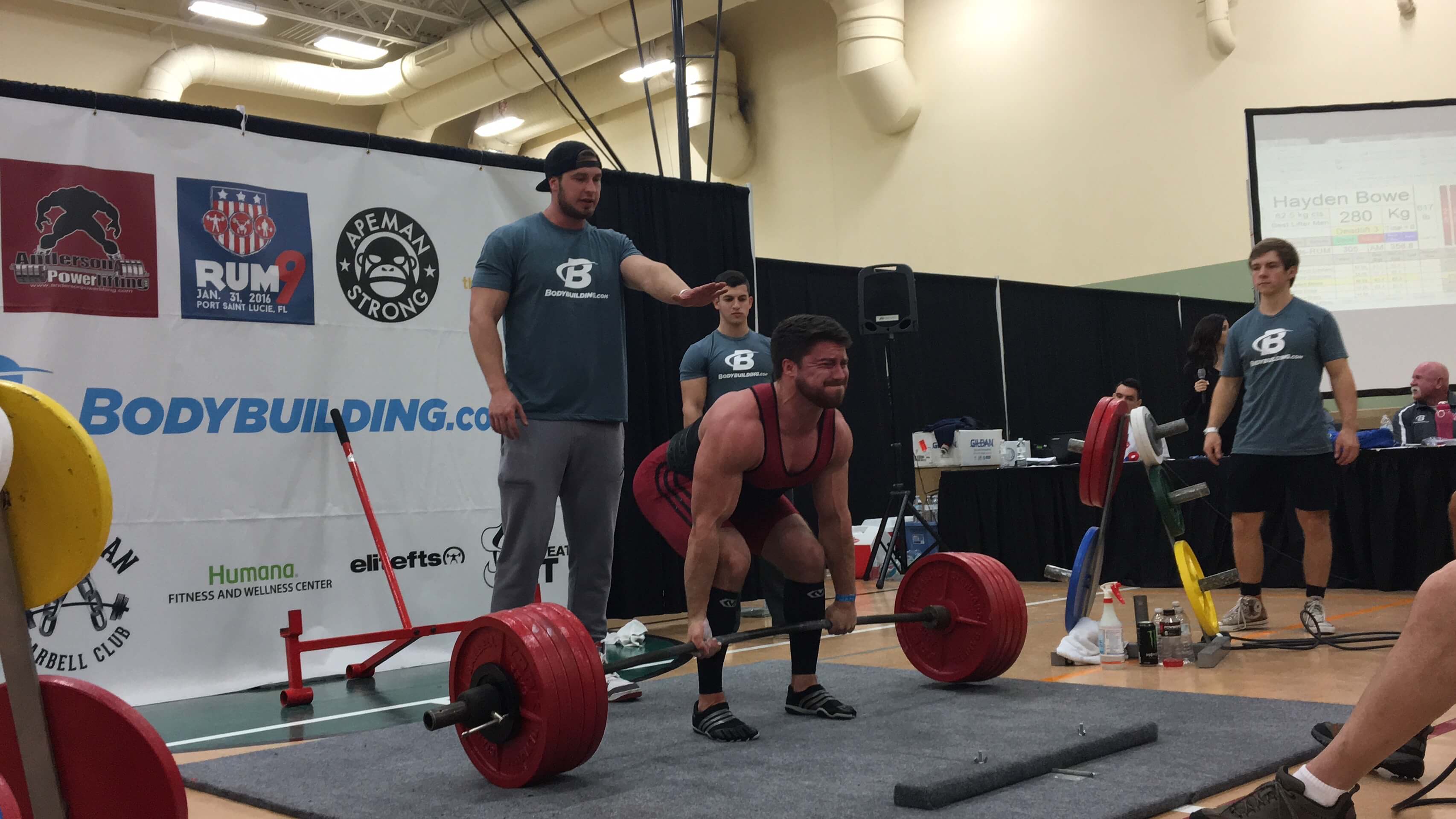 Last month, three of our coaches Francesco, Hayden and Kate, competed at RUM 9 in Port St. Lucie, Florida- the largest raw powerlifting meet in North America. Drawing lifters together from all different federations, it's become one of the most highly anticipated annual meets. It was a successful day across the board!
Hayden has been excited for RUM9 since his first powerlifting competition almost 1 year ago. Francesco convinced Hayden to do a powerlifting meet just after returning from a knee injury. After that meet Hayden fell in love with the sport and set his training focus toward qualifying and competing at RUM9. The hard work paid off and RUM9 was a success. He set new competition PRs in all 3 lifts placing 4th in a highly competitive weight-class.
Squat: 240kg/529lbs
Bench: 175kg/385lbs
Deadlift: 265kg/584lbs
Total @82.5kg 680kg/1498lbs
Since Francesco began his powerlifting journey it was his goal to qualify and compete at RUM9. Not only did he achieve that, but did so hitting new competition PRs in bench press, deadlift and total, as well as placing third against his toughest competition yet.
Squat: 235kg/517lbs
Bench: 182.5kg/402lbs
Deadlift: 277.5kg/611lbs
Total @82.5kg 695kg/1532lbs
After qualifying for RUM9 in October at her first powerlifting meet, Kate sustained a back injury that left her unable to squat or deadlift for several months. A week out, she made a game time decision to still compete. Nervous to be up against such a stacked class without a proper meet prep she came out adding over 45lbs to her total and hitting a huge PR on both squat and bench.
Squat: 145kg/320lbs
Bench: 77.5kg/171lbs
Deadlift: 162.5kg/336lbs
Total @67.5kg 385kg/827lbs
Keep an eye out these three this coming year at WPC Worlds qualifiers around Canada, and hopefully on the international platform this September.
Get a Taste of WAG
The WAG Crash Course is OPEN for enrollment. This 30-day course will teach you the ins and outs of macro tracking, building healthy lifestyle habits and sustaining results without restricting the foods you love. Get personalized macros from a WAG Coach, join the members-only Facebook Group and participate in quarterly Live Q&A sessions with WAG Coaches.
Posted by Adee Cazayoux
Adee is the founder and CEO of WAG. She has her bachelor's degree in Honors Psychology, a Master's in Teaching, and a Master's in Nutrition & Human Performance. She's also an athlete, having competed in the National Pro Grid League and winning the Bronze Medal in the 2016 Canadian National Weightlifting Championships.
Latest Posts: