Tracking in the Air: An Interview with #TeamWAG member Cristina Gomez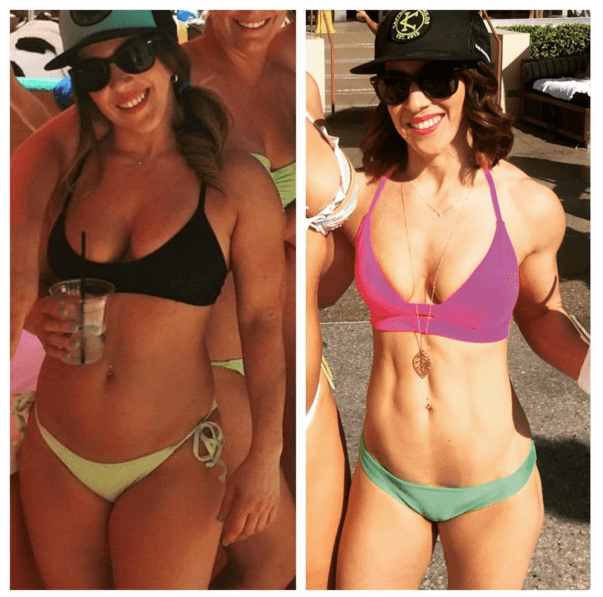 As a full-time flight attendant and a talented Master's athlete, Cristina Gomez knows a thing or two about tracking macros on the go. With a hectic schedule and clear timeline to achieve her goals, Cristina successfully dropped from 53kg to 48kg, sleeping in hotel rooms, and spending her days in the air.
We talked to Cristina about her experience with #TeamWAG and how she manages to make flexible dieting work for her busy life.
| | |
| --- | --- |
| Name | Cristina Gomez |
| Location | Chicago, Illinois |
| Goal | 2016 American Open qualification ✔️ 2017 Senior Nationals Qualification |
| Weight lost/gained to date | Approximately 18lbs lost |
| Sport (if applicable) | weightlifting |
Q: Why did you decide to join Working Against Gravity?
A: I joined WAG for help to cut weight and drop from the 53kg class to 48kg.
Q: As a flight attendant, you must spend a lot of time away from home. Did this make learning to track macros difficult?
A: It sure did. You can ask my coach, Hillary, that it definitely took me a few weeks to get things right! For the most part, my schedule includes 3 day trips so that means all my food for that time needs to be prepared & measured before hand. And yes, I carry that much food with me. I go through a ton of Ziploc baggies to say the least.
When I started on WAG, I struggled with the proper portion sizes and choosing the right foods to fit my macros. It took me a few weeks of trying different foods with different portion sizes to get it right. But I finally did.
The most important thing that I found to keep me on track has been being prepared. I know that it's said a lot, but failing to plan is planning to fail. I feel this is really true especially in my case with all my travel. Working as a flight attendant, your schedule can change with delays, reroutes, weather, etc. Six hour scheduled days can turn into twelve. Fifteen hour scheduled overnights can be shortened to nine. It can be very unpredictable. I try to plan as much as I can by packing extra meals & snacks.
Q: How were you able to make such progress with such an unpredictable schedule?
A: My life is basically in the air away from home. Sometimes I feel as if I sleep in hotel beds more than my own. Between travel for work and travel for pleasure,
I'm usually away from home 4-5 nights a week. I actually do a better job of sticking to my macros when I'm working. This surprised me.
If I prepare and plan my food properly, there's no reason for me to eat anything that doesn't come out of my food bag. It's when I don't have everything laid out that I have a tendency to end up outside of my numbers. Sure, there are times when I bring extra food and still run out.
There was this one trip that I was assigned off of standby/ on call that took me to an international destination the week of a weightlifting competition. Of course customs took all my food away. I was so disappointed. But I couldn't cry (as much as I wanted to and I kind of did a little) and pout so I just had to make other plans. I was 3 days out from a competition and this wasn't going to halt my progress and plans so I had to make things work.
Q: As a weightlifter, what is the biggest difference you've noticed in your performance and preparation as a result of your nutrition?
I used to have to cut weight to be a 53kg lifter for my meets. My last two meets, I didn't have to do any voodoo to weigh in under 48kg. This is amazing to me. My coach & I are now working to put some healthy, lean weight back on to fill out the 48kg class.
Even weighing in light, I've been able to still hit my previous PRs as a 53kg and even improve on my old numbers. I can't tell you how pleased I am with that.
Q: How did you manage your foods for the day, on the days you knew you would be in the air?
A: I eat a lot of the same foods. It's what's comfortable for me. I know it all fits in my macros and don't have to think about what I'm going to prepare. I'll rotate things in and out every few weeks for variety.
I eat a lot of rice and I'll throw in some sweet potatoes or white potatoes every once in a while to change it up, but I do like my white rice. Before WAG, I didn't eat it very often as a way to cut carbs. Well, it turns out I wasn't eating enough carbs.
For protein, I stick to chicken, steak, eggs and egg whites and I always have beef jerky with me. And my "super emergency" protein is those small packs/ bags of tuna – I also keep portions of measured protein powder with me if I'm in a pinch.
I also eat a lot of veggies – especially green beans. I finally got one of those spiralini things so have also incorporated zucchini noodles and I'll make spaghetti squash on occasion too.
For fats, I also have nuts with me. I used to do almonds, but I have an obsession with pecans so now that's what you'll find in my bag.
Q: How did you approach situations where your food bag wasn't available to you, or taken away at customs?
A: When things don't go my way on the road, I just have to be smart about what I'm ordering. Most restaurants have some sort of grilled chicken sandwich. I'll order it plain and bun-less with veggies or a side salad. If it's going to be a long day and I'm already out of food, I'll make it a double order so that I have food for later. I can also usually find a chef's salad at those grab-n-go shops. I look for something with ham, turkey, hard boiled eggs, for protein. And I just eat them plain without dressing.
There are many things that I love about WAG, but one thing is the flexibility of the program. It's common for flight crews to get together after a day of flying for food and drinks at the hotel bar/ restaurant. I usually will still eat out of my food bag (before I go down so I'm not tempted to make any bad decisions), but I don't skip being social because I have goals and am on a nutrition plan. I can incorporate a glass of wine into my macros for the day by cutting back on some carbs or fats throughout the day. I always order a big glass of water and am sure to really enjoy that glass of wine by taking my time with it.
Q: What advice do you have for other people delaying a lifestyle change because of too much travel?
Don't delay it any longer. It can be done. I do it day in and day out, week after week. I'm not super woman and I am not an exception to the rule. The key is preparation and planning. You have to want to make a change. You have to be committed to your goals and the process. Like they say, if there's a will, there's a way.
I'm an athlete so I relate to things that way. I grew up playing baseball/ softball. You're not going to hit a home run at every at bat. There are even times that you're going to strike out. You might fumble a ground ball or make a bad throw. The game goes on after that. You have to leave that bad play behind and work to do better the next time. Learn from the error/ mistake and move to the next play or pitch, etc. For me, it's all a work in progress. I just try to make decisions that move me in the right direction to reach my goals.
It may take a little time for you to figure it out, but don't be discouraged and don't give up. I wasn't 100% compliant with my macros initially when I was trying different combinations of food, but was still making progress and learning along the way.
Get a Taste of WAG
The WAG Crash Course is OPEN for enrollment. This 30-day course will teach you the ins and outs of macro tracking, building healthy lifestyle habits and sustaining results without restricting the foods you love. Get personalized macros from a WAG Coach, join the members-only Facebook Group and participate in quarterly Live Q&A sessions with WAG Coaches.
Posted by Team WAG
Working Against Gravity was established in 2014. Our nutrition coaches work one-on-one with clients to build custom programs that fit their needs. Our goal is to help each client discover a program that makes sense for them and produces lasting results, helping them develop a positive relationship with food—and themselves—along the way.
Latest Posts: