The Pros & Cons of Being an Online Nutrition Coach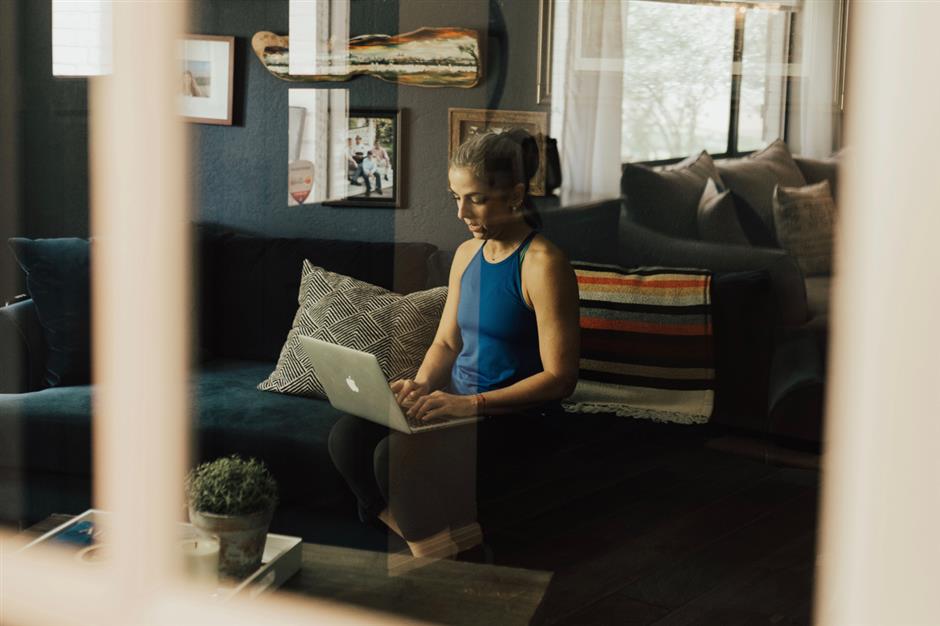 If you've ever considered becoming an online nutrition coach, you've probably had thoughts like:
"I currently work in an office. I can't imagine working online. What's that like?"
"Can I really make nutrition coaching a profession?"
"What if I try coaching – and end up hating it?"
It's okay to be on-the-fence about whether becoming a nutrition coach is right for you and your lifestyle! And we can help you make that determination. Today, we're covering the pros and cons of becoming an online nutrition coach – the good, the bad, and the incredible.

What does it mean to be an online nutrition coach?

Let's start by getting clear about what an online nutrition coach does. They work primarily (sometimes entirely) online, supporting clients as they pursue nutrition and health goals.
Their support can include (but isn't limited to) tracking a long list of markers of progress (such as body weight, body composition, mood, energy, sleep, stress, and hunger) in order to create a program or plan that helps clients achieve their goals.
Clients may have goals including weight loss, fat loss, muscle gain, performance improvements, improving their relationship with food, and more. Nutrition coaches typically communicate through email, text, social media platform, or some kind of software.
Now that we're all on the same page about what an online nutrition coach does, let's dive into the pros and cons.

Pros of being an online nutrition coach

1. You'll make an impact.
Nutrition coaches have the chance to directly impact others' lives. This impact doesn't stop with clients – it creates a 'ripple effect' and can positively impact their family, friends, and beyond.
At Working Against Gravity, we have seen clients completely transform their lives outside of just physical changes. For example, clients have gained the confidence to quit a job they hated, heal relationships with family members, and fall back in love with their spouse after reaching the brink of divorce.
As you can see, being a nutrition coach can be very rewarding! 
2. You have freedom of place and time.
The demands on your time while working online are very different than those of an 8-to-5 office job. You can create a schedule that allows you to work at the times you are most efficient – and unplug when you need a break. This allows your time to be spent more effectively.
Coaches can complete their work from any location with stable wireless internet. You can work from home, the beach, or on a plane!
3. You get to be your own boss. 
As an online nutrition coach, you call the shots. If you're the kind of person who is always thinking about how you could make things better, but you feel constrained working under someone else's watch, this could be a great profession for you.
Becoming an online nutrition coach gives you the chance to design your career path however you want it. You'd have the ability to create your own community and make the rules.
4. You'll be learning continuously.
You get the opportunity to expand your knowledge on a continual basis as you encounter new questions and scenarios from your clients.
You'll work with clients from all walks of life, which will present you with countless opportunities to grow, learn, and stay on your toes. You may work with endurance athletes, pregnant women, vegan clients, people who travel every week for work – it always keeps things fresh!
And – you can learn from your clients, too! They might come up with ideas that you, as the coach, hadn't even thought of! Building relationships with your clients gives you the chance to become an even better, healthier version of yourself.
Cons of being an online nutrition coach

1. It can be an emotional rollercoaster.
There is no doubt that this work is rewarding. But along with the highs, there will probably also be lows.
Nutrition is inherently tied to emotions and deep-seated habits that people are trying to build or overcome. Your clients will be coming to you from a vulnerable place as they express dissatisfaction or a new direction they would like to go. Sometimes this brings up difficult emotions or tense conversations that can be challenging for a coach to handle. 
Absorbing the emotions of others makes it critical that coaches take extra-good care of themselves, physically and emotionally. We can only pour from a full cup.  
2. It can be tough to set personal boundaries.
When working for yourself (especially online), the boundaries between "work" and "home" can become a bit gray. Okay, maybe very gray. 
You may find yourself doing chores around the house when you should be working or hanging out on the couch watching Netflix during your "break". This can make your workdays feel long and unproductive (because they will be!).
For most people, it takes some time to get used to working from home. It can be challenging to define clear "work hours" when you don't have a boss and aren't going to an office.
Many people find that creating a home office can help with this issue. Other people enjoy going to a coffee shop, library, or coworking spaces. It might take a while to figure out what helps you be the most productive. 
3. It can get lonely.
Working online for yourself can feel lonely. You don't have the normal "water cooler" talk at the office and most of your communication happens via video calls or in text form. This can lead to feeling like you are on your own lonely island. 
Building connections, friendships, and relationships outside of work should become a high priority for you. You could also connect with other coaches in your area, spending time working together. 
So there you have it. 
I have found nutrition coaching to be one of the most amazing, rewarding, and exciting careers I've ever had (I may be biased). But I want you to make your choice with all the facts. This is not all puppies and rainbows – but most things in life that are worthwhile include some challenges and downsides. 
If nutrition coaching is your dream, trust that. You don't have to be one of those people who keep pushing things off, only to look back and think, "I should have tried it", or "What if I would have just given it a shot?"
Be brave and take a chance on you! You deserve it.
Get WAG Certified
Join the WAG Coach Certification
Use the knowledge you gain to help your clients get the lasting results they want for their physical, mental, and emotional health–while you build the coaching business of your dreams.
Understand the science of nutrition
One-on-one guidance from a WAG Training Coach
Learn how to apply what you learn for future clients
Gain marketing insights and build your business
Posted by Adee Cazayoux
Adee is the founder and CEO of WAG. She has her bachelor's degree in Honors Psychology, a Master's in Teaching, and a Master's in Nutrition & Human Performance. She's also an athlete, having competed in the National Pro Grid League and winning the Bronze Medal in the 2016 Canadian National Weightlifting Championships.
Latest Posts: