The Best Protein Bars for Muscle Gain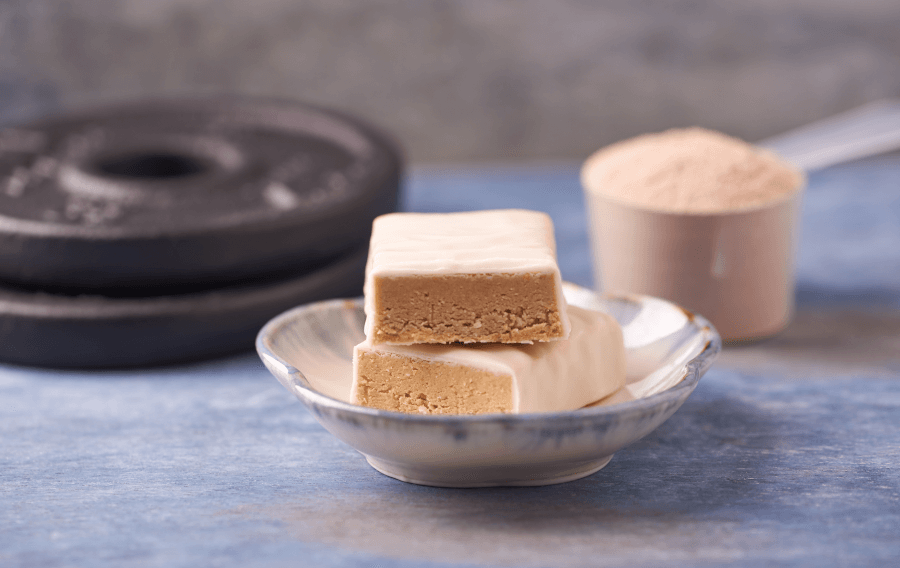 Choosing the best protein bars for muscle gain is no easy task. If you think you are indecisive at choosing a show on Netflix, try going down the protein bar aisle at the grocery store! 
The options are endless, and unfortunately, they are not all healthy options. Let's be honest, some protein bars on the market may as well be in the candy aisle. Luckily, not all grab-and-go protein alternatives are unhealthy.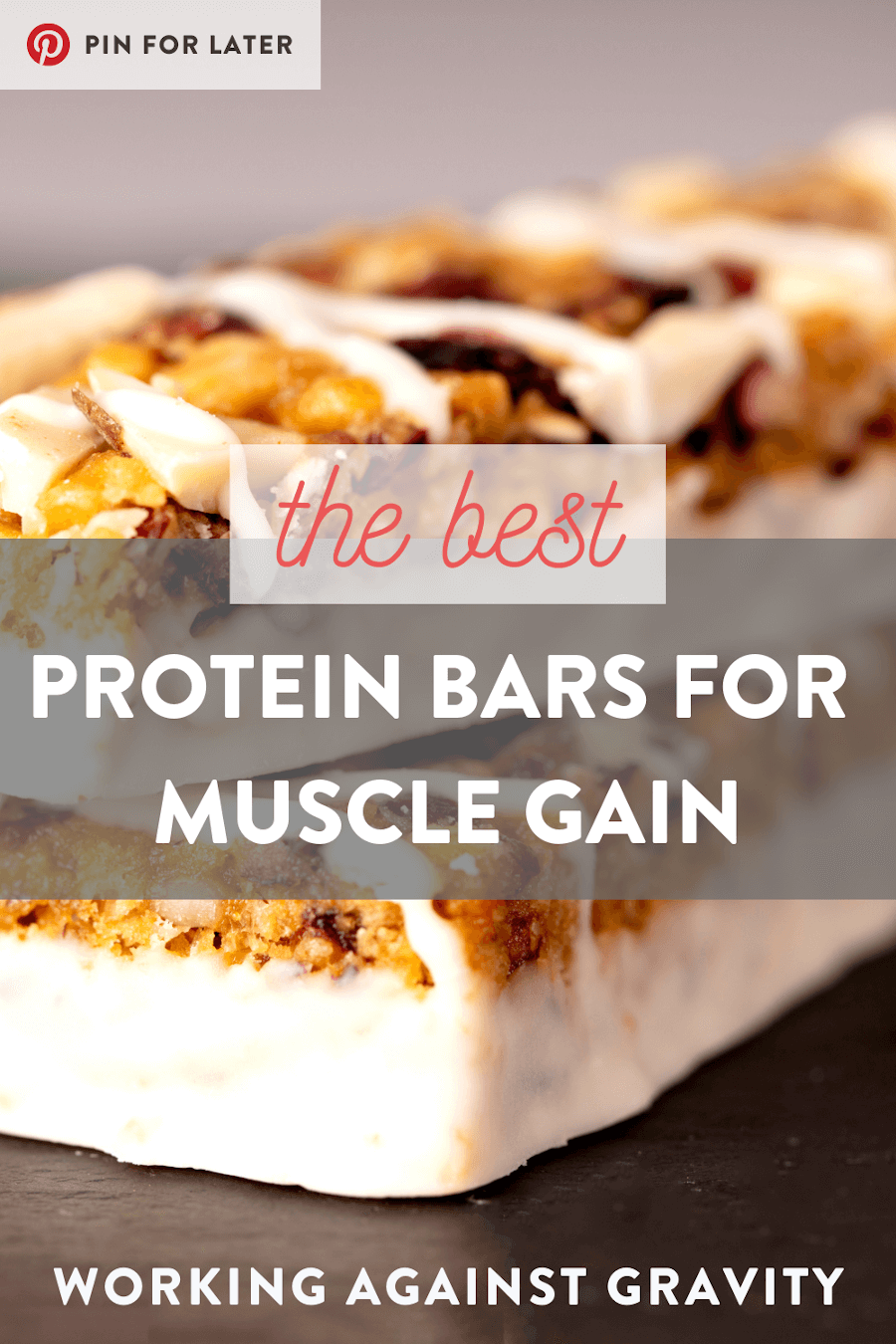 Are Protein Bars Healthy?
Protein bars can be healthy, you just need to know what to look for. Here are some things to consider when checking out the ingredient list and nutrition facts.
Protein Type and Amount
Check to see where the protein comes from. Common protein types used in bars include whey (milk-based, quick absorption), casein (milk-based, slow absorption), plant-based, and complete protein (containing all nine essential amino acids, found in animal products).
The less processed the protein, the better. You can read more about the different types of protein here. Regardless of type, a good protein bar will contain at least 10 grams of protein but will ideally have closer to 20 grams.
Sugar in Your Protein Bar
It is okay if there are a few grams (ideally less than eight) of natural sugars but be on high alert for added sugars. Also, check if there are sugar alcohols listed as these may not contribute to total calories but can be especially hard on your stomach when consumed regularly or in large amounts.
Fat & Fiber Content
Aim to get at least five grams of fiber in a muscle-building protein bar. Fiber is important for helping to digest the protein and it helps you feel full for longer.
As for fats, avoid trans and saturated fats. Instead, keep your eye out for healthier options like nut butter, chia seeds or coconut oil listed in the ingredients.
Total Calories and Macronutrient Breakdown
Consider the reason you are eating the protein bar: muscle gain, right?
Ideally, your protein should come from whole foods, but sometimes you get in a pinch and just need that convenient option. When the goal is muscle gain, you also may find yourself working with a higher protein target and your intake goal may be so high that you need to supplement whole foods with a protein bar.
Whatever your circumstances, ask yourself, "Is this bar meant to be a snack or a meal replacement?"
Your answer to this question will determine the total calories and macronutrient breakdown you look for in a bar. If you are looking for a snack, choose something like the Rx Bar. A more calorie-dense option like a Perfect Bar is more appropriate for a larger snack or meal replacement. Either way, it is important that your protein bar includes at least some carbs because they are needed to aid in digesting protein more quickly.
So, let's recap what makes a protein bar healthy: 
Quality and quantity of protein
Low sugar and no added sugar
Contains at least five grams of fiber
Has no trans or saturated fats
Fits your goals.
And speaking of goals, if yours is to gain muscle, you want to keep reading!
Protein Bars and Muscle Gain
One common goal for increased protein intake, whether through protein bars or not, is muscle gain. 
Protein is essential for muscle growth as it is the main player in protein synthesis. Protein synthesis is a metabolic process of building muscle mass. In other words, if you want your body to build muscle, your protein synthesis has to exceed protein breakdown, which occurs during exercise [1].
Therefore, it is important to get enough protein over the course of the day. To be even more specific, we recommend eating protein as soon as you can after a workout. Although resistance exercise increases muscle building, it can contribute to even greater gains in muscle mass when paired with adequate amounts of protein consumption [2].
Supplementing your meals with a protein bar is a great way to ensure your time at the gym stays worth your while!
RELATED: Gain Train: Tips for Adding Muscle Mass
11 Healthy Protein Bars for Muscle Gain
There are so many options available when it comes to protein bars. Here is a breakdown of some of the healthier choices.
#1: Aloha Coconut Chocolate Almond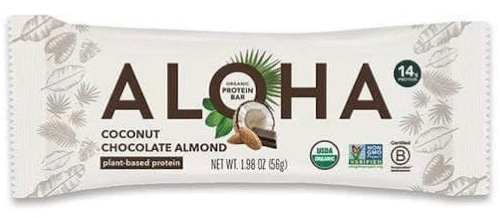 The protein in Aloha Coconut Chocolate Almond bars comes from a blend of brown rice protein and pumpkin seed protein. The fat in these vegan-friendly bars comes from almonds and coconut (more of that good fat that keeps you full for longer).
Nutrient Breakdown:
Protein: 14g
Carbohydrates: 22g
Fat: 13g
Fiber: 6g
#2: BulletProof

BulletProof protein bars are made with collagen protein that is sourced from grass-fed cows. These bars are both gluten-free, dairy-free, and keto friendly!
Nutrient Breakdown:
Protein: 11g
Carbohydrates: 12-13g
Fat: 11-12g
Fiber: 8g
Although these protein bars are a little lower in protein than some of our other options, they're also lower in carbs making this a great, quick snack vs. meal replacement. They come in four flavors and have a more cookie-like texture, yum!
#3: EPIC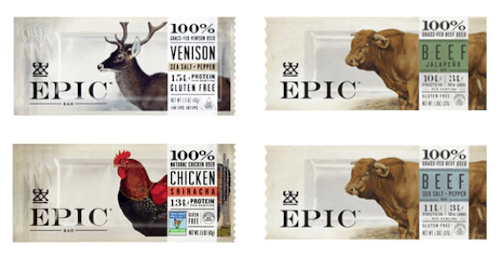 Epic Bars are a high-quality protein option. They are made with bison, beef, venison, salmon, chicken, turkey, pork, or duck and come in flavors such as chicken BBQ seasoned, beef barbacoa-inspired, and venison sea salt and pepper.
Nutrient Breakdown:
Protein: 8-13g
Carbohydrates: 1-8g
Fat: 4.5-11g
Fiber: 2g 
The Epic bars are a good option for those who prefer a savory snack as opposed to the more traditional protein bar options that emulate dessert flavors. Some flavors are also keto or Whole30-friendly. Because they're primarily meat-based, Epic bars are not a good choice for vegetarians.
#4: Go Macro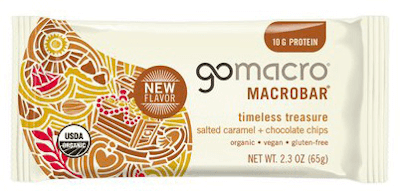 These bars use plant-based protein so are vegan! They are available in 14 different flavors all with a relatively short ingredient list.
Nutrient Breakdown:
Protein: 10-12g
Carbohydrates: 30-39g
Fat: 10-12g
Fiber: 2-3g
#5: Health Warrior Pumpkin Seed

These bars are made with protein sourced from plants. They are sweetened with organic honey, though, so may not be a good choice for a vegan diet. Health Warrior Pumpkin Seed bars have more fat than protein which is atypical for a protein bar however, remember that fat keeps you full for longer periods of time and if you're getting it from healthy sources (like this bar) you're good to go.
Nutrient Breakdown:
Protein: 7-8g
Carbohydrates: 10-11g
Fat: 12-13g
Fiber: 1-2g
#6: Legion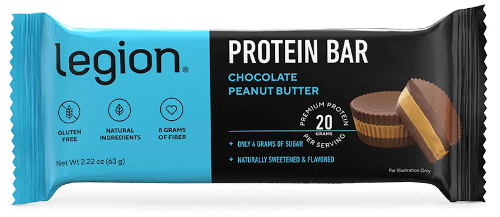 Legion offers two flavors of their protein bars: Chocolate Chip Cookie Dough and Chocolate Peanut Butter. Both boast 20 grams of protein per bar - one of the highest on our list.
Nutrient Breakdown:
Protein: 20g
Carbohydrates: 24g
Fat: 12g
Fiber: 8-9g
Although there is a little bit of added sugar in these bars, there are no artificial sweeteners and the high protein content made them hard to keep off our list.
#7: Mighty Organic Bars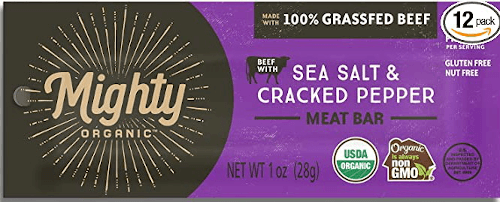 The protein in Mighty Organic Bars comes from either free-range chicken or meat, with flavors like sweet chili, sea salt and cracked pepper, and cranberry and sunflower seeds. They're a great option if you love EPIC bars but want to switch things up a little bit.
Nutrient Breakdown:
Protein: 8g
Carbohydrates: 2g
Fat: 2.5g
Fiber: 0g
Another bonus? They are processed in a nut-free facility so they are an excellent choice for those with nut allergies.
#8:ONNIT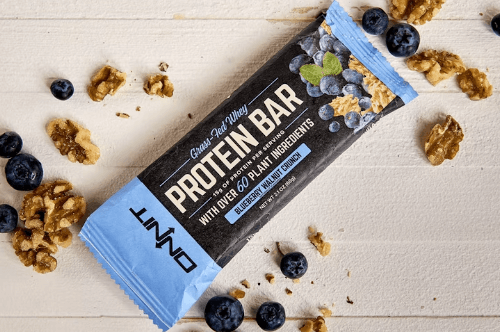 ONNIT protein bars are made with grass-fed whey protein and contain a variety of plant nutrients. They come in a variety of flavors (hence, the nutrient ranges below) so you can grab the taste that suits your preferences.
Nutrient Breakdown:
Protein: 15-16g
Carbohydrates: 26-27g
Fat: 7-9g
Fiber: 10-11g 
ONNIT protein bars are higher in fiber and low in sugar, making them a great choice. They are also keto friendly.
#9: Perfect Bar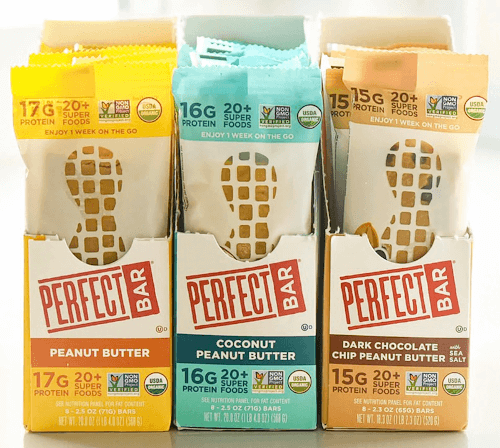 Perfect Bars are an excellent option because they are made from whole food protein. Their almost brownie-like texture and rich taste make them a great choice to curb a sweet tooth.
Nutrient Breakdown:
Protein: 12-17g
Carbohydrates: 24-27g
Fat: 19-22g
Fiber: 3g
Although Perfect bars have all-natural ingredients, they rank higher than most protein bars in the amount of sugar. They're also higher in calories and dietary fats than many other protein bars. This makes them a perfect choice if you're in the middle of a busy day and need a meal replacement or if you are trying to reach your macros at the end of the day.
Love the taste but don't need a full bar? Many flavors also come in snack sizes!
#10: Primal Kitchen Coconut Lime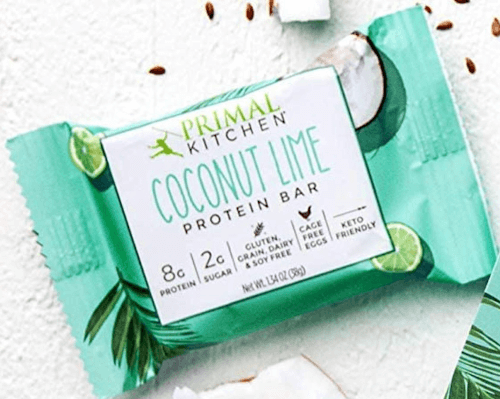 The protein in these bars comes from whole food ingredients. These are low in sugar, made with cage-free eggs, and are keto friendly too!
Nutrient Breakdown:
Protein: 8g
Carbohydrates: 9g
Fat: 16g
Fiber: 2g
#11: RX Bars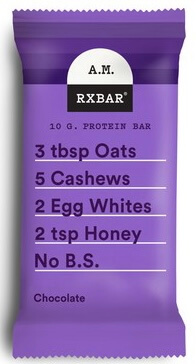 The protein in these bars comes exclusively from whole foods. The dream, right? Rx Bars are known for their fresh taste and are made with 3 egg whites, 2 dates, and either peanuts, cashews, almonds, or walnuts (depending on the flavor).
Nutrient Breakdown:
Protein: 10-11g
Carbohydrates: 23-25g
Fat: 7-9g
Fiber: 3-5g
These bars have fewer ingredients than other choices, making them a good option. There are also a few plant-based protein flavors available that are suitable for a vegan diet.
Okay okay, so there might be fewer options for healthy protein bars on this list than shows available on Netflix but still, choosing the right bar for you can be pretty overwhelming!
Protein is the most important macronutrient for muscle building, but it is often the most difficult for people to incorporate into their diet. Use this article to help guide your decision or work with a WAG 1:1 Nutrition Coach to learn how much protein you should eat and from what sources to reach your goals.
Join Team WAG
Love what you learned but still want more guidance and support? Get matched with an experienced coach who will get to know you, your lifestyle, and your preferences to give personalized feedback and suggestions. With a customized nutrition plan, weekly check-ins, unlimited messaging, and our personalized coaching platform, we'll help you reach your body composition goals and sustain your results.
 Weinert, D.J. (2009). Nutrition and muscle protein synthesis: a descriptive review. Journal of Canadian Chiropractic Association, 53(3):186-93. PMID:19714233.
Stokes, T., Hector, A.J., Morton, R.W., McGlory, C., & Phillips, S.M. (2018). Recent perspectives regarding the role of dietary protein for the promotion of muscle hypertrophy with resistance exercise training. Nutrients, 10:180. doi: 10.3390/nu10020180.
Posted by Katherine Hyatt Hawkins
Katherine has a Ph.D. in health communication and is passionate about helping people seek, interpret, and share health-related information. There is nothing she loves more than watching others realize their potential.
Latest Posts: