On the Road Meals: From Gas Stations to Drive-Throughs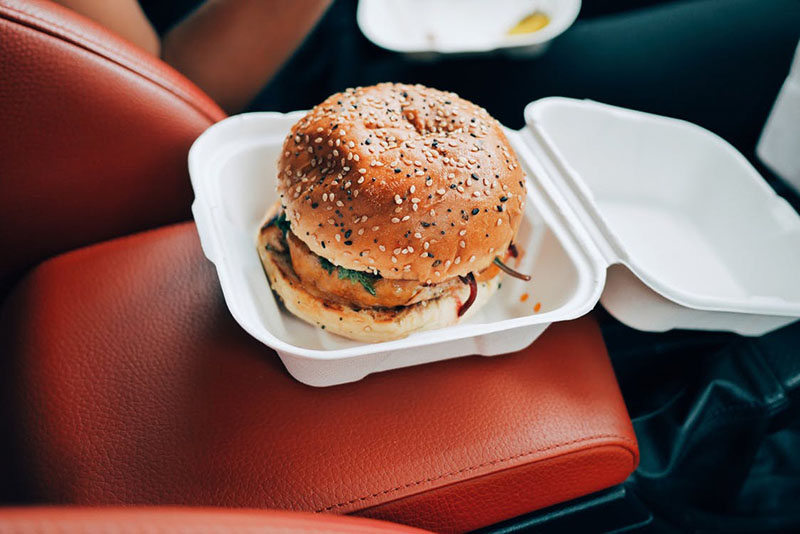 You're going on a road trip and you've prepared meals and snacks to ensure you eat well while you're away. You rock!
But what happens when you're on the road for consecutive days and the fresh food runs out? You're torn between surviving off protein bars and trying to make fast food hit your macros. We've got your fast food menu items and food hacks that you can find along the highway!
Before You Leave, Pack Your Bags
Travel scale
Slicing knife and cutlery
Container or bowl for creating your own meals
Condiments and non-perishables (e.g. mustard, hot sauce, garlic salt, crackers, low-fat coffee creamer, honey, salad dressing, etc.)
But First, Coffee
For those of you who get by with a little help from caffeine, check out our comprehensive list of Starbucks Macro Hacks here.
Remember, black coffee is always your zero calorie friend. But if you need something creamier, drink one of these:
BYO Macro Mocha
Cal 20 | F 0 | C 5 | P 0
You'll need:
Cup of black coffee
Nestle Fat Free Hot Chocolate Packet or other chocolate powder
tir together in your cup and you've got something sweeter and more satisfying.
Magic Milkshake
Cal 330 | F 18 | C 30 | P 12
Milkshakes are calorie dense but can have a good balance of macros when you order it right. Syrups add another 30 g of carbs to the recipe. Replace the syrup and you've got a balance of protein, carbs and fats in one drink!
Order a milkshake with no flavor added — just ice cream and milk! Ask to keep the ice cream light, too. A small scoop is about 85 - 100g.
Add a double shot of espresso or sprinkle cinnamon to taste. Get creative with what you can put in it!
Gas Station Breakfast Parfait
Cal 286 | F 6 | C 41 | P 17
Ingredients:
Single serve 0% fat yogurt tub
½ a granola bar, trail mix packet or even half a chocolate bar (often lower macros than some 'healthy' bar options)
Fresh fruit — bananas and apples are easy to find in gas stations
Any toppings you may already have like honey or cinnamon
Directions:
Empty the yogurt into your bowl and crumble the granola/trail mix/chocolate on top the yogurt.
Top off with fresh fruit!
You've created a filling, on the road breakfast parfait worthy of ordering at a café.
In-a-Pinch Pre-made Sandwich/Salad
To create a filling sandwich or salad with the lowest possible macros, you'll need:
A sandwich/salad from a convenience store or gas station fridge. Lean options like chicken, turkey or ham are best.
Weigh one slice of the bread and multiply that by two to get the total weight. If you've got the carbs, keep what you can. If you need to make it lighter, throw out the bread and transfer the ingredients into a container or bowl.
Check the fridge for more sliced deli meat and pre-boiled eggs for extra protein. Add to your sandwich/salad.
Ditch the dressing or the cheese and recalculate from scratch! Try to keep some of the fat to make sure it tastes good and is satisfying.
Add flavor! Grab pickles, salsa, ketchup and/or or mustard packets from the hot dog section. Stuff your pockets with them for later, too. ;)
Roadside Burger Salad
Cal 270 | F 12 | C 8 | P 12
Burgers aren't as dangerous as they seem. Avoid all the chips and cheese and you can easily create something balanced. If you can't fit a burger bun into your macros, try making it into this salad to keep it filling.
Order:
Hamburger with lettuce, tomato and onion, no bun (keep the cheese if you have the fat)
Garden side salad, no cheese no dressing
Cut it all up into the bowl, add condiments for flavor and you've got yourself a winner!
Fast Food Chains
McDonalds
Egg White Delight McMuffin Cal 250 | F 8 | C 30 | P 18
Hamburger, no cheese (not a cheeseburger!!!) Cal 250 | F 9 | C 31 | P 12
Double Hamburger with no cheese no bun Cal 250 | F 12 | C 4 | P 12
In-n-Out Burger
Tip: Bring your own low-carb bread!
Hamburger with onion no spread Cal 310 F 10 C 41 P 16
Protein Style Burger (comes wrapped in lettuce) Cal 240 F 17 C 11 P 13
Protein Style Hamburger - no spread Cal 160 F 10 C 11 P 13
Subway
Black Forest Ham 6" Cal 290 F 4.5 C 46 P 18
Turkey Sub 6" Cal 280 F 3.5 C 46 P 18
Chipotle
Veggie Burrito Bowl no cheese no guacamole, sour cream on the side Cal 445 F 8 C 86P 17
Chicken Salad Bowl Cal 462 F 10 C 48 P 45
When eating Mexican cuisine, select lean meat and carbs based on your macro goals. Load up on lettuce and veggies instead of beans and rice and go easy on the cheese and sour cream to keep fat down.
We're currently working on a blog post with a comprehensive list of macro friendly food chains! Check back soon.
Off the Menu Breakdown
When nothing on the menu fits your macros, start chopping and changing it. Stick to these items — they are the easiest to build your plate with.
Carbs are easy to track when ordered plain. Request spreads on the side so you can track before you eat! Fruit, toast, pancakes, cereal, bagels and English muffins are easy to track carb sources.
Spreads with single source macros are easiest to weigh and track accurately (i.e. honey, jam, peanut butter, butter, etc.).
Eggs and egg whites are a go-to. Order eggs poached because they are cooked in water and request egg whites be cooked with little or no oil at all.
Meat is easy to track, but you can't be 100% sure of their fat content. Ham and deli meats are easiest to track. Pro tip: use a napkin to wipe off excess oil used to cook meats.
Fats are everywhere when you eat out. Even if you can't see a lot of oils on your meat, account for at least 5 g to be more than likely hiding in your dish.
MFP Search Tip
With so many options worldwide, how could we possibly cover them all? When you're searching MFP for a menu item that fits your macros, try entering the name of the restaurant or the type of meal, and the word "no" in the search.
The results will yield a list of menu items and macros that other users have created by leaving out and substituting ingredients.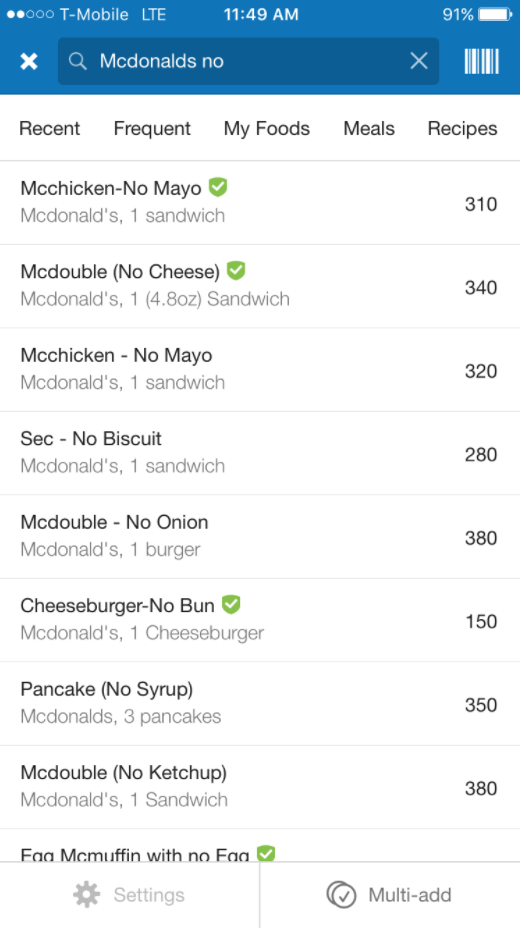 Get a Taste of WAG
The WAG Crash Course is OPEN for enrollment. This 30-day course will teach you the ins and outs of macro tracking, building healthy lifestyle habits and sustaining results without restricting the foods you love. Get personalized macros from a WAG Coach, join the members-only Facebook Group and participate in quarterly Live Q&A sessions with WAG Coaches.
Posted by Dani Sheriff
Dani is the Project Director at WAG and has been a member since 2015. She is dedicated to creating amazing content for WAG clients and perfecting the client experience outside of coaching.
Latest Posts: