Trader Joe's has a unique selection of healthy foods that make for a fun and exciting trip to the grocery store. Since it is such a popular store, we've compiled a list of our macro-friendly Trader Joe's foods and snacks just for you.
Trader Joe's is like being a kid in a candy store for maco trackers and healthy eats. They sell plenty of flavorful, healthy options to help you make some seriously satisfying macro-friendly meals.
Here are some of our favorite healthy Trader Joe's foods and snacks!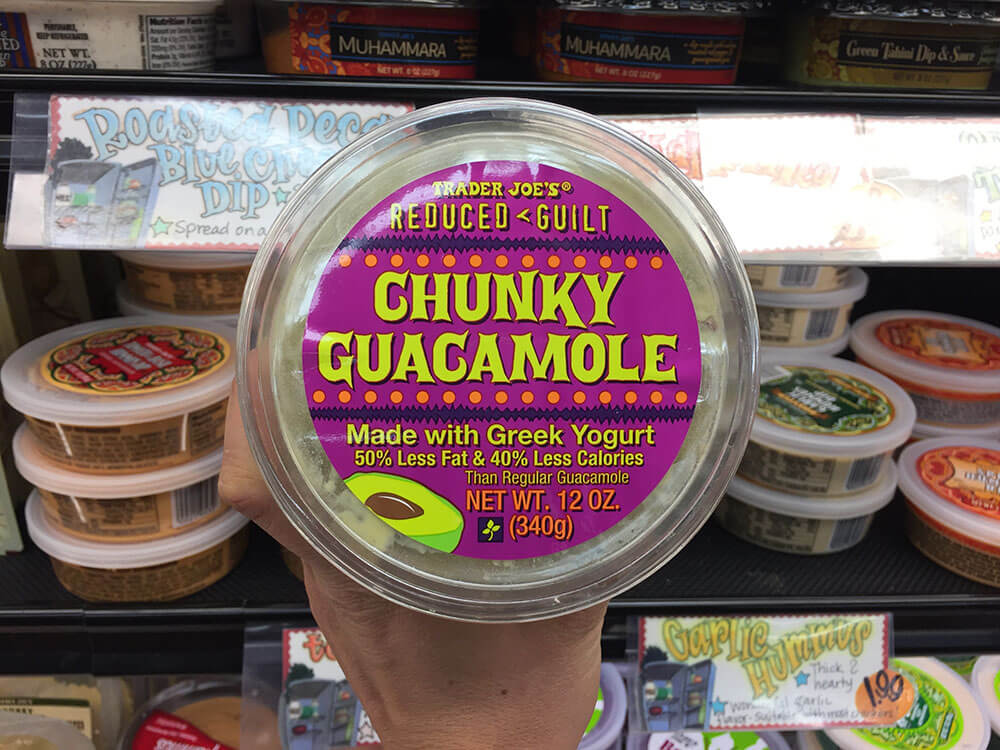 Reduced Guilt Chunky Guacamole
Serving Size 30g Calories 30 | .5 P | 2 C| 2 F
Many have suffered shock, denial and mourning over the discovery of the fat content of an avocado. Grab a tub of Joe's Guilt Free Guac to add the avocado love back into your salads, sandwiches, Mexican fiestas or wherever you please.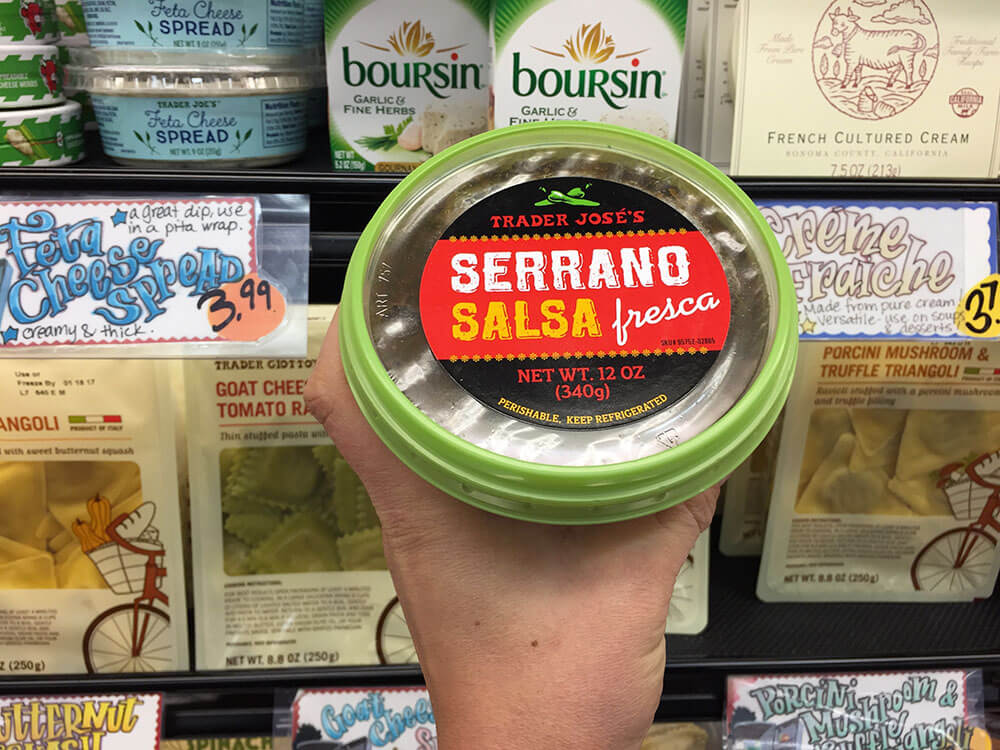 Serrano Salsa Fresca
Serving Size 30g Calories 10 | 0 P | 1 C | 0 F
1 spoon of this spicy salsa fresca will give your meal an instant upgrade. Try it on your salads, as a marinade or as a dip without affecting your macros much at all.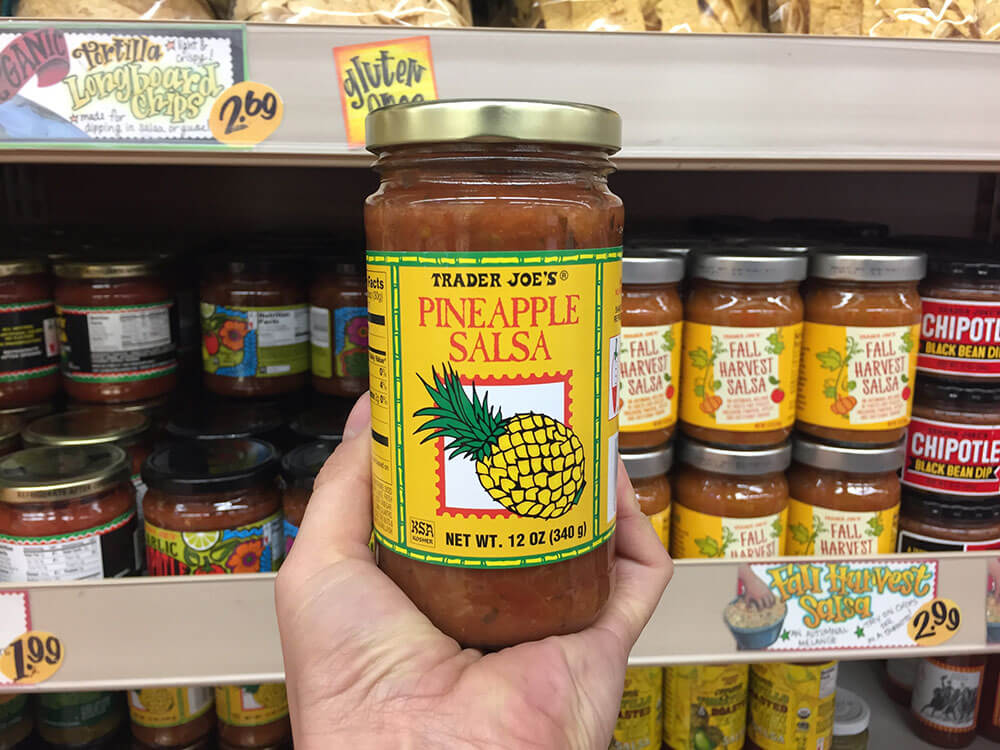 Pineapple Salsa
Serving Size 30g Calories 15 | 0 P | 4 C | 0 F
Perfect for fajitas, salads and dipping, this salsa has a refreshing twist of pineapple to give plenty of flavor for only 4 g of carbs.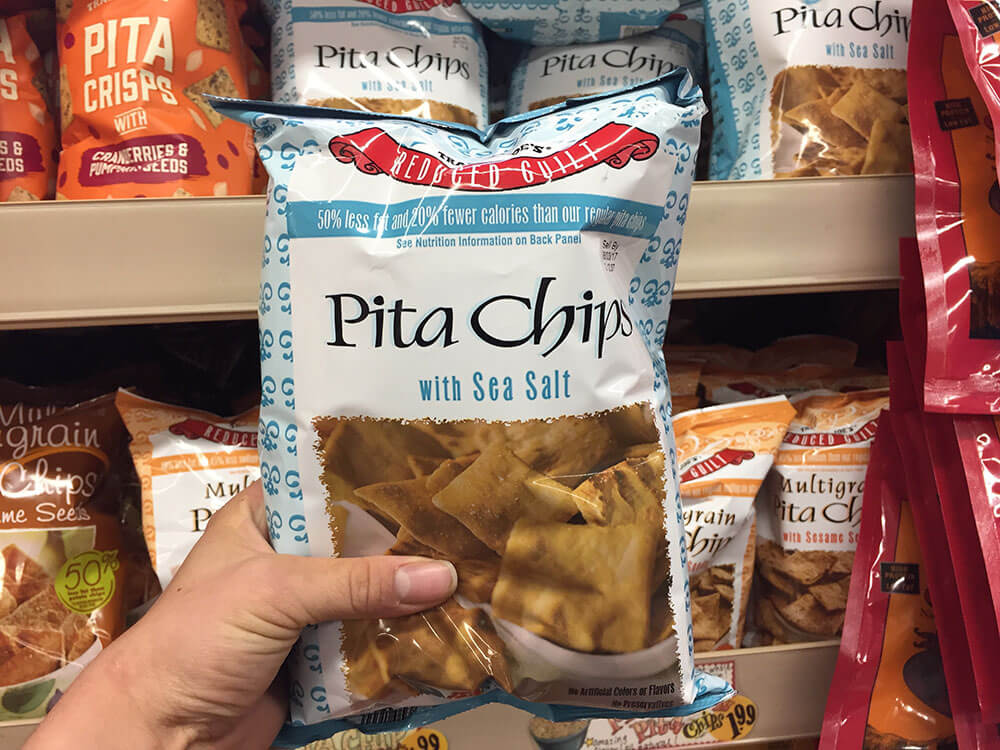 Reduced Guilt Pita Chips
Serving Size 28g Calories 99 | 3 P | 15 C | 2.5 F Who doesn't crave chips every now and then? You can have a healthy serving if you pick the Reduced Guilt Pita Chips paired with a low calorie salsa or dip.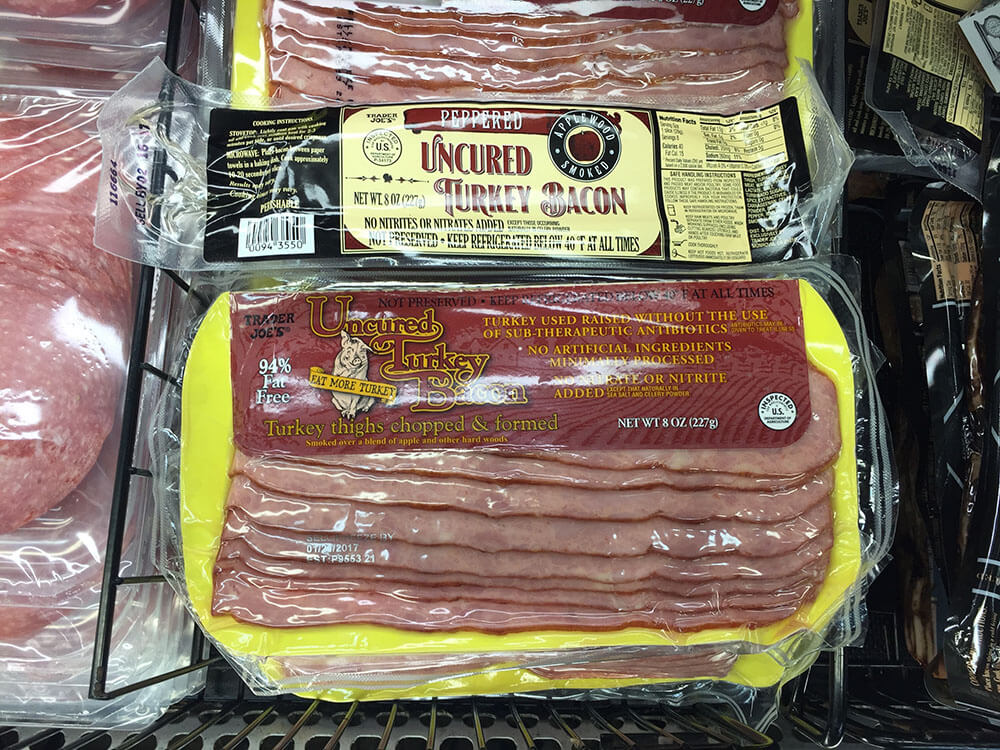 Uncured Turkey Bacon
Serving Size 56g Calories 60 | 12 P| 0 C | 3 F
These days turkey bacon is an easy find at any US grocery store. This uncured turkey bacon from Joe's has better macros than most brands. The bacon is also thicker — win, win!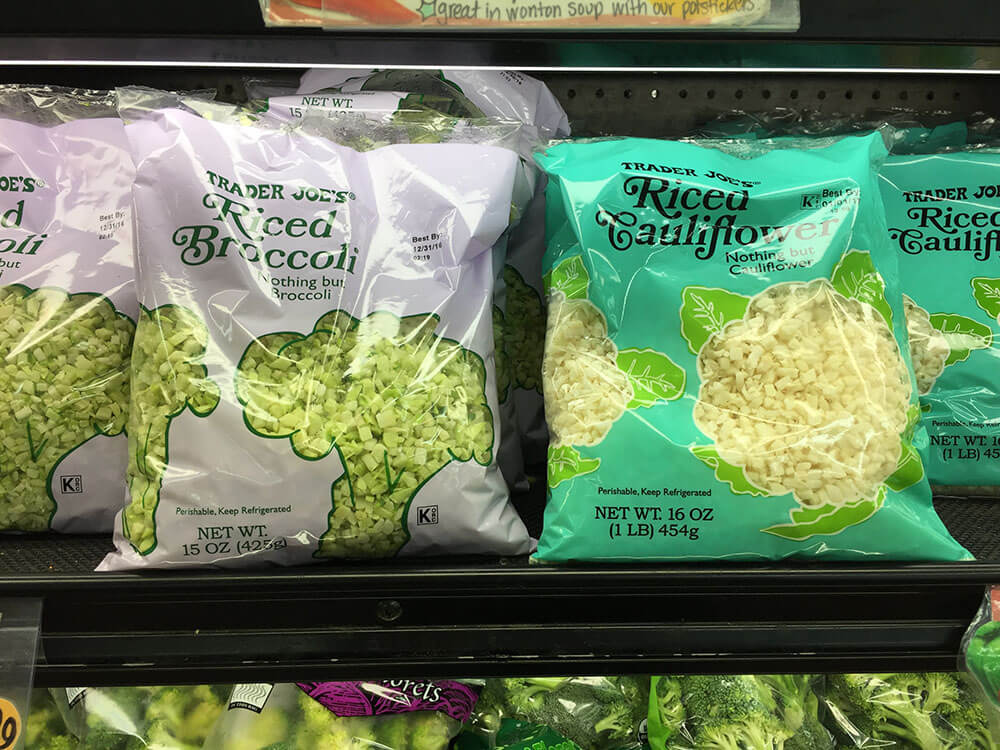 Riced Cauliflower and Broccoli, fresh and frozen
Serving Size 200g Calories 55 | 4 P | 10 C | 0 F
Cutting back on carbs became stupid easy when Trader Joe's started selling riced cauliflower and broccoli. You can make cauliflower rice at home but it's messy and time consuming. Buying it ready made from Joe's is extremely helpful! You can get it fresh or frozen.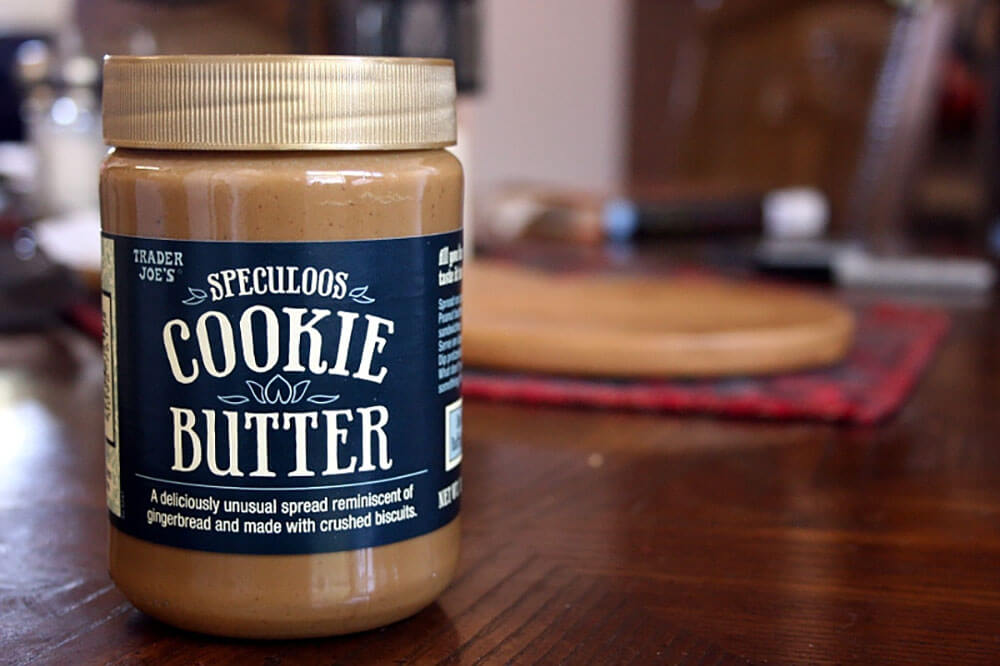 Trader Joe's Speculoos Cookie Butter
Serving Size 15g Calories 90 | 1 P | 8 C | 6 F
Cookie Butter is literally spreadable shortcrust cookies in a jar. Yep. It's a delicious way to get cookie flavor without eating a whole cookie. Spread it on toast, apples or just have a spoonful of it as your dessert.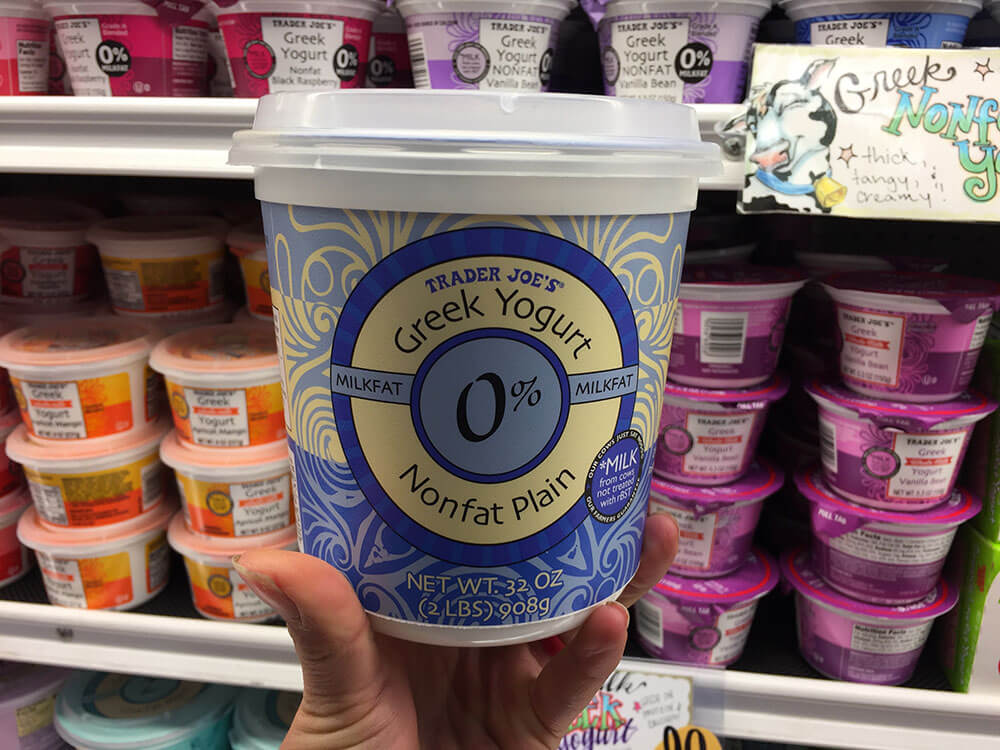 Nonfat Plain Greek Yogurt
Serving Size 227g Calories 120 | 22 P | 7 C | 0 F
This yogurt is anything but your average, runny, 0% yogurt. In fact, it's one of the creamiest you can find. You can mix it with anything and it makes for a great dip or dessert recipe. Did we mention it's crazy high in protein and insanely low in carbs?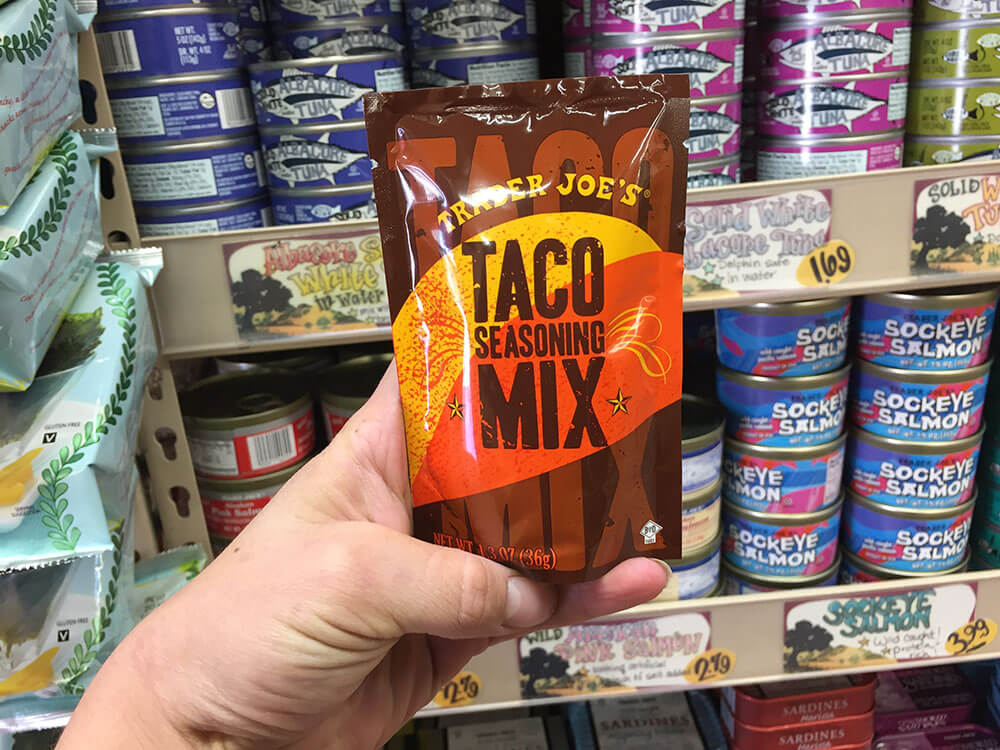 Taco Seasoning Mix
Serving Size 3g Calories 10 | 0 P | 1 C | 0 F
Trader Joe's Taco Seasoning is no fuss. They have one type of seasoning only and it has plenty of Mexican 'zing' to it. It makes the list for having better macros than other seasoning brands!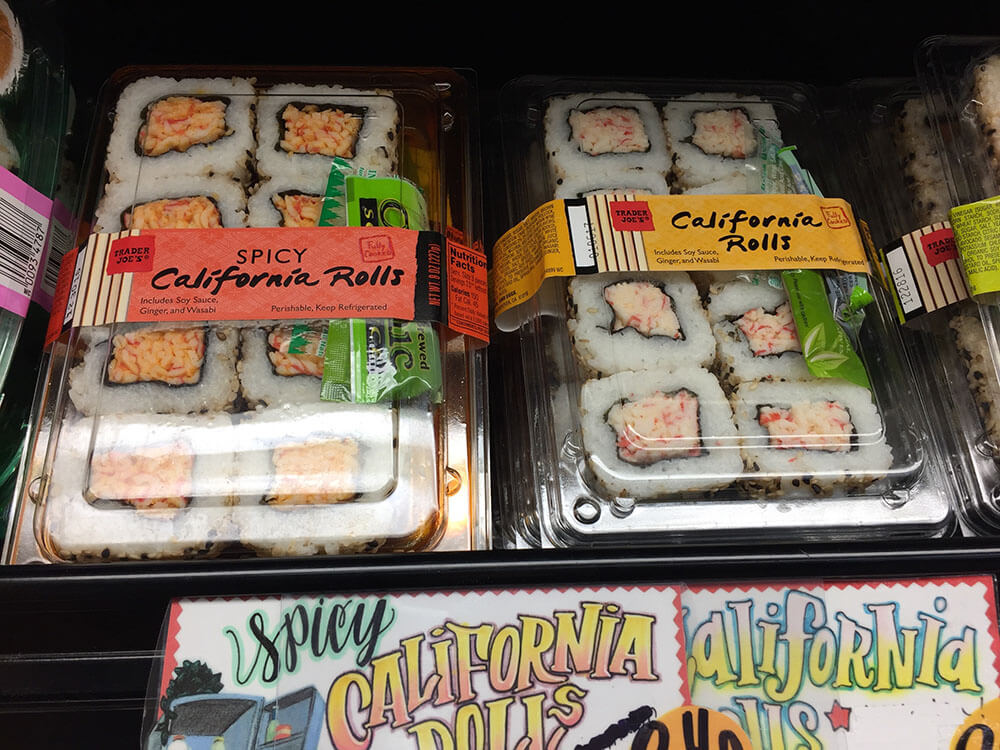 California Sushi Rolls
Serving Size 3 pieces Calories 150 | 3 P | 24 C | 5 F
Finding sushi rolls free of mayonnaise and other macro dense sauces and ingredients is tricky. Joe's seafood based California Sushi Rolls are delicious and easy to track because they come with no sauces.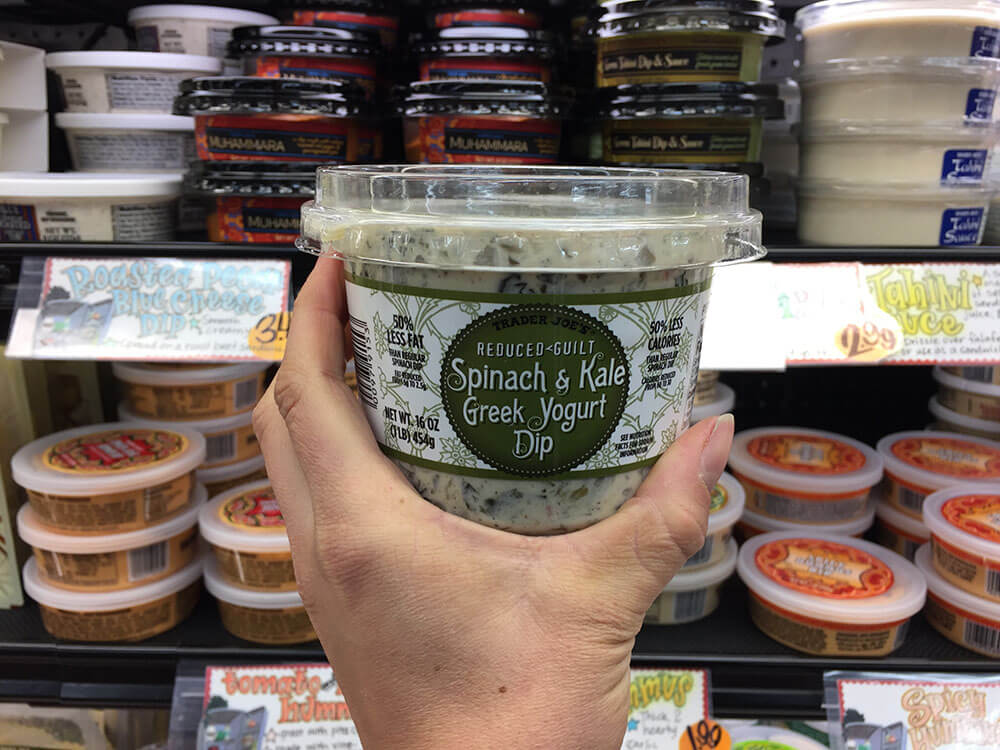 Reduced Guilt Spinach & Kale Greek Yogurt Dip
Serving Size 28g Calories 30 | 1 P | 2 C | 2.5 F
This Greek yogurt based dip is a little lifesaver when it comes to low calorie snacking or entertaining friends!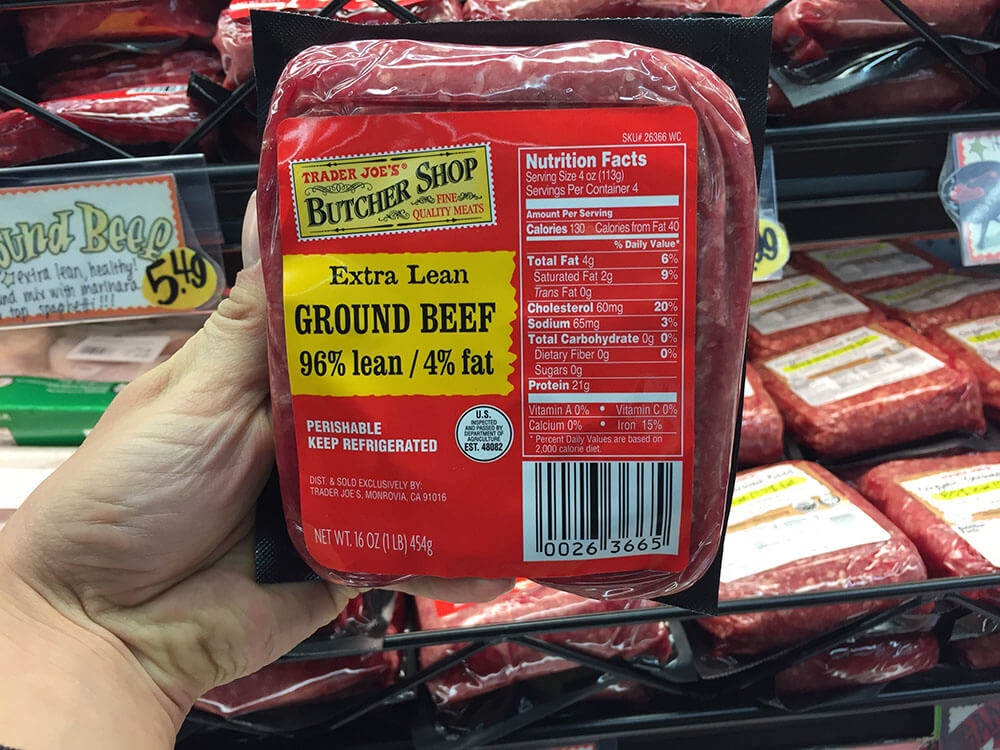 96% Lean Ground Beef
Serving Size 113g Calories 130 | 21 P | 0 C | 4 F
Ground beef is so versatile that spending the extra few bucks to get the extra lean stuff makes meal planning so much more fun. Never miss out on burger night again!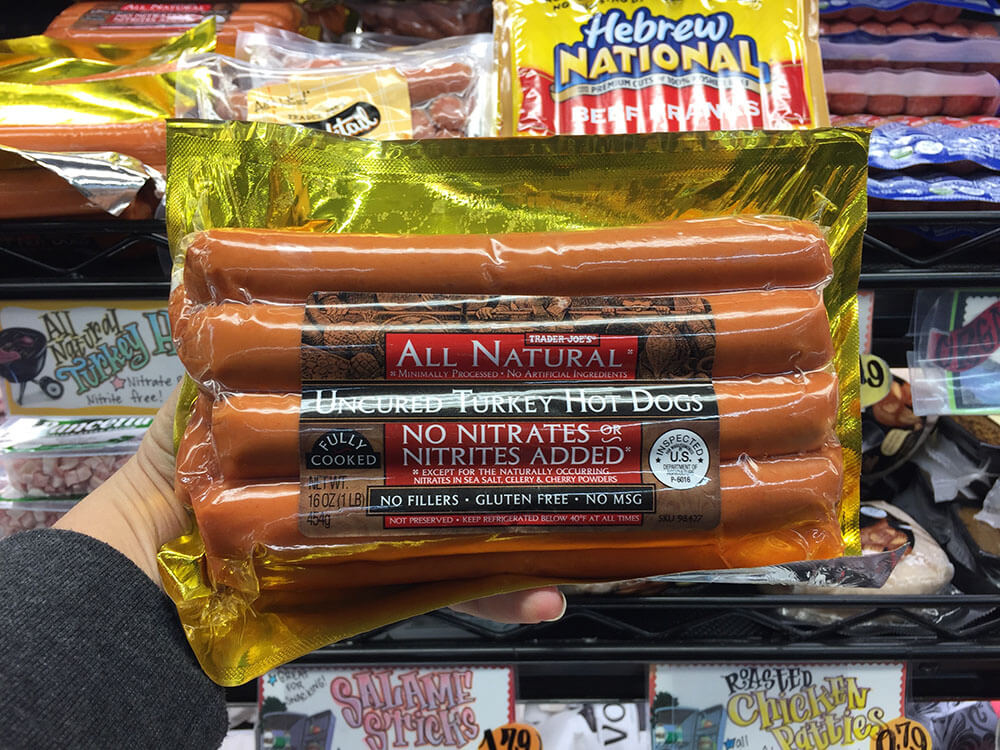 Turkey Hot Dogs
Serving Size 1 hotdog Calories 90 | 12 P | 2 C | 3 F
Sit back and enjoy the ballgame with these Turkey dogs. Pair them with low calorie condiments like mustard and hot sauce and chow down.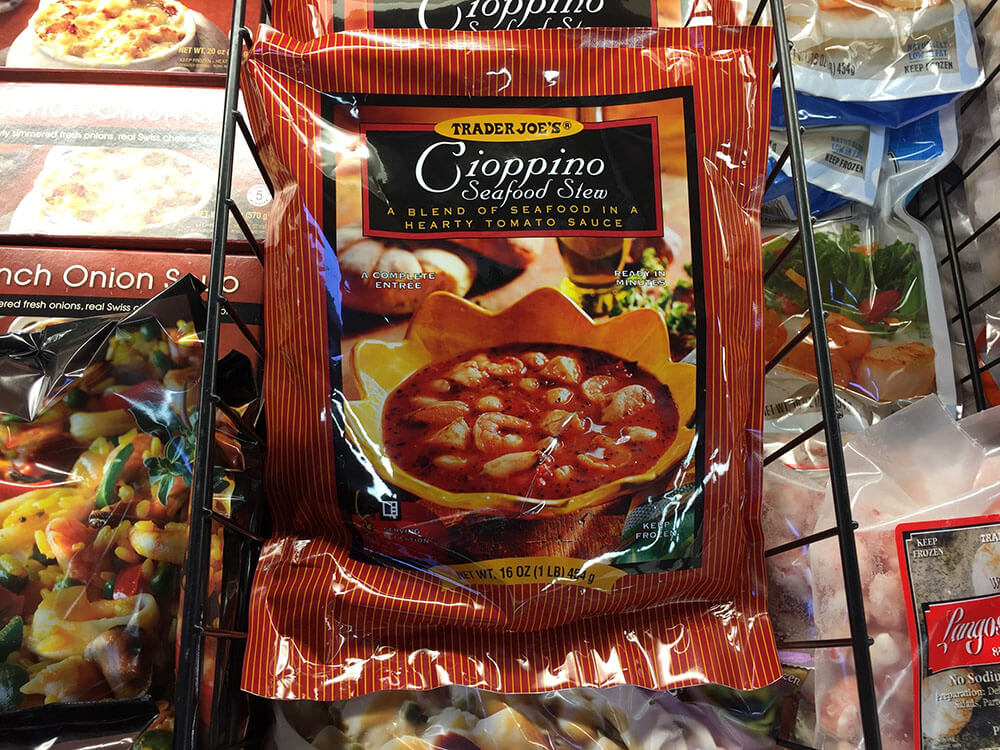 Cioppino Seafood Stew
Serving Size 245g Calories 170 | 22 P | 8 C | 6 F
Keep this frozen stew on hand for a quick meal fix. The Cioppino is flavorful, cooks down to a thick tomato sauce, is NOT skimpy on the seafood (mussels, shrimp, cod, scallops) and makes a perfect low fat, low carb, high protein meal to keep in the freezer.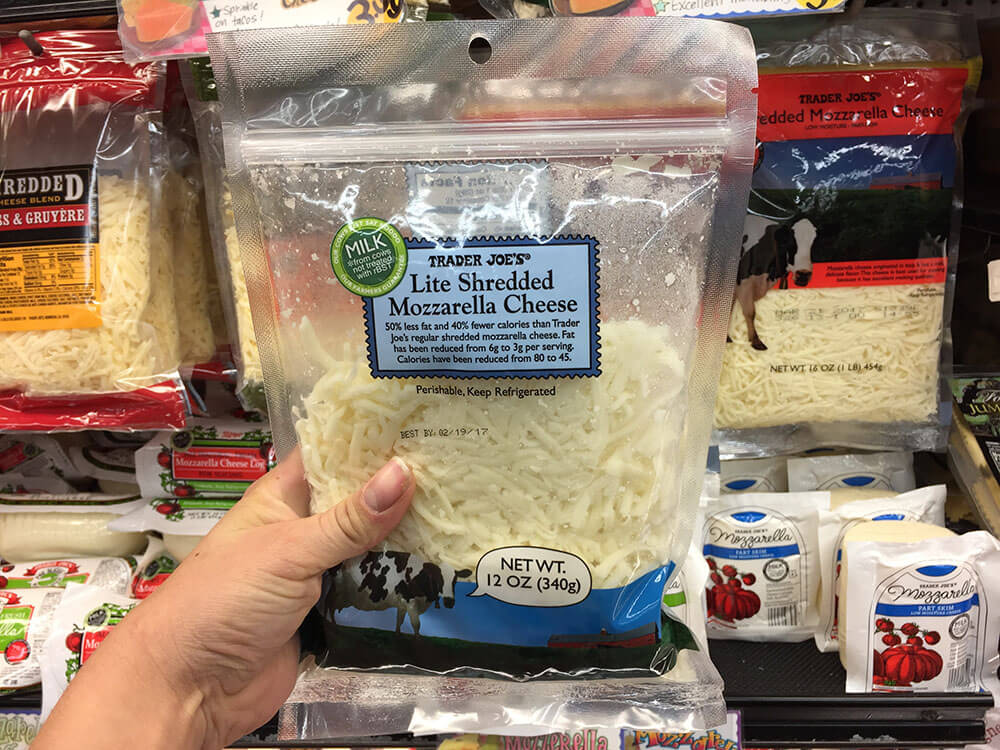 Lite Shredded Mozzarella
Serving Size 28g Calories 45 | 5 P | 0 C | 3 F
Sprinkle this low fat cheese on your pizza, pasta or melted sandwiches! It has that stringy mozzarella texture you love. You'll be able to serve yourself double the cheese your macros would normally allow!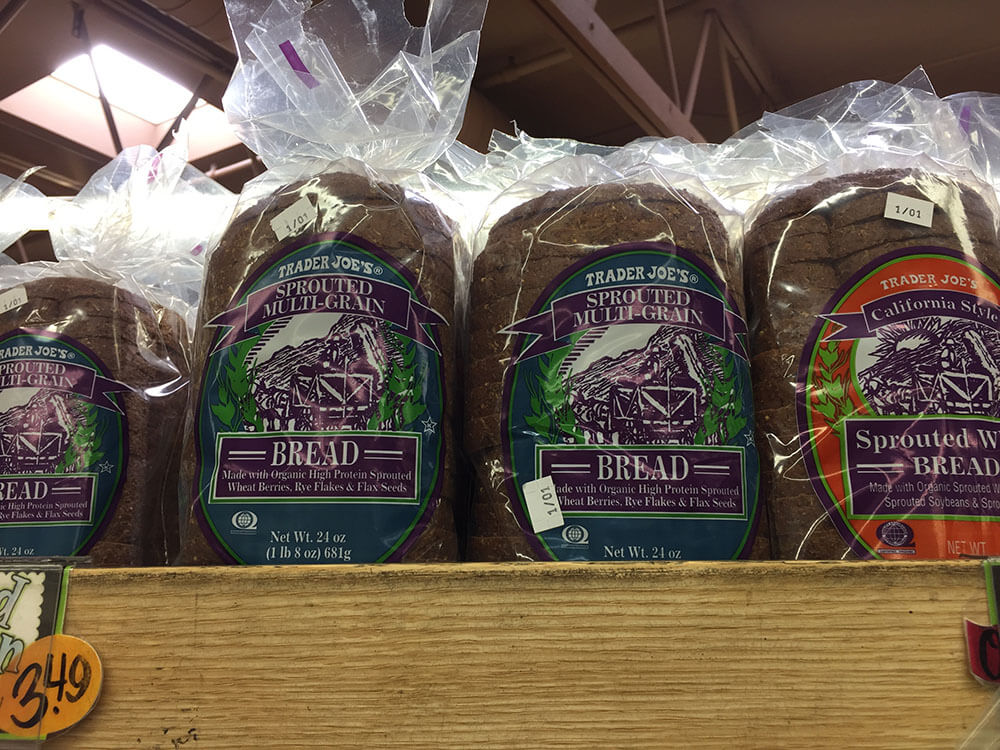 Sprouted MultiGrain Bread
Serving Size 43g Calories 90 | 5 P | 15 C | 1 F
2 slices of Joe's Low Carb Sprouted Bread has better macros than 1 slice of regular bread. Give it a try!
Need more suggestions on what foods will help you reach your goals based on your grocery stores and food preferences?