Macro Friendly Grocery Store Picks: Vons Albertsons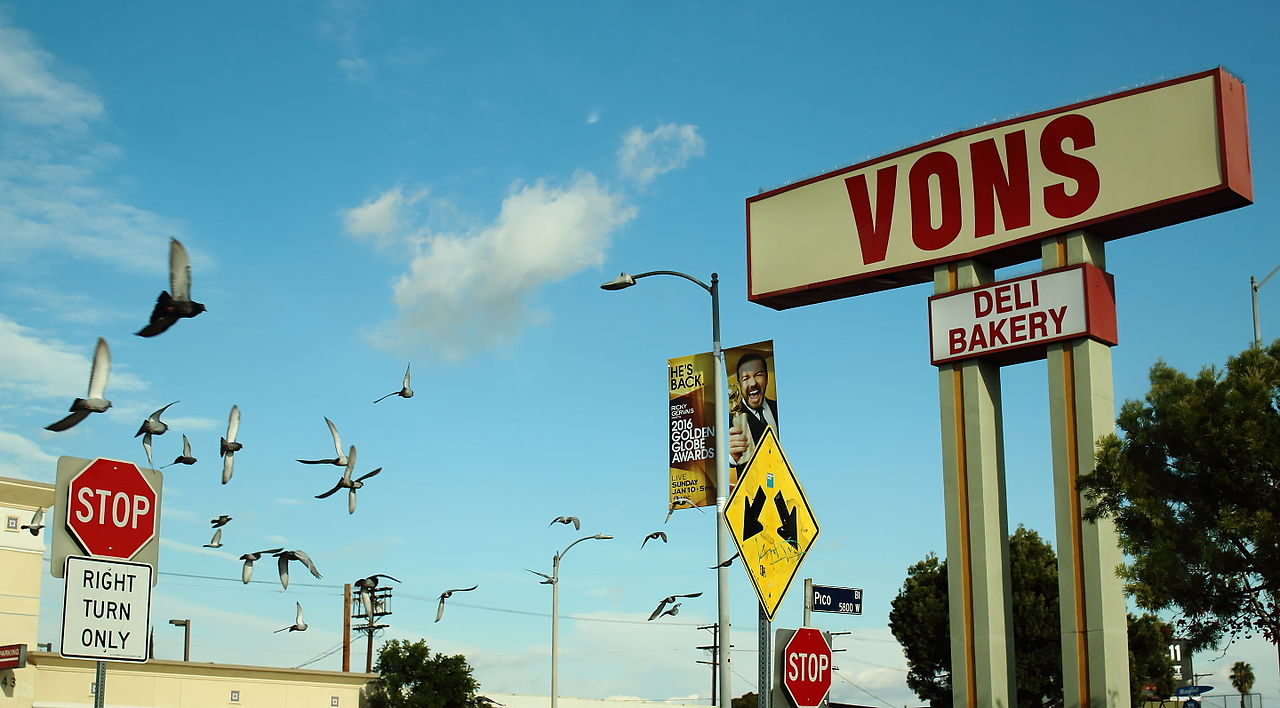 We're bringing you yet another list of must-buy macro-friendly grocery store items! Both Vons and Albertsons are owned by the same parent company, so whichever store you live near, or if you're ever passing through and need to stock up, here's what to buy!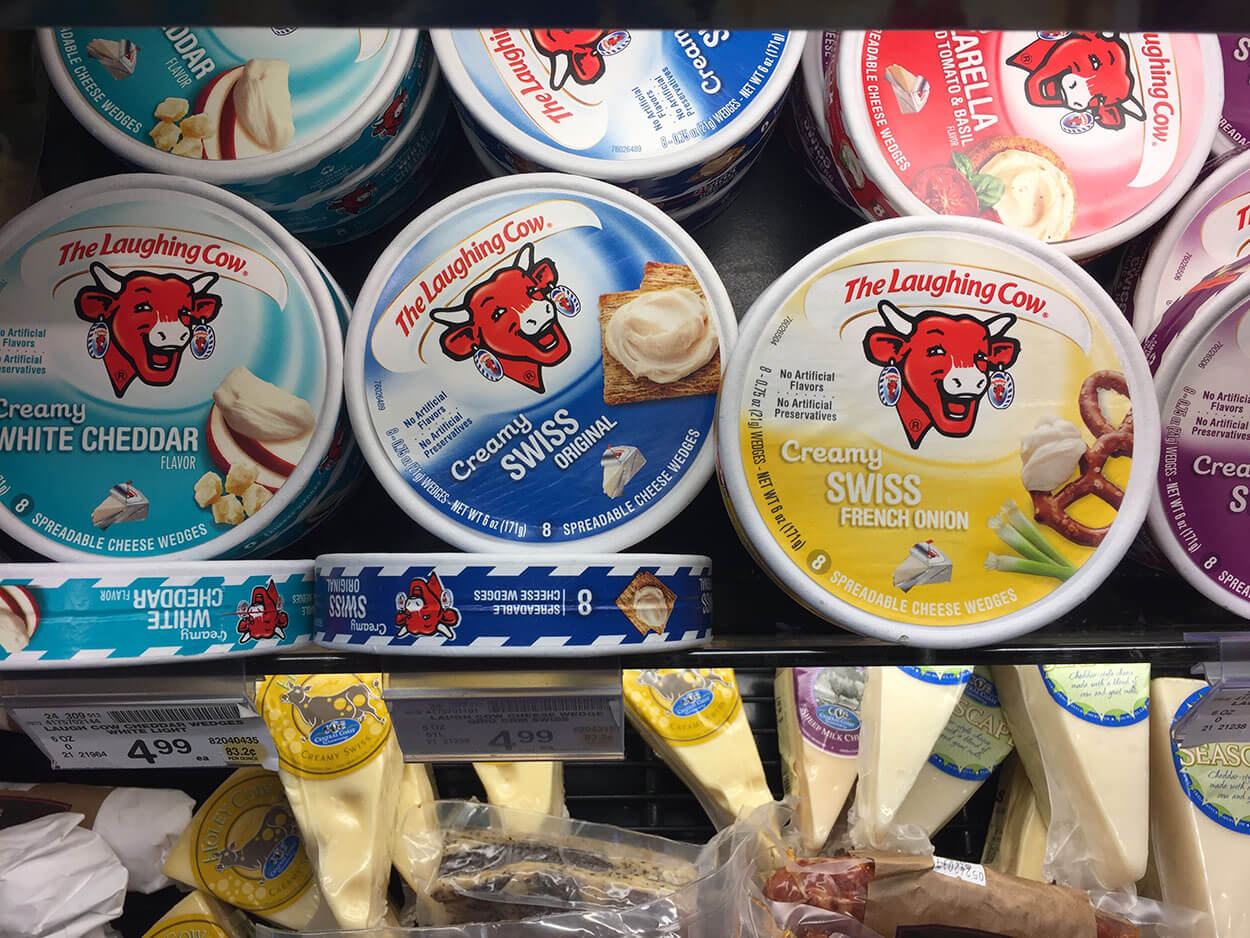 Laughing Cow Creamy Cheese
Serving Size 21 g Cal 23 | 2 P | 1 C | 1.5 F
All of the flavors range in macros, but the "light" options are flavor life savers! So good in salads, on bagels, spread on an apple or even just a mouthful on its own.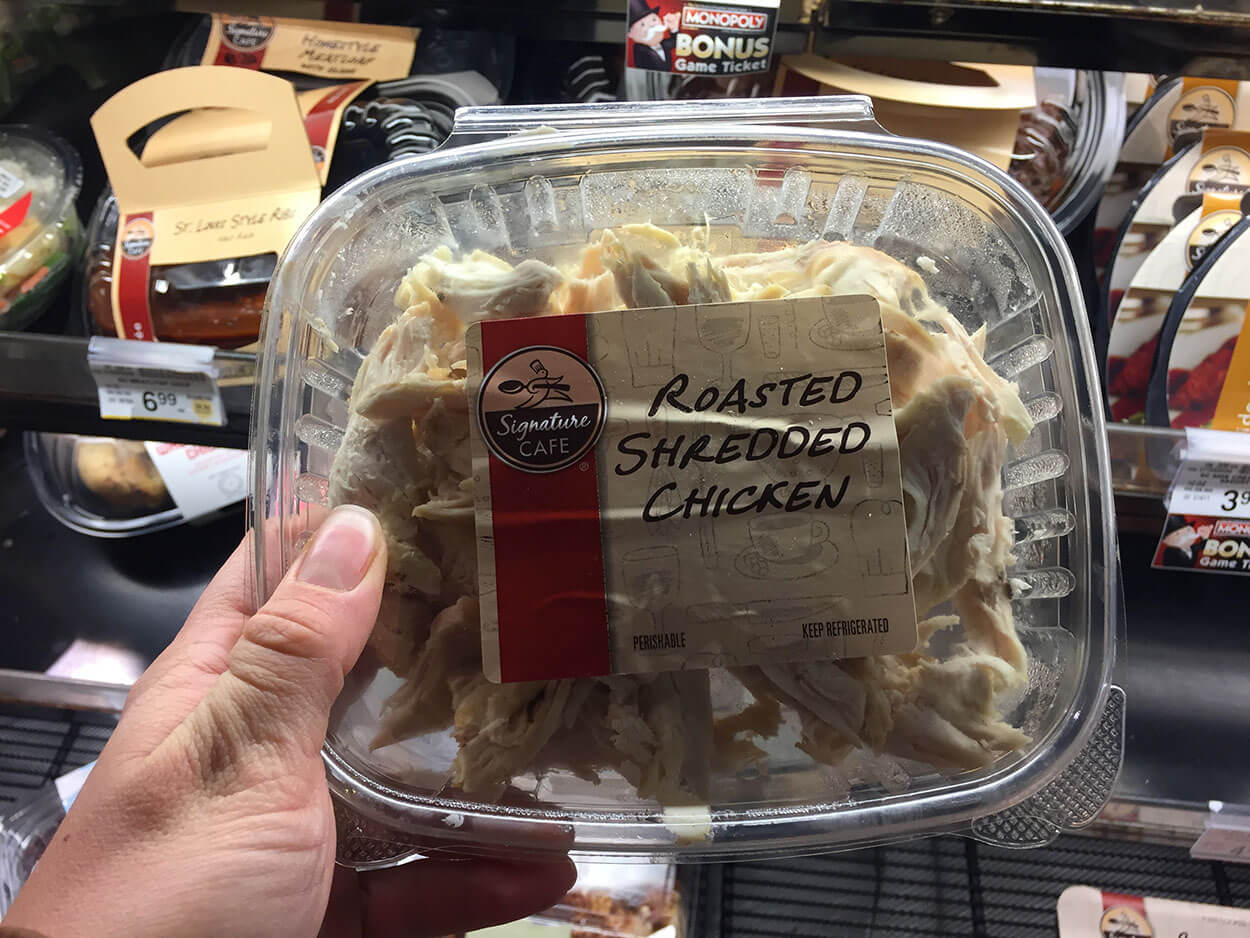 Roasted Shredded Chicken Breast
Serving Size 100 g Cal 179 | 20 P | 1 C | 10 F
There's nothing easier than pre-cooked, shredded, skinless chicken breast when you don't feel like cooking.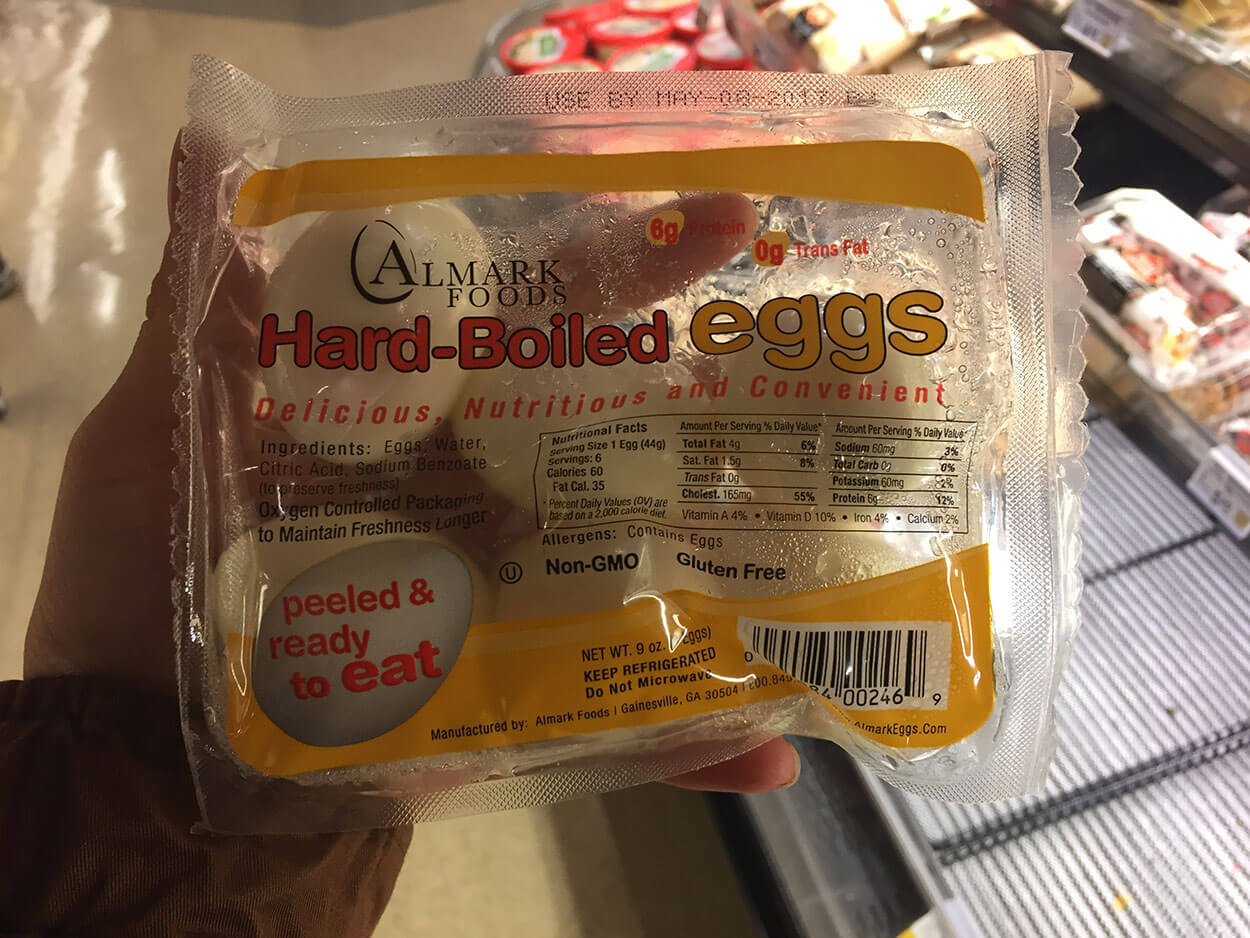 Almark Foods Boiled Eggs
Serving Size 1 egg 44 g Cal 60 | 6 P | 0 C | 4 F
Again, pre-cooked protein sources on the go are extra handy as a snack or to add to your sandwich or salad.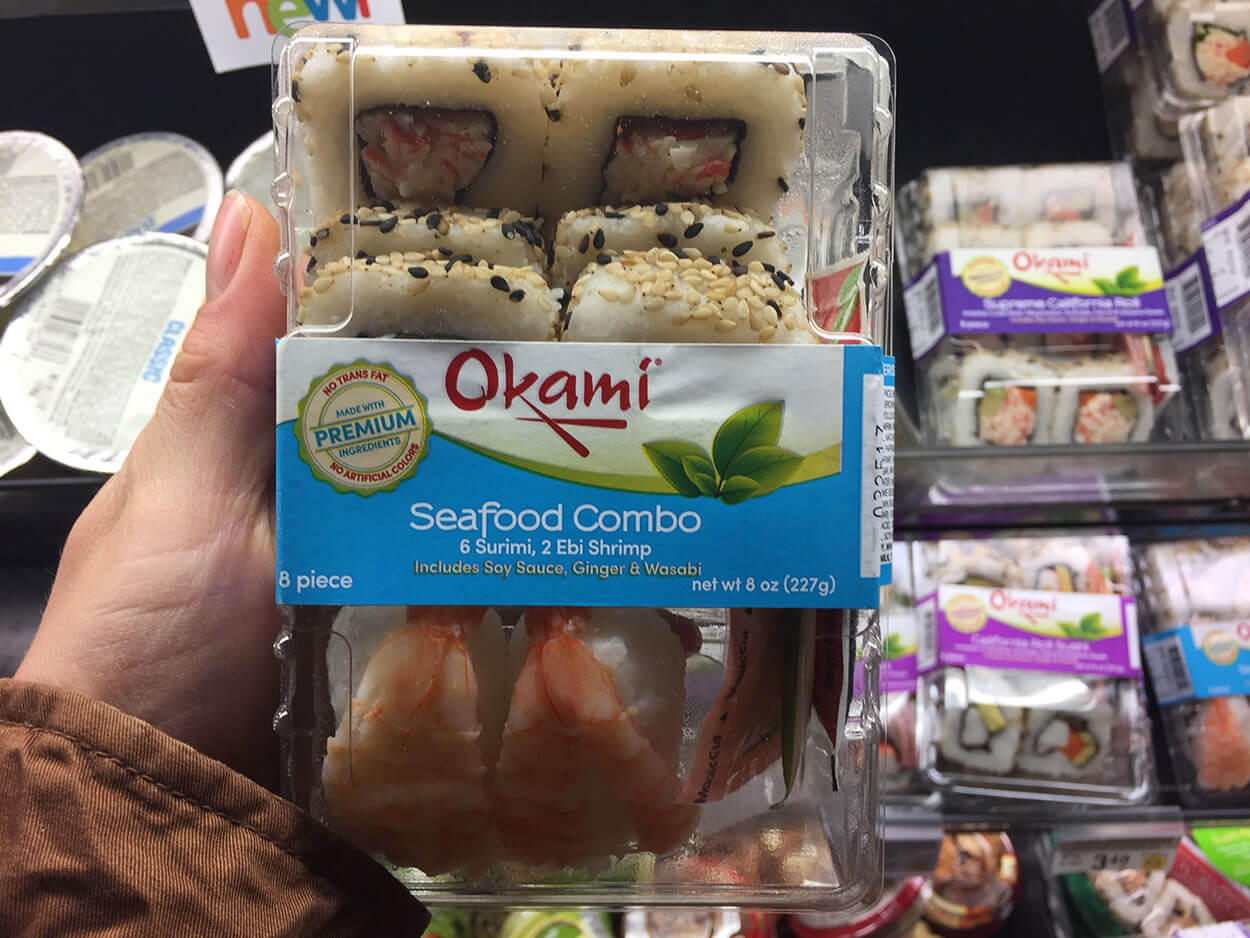 Okami Sushi Seafood Combo
Serving Size 3 pieces 90 g Cal 140 | 3 P| 28 C | 3 F
We all love sushi, and yes, fresh is best. But if you're really craving it, these pre-made sushi rolls are so handy, especially because you don't have to deconstruct them to track them — the nutrition info is on the label!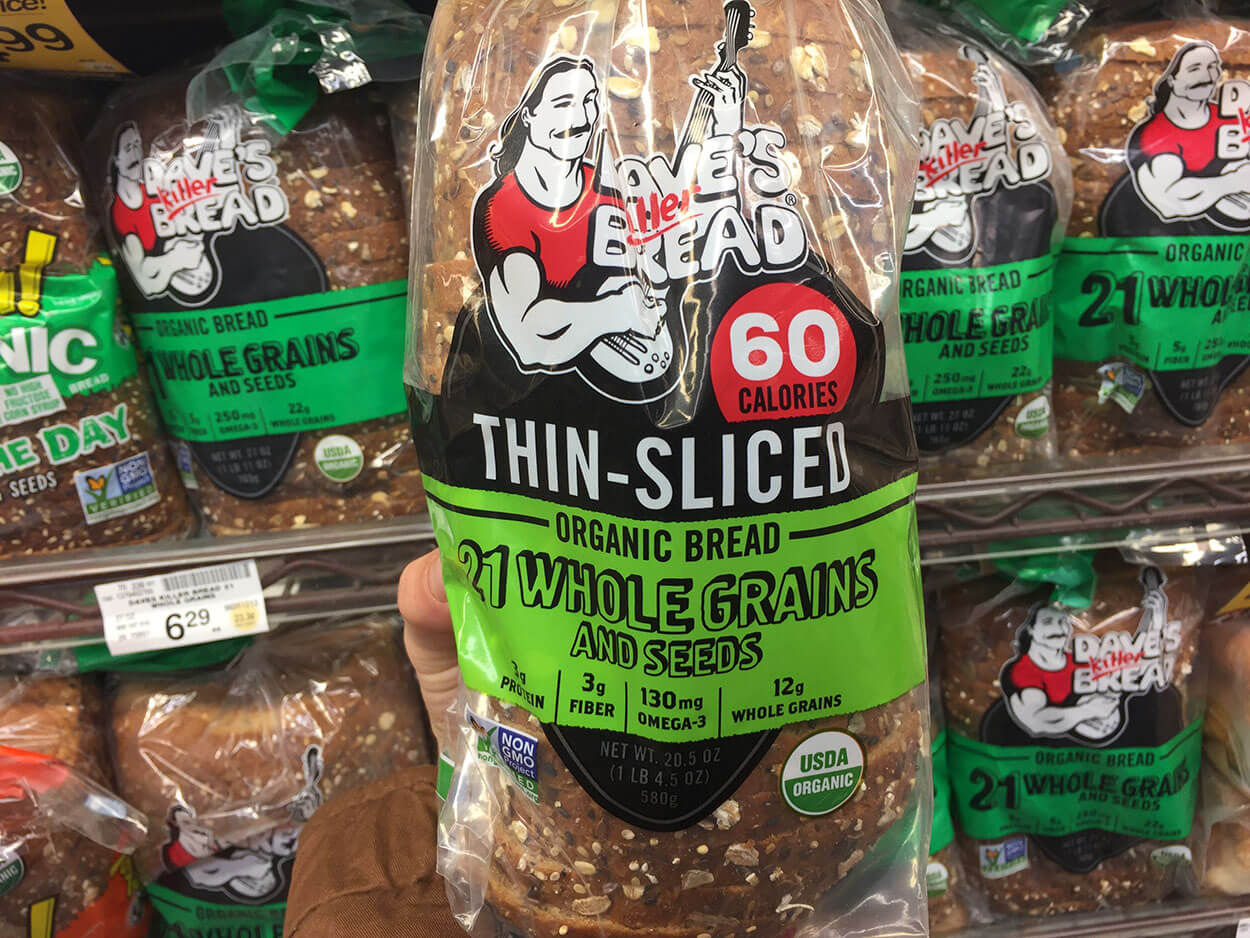 Dave's Killer Bread
Serving Size 1 slice 28 g Cal 60 | 3 P | 12 C | 1 F
Cool packaging and low macros makes this an easy bread choice for your breakfast and lunch sandwiches.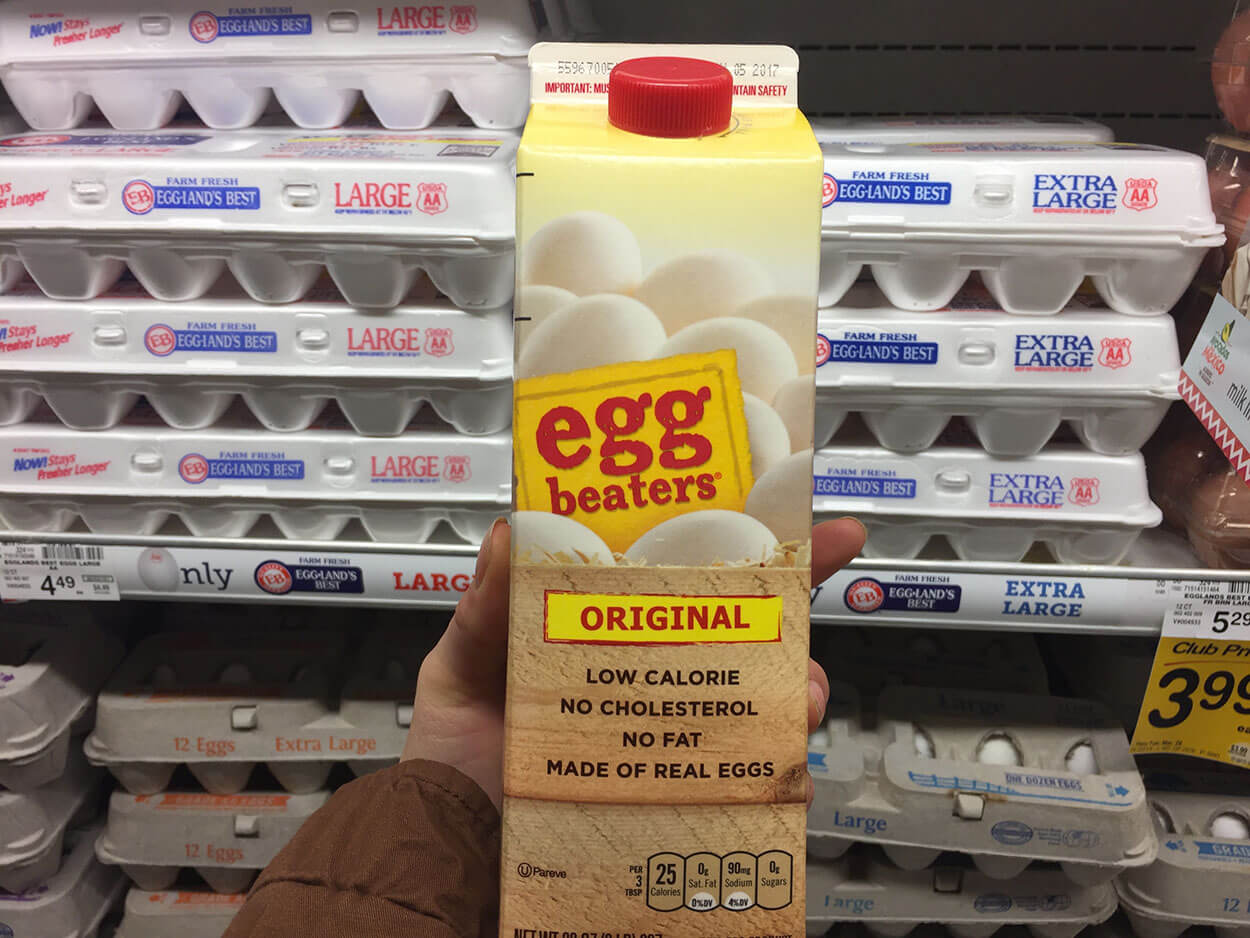 Egg Beaters
Serving Size 46 g Cal 25 | 5 P | 1 C | 0 F
If you're not a huge egg white fan, or you like to bake, egg beaters are an awesome low-fat alternative to whole eggs.

Lucerne Vanilla Fat-Free Frozen Yogurt
Serving Size 71 g Cal 20 4 P | 20 C | 0 F
When you have carbs left … yum!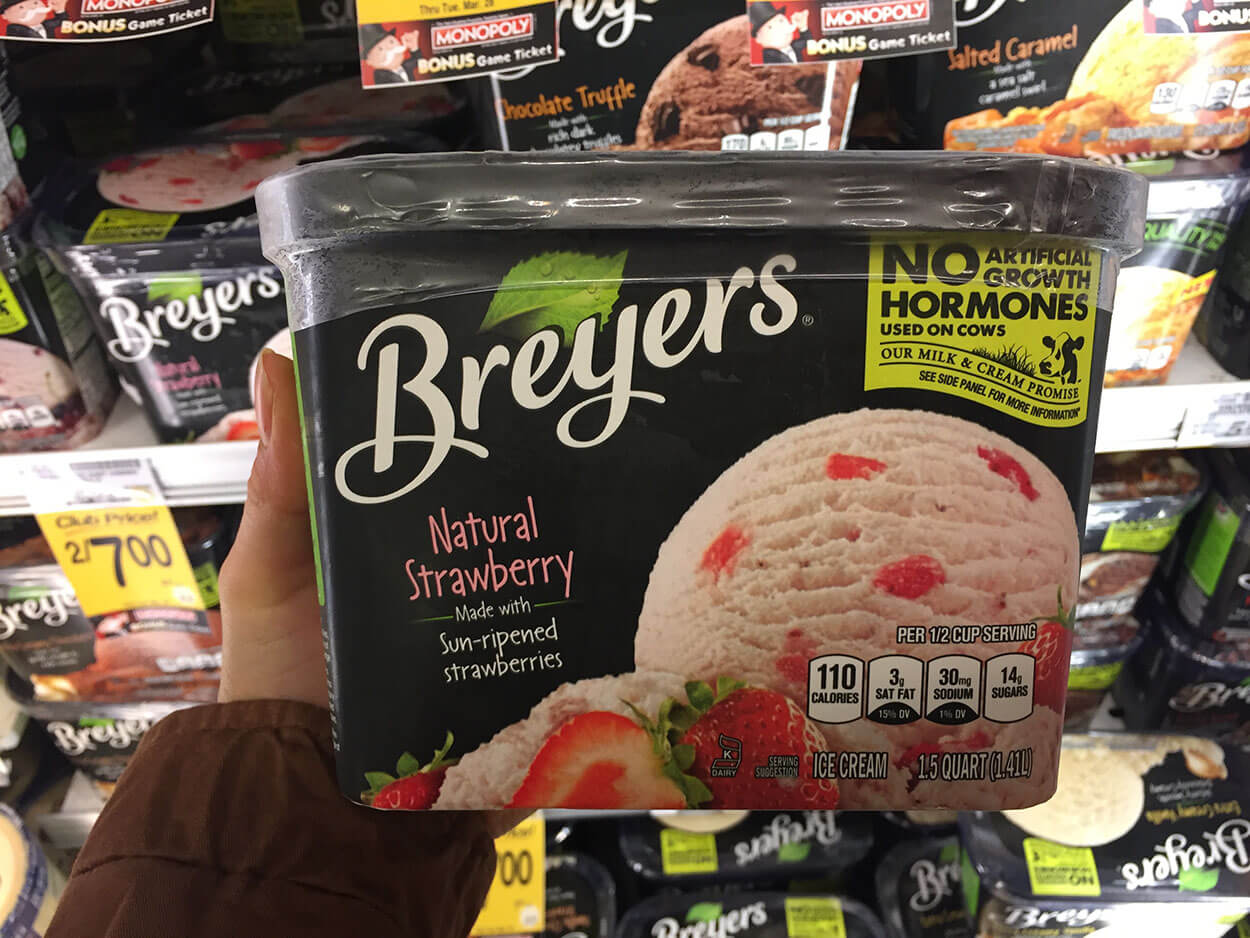 Breyers Natural Strawberry Ice Cream
Serving Size 65 g Cal 110 2 P | 14 C | 5 F
Breyers most macro friendly ice cream is their natural strawberry flavor with big chunks of strawberries in it.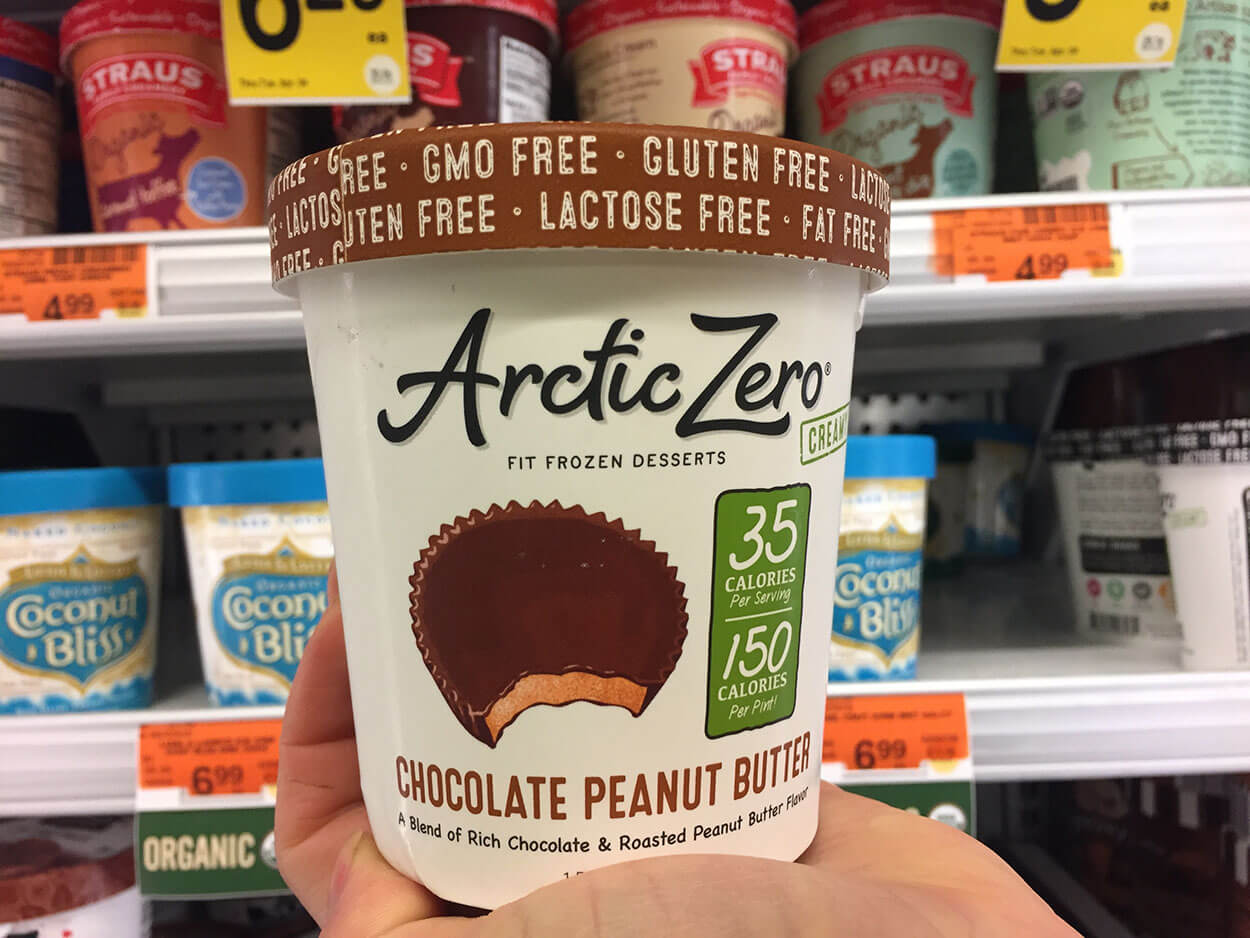 Arctic Zero Fit Frozen Desserts
Serving Size 60 g Cal 35 | 3 P | 7 C | 0 F
Enjoy a very popular low-calorie frozen dessert treat! There are so many flavors, but Peanut Butter Cup is one of the better ones for taste and macros.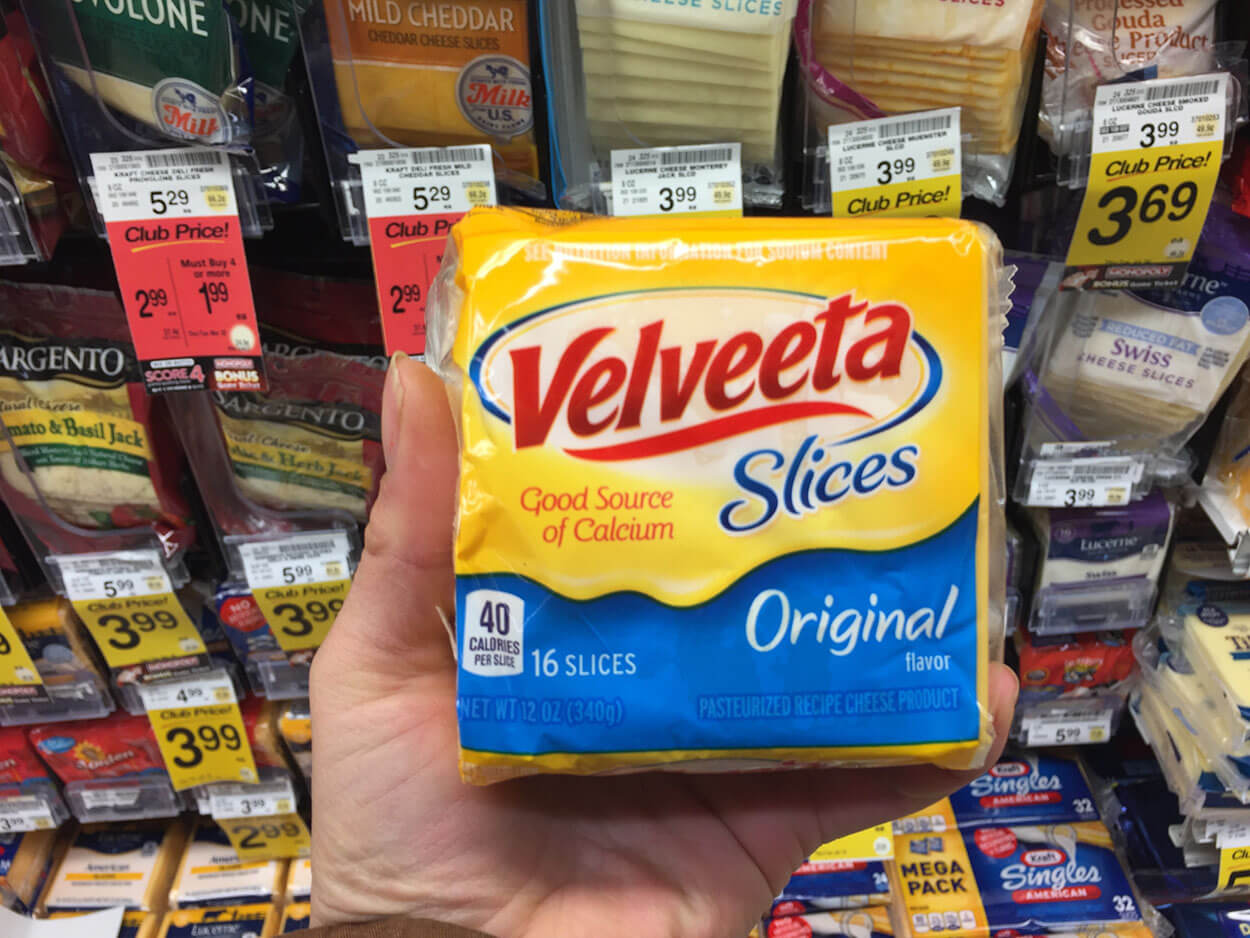 Velveeta Slices Original
Serving Size 21 g | 3 P | 2 F | 3 C
One slice of Velveeta cheese on your burger or as a grilled cheese sandwich and you'll be converted. It tastes just like the cheese they use in burger joints.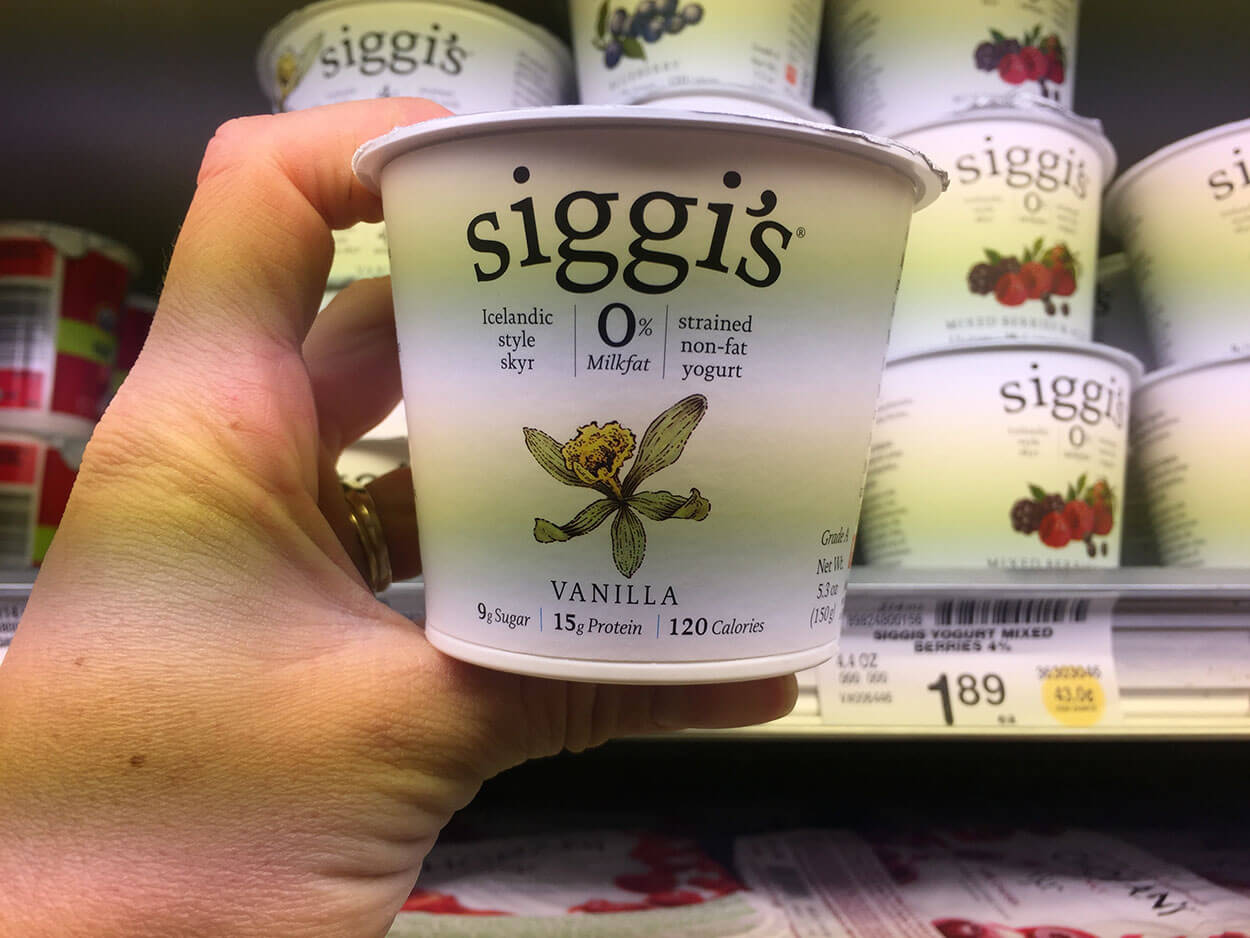 Siggi's 0% Vanilla Skyr
Serving Size 150 g Cal 110 | 15 | 12 C | 0 F
The consistency, flavor and macros of Siggi's is outstanding. All the flavors are awesome, but the 0% vanilla is pretty bomb.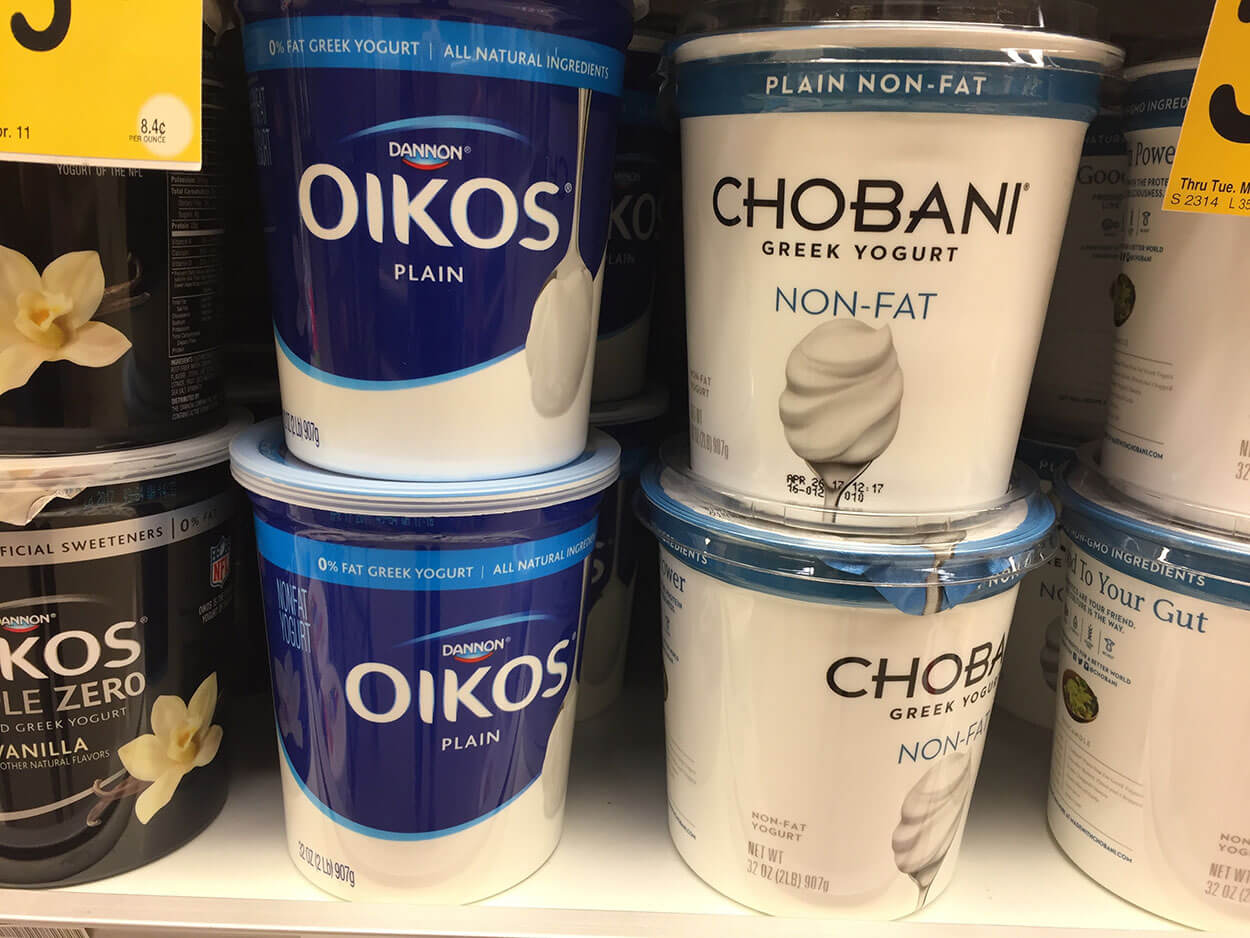 12 Oikos Plain Yogurt
Chobani Greek Non-Yogurt
Serving Size 227 Cal 120 | 22 P | 9 C | 0 F
Both brands have the same macros, so let them compete for price! The perfect yogurts for mixing with protein powder or with your favorite ice cream to make it go a little further.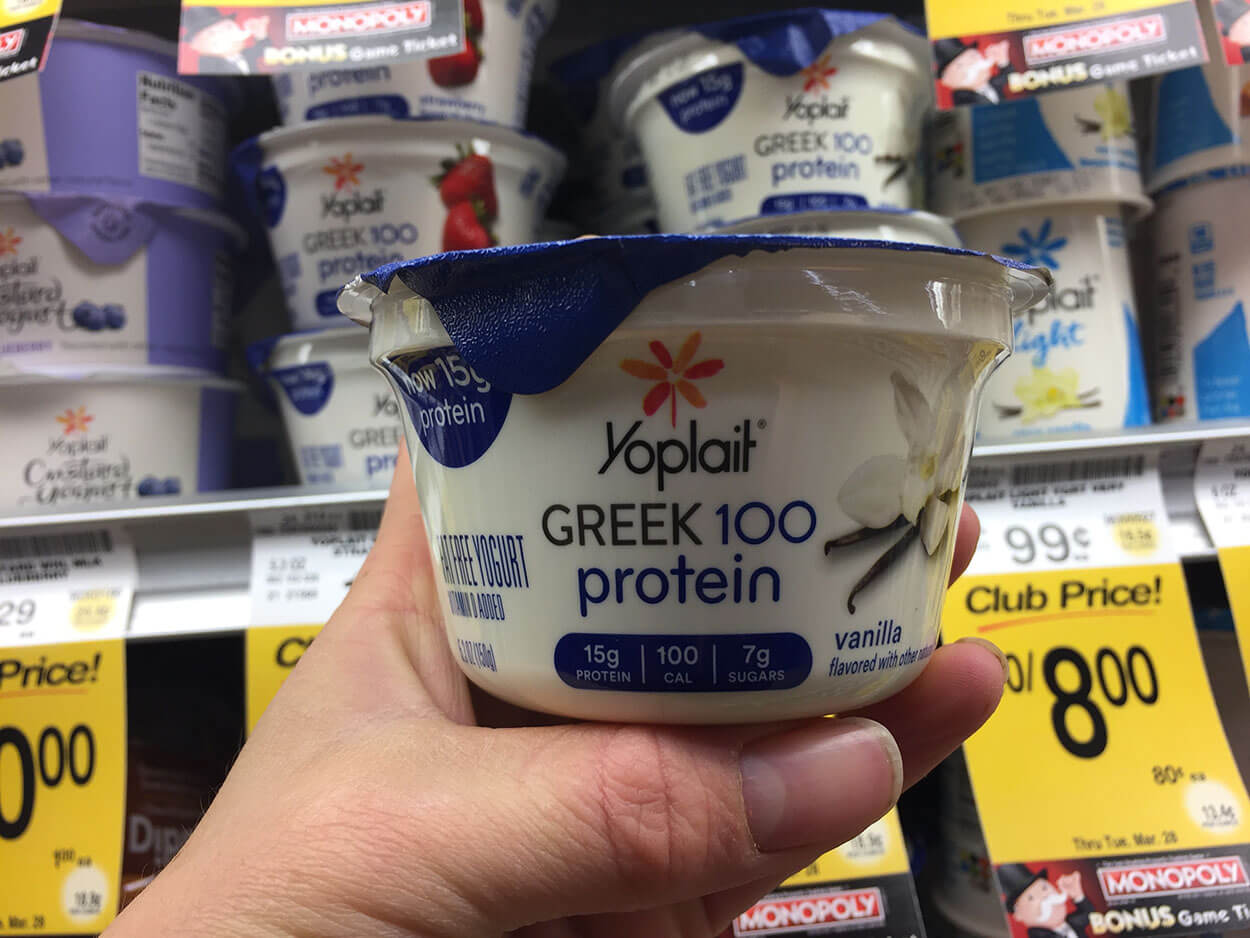 Yoplait Greek 100 Protein
Serving Size 150 g Cal 100 | 15 P | 10 C | 0 F
This high protein yogurt has a good consistency and yummy flavors with low carbs and zero fat. Be careful though, Yoplait yogurt cups NEVER have the full 150 g per serving even though they label it that way — it's always less.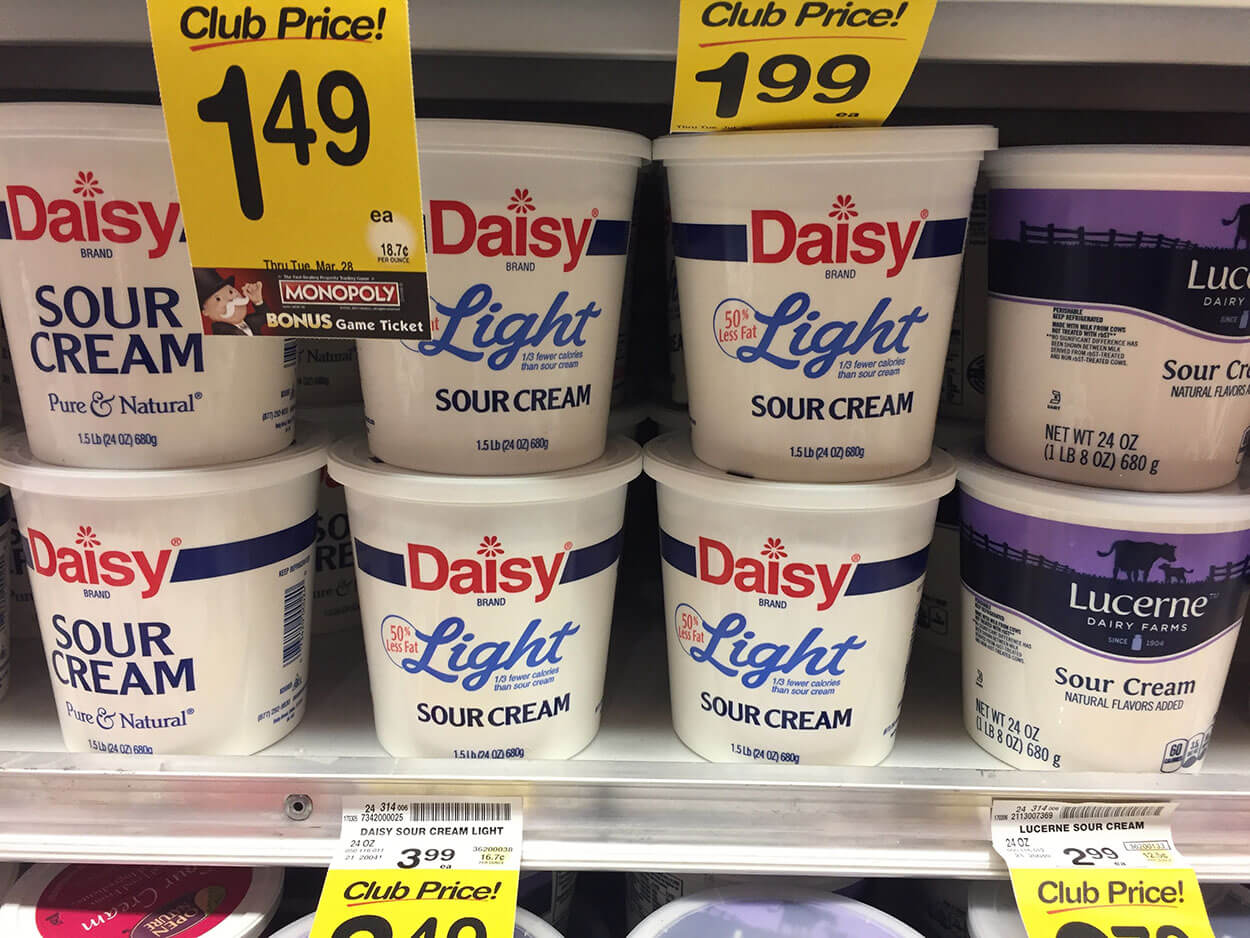 Daisy Light Sour Cream
Serving Size 30 g | 2 P | 2 C | 2.5 F
If you love sour cream, you'll want to try this light version so you can have double the serving.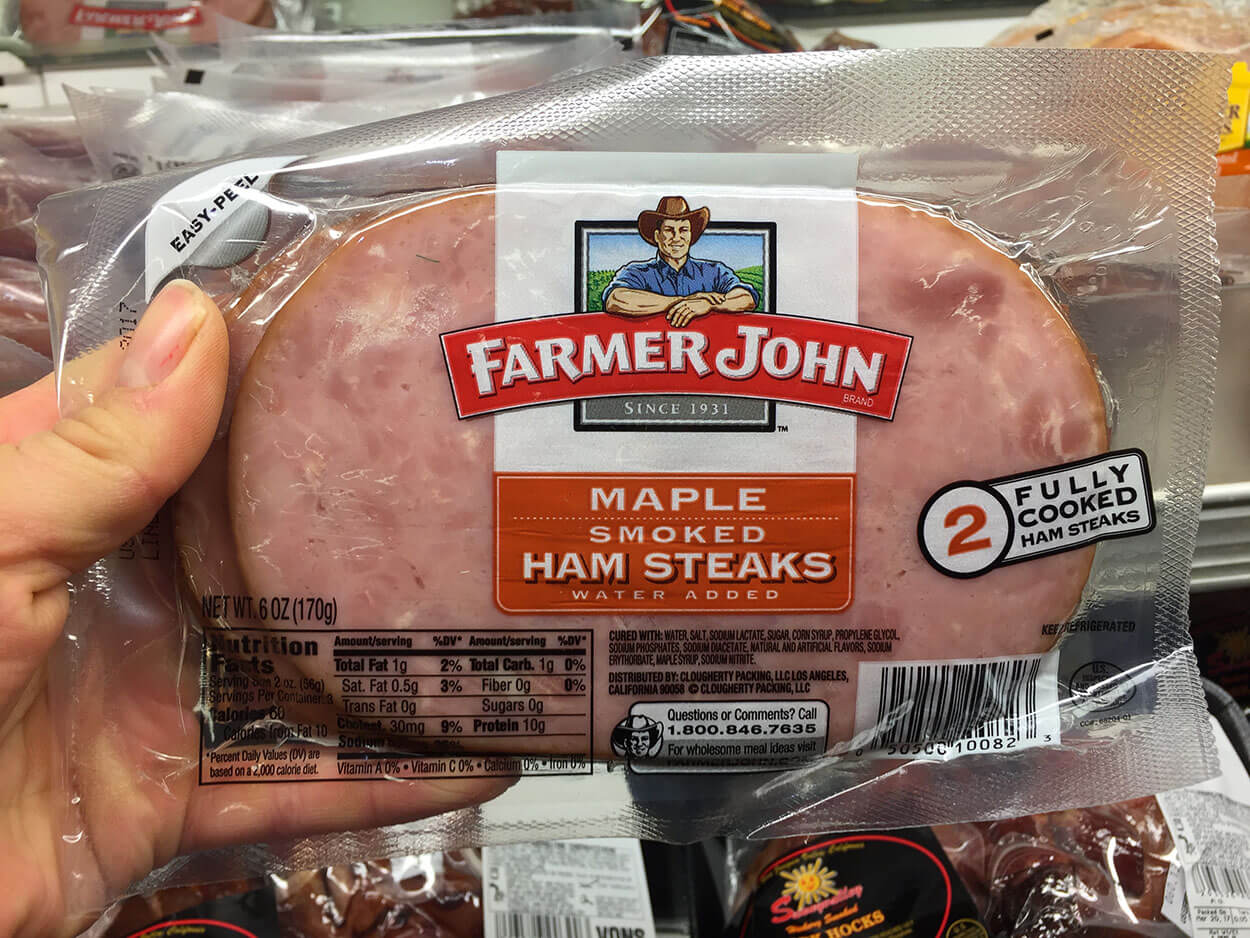 Farmer John Maple Smoked Ham Steaks
Serving Size 70 g Cal 74 | 12 P | 1 C | 1 F
Canadian bacon fans, rejoice! These maple-flavored smoked hams are waaaaay lower in fat than the original stuff. They're a delicious breakfast alternative.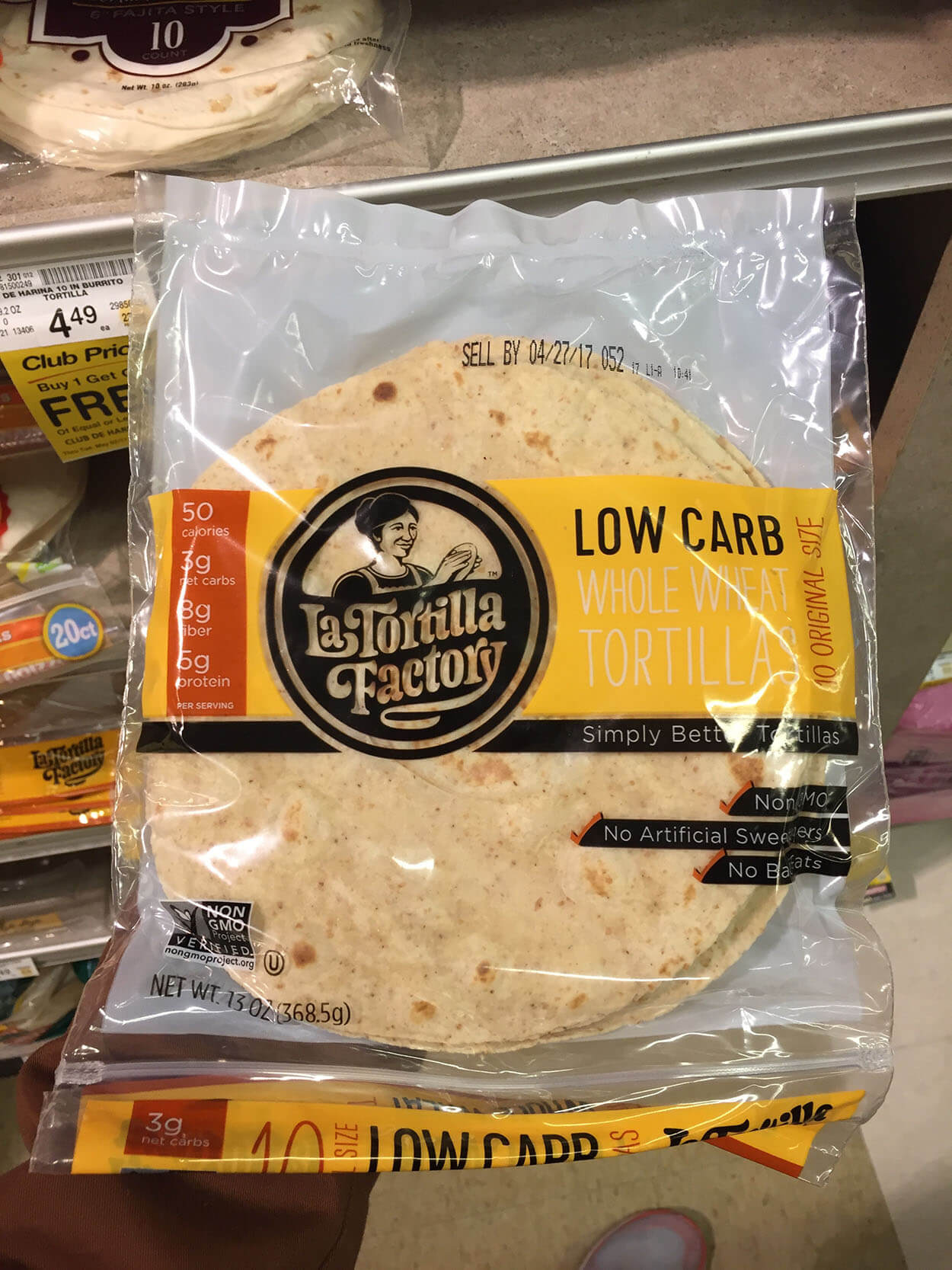 La Tortilla Factory Low Carb Whole Wheat Tortilla
Serving Size 42 Cal 70 | 5 P | 15 C | 2.5 F
These make awesome mini salad wraps and enchiladas for just a few carbs. Perfect for snacks.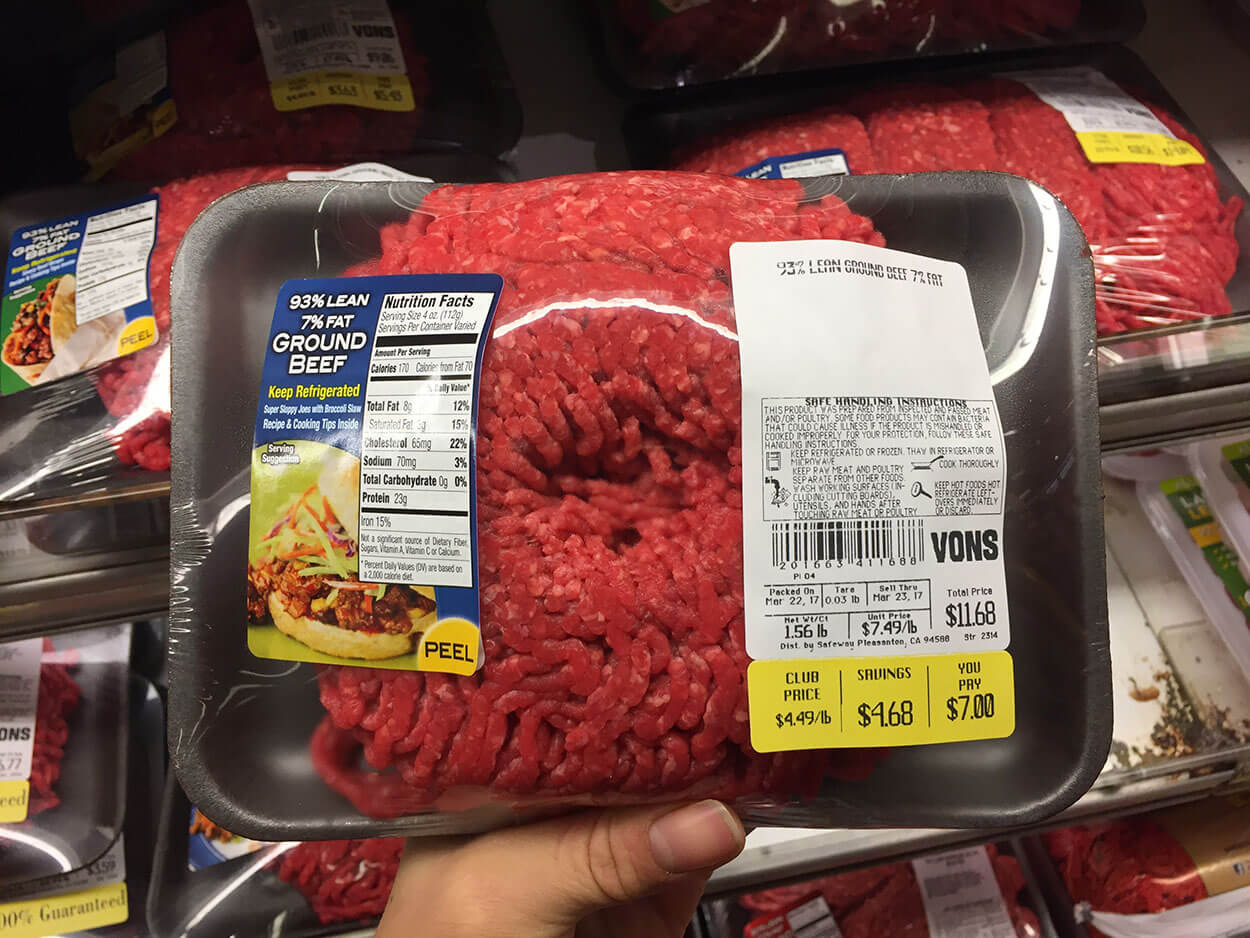 93% Lean 7% Fat Ground Beef
Serving Size 112 g Cal 170 | 23 P | 0 C | 8 F
Lean beef makes burger night, meat sauce, meatballs and Mexican food so much more macro friendly. Keep an eye out for the leanest options.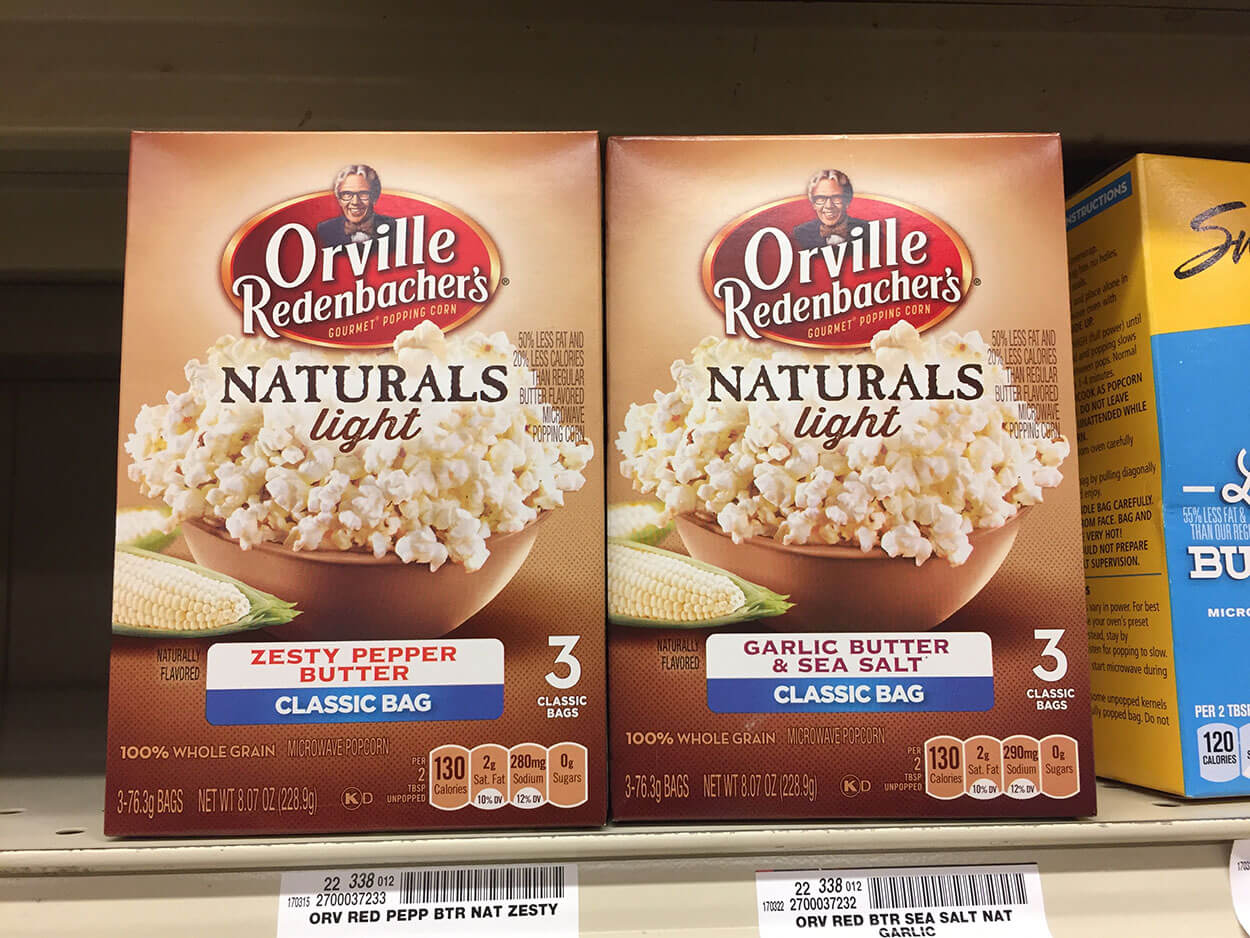 Orville Redenbacher's Naturals Light Popcorn
Serving Size 31 g Cal 130 F 5 C 20 P 3
Movie night is saved! 31 g of unpopped popcorn turns into a big bowl.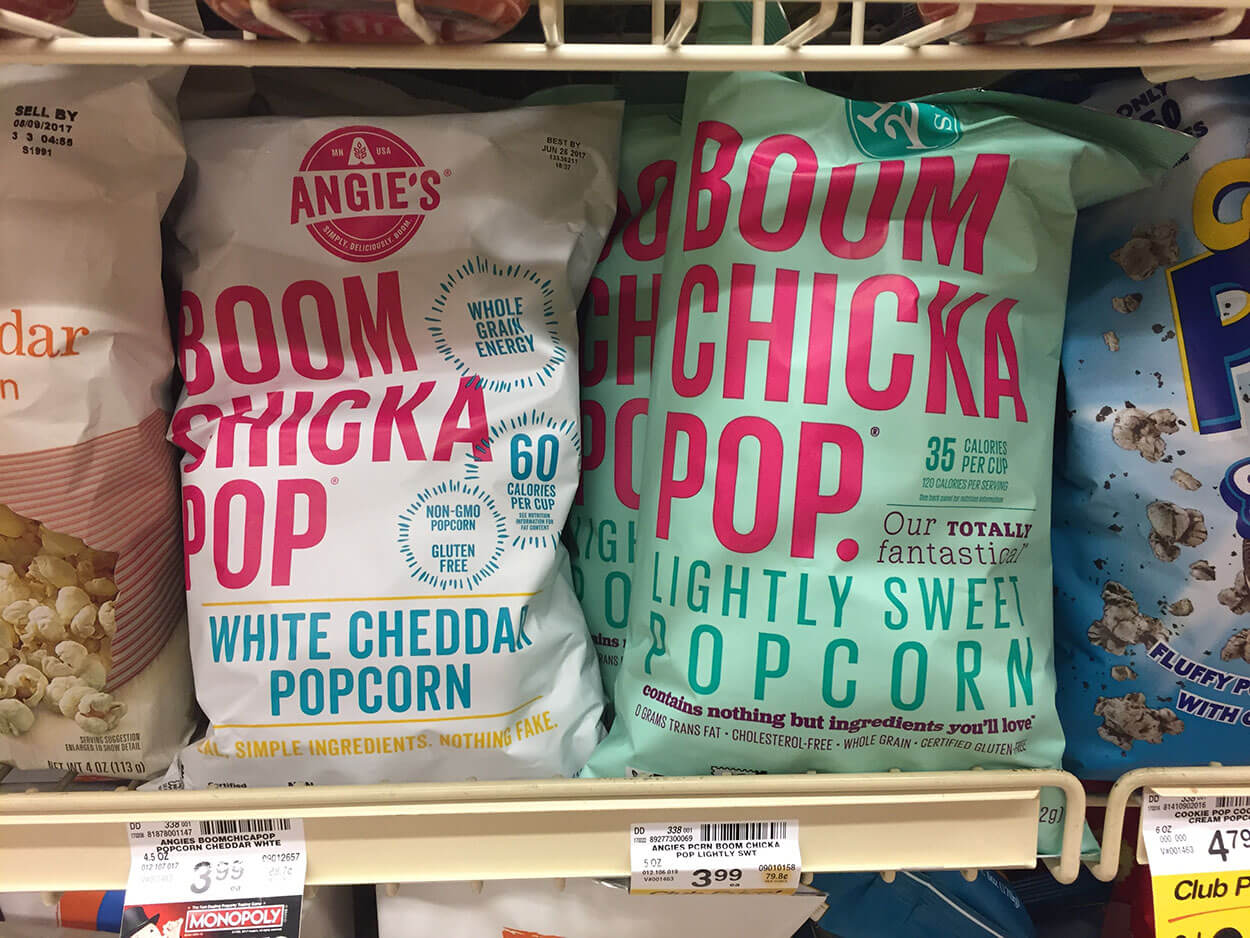 Boom Chicka Pop Lightly Sweet Popcorn
Serving Size 28 g Cal 120 | 2 P | 21 C | 4 F
Like your popcorn a little less plain, but don't have the fats for butter? This lightly sweet popcorn satisfies the cravings. They have savoury flavors, too.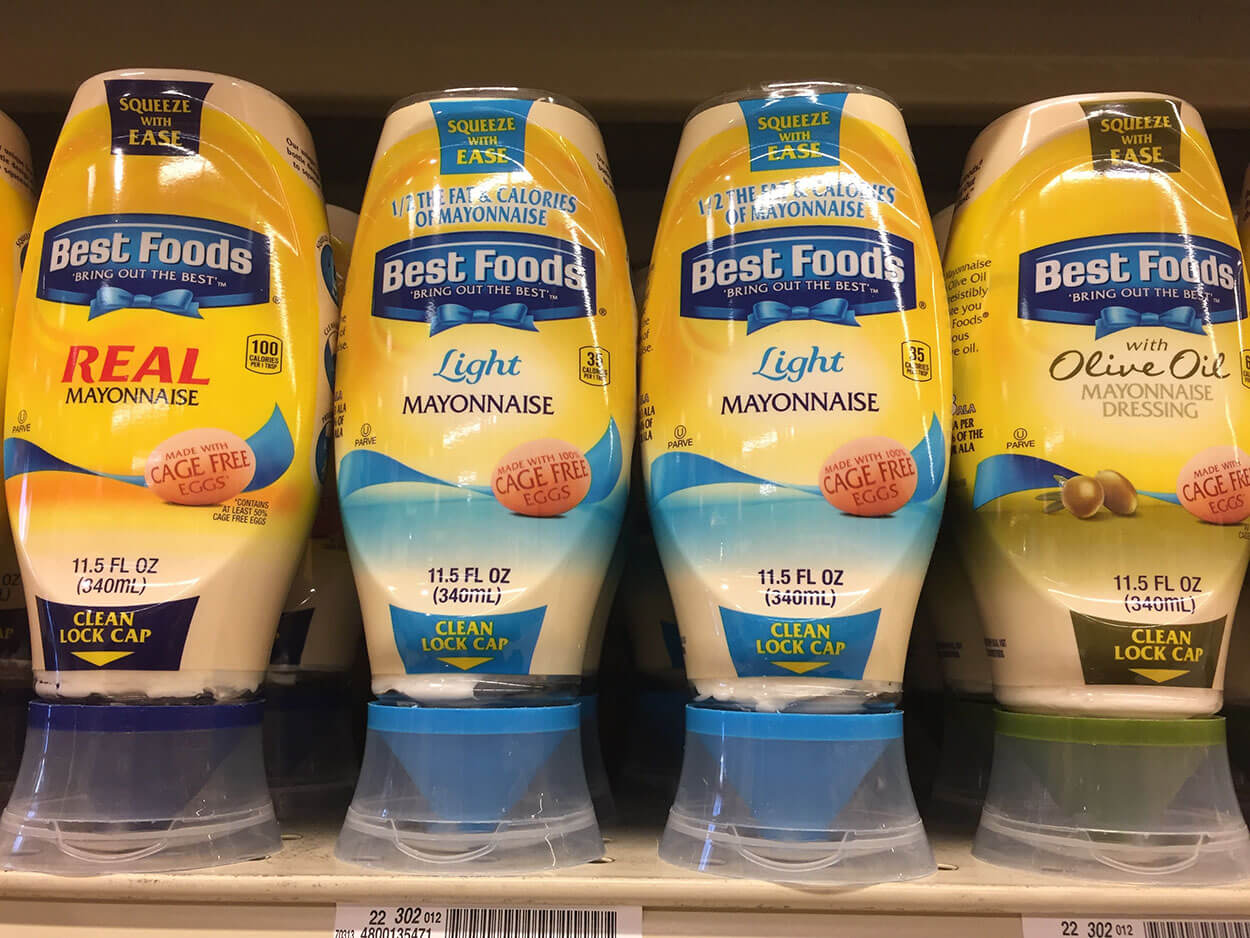 Best Foods Light Mayonnaise
Serving Size 15 g Cal 35 | 0 P | 1 C | 3.5 F
Light mayo is great for sandwiches and spreads, but don't forget about dips, coleslaw and dressings! You'll want to keep this light mayonnaise on hand for all sorts of recipe options.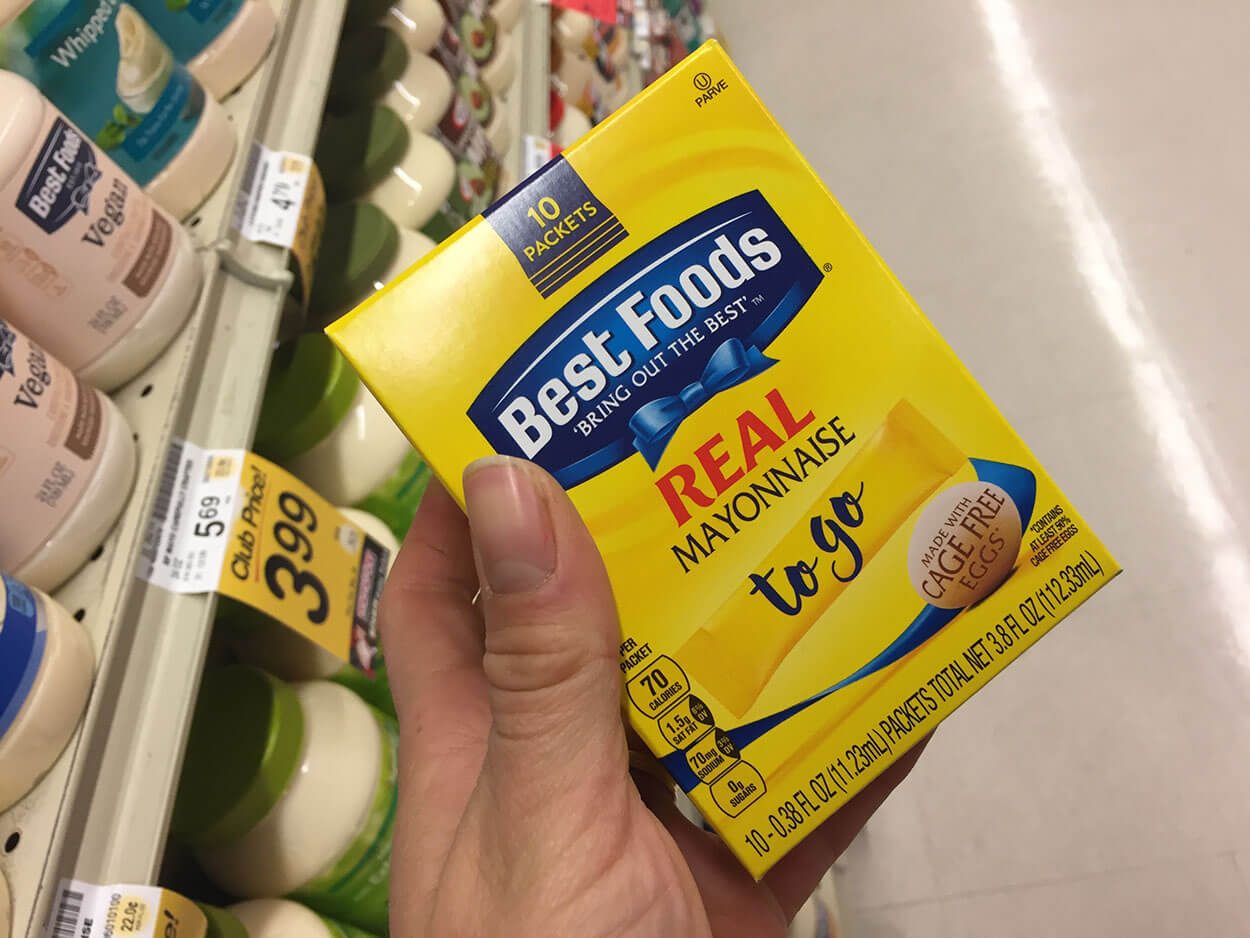 Best Foods Real Mayonnaise to go
Serving Size 13 g Cal 90 | 0 P | 0 C | 10 F
Packing food when you're going out all day can be tough because so many ingredients need to be refrigerated and will go soggy if you dress them too early. Add a little more flavor to your meals with mayo to-go.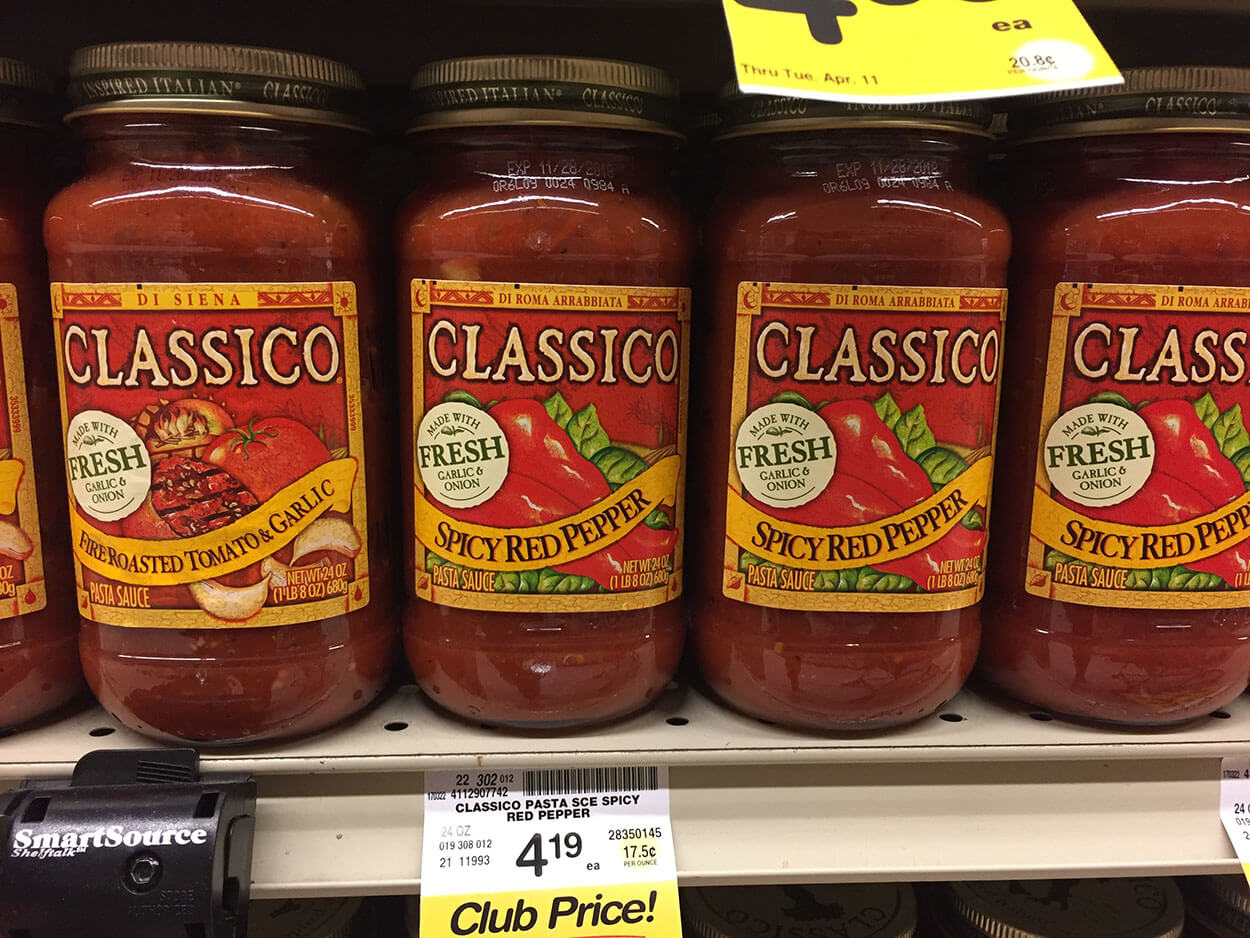 Classico Spicy Red Pepper Marinara Sauce
Serving Size 125 g Cal 45 | 2 P | 7 C | 1.5 F
This marinara sauce should be in everyone's high-volume eating artillery. Pasta, vegetable bake, lasagna, soups, parmigiana. It is a versatile way to add flavor for little macros.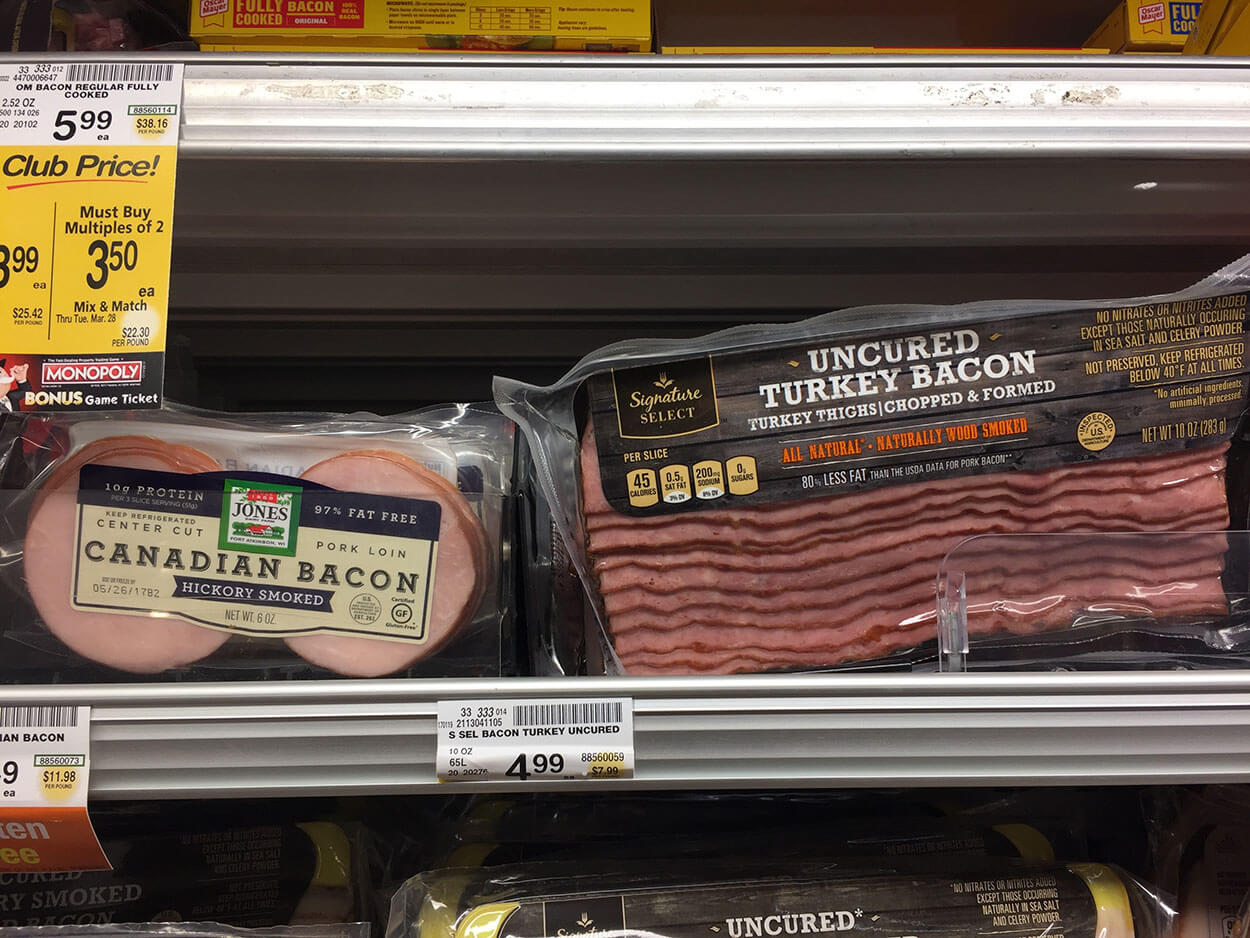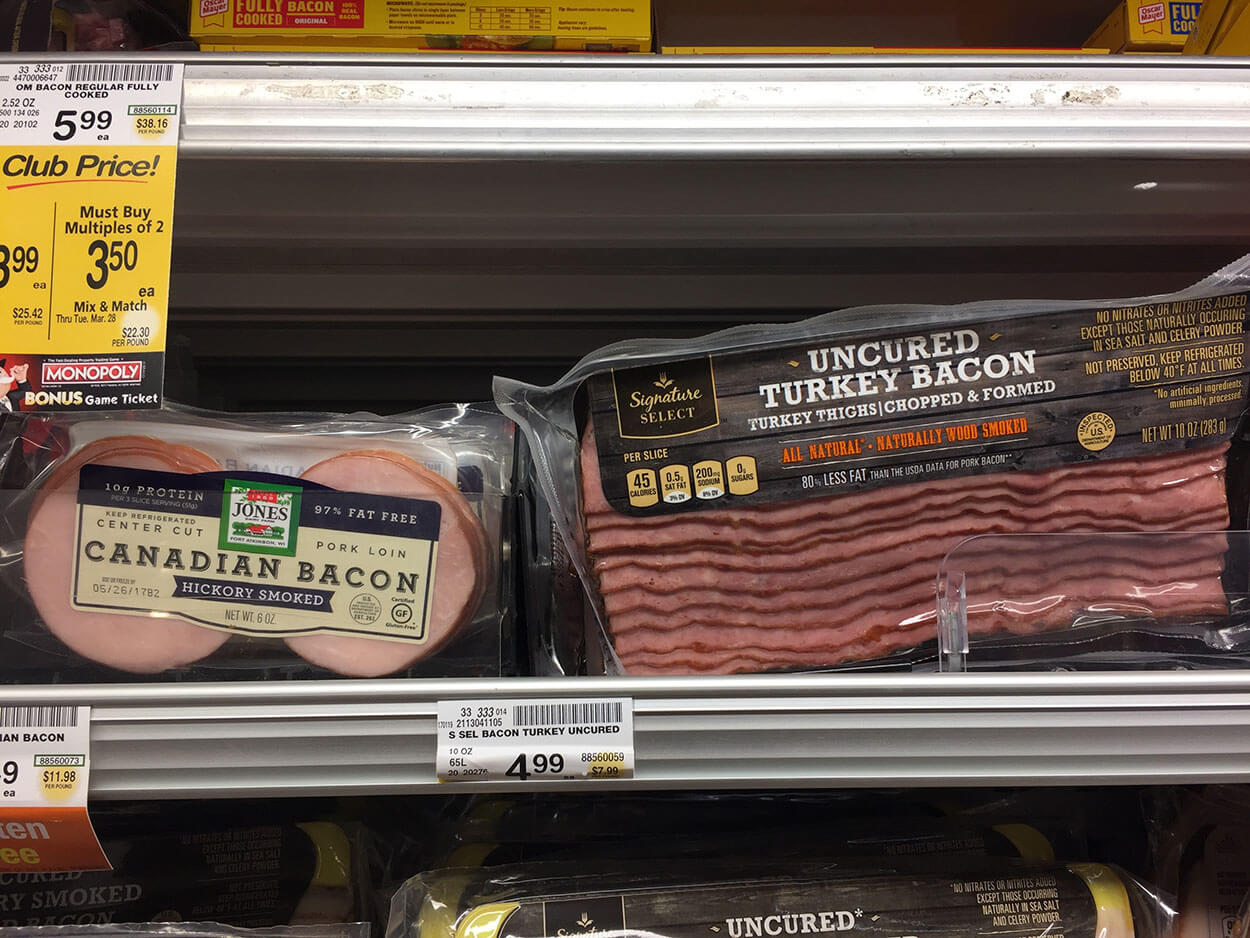 Jones Canadian Bacon
Serving Size 51 g Cal 60 | 10 P | 1 C | 1.5 F
Signature Select Uncured Turkey Bacon
Serving Size 28 g Cal 45 F 2 C 0 P 6
You can never have too many bacon options. Try them all.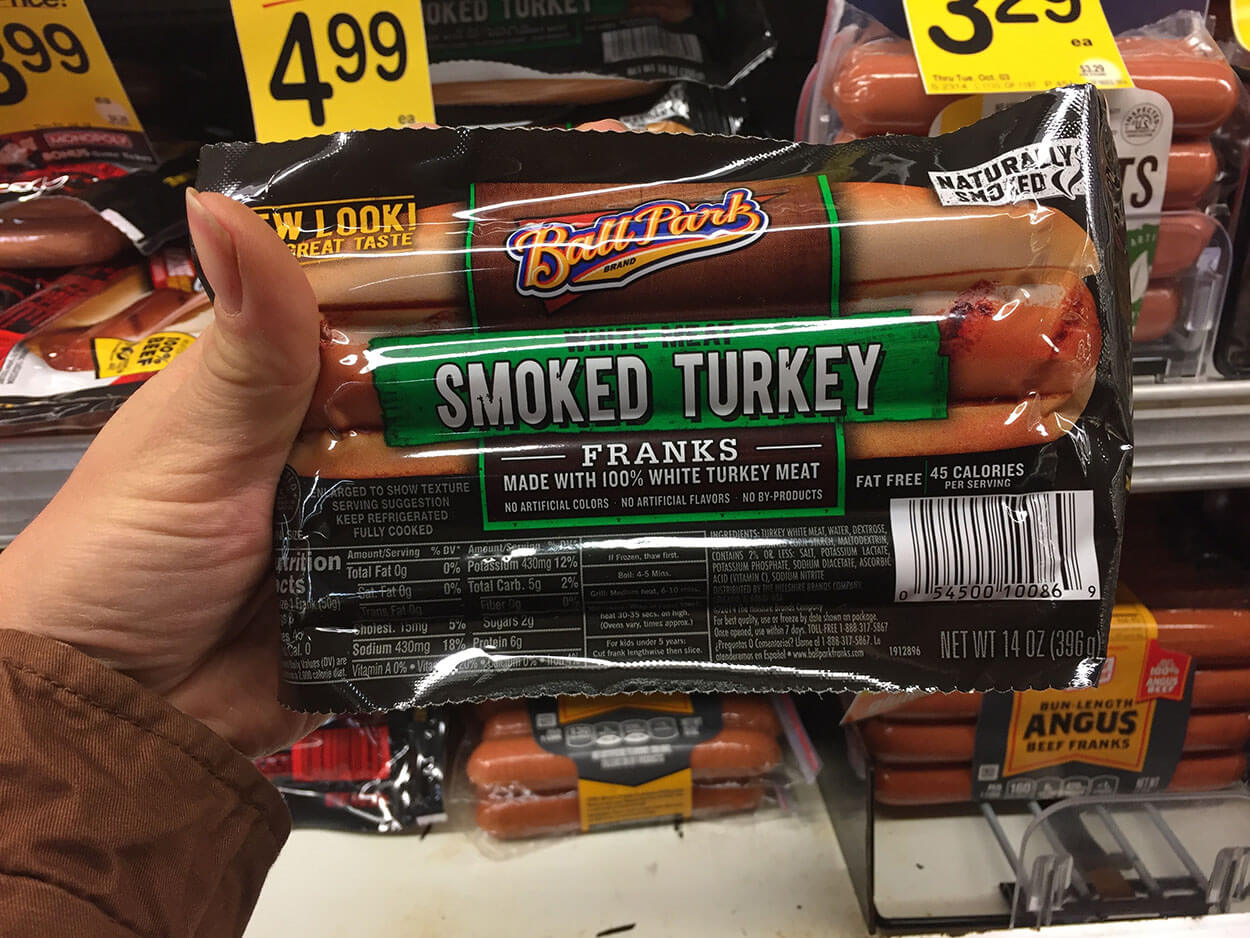 Ballpark Smoked Turkey Franks
Serving Size 50 g Cal 45 | 6 P | 5 C | 0 F
Make hotdog night a thing and eat three of them. All white meat, smoked turkey franks have ZERO fat! They're good to just snack on, too!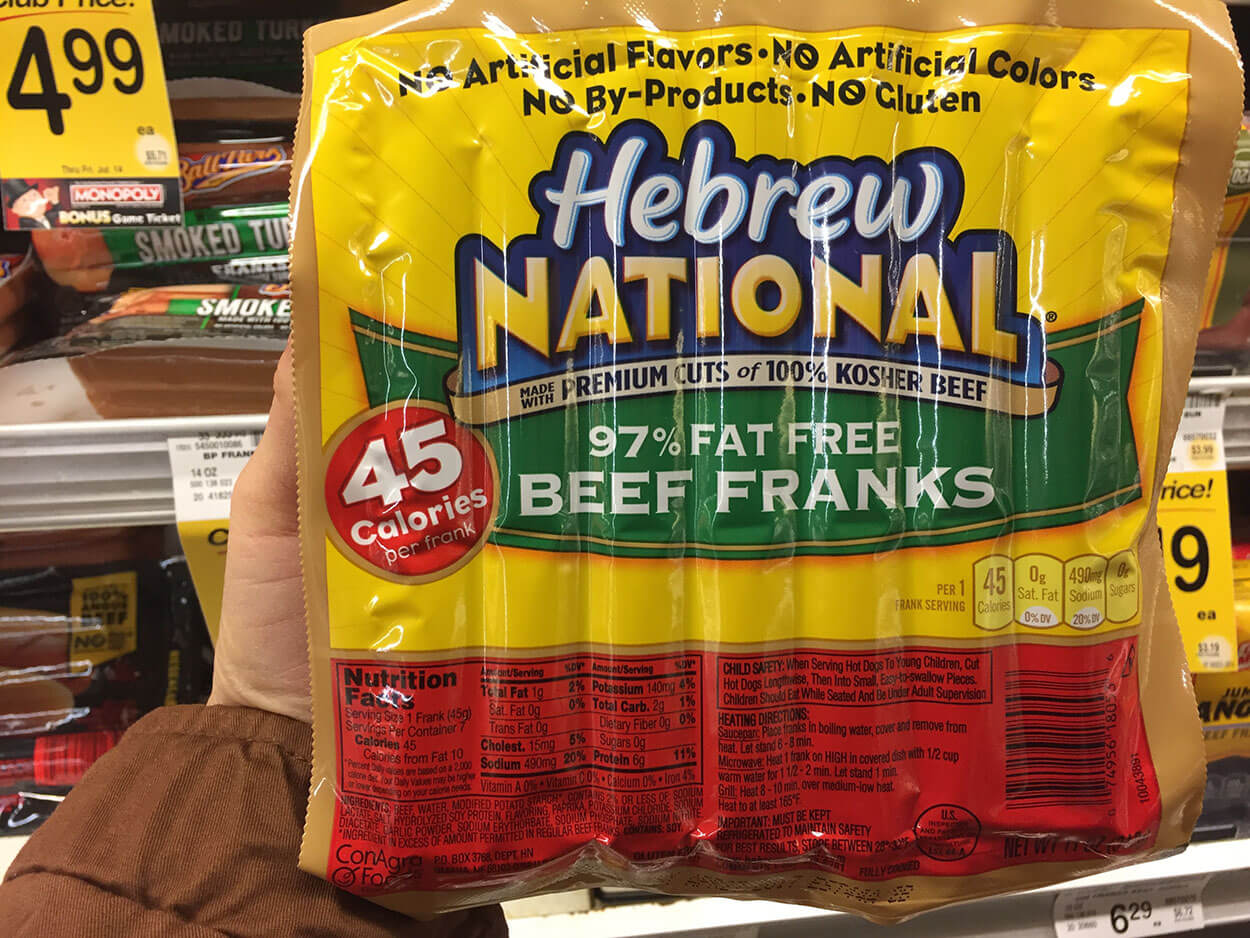 Hebrew National 97% Fat Free Beef Franks
Serving Size 45 g Cal 45 | 6 P | 2 C | 1 F
If you're a little over the turkey variations, try these low-fat beef franks. They're just as delicious.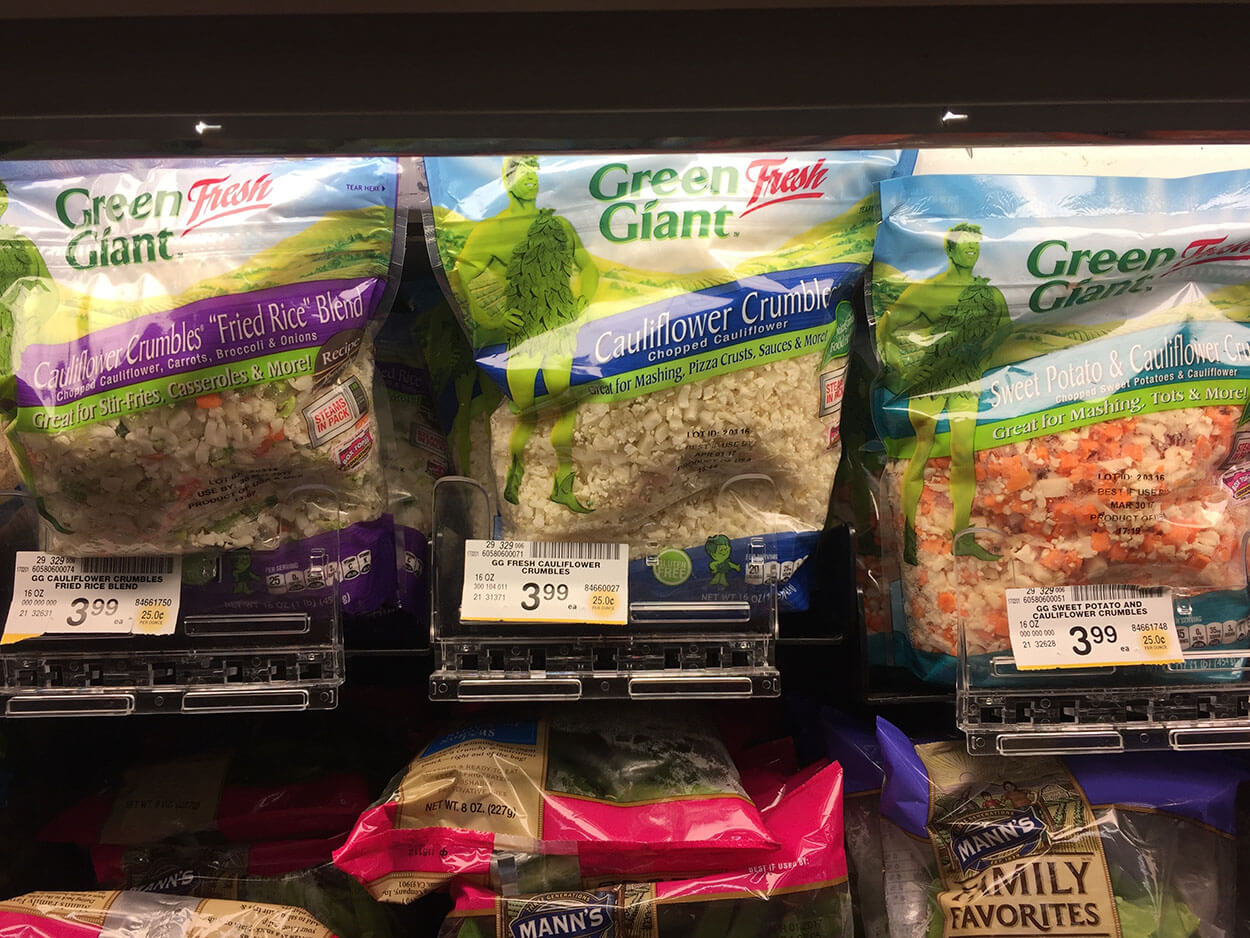 Riced Cauliflower and Mixes
Serving Size 85 g Cal 25 | 1 P | 5 C | 0 F
Riced vegetables are a volume game changer. You can get riced broccoli and even a mix that has carrot in there, too. It's so good as a substitute for our Friendlier Fried Rice or Thai Green Curry recipes.

Ready Snax
Watch out, these can be addictive. Ready made little snack platters with lots of different combinations and all the macros listed! It helps that they're usually three for $5 as well. Huge meal prep time saver.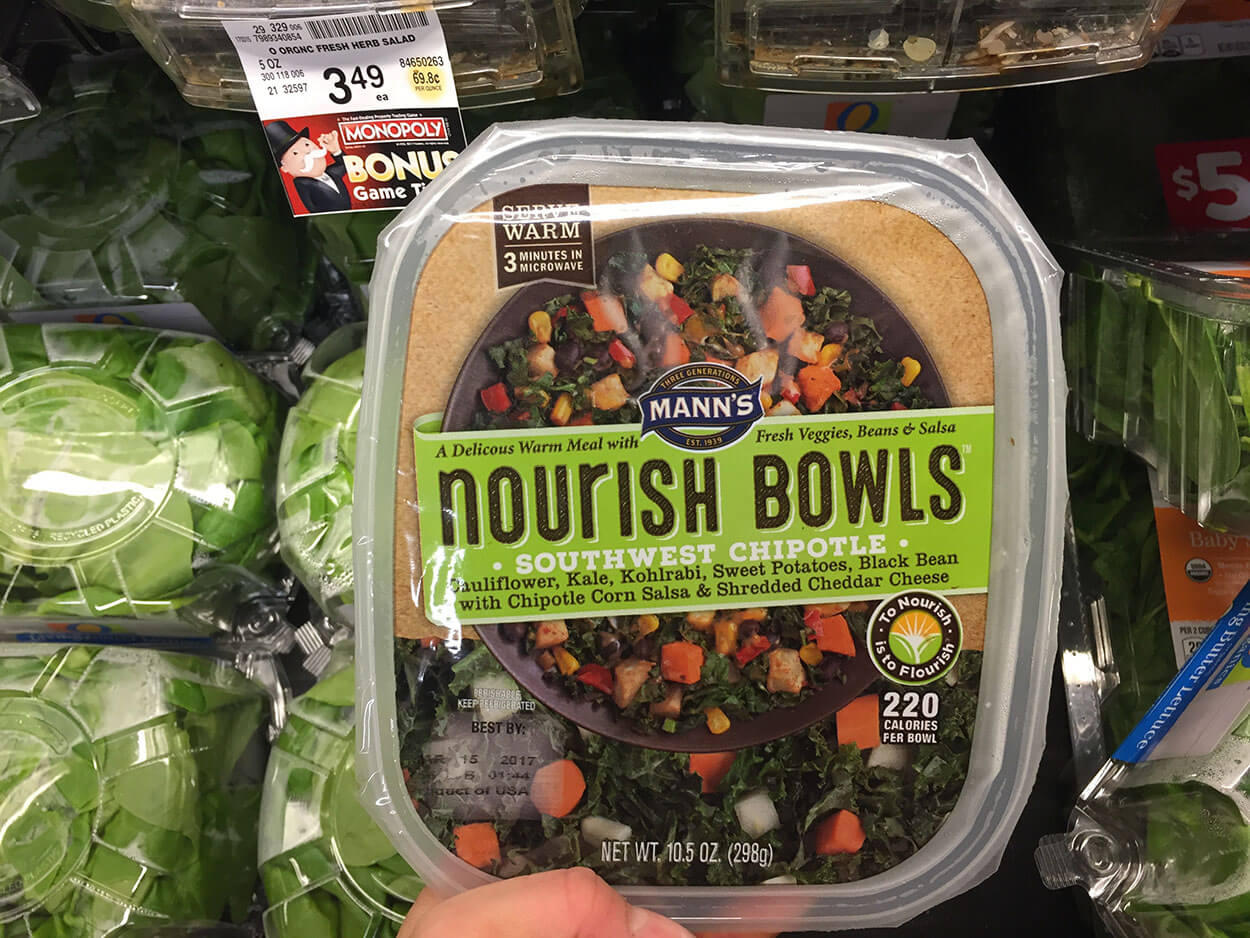 Nourish Bowls
Serving Size 298 g Cal 220 | 11 P | 34 C | 6 F
A nice, warm sweet potato and salsa salad without the work...Just heat and eat!
If you like these lists, also check out our Trader Joe's and Costco lists, too!
Need more suggestions on what foods will help you reach your goals based on your grocery stores and food preferences? Hiring a 1:1 coach will give you the ability to ask specific questions to someone who puts in the effort to get to know YOU. At WAG, our coaches work hard to give you tips and tricks for your lifestyle, food preferences and nutritional needs to help you not only reach your goals - but maintain them.
Get a Taste of WAG
The WAG Crash Course is OPEN for enrollment. This 30-day course will teach you the ins and outs of macro tracking, building healthy lifestyle habits and sustaining results without restricting the foods you love. Get personalized macros from a WAG Coach, join the members-only Facebook Group and participate in quarterly Live Q&A sessions with WAG Coaches.
Posted by Dani Sheriff
Dani is the Project Director at WAG and has been a member since 2015. She is dedicated to creating amazing content for WAG clients and perfecting the client experience outside of coaching.
Latest Posts: