Macro-Friendly at the Breakfast Buffet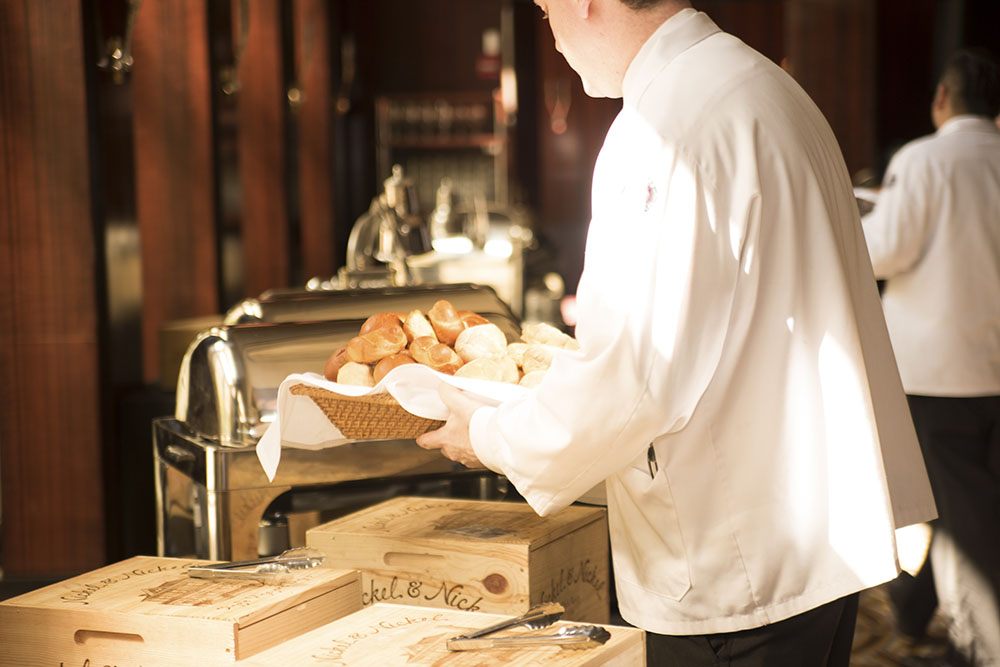 While traveling can be such an enjoyable experience, the thought of having to navigate our nutrition while on vacay-mode can also be a little daunting. In the absence of your kitchen and usual cooking routine, hitting your macros may seem like an impossible task.
With the additional stresses and challenges of being away from home, making an effort to maintain our nutrition and eat well helps keep us feeling on our A-game!
By starting our mornings with good, goal-centric choices, we set the theme for the remainder of the day.
The difference between making or breaking the macro bank is knowing how to steer your way through a breakfast buffet that has an unlimited quantity of foods available!
Below are some ways to help you hack your way through the "all you can eat" restaurants:
Take your scale - With plenty of seating usually available, it makes bringing your sidekick scale that much easier.
Start with a drink - Have a glass of water and a coffee while you sit and decide on your plan of attack!
Have a plan - Just like every other day, don't drive blind. Plan what you are going to eat BEFORE you attack the breakfast bar!
Log BEFORE you eat - This will help you avoid errors in logging. Having too much protein, with little fat or carbs left for dinner with your friends or colleagues will not likely keep you feeling relaxed!
BYO - Bring your own - Having staples, favorites and macro-friendly options to add can be a great help (ex. canned meat, wraps, sugar-free syrups, etc.). Don't be afraid to add in some lettuce either. Volume eating for the win!
Remain present - Don't multi-task! Sit away from the view of the foods. Eat off smaller plates, chew all your food and always use a knife and fork. Keep your plates so you know how much you have eaten, and set a timer between meals to avoid unnecessary overeating.
Know your opponent - If you are with other people, set a reminder in your phone to swoop down to breakfast and check it out beforehand so you know what to expect. If you're eating out with them later, be sure to allocate sufficient macros for dinner!
Additional Hacks:
Get creative - Cut the crust off your bread. You can save around ⅓ of the carb content by doing so. Also cut out the yolks of your eggs to create egg whites only.
Use a napkin - This is an easy way to soak off excess oil from any hot foods.
Ask for whatever you need - People love to help. Ask to have your eggs weighed for you or if you can weigh them out first! Most likely they won't say no.
Use cups, spoons and your plate to gauge measurements - ONLY in the absence of your scale.
Do a trial run - If there are items you know are hard for you to estimate, have a trial run at home before you go.
Keep things simple and separate - Eat the oats out of the individual packs (not the premade one) to ensure better accuracy.
BYO Breakfast Buffet Items:
Low carb wraps such as OLE Wraps
Salmon packs
Canned tuna
Deli meat
Protein powder for your oats or yogurt
Sugar-free syrups
Standard Items Available at Most Breakfast Buffets:
Standard macros on these items (average macros on buffet size items)
Kraft Peanut Butter (11g) - 3p / 1c / 8f
Kraft Philly (30g) - 1p / 1c / 7f
Waffles (2) - 4p / 29c / 8f
Yogurts - Yoplait Mini - 5p / 14c / 2f
Granola (Per 21g) - 2p / 14c / 4f
Boiled Egg - 6p / 1c / 5f
Kraft Mayonnaise Sachet - 0p / 0c / 10f
Bread (Per 71g) - 5 p / 23c / 2f
Bagels w/o fruit - 10p / 53c / 2f - With fruit - 10p / 57c / 2f
English Muffin - 4p / 26c / 1f
Banana (118g) - 1p / 27c / 0f
Apple (182g) - 0p / 25c / 0f
Orange (100g) - 1p / 12c / 0f
Strawberry (100g) - 0f / 8c / 1f
Blueberries (100g) - 1p / 14c / 0f
Cantaloupe (100g) - 1p / 8c / 0f
Smuckers Sugar free pancake syrup (60 ml) - 0p / 8c / 0f
**Avoid the Danishes and bacon - these likely will not fit your macros ever, or if they do, they will be an expensive way to start your day!
Remember it is just food and it is not going anywhere! Starting your day with a healthy macro-friendly meal will help to set a positive theme for the rest of the day. Your macros can be more challenging to manage when traveling, but they are far from impossible. Controlling what you can – when you can – will go a long way!
Get a Taste of WAG
The WAG Crash Course is OPEN for enrollment. This 30-day course will teach you the ins and outs of macro tracking, building healthy lifestyle habits and sustaining results without restricting the foods you love. Get personalized macros from a WAG Coach, join the members-only Facebook Group and participate in quarterly Live Q&A sessions with WAG Coaches.
Posted by Melanie Barnshaw
Latest Posts: