Macro-Friendly Costco Foods: WAG Favorites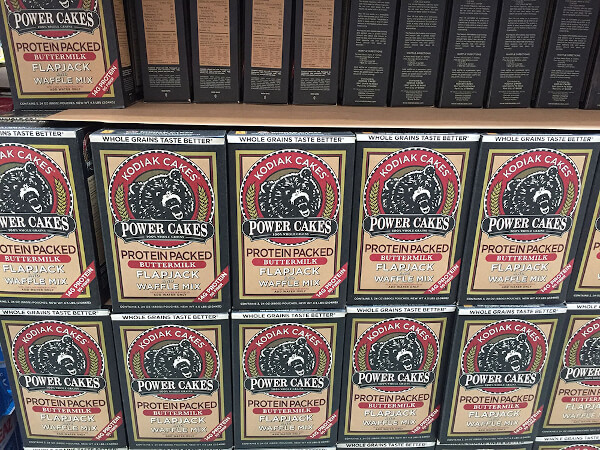 Who doesn't love saving money, buying in bulk and bringing tons of macro-friendly Costco foods home to help you hit your macros?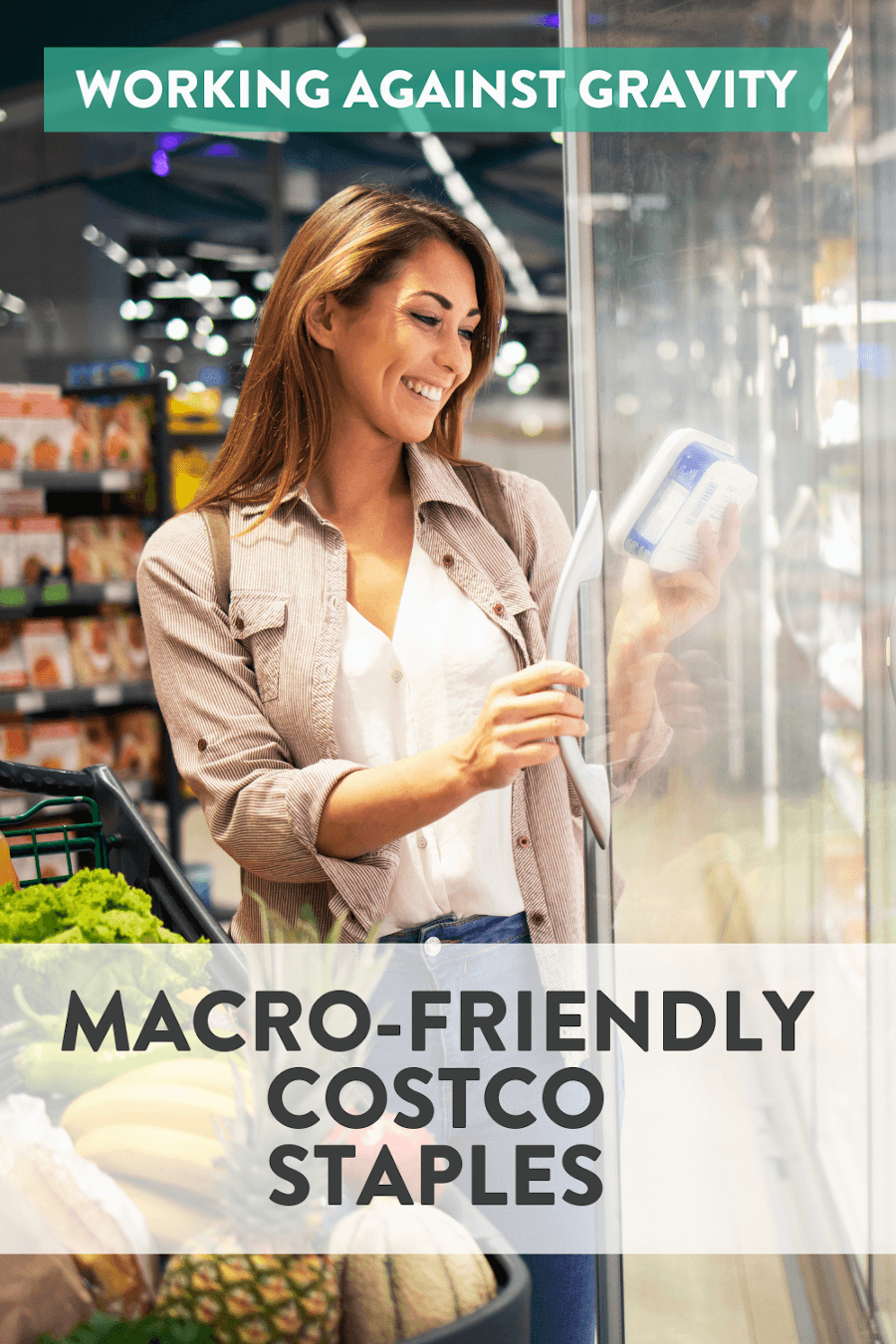 When you start tracking macros or planning healthier meals, you likely find that you buy the same staples every week. Stock up on your grains, cereals, dry herbs, spices, seasonings, fats (oil, butter), frozen and canned vegetables, fruits and even meat products like burgers, tuna and shrimp! These items can be a lot cheaper at Costco when compared to traditional grocery stores.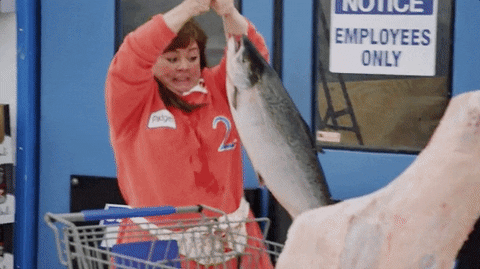 But we get it, Costco can be really overwhelming. That's why we're doing the hard work for you and sharing our favorite macro-friendly Costco foods. We're even breaking them down by macro and occasion for you so grab a pen and get your shopping list ready!
Macro-Friendly Costco Foods: Protein
You're not alone if you find that being EXTRA intentional of your protein intake is a must to hit your macro targets. These macro-friendly Costco protein sources will take the stress out of your protein prepping and planning.
1. Costco Carton Egg Whites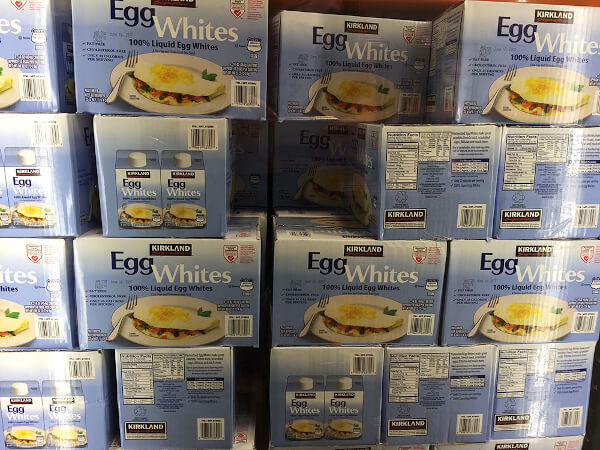 Serving Size 45 g | Cal 25 | P 5 | C 0 | F 0
Unopened egg whites have a great shelf life. These come in smaller cartons too, so they'll last even longer. You can also freeze egg whites! So, if you have the freezer space (or if you're rocking a carton of egg whites a day) then these protein-packed egg whites are for you! Need some egg white recipe inspo? Check out our favorite macro-friendly egg white recipes!
2. Kirkland Signature Canned Albacore (Pack of 8)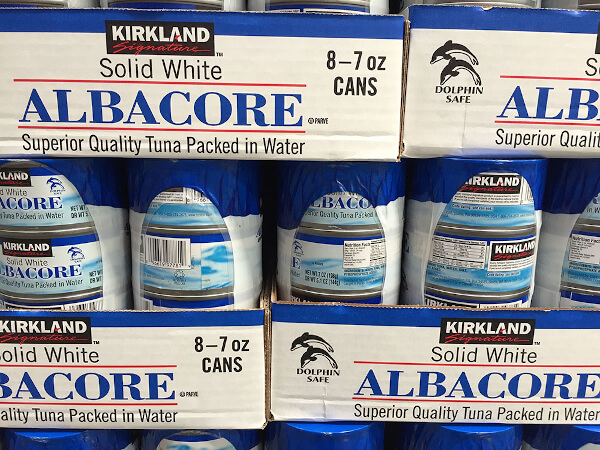 Serving Size 56 g | Cal 70 | P 16 | C 0 | F 1
These babies are great to keep in your cupboard so you always have protein in a pinch. Throw it on a sandwich, salad or eat it with apples (don't knock it till you try it). Need another macro-friendly tuna hack? If you're working with a lower fat intake, mix your tuna with plain Greek yogurt instead of mayo.
3. Chicken of the Sea Premium Real Crab Meat (Large Tub)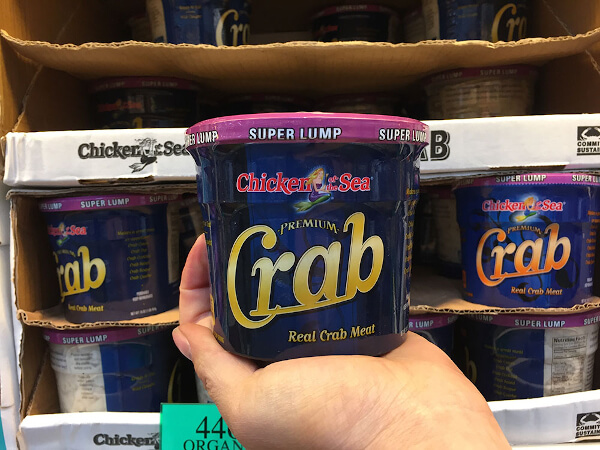 Serving Size 56 g | Cal 46 | P 11 | C 0 | F 0
Real crab meat can be pricey, but if you like making your own sushi or relying on seafood for your protein, Costco is a great place to grab it. Plus, it's super high protein for a small serving.
4. Kirkland Protein Bars (20 pack)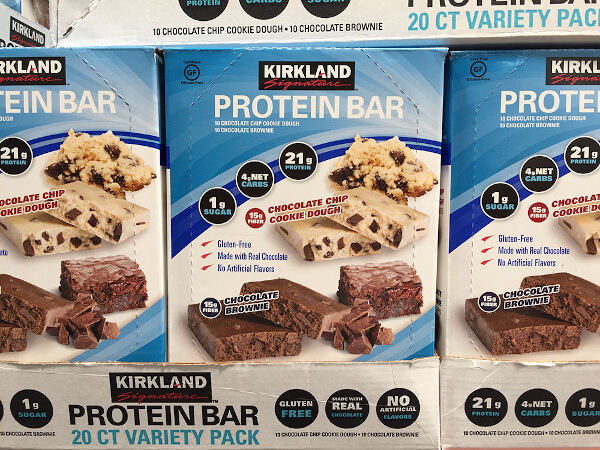 Serving Size 1 bar Chocolate Chip Cookie Dough | Cal 190 | P 21 | C 22 | F 7
Serving Size 1 bar Chocolate Brownie | Cal 190 | P 21 | C 23 | F 7
Kirkland Protein Bars are comparable to Quest bars and Perfect Protein Bars (which Costco also sells in bulk!). If you like whey protein bars and saving cash money try these instead!
5. Alaskan Pollock Burgers (12 burgers)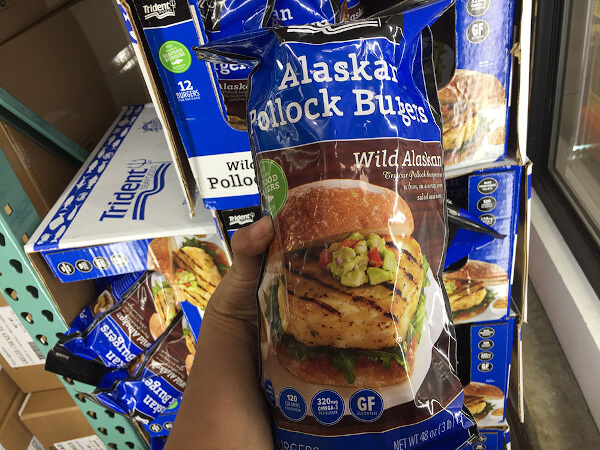 Serving Size 113 g, 1 burger | Cal 120 | P 17 | C 6 | F 3
Fish burgers, anyone? Hey, these are worth a try. After all, they're a nice size, super high in protein and low in fat and carbs!
6. Kirkland Signature Turkey Burgers (12 burgers)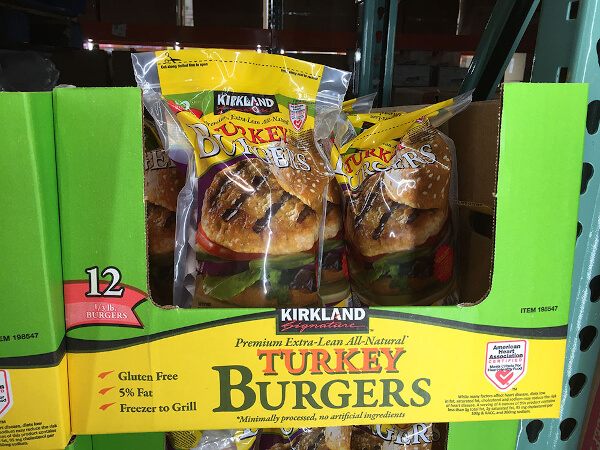 Serving Size 151 g, 1 burger | Cal 200 | P 35 | C 2 | F 6
A big, 151 g burger with 35 g of protein! Kirkland Signature Turkey Burgers — saving burger night for macro trackers everywhere!
7. Tyson Panko Breaded Chicken Breast Tenderloins (20 tenders)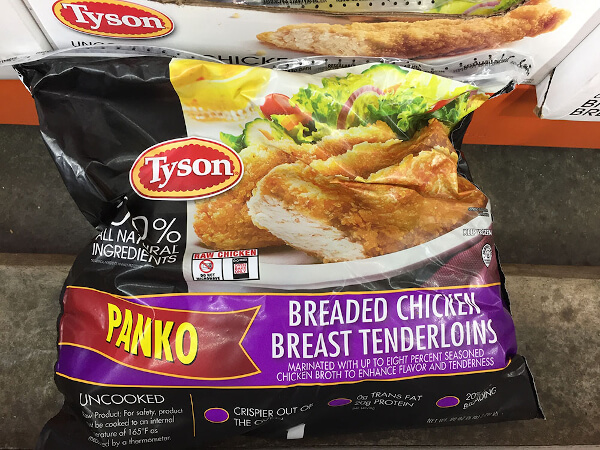 Serving Size 112g, 1 tender | Cal 210 | P 20 | C 13 | F 9
A perfect fried chicken alternative. Bake and eat!
8. Grilled Mediterranean-Style Chicken Skewers (12 skewers)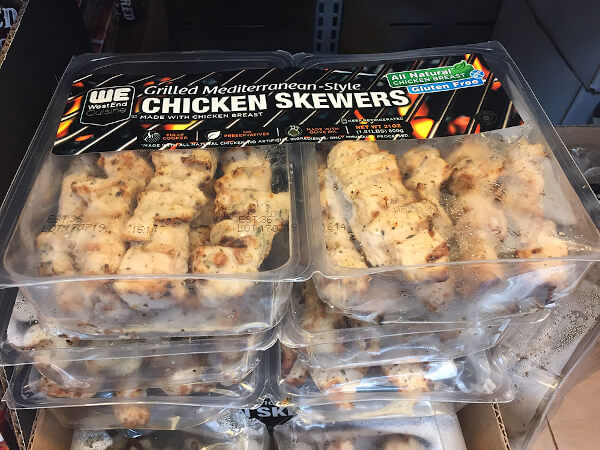 Serving Size 100 g, 2 skewers | Cal 150 | P 23 | C 3 | F 4
These skewers taste good, are already cooked and have the same macros as if you made them from scratch!
9. Kirkland Boneless Ham Steak (about 3.5lbs of ham)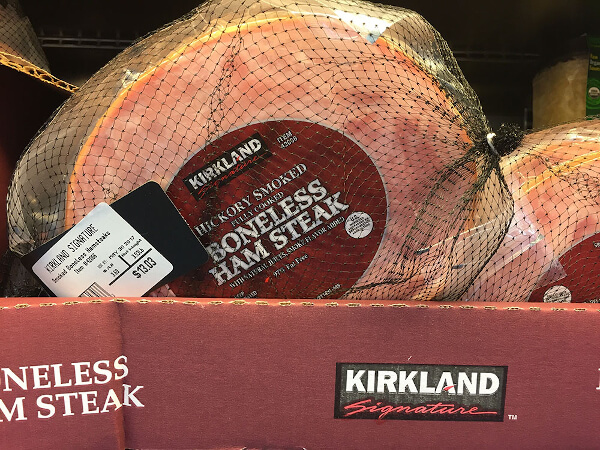 Serving Size 84 g | Cal 100 | P 17 | C 4 | F 2.5
Ham steaks are so easy to cook and are a great alternative to Canadian bacon. A big slab of ham steak will yield you little fat and bang for your buck protein!
For even more protein grabs check out this post!
Macro-Friendly Costco Foods: Carbs
Carbs! YUM! Carbohydrates include the quick digesting carbs that are best for right before or right after your workout along with more fibrous carbs like fruits and veggies. Although we typically recommend tons of fresh produce, Costco still has some great, healthy carb options you can buy in bulk (and a solid produce section we also recommend shopping through).
1. Crepini Naked Crepes (1 pack of 10 crepes)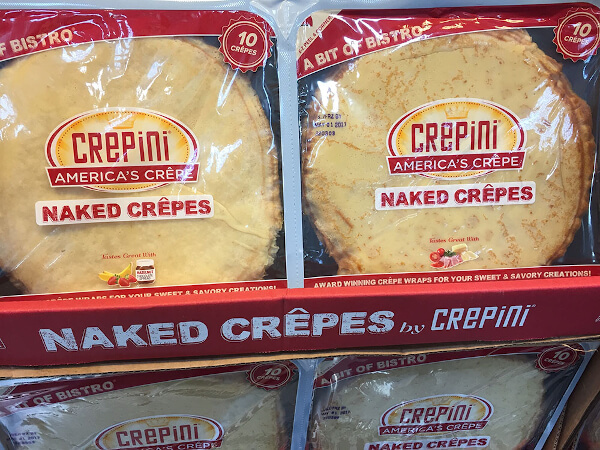 Serving Size 45 g, 1 crepe | Cal 80 | P 4 | C 15 | F 0
Warm it up, spread some PB or cook up an egg and you've got something a little bit fancy! Not bad for 15 carbs.
2. Sushi Party Tray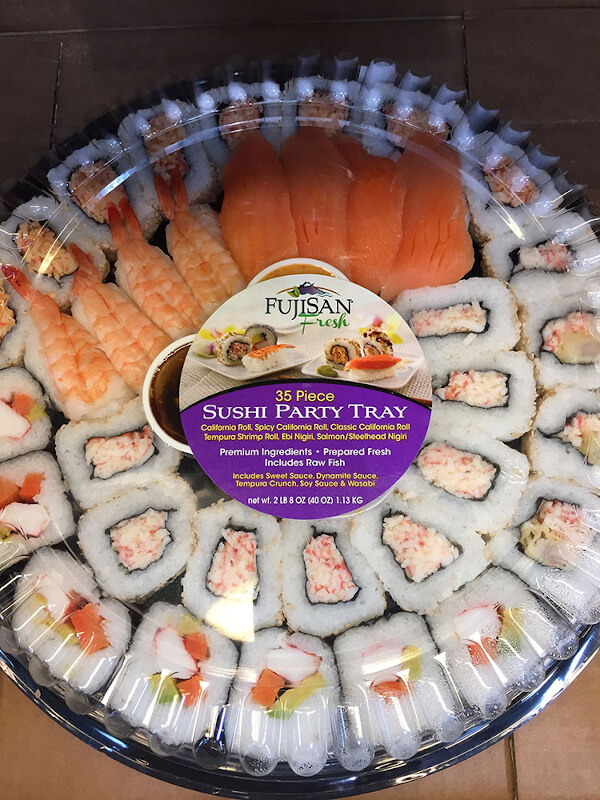 Serving Size 90g, 3 pieces | Cal 140 | P 3 | C 23 | F 3
These sushi trays are fun to share and snack on when you're hanging with friends or planning a fun night at home. Because Sushi is higher in carbs, we usually recommend pairing it with a higher protein source and some veggies as well.
3. Natures Bakery: Stone Ground, Whole Wheat Fig Bars (32 pack)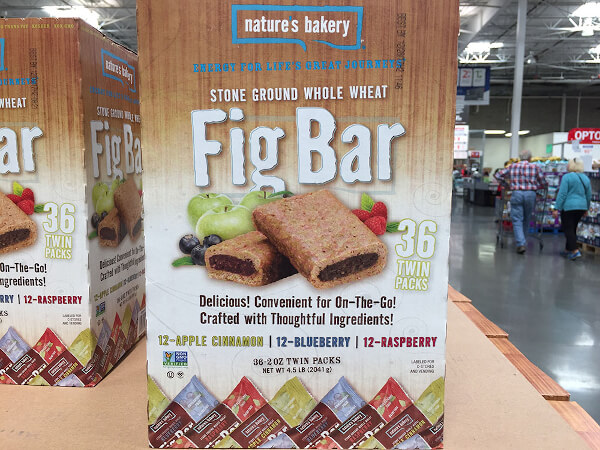 Serving Size 1 bar | Cal 90 | P 2 | C 17 | F 2.5
If you're a grab-and-go snack kind of person or like to nibble on something in between workouts, these fig bars are the perfect solution. Three flavors so you can rotate, 90 calories, super reasonable macros. They're a great option to keep on hand and ideal for days that you're out and about.
4. Bella Sun Luci Sun-Dried Tomatoes (1 large jar)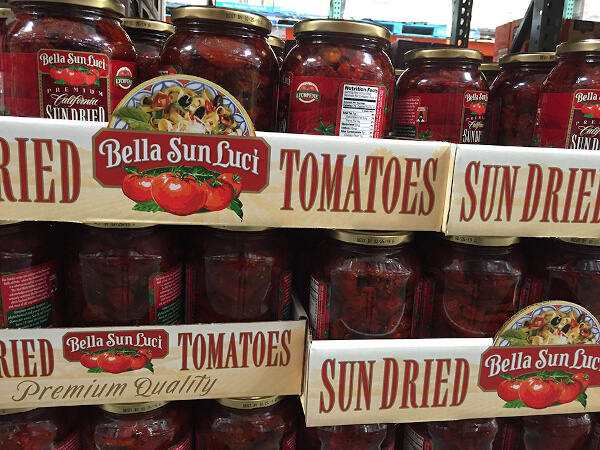 Serving Size 19 g | P 0 | C 6 | F 5
Have a little fat to fill at the end of the day? Try adding a serving of sun-dried tomatoes to your meal to give it some flavor. High-end food market options can be pricey, but this large jar is very reasonable.
5. Kodiak Power Cakes Buttermilk Flapjack and Waffle Mix (3 packs)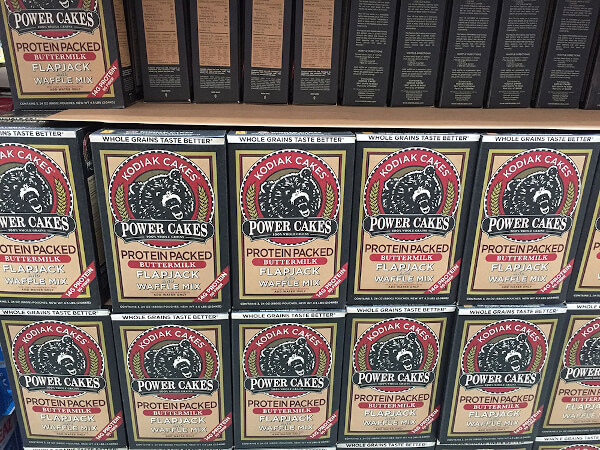 Serving Size 53 g, about 3 4" pancakes | Cal 190 | P 14 | C 30 | F 2
Kodiak Cake fans, assemble! Each box contains three packets of protein-packed flapjack mix for much cheaper than at the grocery store. And, if you've never tried putting this pancake mix in a waffle iron for optimal syrup soakage… you're welcome.
6. Udis Gluten Free Simple Granola (large bag)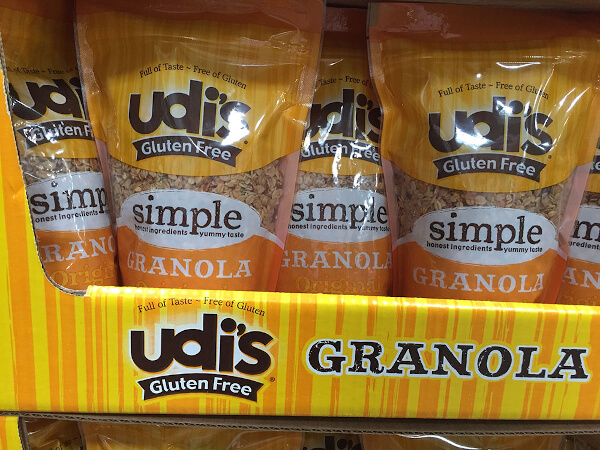 Serving Size 30 g | Cal 130 | P 3 | C 19 | F 5
Granola can (literally) eat up calories quickly. But, Udis Gluten-Free Granola adds the flavor and crunch, without taking up too many macros. Add it to your yogurt or fruit salad and enjoy.
Macro-Friendly Costco Mixed Macro Meals & Snacks
1. Organic Hard Boiled Eggs (24 eggs)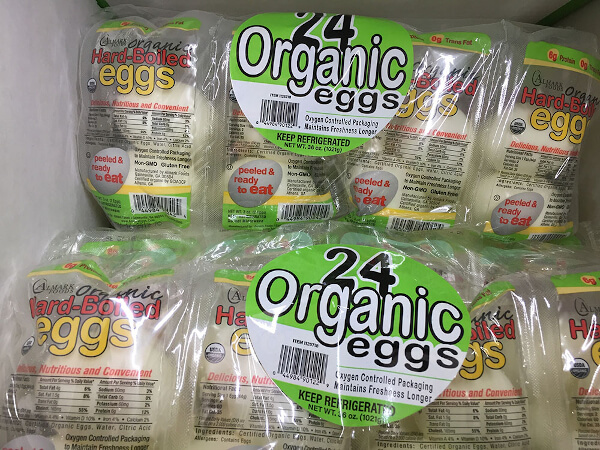 Serving Size 44 g, 1 egg | Cal 60 | P 6 | C 0 | F 4
Not in a position to boil your own eggs regularly? Keep these sealed, ready-to-rock eggs in the fridge to grab and go.
2. Amy's Organic Soups (8 pack)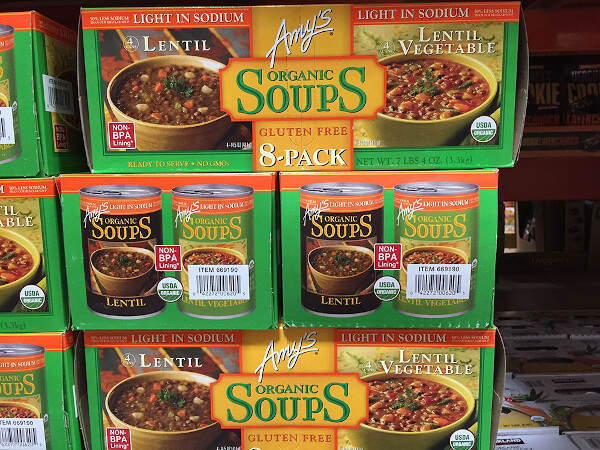 Serving Size ½ can Lentil | Cal 180 | P 8 | C 25 | F 5
Serving Size ½ can Lentil Vegetable | Cal 160 | P 7 | C 24 | F 4
Canned soups are great to have on hand for times when cooking isn't an option. Amy's lentil soups have 6g of fiber, too. Take a break from cooking and pop it on the stove!
3. Jimmy Dean Delights Egg White English Muffin (12 Muffins)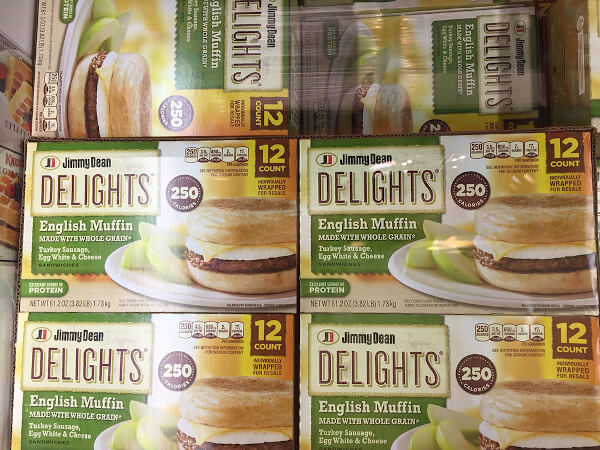 Serving Size 145 g, 1 muffin | Cal 250 | P 17 | C 28 | F 8
Mobile egg white muffin? Yes, please. Balanced macros and great if you want a hot breakfast to go!
4. Sandwich Bros Chicken Melts (15 Flatbread Sandwiches)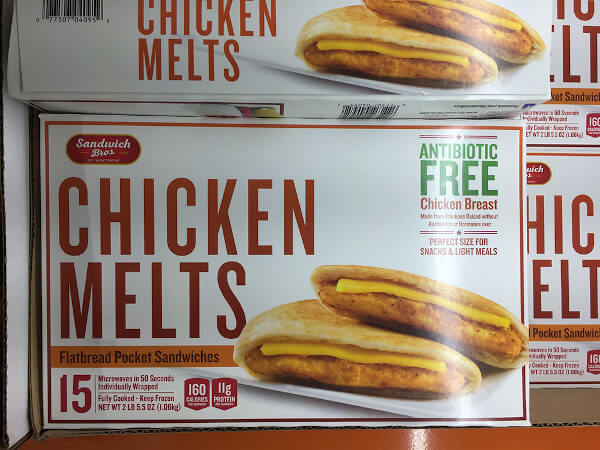 Serving Size 70 g, 1 sandwich | Cal 160 | P 11 | C 12 | F 8
If having a trackable, frozen option on hand keeps you from buying take-out and guessing macros, these chicken melt pocket sandwiches are a solid option.
5. Crazy Cuizine Frozen Beef and Broccoli (2 packs)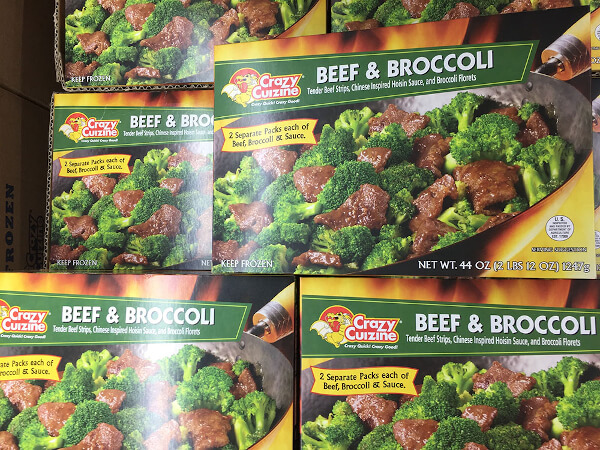 Serving Size 140 g | Cal 100 | P 8 | C 14 | F 2
Marinated beef and broccoli in a pinch!
6. Mini Wontons, Chicken and Cilantro (152 mini wontons)
Serving Size 4 wontons | Cal 50 | P 3 | C 8 | F 1
Because wontons! A great option if you're entertaining guests and need some finger food that you know you can track.
7. Acai Superfruit Bites (24 bites)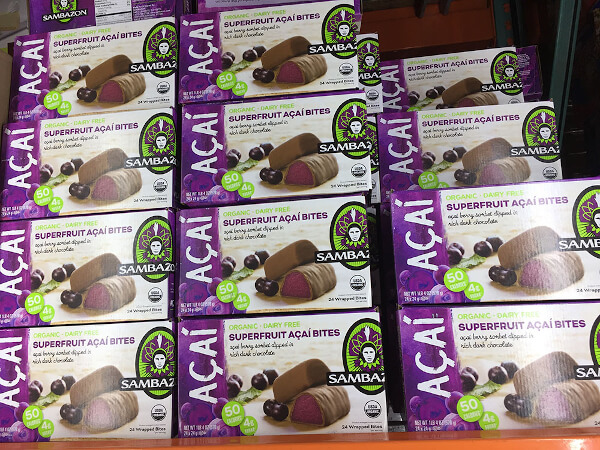 Serving Size 24 g | Cal 50 | P 0 | C 8 | F 3
If you like ice cream and chocolate, this is a nice dessert alternative to keep in the freezer.
8. Skinny Cow Ice Cream Sandwiches (20 sandwiches)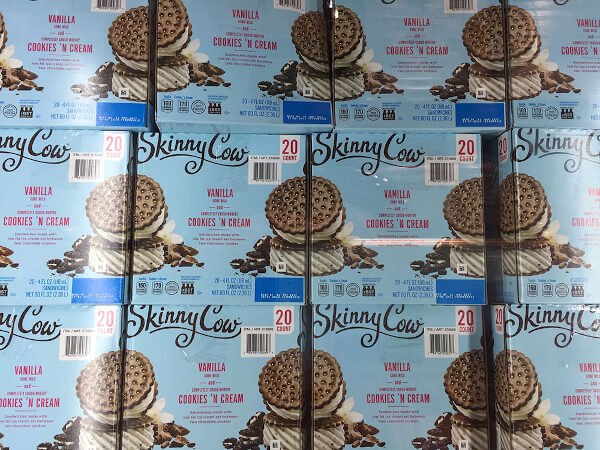 Vanilla/Chocolate Serving Size 70 g, 1 sandwich | Cal 160 | P 4 | C 28 | F 3.5
Now you're speaking my language! Hello, pre-workout ice cream sandwich!
Macro-Friendly Costco Drinks & Toppings
1. Victoria Organic Marinara (2 jars/5 lbs.)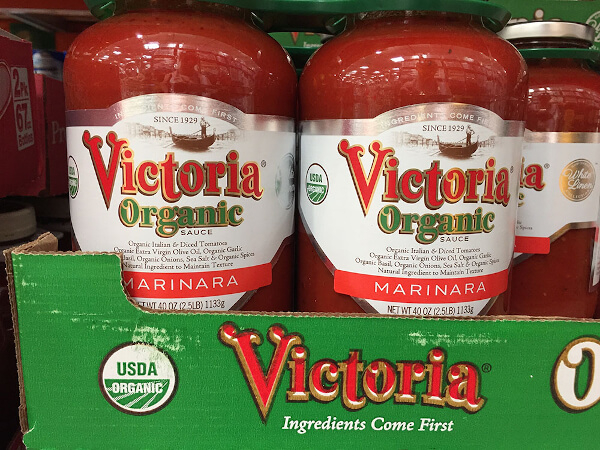 Serving Size 113 g | Cal 50 | P 2 | C 6 | F 2
This marinara sauce was hard to pass up. Just look at those macros! Classic pasta and marinara sauces are very popular with the macro tracking community. If you enjoy spaghetti marinara on a regular basis, then a 2 pack of large jars won't disappoint.
2. Heinz Picnic Packs (4 condiments bottles)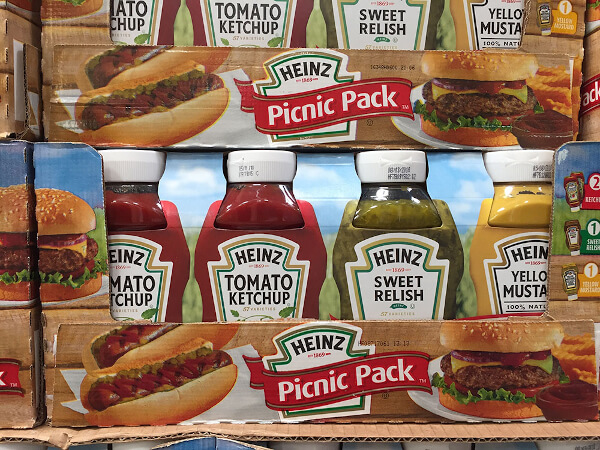 Mustard Serving Size 5 g | Cal 0 | P 0 | C 0 | F 0
Sweet Relish Serving Size 15 ml | Cal 20 | P 0 | C 5 | F 0
Ketchup Serving Size 17 g | Cal 20 | P 0 | C 5 | F 0
If you've been tracking for a while, then your low and calorie-free condiment game is probably in the professional league. Keep your fridge stocked with the whole selection. Ketchup, sweet relish and yellow mustard!
3. Coffee-Mate French Vanilla Creamer (180 tubs)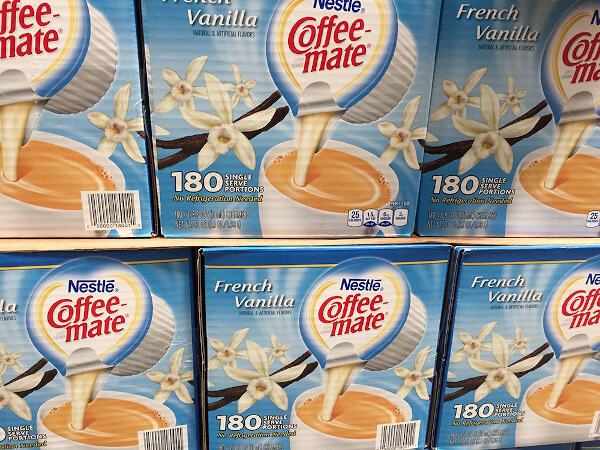 Serving Size 1 tub | Cal 25 | P 0 | C 3 | F 1.5
BYO creamer helps you drink your coffee the way you like it, no matter where you are. If you're drinking coffee every day (which many of us are) then buy your creamer in bulk.
4. Kirkland Organic Chocolate Reduced Fat Milk (24 cartons)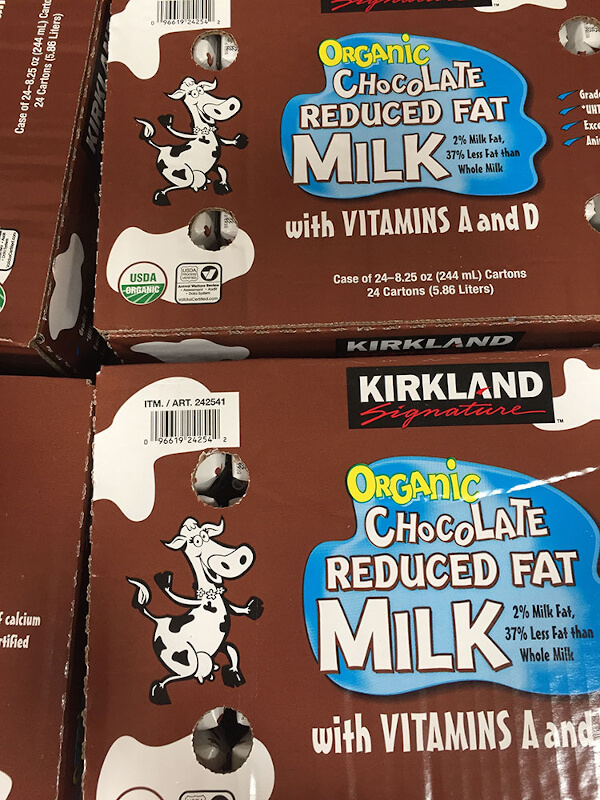 Serving Size 244 ml | Cal 190 | P 9 | F 5 | C 28
Chocolate milk lovers, get your fix! This option has extremely reasonable macros and an ingredient list for chocolate milk. This is another great post-workout option.
5. Milk
Some people go through a ton of milk really fast. (I'm looking at you, mass gaining peeps!) Costco double packs of fat-free and whole milk will save you money on that daily gallon.
6. Zero-Calorie Drinks
These are great to sip on if you're a little bored of water or if you're drinking to make an alcoholic drink a little more macro-friendly!
Sparkling Ice (18 bottles assorted flavors) 0 calories
Vitamin Water (20 bottles assorted flavors) 0 calories 5 carbs
Spindrift Sparkling Water (24 pack assorted flavors) 2 - 15 calories 0-5 carbs
Izze Sparkling Water (12 pack) 10 calories 2 carbs
Need more suggestions on what foods will help you reach your goals based on your grocery stores and food preferences? An online WAG Nutrition Coach can help you figure out which foods will help you reach your goals!
Join Team WAG
Love what you learned but still want more guidance and support? Get matched with an experienced coach who will get to know you, your lifestyle, and your preferences to give personalized feedback and suggestions. With a customized nutrition plan, weekly check-ins, unlimited messaging, and our personalized coaching platform, we'll help you reach your body composition goals and sustain your results.
Posted by Ali Macy
Ali is a born and bred Vermonter who fell in love with nutrition and fitness in her early 20's and never looked back. She is a coach, blog editor and Program Lead for WAG with a BA in English Literature and a Master's in Nutrition and Human Performance.
Latest Posts: