Congrats to the WAG 2018 Games Athletes!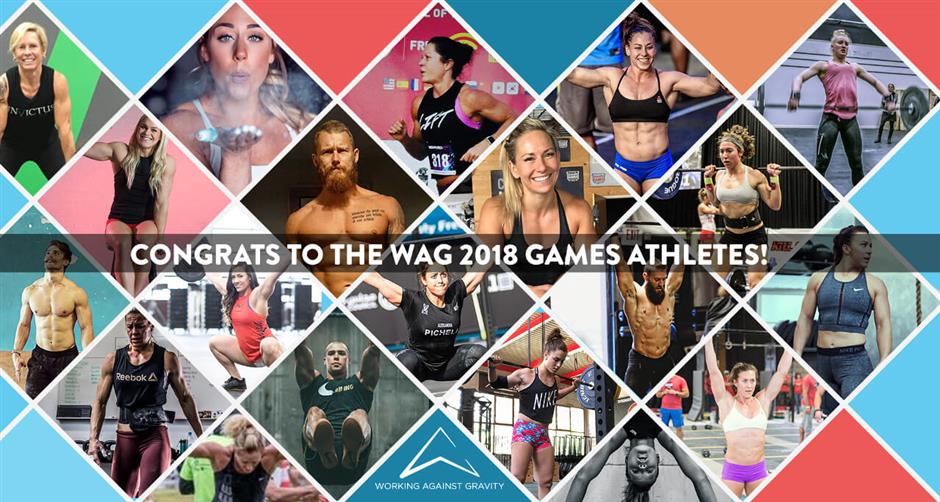 Over the past three weeks, our WAG athletes represented #TeamWAG at the 2018 CrossFit Regionals. Their strong-willed mindset and commitment to their goals showed, and we are so excited to congratulate all of our athletes on their performance.


Individual

North East
Katrin Davidsdottir - 1st
North Central
Brooke Wells - 1st

Elijah Z Muhammad - 30th
West Coast
Emily Abbott - 1st

Alessandra Pichelli - 2nd

Cole Sager - 2nd

Cody Anderson - 4th

Rebecca Voigt - 5th

Christian Lucero - 9th

Brooke Ence - 27th

Briana Giapa - 37th
South East
Cassidy Lance Mcwherter - 1st

Emily Bridgers - 2nd
South Europe
South West
Camille Leblanc Bazinet - 2nd
Australasia
Kara Saunders - 2nd

Mallory Berger - 29th
South America
Vivian Aiello Bomfim - 3rd
Central East
Jennifer Smith - 5th

Celene Steele - 34th
Meridian
Europe - Individual
Mid Atlantic
Canada East
Team

Atlantic
Lindsay Sport (CrossFit Laminin) - 8th
South Central
Camzin Martin (CrossFit Central Houston) - 14th

Greg Ashcoft (CrossFit Central Houston) - 14th

Teresa Trojanowski (CrossFit Central Houston) - 14th
Central
Toby Johnson (Koda CrossFit Norman) - 23rd
Pacific
Madison Tatt (Reebok CF Frankston) - 1st

Tamara Dinsmore (Team Desire) - 25th
South Europe
East Coast
Kassandra Aveni (Reebok Crossfit One) - 2nd
North Central
Jared Stevens (CrossFit 417) - 3rd
North East
Tori Dyson (CrossFit New England) - 19th

Becca Magee (CrossFit New England - 19th

Logan Filo-Loos (CrossFit Crag) - 20th
West Coast
Roxanne Traugh (Team Repscheme) - 9th

Tyson Rickerson (Sumner CrossFit BaneCatz) - 18th

Courtney Berg - 30th

Masters
Julia Kenyon (35-39, 31st worldwide) - 3rd

April Digiannantonio (35-39) - 4th

Teresa Trojanowski (35-39)

Jessica Martinez (40-44) - 1st

Kate Morris (40-44) - 6th

Jessica Beran (40-44) - 10th

Rob Henry (40-44) - 10th

Trixie Arya (40-44) - 13th

Jennifer Norman (45-49) - 3rd

Nan Shybunka (45-49) - 10th

Lisa Chiarelli (45-49) - 23rd

John byrd (50-54, 187th Worldwide) - 14th

Pam Fox (50-54) - 15th

Kellie Wunsch (50-54) - 33rd

Cindy Kane (55-59) - 4th

Teens
Katla Ketilsdottir (16-17) - 2nd

We are so inspired by the determination and hard work these athletes brought to the Regionals platform. Click here for our throwback blog post on lessons we've learned from working with CrossFit Games Athletes.
Get a Taste of WAG
The WAG Crash Course is OPEN for enrollment. This 30-day course will teach you the ins and outs of macro tracking, building healthy lifestyle habits and sustaining results without restricting the foods you love. Get personalized macros from a WAG Coach, join the members-only Facebook Group and participate in quarterly Live Q&A sessions with WAG Coaches.
Posted by Adee Cazayoux
Adee is the founder and CEO of WAG. She has her bachelor's degree in Honors Psychology, a Master's in Teaching, and a Master's in Nutrition & Human Performance. She's also an athlete, having competed in the National Pro Grid League and winning the Bronze Medal in the 2016 Canadian National Weightlifting Championships.
Latest Posts: