Calories
221
Fat
9 g
Carbs
7 g
Protein
28 g
Serves
2 (serving size = 225 g)
17 g fresh basil leaves (from one 28 g container of basil), roughly chopped
20 g cilantro leaves (about one bunch), roughly chopped
260 g precooked shrimp, defrosted if frozen
1 serrano or jalapeño pepper, seeds removed and finely chopped (optional)
12 g (1 stalk) green onion, thinly sliced
1 lime, juiced and zested (about 40 g of juice and 1 tsp of zest)
100 g avocado, cubed
1/2 tsp salt
Pinch of pepper
Share:
Tags: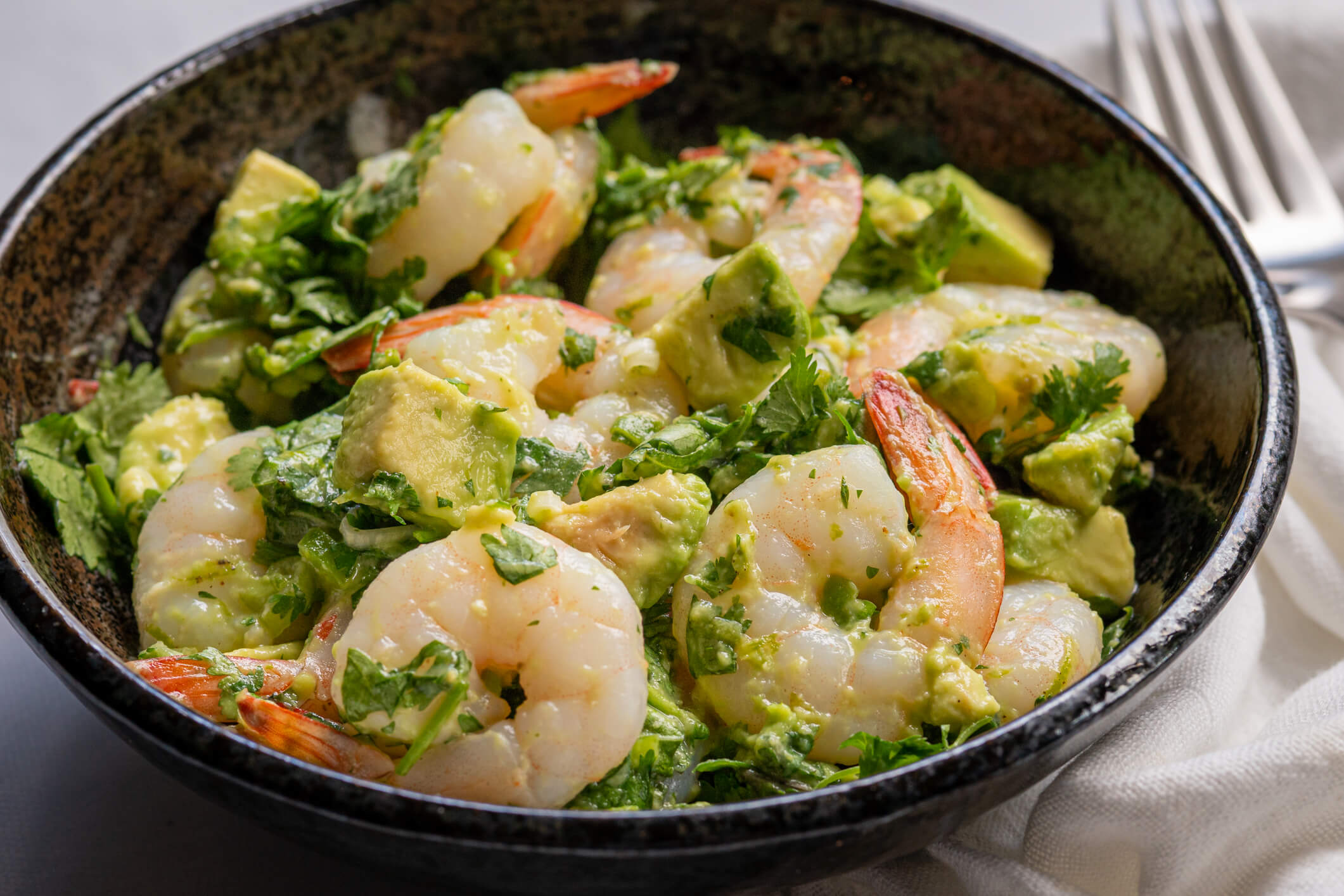 Too hot to turn on the stove? No problem! This quick and simple shrimp with avocado and basil-cilantro salad uses pre-cooked shrimp, which means all you need is a knife, a cutting board, and some fresh ingredients to whip up a fresh, macro-friendly meal.
Note that this recipe is highly customizable based on your macro needs. Up the amount of shrimp for more protein, add more avocado for extra fat, or serve the shrimp over a bed of quinoa for added carbs. And if you're one of those people who hate cilantro, no worries! Use parsley instead.
Instructions
If you're using a serrano or jalapeño, remove the stem from the pepper and cut it lengthwise to reveal the seeds and white ribs. Using a small knife or spoon, carefully remove and discard the seeds. Then, thinly slice the pepper and add it to a large bowl.
Pat the shrimp dry with a paper towel and put it in the bowl. Roughly chop the basil and cilantro and add it to the shrimp along with the thinly sliced green onion, avocado, lime juice, lime zest, salt and pepper. Toss the mixture together, breaking down some of the avocado so it gets creamy. Taste and adjust seasonings as desired. Serve cold.
Aside from the shrimp and avocado, the fresh ingredients in this recipe have negligible macros, so you can use more or less of each depending on your tastes and how it's packaged at your grocery store.
Recent Posts: