Calories
240
Fat
8 g
Carbs
10 g
Protein
32 g
Serves
4 (serving size = 52 g cooked fish + 152 g broth + 20 g spinach)
410 g (4 pieces) red snapper fillets, patted dry
100 g shallots, finely chopped
5 g (1 tsp) coconut oil
30 g red or yellow curry paste, like Thai Kitchen brand
480 g (2 cups) vegetable stock, like Trader Joe's Miso Ginger broth
110 g (1/2 cup) full-fat coconut milk
1/2 tsp salt
The juice of 1 lime
1 palmful of cilantro, roughly chopped
80 g baby spinach
Optional scallions, for garnish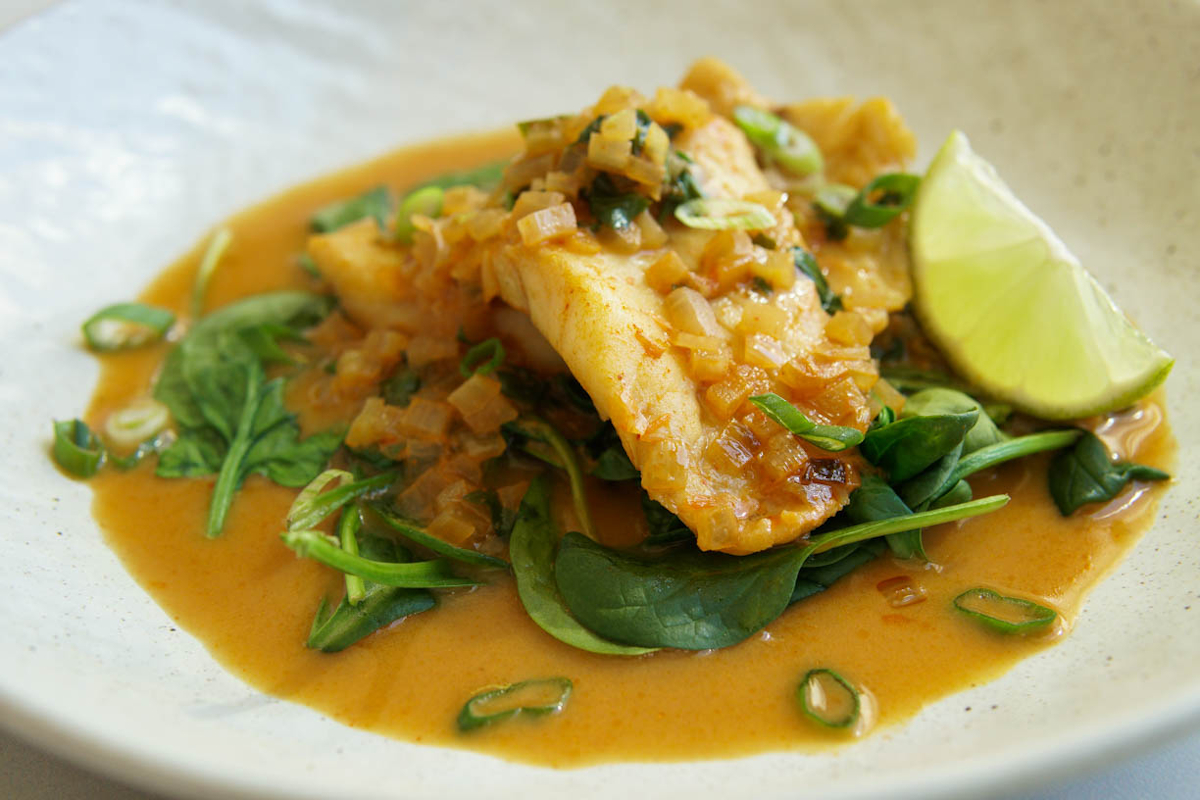 This comforting red snapper with coconut curry broth is elegant, flavorful and surprisingly simple to prepare. If you can't find red snapper, you can substitute any whitefish including tilapia, grouper, cod or orange roughy.
Instructions
In a 10"–12" frying pan, heat the coconut oil over medium heat. Add the shallots and let them sizzle until they begin to turn translucent, about 3–5 minutes. Add the curry paste to the pan and fry it until fragrant, about 30 seconds. Add the broth to the pan along with the coconut milk and 1/2 teaspoon of salt. Let the broth gently bubble for 5 more minutes.
Meanwhile, zap the baby spinach in the microwave for 30 seconds to soften, and divide the spinach among four bowls.
After the broth has simmered for 5 minutes, add the fish to the broth (you may need to cut the fillets in half if they're too long for your frying pan). Give the pan a shake to make sure the fish is coated, then cover the pan and let the fish cook until the snapper is just cooked through, about 5–7 minutes.
Remove the fish from the pan and place one fillet on top of each bed of spinach. Season the sauce with the juice of one lime, cilantro and a little extra salt, if needed. Ladle the sauce over each piece of fish, garnish with a sprinkle of sliced scallions and serve.
---
You Might Also Like