Calories
82
Fat
2 g
Carbs
15 g
Protein
1 g
Serves
3 (serving size = 133 g)
300 g peaches, sliced or cubed
75 g blueberries
3 g fresh ginger, grated
1/4 tsp cinnamon
1/2 tsp chili powder
4 g coconut sugar
4 g olive oil
15 g white wine
Squeeze of lime
Pinch of salt
Share:
Tags: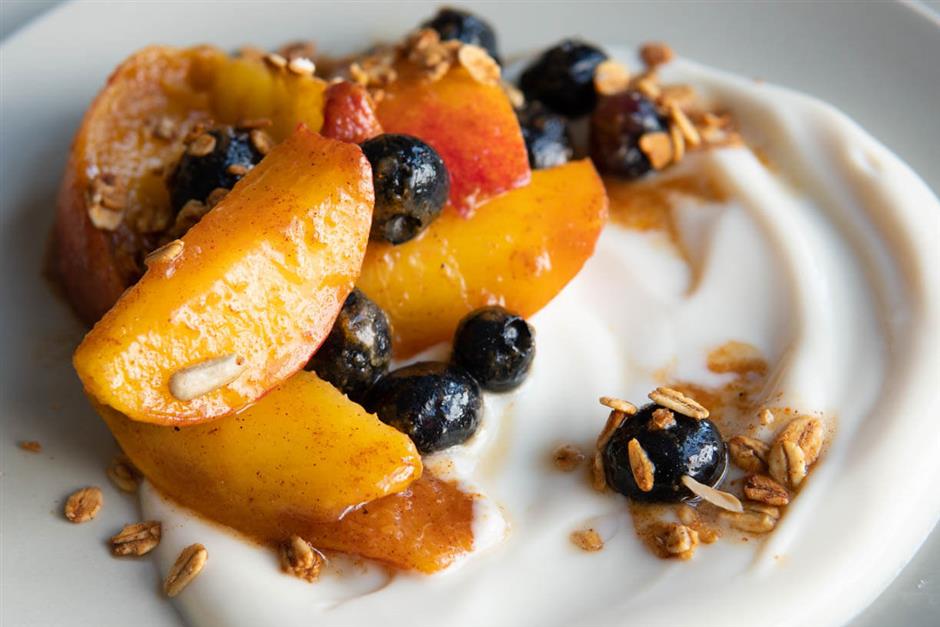 "Macerate" may not sound like the most appetizing word, but the process of macerating fruit creates a world of flavor your taste buds can't ignore. Maceration is essentially marinating, except with fruit. It lends itself to almost any combination of herbs and spices, and the result is a juicy bite that's sweet, savory, spicy and tangy all at once.
Instructions
Combine all ingredients in a bowl and adjust seasonings to your taste. Note that a little sugar is necessary to help pull out juices from the fruit, but if you'd like it a little sweeter and don't want to add more sugar, a drop or two of liquid stevia will do.
Let the fruit sit for at least 30 minutes or up to 48 hours, stirring occasionally. Serve with your favorite yogurt or ice cream, or sprinkled with our [Peanut Butter Banana Chocolate Chip Granola](https://www.workingagainstgravity.com/articles/peanut-butter-banana-chocolate-chip-granola).
For a sweet and savory twist, try serving it with pork tenderloin or baked chicken thighs.
This guide is jam-packed with everything you need to know about nutrition.
From tracking macros to meal ideas.
Recent Posts: