Calories
383
Fat
11 g
Carbs
54 g
Protein
17 g
Serves
1 (serving size = 375 g)
45 g old-fashioned oats
250 g water or milk of choice (the macros for this recipe were calculated using water)
1/2 tsp cinnamon
Pinch of salt
50 g ripe banana, thinly sliced (set a few slices aside for garnish, if desired)
50 g egg whites
15 g powdered peanut butter, like PB2 or PB Fit
10 g chopped walnuts, toasted if desired
10 g maple syrup
Share:
Tags: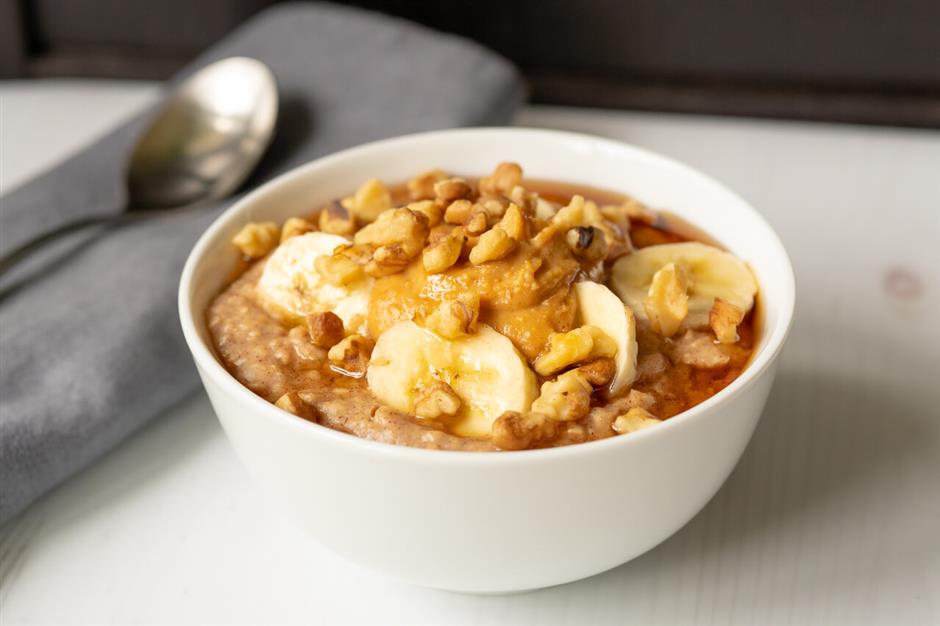 Egg whites in oatmeal? Trust us, it's magic. Not only do the egg whites add a punch of protein, but they transform the oats into a thick and creamy porridge that will keep you full for hours.
Instructions
In a medium-sized saucepan over medium-high heat, combine the oats, water, cinnamon, pinch of salt and banana. Stir the oatmeal until the liquid has absorbed and the bananas break down a little, about 3 minutes.
Add the egg whites to the pot and stir until thick and creamy, about 2–3 minutes, making sure to mix continuously to keep the egg whites from scrambling.
Remove the oatmeal from the stove and add it to your serving bowl. Top with PB2, walnuts and maple syrup.
Do not use egg whites in overnight oats. They must be cooked in order to be safe to eat.
Recent Posts: