Calories
157
Fat
1 g
Carbs
35 g
Protein
2 g
Serves
1
150 g strawberries
150 g blueberries
1/2 tsp sugar
1/8 tsp cayenne
1/8 tsp chili powder
Pinch of salt
Share:
Tags: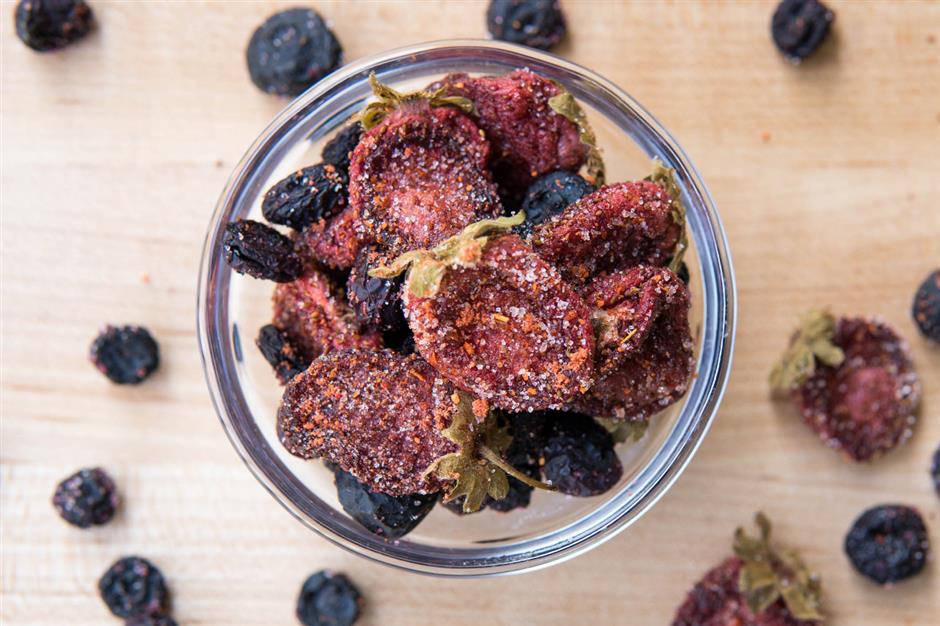 Sometimes, you just want candy...but you also want to fuel your body with nutritious food. Sweet and spicy oven-dried berries to the rescue! Throw some berries in a low-temperature oven and forget about them for the afternoon. When you return a few hours later you'll have an intensely sweet, fiber-packed snack that kicks candy cravings to the curb.
The best part? This recipe is ideal for leftover berries that are a little past their prime.
Instructions
Preheat oven to 200 F. Resist the urge to move the process along at a higher temp, otherwise, you'll end up with burned berries.
If you're using small strawberries (less than 1 inch across), keep them whole; otherwise cut large strawberries in half or quarters.
Arrange the blueberries and strawberries on two separate baking sheets, strawberries on one sheet and blueberries on the other. Place them in the oven for two hours before flipping, and then let them dry for another two hours. After four hours, your blueberries should be dry so take them out of the oven, but your strawberries may need more time depending on their size. The strawberries are done when they are soft and slightly chewy like a dried fig.*
While the berries are cooling, combine the sugar, salt, and spices in a small bowl. When you're ready to eat, toss the berries in the spice mixture and enjoy!**
*All ovens and berries are different, so it's entirely possible that particularly large and juicy strawberries could take five or six hours. If the berries look mushy and are still juicy, they're not ready. Have patience!
**While the berries themselves will keep in an airtight container for two or three days, keep the spice mixture separate and toss them just before eating, as the sugar/salt mixture will pull out any leftover juice in the berries.
Do you find you often struggle with sweet temptations? Then, hire a WAG coach to help guide you through listening to your body and fueling it properly to decrease cravings!
Recent Posts: