Calories
349
Fat
13 g
Carbs
30 g
Protein
28 g
Serves
1 (serving size = 277 g)
12 g sun-dried tomatoes packed in oil
40 g baby spinach
15 g low-fat cream cheese
15 g crumbled feta cheese
1/4 tsp garlic salt
1/4 tsp oregano
165 g liquid egg whites
1 flatbread or tortilla (The macros for this recipe were calculated using Indian Life 100% whole wheat roti.)
Share:
Tags: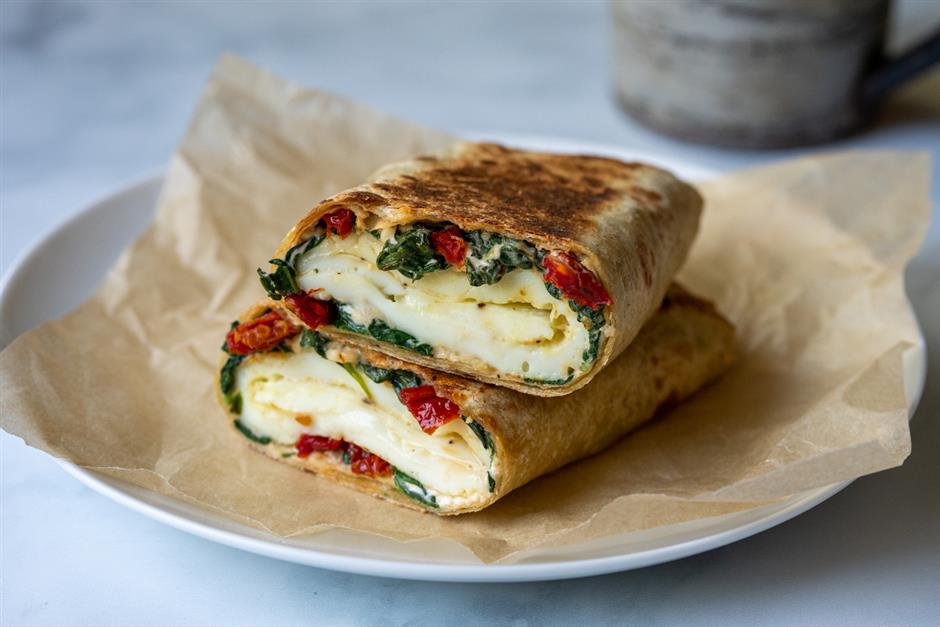 If you frequent Starbucks, you're probably familiar with their spinach and feta egg white wrap. We wanted to make our own version, so here it is, packed with even more protein than the original!
Instructions
Heat a nonstick frying pan over medium heat.
Chop the sun-dried tomatoes and add them to the hot frying pan along with the baby spinach. Cook the veggies until the spinach wilts, then transfer it to a bowl along with the cream cheese, feta, garlic salt, and oregano. Use a fork to mix everything together, making sure to break up any big chunks of cream cheese. Set aside.
Spray the same frying pan with cooking spray if necessary (but you may not need it if there's a little residual oil leftover from the tomatoes). Add the egg whites and cover the pan. Let the egg whites steam until cooked through, about 2–3 minutes.
Meanwhile, spread the spinach mixture over your flatbread. Place the cooked egg white over the spinach, in the center of the flatbread. Fold the egg white in thirds so you can wrap the tortilla around it.
Add the wrap back to the hot pan and toast it on both sides. Cut in half and serve immediately.
Because of the high water content of both spinach and egg whites, these wraps don't freeze well. However, you can make the spinach and feta mixture ahead of time, so all you have to do is whip up the egg whites and assemble everything for a quick and tasty breakfast.
Wondering what your macros might be? Wondering how to track macros in the first place? Check out our Macro Calculation Cheat Sheet & 18 Tips and Tricks for macro counting!
Recent Posts: