Calories
220
Fat
8 g
Carbs
31 g
Protein
6 g
Serves
6 (serving size = 191 g)
180 g quinoa (400 g cooked), prepared according to package directions
275 g mandarin oranges packed in water, drained, like Del Monte no sugar added mandarins
140 g cherry tomatoes, quartered
275 g avocado (2 medium), diced
15 g garlic (3–4 cloves), minced or pressed
Juice of 1/2 a lime
27 g (1 package) hot & spicy taco seasoning, like Old El Paso brand
Share:
Tags: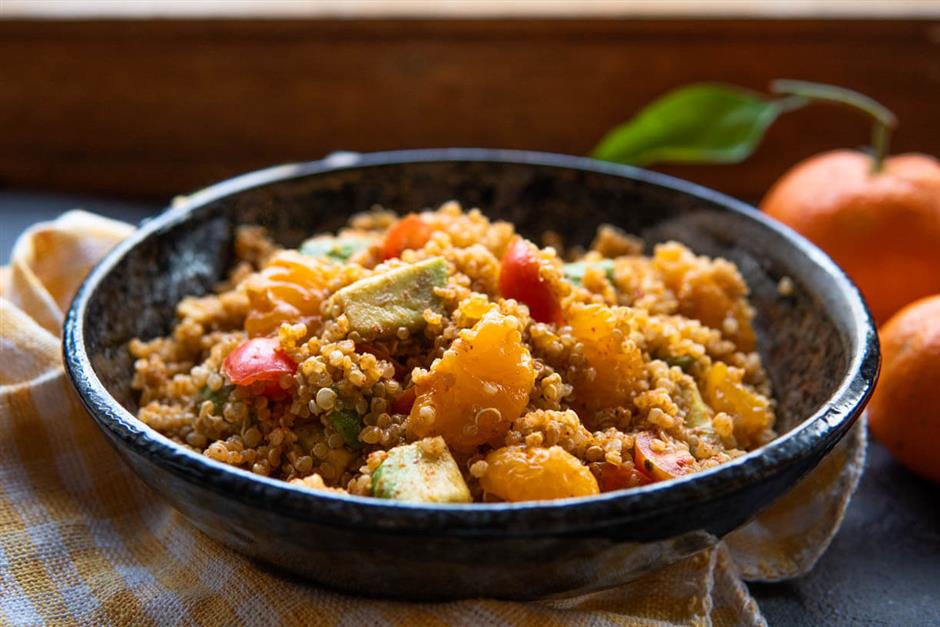 There are easy recipes, and then there are mindless recipes—the sort that take zero brainpower and still turn out delicious. This spicy citrus avocado quinoa fits squarely in the latter category, making it perfect for those nights when thinking is just too much effort.
For a complete and quick meal in one bowl, pair the quinoa with your favorite protein.
Instructions
Prepare the quinoa according to package directions.
Meanwhile, drain the mandarin oranges and add them to a large bowl along with the quartered cherry tomatoes, diced avocado, minced garlic and lime juice. Toss and set aside. When the quinoa is cooked, add it to the bowl along with the packet of taco seasoning. Stir until everything is incorporated and adjust seasonings to your taste.
Store in an airtight container for up to four days.
For a truly mindless dinner prep, try making the quinoa in a rice cooker. Simply add 1.5 cups of water for every 1 cup of quinoa into the rice cooker's bowl, then cook on the white rice setting. Voila! You're done.
This guide is jam-packed with everything you need to know about nutrition.
From tracking macros to meal ideas.
Recent Posts: