Calories
125
Fat
5 g
Carbs
14 g
Protein
6 g
Serves
4
1200 g (2 medium) spaghetti squash
110 g ricotta cheese
40 g (1 small bulb) garlic, whole and unpeeled
1/2 tsp olive oil
4 tsp grated Parmesan cheese
Handful of fresh sage leaves
Salt & pepper
Spray olive oil
Share:
Tags: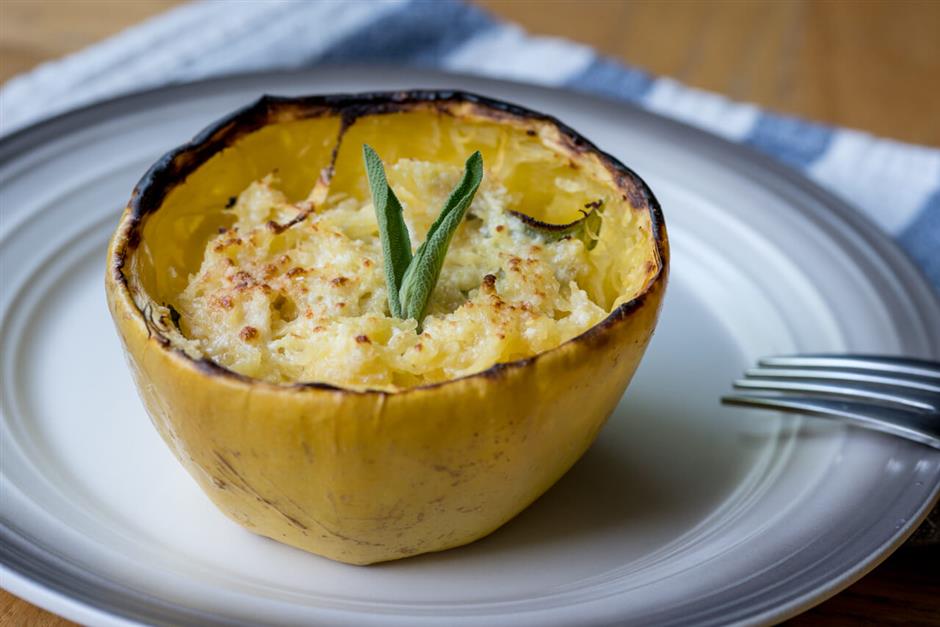 Spaghetti squash has long been viewed as the dieter's friendly "pasta," but let's be honest—no one is fooled. Instead of asking spaghetti squash to be something it's not, I wanted to bring out its texture and subtle, sweet taste that's delicious and filling in its own right. Plus, it's served in its own bowl! One pitfall of spaghetti squash is that if it's cut lengthwise and roasted skin-side up, it can easily overcook and become watery. To solve this problem, I cut the ends off the squash and cut the squash crosswise, so each quarter can sit upright like a little bowl. This lets the excess moisture escape and leaves you with longer, more noodly strands that are perfect for twirling.
Instructions
Preheat oven to 450 degrees. I find that roasting the squash at a slightly higher temperature keeps it from becoming watery.
Cut the ends off each squash, just enough so the squash can sit upright. Then cut each squash crosswise and scoop out and discard the stringy, seedy middle, like you would for a jack-o-lantern. Arrange the halves on a sheet pan so they're sitting like a bowl; spray each squash "bowl" with a little spray olive oil and a sprinkle of salt. Set aside.
Remove any excess paper on the garlic bulb and carefully cut off the top 1/4 inch or so of the bulb, so the cloves are exposed. Drizzle the olive oil on top of the cloves, letting it soak in. Wrap the bulb in foil, so the entire clove is covered. (Check out this tutorial if you have any more questions!)
Arrange the squash and the foil ball of garlic on a sheet pan and roast in the oven until a fork can easily pull the squash strands away from the skin, about 40 minutes. Remove from the oven and turn on the broiler.
When the squash is cool enough to handle, use a fork to scrape away the flesh and transfer the strands to a bowl. Set aside.
Squeeze out the roasted garlic cloves into a small bowl and mash with a fork. Add ricotta and mix until the garlic is incorporated. Add the cheese mixture to the bowl of squash along with a handful of sage leaves. Toss to combine and season with salt and pepper as desired.
Divide the mixture evenly back into the four roasted squash bowls. Sprinkle 1 tsp of grated Parmesan on top of each bowl, and broil for a few minutes until golden and crispy (keep your eye on it so they don't burn!). Top with fresh sage.
Want to see how spaghetti squash compares to pasta? Check out this blog on 100 Calories in 100 Ways.
Recent Posts: