Calories
264
Fat
12 g
Carbs
13 g
Protein
26 g
Serves
2 (serving size = 406 g)
385 g fresh cod fillets
115 g white or yellow onion, sliced no more than 1/4-inch thick
325 g tomato, sliced no more than 1/4-inch thick
1 bay leaf
1/4 tsp black pepper
1/2 tsp salt
1 fresh jalapeño, cut in quarters (substitute dried chili or a sprinkle of chili flakes, if desired)
20 g butter
3 garlic cloves, smashed
Fresh parsley, for garnish
Share:
Tags: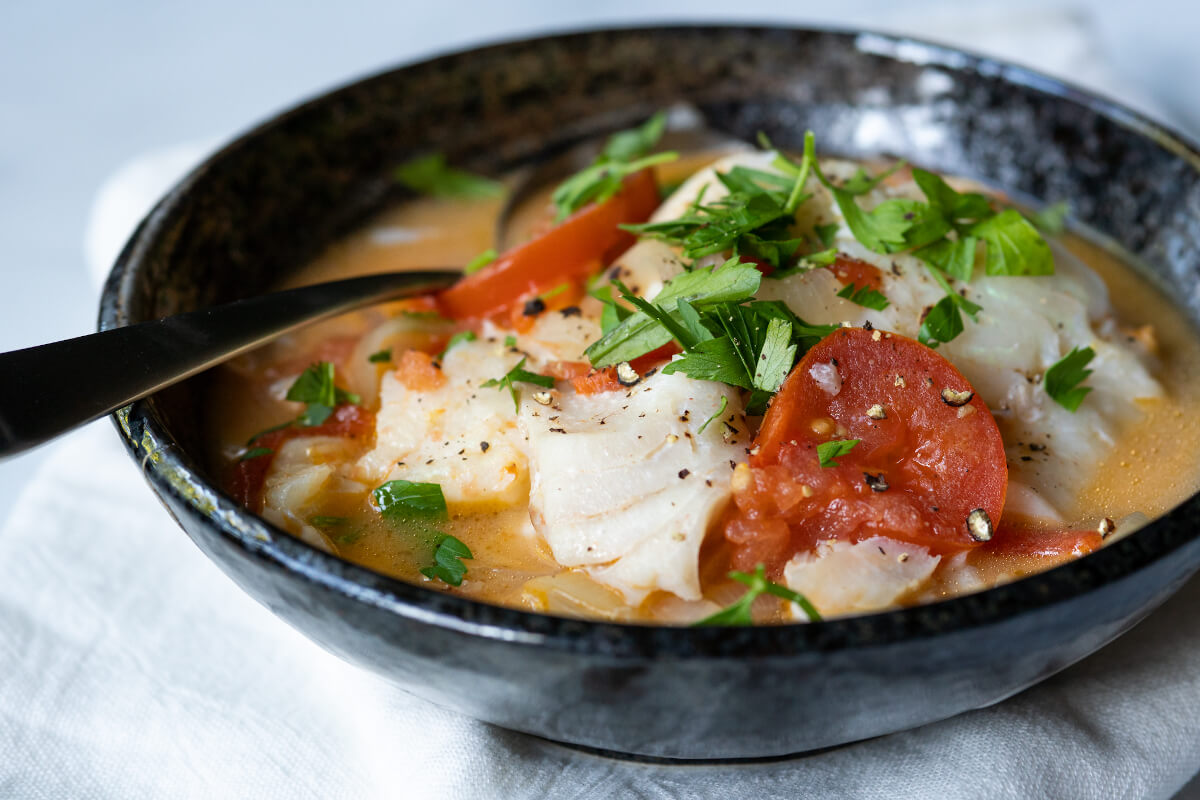 Cooking fish at home can seem like a daunting task, but this quick and simple cod in tomato and onion broth couldn't be any easier. Simply layer all the ingredients in a frying pan, cover and turn on the heat. In less than 20 minutes you'll have flaky cod swimming in a magical, buttery broth that's still macro-friendly.
Instructions
Pat the cod fillets dry and set aside.
Slice the onions and tomatoes. You want to make sure they're cut as thinly as possible (about 1/8-inch thick) so they will cook through.
In a large frying pan, scatter the onions across the bottom of the pan. Lay the tomato slices over the top of the onion, so you have an even layer of onion and an even layer of tomato slices. Nest the jalapeño (or chili pepper), garlic, bay leaf and butter into the tomatoes, then sprinkle the salt and pepper over everything.
Arrange the cod on top of the tomatoes and cover the pan tightly with foil or a lid. Place the frying pan on the stove, turn the stove to medium heat, and set a timer for 15 minutes.
After 15 minutes, carefully lift the lid. You should have a beautiful broth bubbling away and fully cooked fish. Cooking time depends on the thickness of your fish, so if there's not much broth or your cod isn't flaky, put the lid back on and cook for another 5 minutes.
Serve immediately.
If you're using frozen fish, make sure it is thawed before you cook it. You can also swap cod for any whitefish, like tilapia, haddock or bass.
Recent Posts: