Calories
128
Fat
4 g
Carbs
19 g
Protein
4 g
Serves
15
100 g rolled oats (don't use instant or quick oats)
100 g quinoa flakes
50 g quinoa, uncooked
48 g PB2
1 tsp sea salt
1 tsp cinnamon
17 g coconut oil
18 g peanut butter
40 g maple syrup
40 g honey
10 drops of stevia
115 g mashed banana
1 egg white
15 g chocolate chips
Share:
Tags: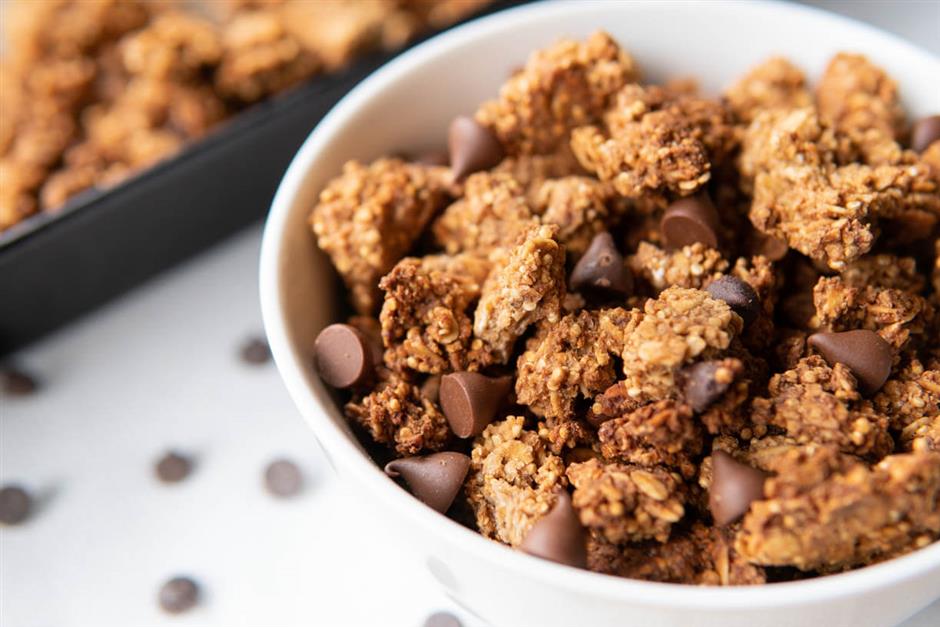 Granola is one of the most satisfying snacks out there, but commercial brands are usually packed with enough fat and sugar to blow a day's worth of macros! Gram for gram, our Peanut Butter Banana Chocolate Chip Granola is a more macro-friendly option that still delivers on crunch and flavor.
Instructions
Preheat the oven to 300 F. In a medium-sized bowl, combine the oats, quinoa flakes, uncooked quinoa, PB2, salt, and cinnamon. Stir until well combined. Set aside.
In a small sauce pot, mash the banana with a fork. Add the coconut oil, honey, maple syrup, peanut butter, stevia, and vanilla. Place the pot on low heat and stir until the mixture is warm and the coconut oil is fully melted, leaving some chunks of banana.
While the mixture is warming, beat 1 egg white with a fork in a bowl until frothy. Then, slowly pour the banana mixture into the egg white and mix until incorporated.
Add the wet ingredients to the oat mixture and stir until all the grains are evenly coated. Pour the granola onto a parchment-lined baking sheet and spread it out with your fingers, creating an even layer of marble-sized clusters.
Bake the granola on the top rack of the oven for 40–50 minutes, stirring every 15 minutes or so to ensure even cooking. (The bigger the chunks, the more time the granola will need. It won't be crispy while it's still in the oven, so test a chunk by removing it from the oven and letting it cool to crisp up.) When the granola is ready, let it cool completely before adding in the chocolate chips.
A serving size is 30 grams.
*Quinoa flakes can be found in the bulk bins in most health food stores, but if you can't find quinoa flakes, you can use an equal amount of oats. Adjust your macros accordingly.
This guide is jam-packed with everything you need to know about nutrition.
From tracking macros to meal ideas.

Recent Posts: