Calories
429
Fat
21 g
Carbs
9 g
Protein
51 g
Serves
3 (serving size = 130 g chicken + 96 g sauce)
600g boneless/skinless chicken breast
60g sun dried tomatoes packed in oil, drained
15g (1 tbs) sun dried tomato oil
65g shallot, sliced (1-2 shallots)
2 cloves garlic, minced or pressed
1 c chicken stock
¼ c whole milk
¼ c dry vermouth or white wine
20 g full fat cream cheese
Handful of greens
Salt & pepper
Share:
Tags: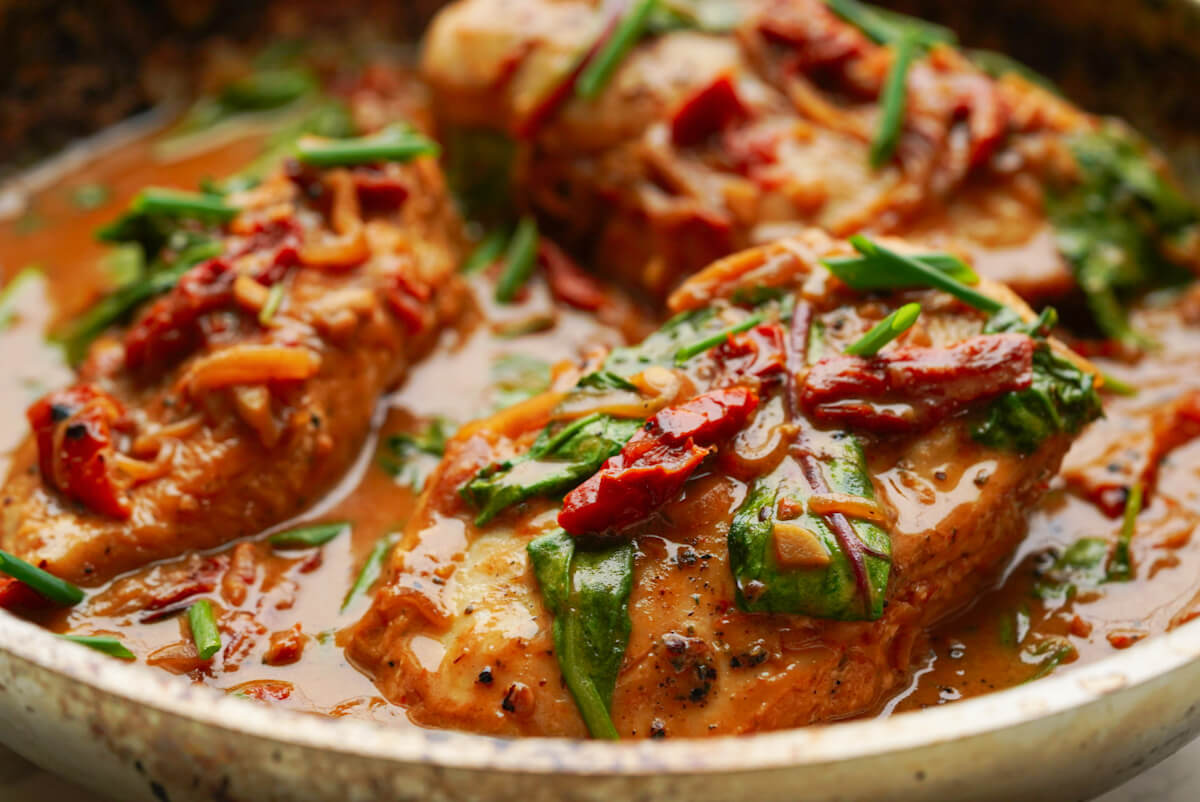 Looking for a way to make those chicken breasts less boring? Try slathering them in our creamy sun-dried tomato sauce for a flavorful meal that can be eaten on its own for a low-carb dinner, or paired with your favorite pasta for a well-rounded macro-friendly meal.
Instructions
Season the chicken breasts with salt & pepper. Heat the sun dried tomato oil in a skillet over medium-high heat and brown the chicken on both sides. Remove & set aside.
In the same pan, cook your sundried tomatoes, shallots, and garlic until soft. Add the vermouth and let it evaporate. Then add the chicken stock, milk, and cream cheese. Whisk everything to combine, then return the chicken to the pan. Cover the skillet, reduce the heat to a simmer, and cook until chicken is no longer pink or a meat thermometer registers 165 degrees, about 10 minutes.
Remove the chicken from the pan and let the sauce reduce until it's thick enough to coat the back of a spoon. Stir in a handful of greens and let them wilt. Adjust salt and pepper as needed, then spoon the sauce over the chicken and serve.
To make this dish even more friendly for keto diets, use half and half or cream instead of the whole milk.
Recent Posts: