Calories
118
Fat
2 g
Carbs
22 g
Protein
3 g
Serves
6
113 g of pre-steamed sweet potato. Make sure they're extra soft like mashed potatoes.
113 g of applesauce (1 single-serving cup)
1/2 tsp baking powder
140 g rolled old-fashioned oats
1 tsp cinnamon or pumpkin pie spice
Share:
Tags: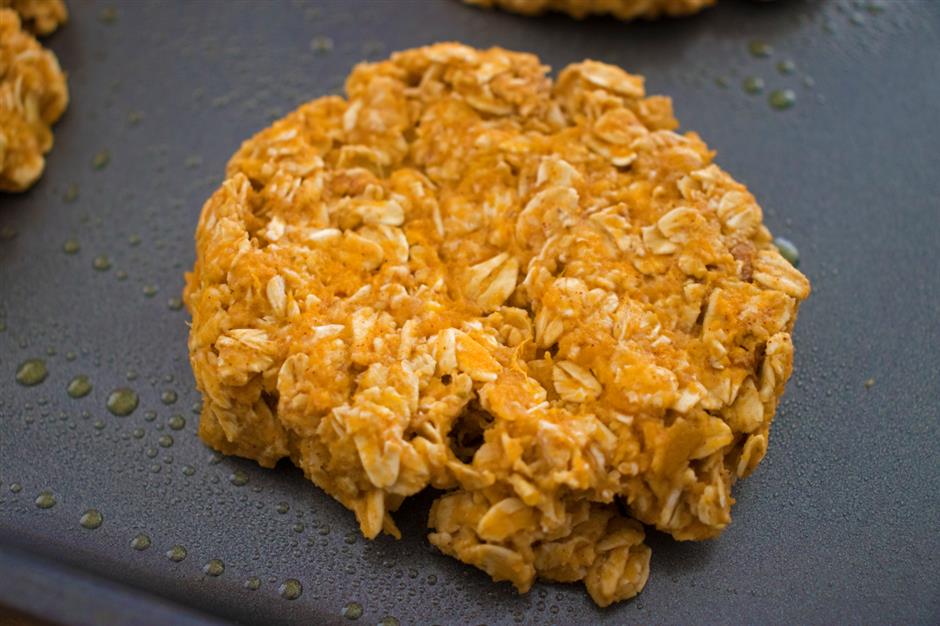 Is it too much to ask for a tasty baked treat with the calorie and macronutrient profile of a piece of fruit?
No, it is not.
This brookie (breakfast cookie) is both the perfect sweet treat and pre-workout fuel. Especially if you train early in the morning! The struggle of stomaching food at 5:30 a.m. before a workout is real.
Raw bars are great but they often have a higher fat content, making them less than ideal for training (fat can slow the digestion of carbs which your body is trying to use as fuel!), and in general they eat up a chunk of your dietary fat that you might prefer to save for other meals during the day.
These treats are naturally sweet because the keystone ingredients are sweet potato and applesauce. Easily prepare a week's worth of these brookies during your regular meal prep — they only take 15 minutes!
Instructions
Preheat oven to 350 F and prepare a flat baking tray by lightly spraying with cooking oil.
In a large mixing bowl, combine all ingredients. Use clean hands to smoosh and really bind the mix together nicely.
Roll the mix into 6 separate balls. Lay out on a cooking tray and press down to about 1/2 an inch thick.
Bake for 15 minutes. If you want a crunchier cookie, bake for another 5 minutes.
Craving even more winter-inspired sweet treats? Try our recipe for edible pumpkin pie batter! Or join Team WAG to get your own coach and a community of people with great ideas for recipes!
Still trying to find the sweet spot of the perfect amount of protein, fats and carbs for you? Join the Flexible Dieting Crash Course today and you'll learn how to set and adjust your own macros, plus we'll give you the tools and education to actually stick to them.
And if you decide to join WAG's nutrition program at any time during or after the course, we'll apply the price you pay for this course to the cost of your membership! Learn more and sign up here.
Recent Posts: