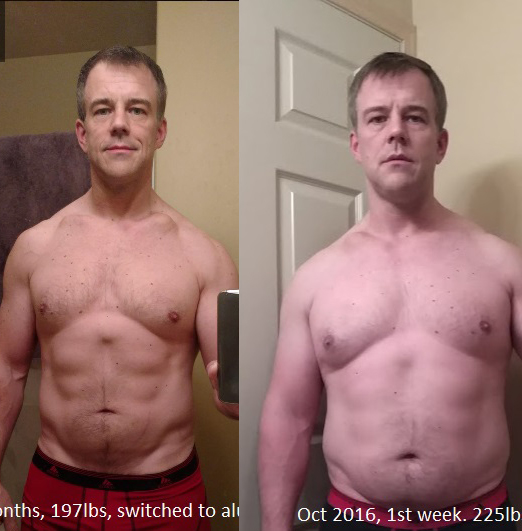 Goal
1) Look better naked 2) Clean & Jerk 315 & Snatch 250 3)Make the top 10% in my age group in the Crossfit Open in 2017. 4) Increase performance to discover my athletic potential with training and nutrition on point.
Testimonial
When I started WAG, I weighed 225lbs. It took 6 months to cut to 197; then I did a recomp phase up to my now 204-206 range. When I started, I didn't really have a goal weight in mind; as my weight loss progressed, it seemed that 195 would be achievable so that became a goal, realistic or not. However, 3 months into WAG, I fell into competitive weightlifting and I compete in the 94kg class (206lbs). I continued to cut weight and once I was at 197 and having crushed my first set of goals, my coach and I decided that to continue cutting would be detrimental to performing well in competitions. My goals were refocused and I added back approximately 8 pounds. I'm now focused on maintaining weight in the 94kg class, while getting stronger and performing well when competing in future competitions.
After 15 months of WAG; not only do I look better naked, but in the 2017 Crossfit Open I finished in the top 750 fittest men age 40-44 in the world. In my region I moved up from 103rd to 39th, and from 7th to 4th in the state over the previous years results. In weightlifting competitions, I've snatched 116kg & jerked 151kg. In training, I've hit 120kg snatch and 151kg multiple times. I finished 7th in the World in my age/weight class for the 2017 Crossfit Liftoff with 2nd place snatch at 115kg/253lb and 1st with a 151kg/332lb Clean and Jerk. The improvement in my overall fitness is ridiculous. I've not yet found the limits in weightlifting for myself and continue to get stronger and perform better than I ever have. I can only attribute this success to the lessons learned about not only fueling myself properly while training and competing, but I have also learned so much about myself and my dysfunctional relationship with food. I've learned how to make better decisions when stressed out, emotionally depleted, over trained, under trained or just bored. At times it was difficult and it didn't come easy; but I put in the work and the changes came nonetheless both between the ears and around the waistline. I'd highly recommend this program to anyone that struggles with figuring out how to eat clean, how eat to perform or just look better naked.
Get Your Coach Today!