Calories
140
Fat
8 g
Carbs
11 g
Protein
6 g
Serves
2 (serving size = 117 g)
150 g (1 bunch) black kale, lacinato kale, dinosaur kale or red kale
75 g WAG hummus dressing, made with black truffle flavored hummus
30 g pomegranate seeds
15 g pecorino romano cheese, grated
The juice from 1/2 a lemon
1/2 tsp salt
Fresh pepper
Share:
Tags: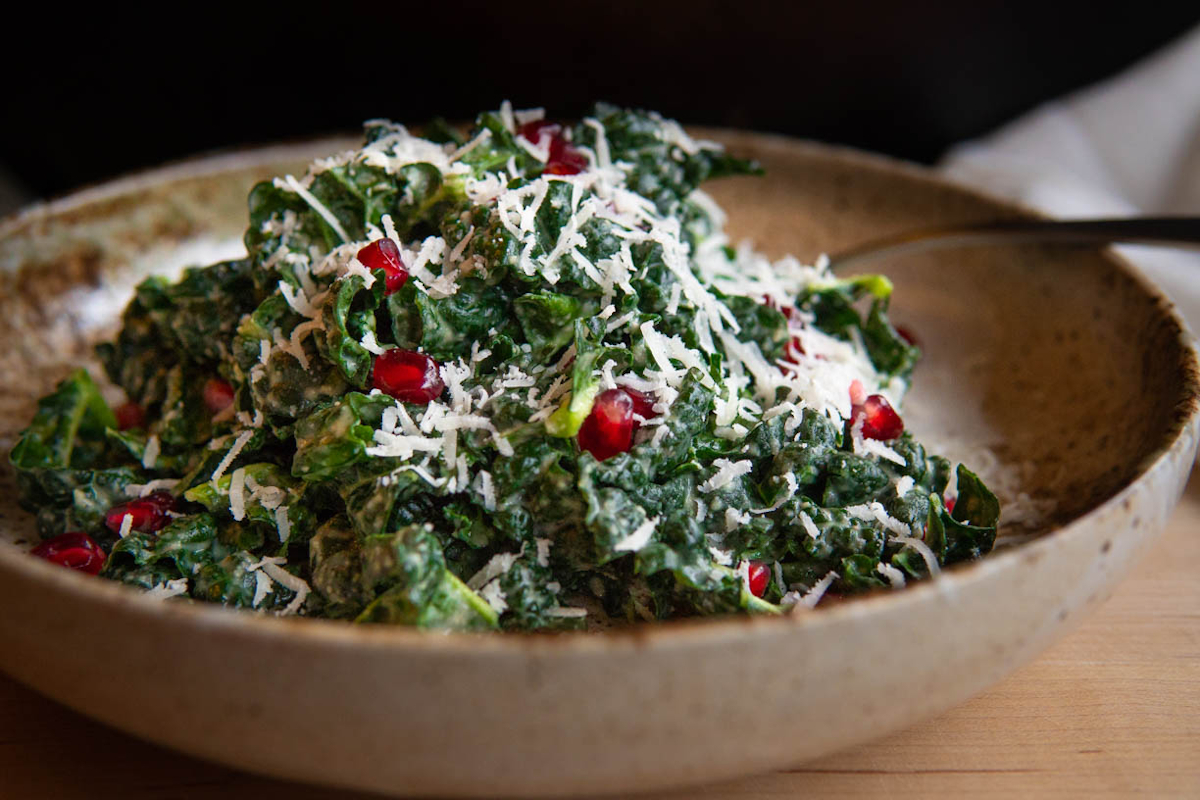 Kale is a persnickety vegetable. A great kale salad is a thing of beauty, but a bad one...well, no one likes gnawing on a fibrous, bitter kale like a cow chewing on cud.
Our truffle kale salad with pomegranate and pecorino cheese is both macro friendly and restaurant worthy, thanks to our WAG black truffle hummus dressing, nutty pecorino cheese and juicy pomegranate seeds.
In addition to delicious ingredients, however, devour-the-whole-bowl kale salads need three things: the right type of kale, a massage and time to rest. Standard green curly kale tends to be a little bitter, so look for black kale, lacinato kale, dinosaur kale or red kale. Remove the thick stems and chop the kale into bite-sized pieces or thin strips for optimal tenderness. Then squeeze a little lemon juice and sprinkle salt over your greens and give them a literal massage, rubbing the leaves between your fingers until they break down a bit. This is a key step for tender salads, so don't skip it! Lastly, dress the salad and then leave it to sit for a few hours (or overnight) in order to let the lemon juice keep breaking down the tough fibers. Because kale is so robust, you won't have to worry about the dressing turning your greens into a soggy mess, which makes it the perfect green for next-day lunches and meal prep.
(Note that while the recipe calls for 150 grams of kale, the macros and serving size for this recipe use only 100 grams of kale, due to the 50 grams of stems that need to be removed from the kale leaves.)
Instructions
Wash and de-stem the kale, using either a knife to cut out the thick stems or a good old-fashioned yank. Then slice the kale into thin ribbons or bite-sized pieces, whichever you prefer, and dry the leaves in a salad spinner (or use a hairdryer...seriously, it works!).
When the kale is dry, put it in a bowl and squeeze 1/2 a lemon over the leaves. Add the salt, then massage the leaves between your fingers until they begin to break down. Right away, the leaves will tenderize and release a bit of juice. You don't want to overdo it and create a mushy salad, but a good minute of massaging should create tender greens that still hold their shape.
Add the dressing and pecorino romano cheese to the kale and toss to coat. Taste for seasonings and adjust the salt and pepper as necessary. Sprinkle in the pomegranate seeds. Let the salad sit for at least an hour (overnight is even better!) then serve up and enjoy.
Can't find black truffle flavored hummus? Use classic hummus + 1/2 a teaspoon of white or black truffle oil (and adjust the macros). If you can't find any truffle products in your grocery store, roasted garlic hummus would be a fantastic substitute for this recipe.
Recent Posts: