Calories
118
Fat
2 g
Carbs
21 g
Protein
4 g
Serves
3
300 g shredded carrots
18 g PB2
2 tbsp soy sauce
2 tbsp seasoned rice vinegar
10 g honey
15 g Thai red curry paste
¼ tsp sesame oil
½ tsp ground ginger
1 garlic clove, minced or finely grated
12 g reduced-fat coconut milk
1 scallion, thinly sliced
Sesame seeds for garnish (optional)
Squeeze of lime
Cooking spray
Salt & pepper
Share:
Tags: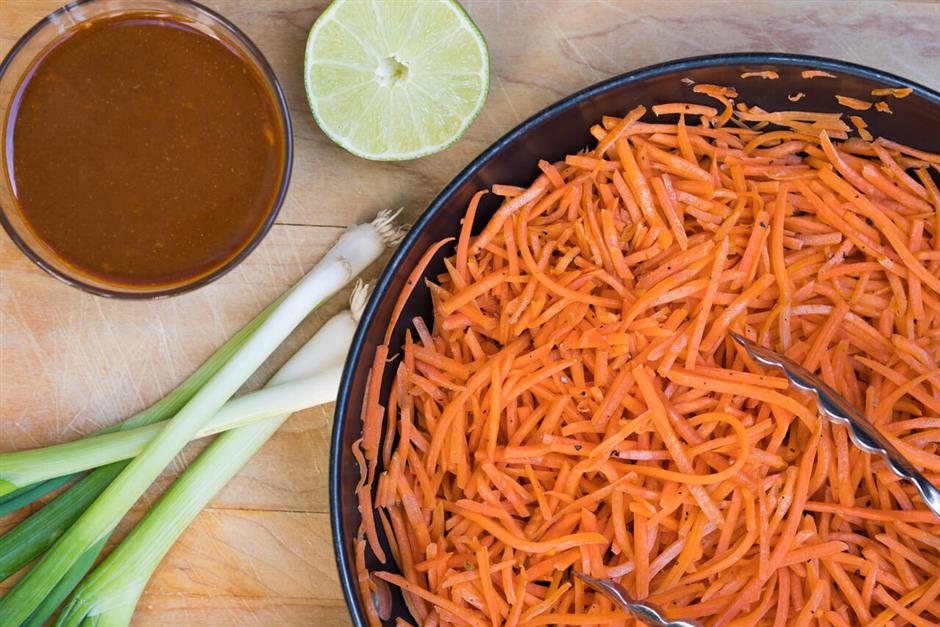 This nutty, spicy, salty and sweet Thai-inspired carrot slaw is packed with flavor and crunch, and easy on the calories. It's a great low-fat option. Eat it on its own for an afternoon snack or toss it with greens and your choice of protein for a meal on the go. The best part? The slaw gets better with time, so make a big batch and eat it for days!
Instructions
In a small bowl, whisk together PB2, soy sauce and seasoned rice vinegar until PB2 is fully incorporated and lumps are dissolved. Add the honey, Thai red curry paste, sesame oil, ground ginger, minced garlic clove, reduced-fat coconut milk, squeeze of lime and combine. Set aside.
Spray a large nonstick frying pan with cooking spray and place it over medium heat. Add the shredded carrots with a little salt and pepper, then cook the carrots for 3-5 minutes to soften slightly.
When carrots are warm but still crunchy, pour in the sauce and toss together until all the carrots are coated. Let the mixture cook for a minute or two to thicken, then remove from heat.
Dish up and garnish with sliced scallions and a dash of sesame seeds.
The spiciness of this dish will depend on the type of Thai red curry paste you use, so feel free to adjust to your personal tastes. For extra spice without the macros, finely slice one red Thai bird's eye chili and add it to the sauce...but watch out, those things are deceptively hot!
Recent Posts: