Calories
77
Fat
1 g
Carbs
10 g
Protein
7 g
Serves
6 (serving size = 1 roll, 55 g)
170 g small shrimp, cooked, peeled and deveined
1 bunch of Thai basil leaves (or regular basil, if that's what you've got!)
90 g enoki mushrooms
1 scallion, thinly sliced
Spinach leaves
6 sheets of rice paper
Share:
Tags: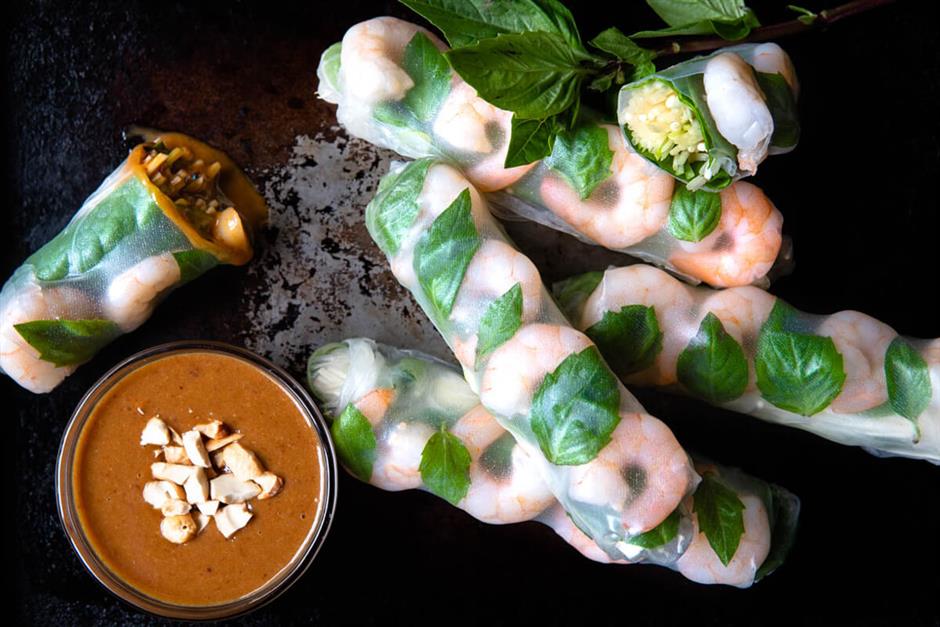 If you're searching for something that can be eaten on the go (without utensils!), look no further than fresh summer rolls. Endlessly customizable to fit your tastes and macros (try subbing shrimp for chicken or tofu), you can make these rolls the night before so they're ready to go in the morning. It may take a few tries to nail down your stuffing and rolling technique, but don't worry, even the funky-looking rolls are delicious!
Instructions
Prepare your rolling station and arrange the cooked shrimp, basil, spinach leaves, scallions and mushrooms in front of you so you can easily reach everything you need. Fill a large skillet with 1 inch of warm water and place nearby.
When you're ready to roll, lay one sheet of rice paper in the warm water and let it soak for 2 seconds, until it just begins to soften. Place the softened wrapper on a cutting board, flattening out the ridges.
Working quickly, as the wrapper gets sticky the longer it sits, arrange the shrimp and a few basil leaves in a row on the top third of the wrapper. Layer the lettuce, mushrooms, and scallions just below the shrimp, making sure to leave an inch of room on the left and right sides.
Fold the left and right edges of the rice paper in, and then starting from the bottom, roll up the rice paper until you have a neat bundle. The sticky rice paper should seal itself. Check out [this tutorial](https://www.youtube.com/watch?v=IfI1wMeDXhg) if you need a rolling demo.
To store the rolls, wrap each one in a damp paper towel and a layer of plastic wrap. Store in an airtight container. 
Serve with our Sweet and Savory Summer Roll Dipping Sauce.
Enoki mushrooms are a mild, long and thin mushroom that can be eaten raw and closely resemble rice noodles in both flavor and texture. If you can't find enoki mushrooms, you can sub in bean sprouts or any other thinly sliced veggie of your choice.
This guide is jam-packed with everything you need to know about nutrition.
From tracking macros to meal ideas.
Recent Posts: