Calories
149
Fat
1 g
Carbs
33 g
Protein
2 g
Serves
5 (serving size = 86 g)
655 g diced butternut squash (1 medium squash)
80 g frozen or fresh cranberries
175 g white onion, sliced into 1/3-inch-thick slices
5 g white sugar
2 tsp dried sage
Olive oil spray
Salt and pepper
Optional: squeeze of lemon or orange
Share:
Tags: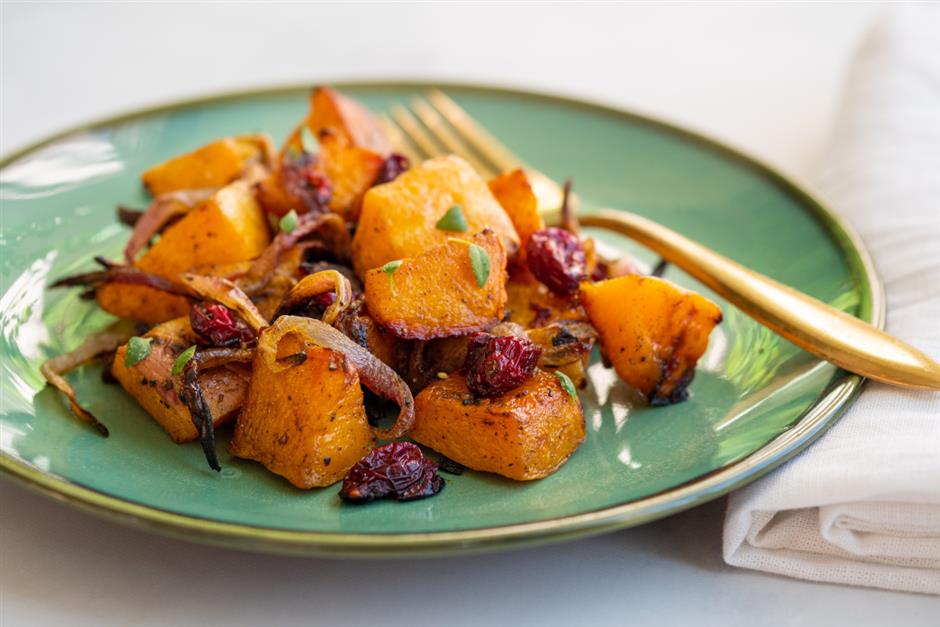 For an easy holiday side that still leaves plenty of room for dessert macros, look no further than our roasted butternut squash and cranberries.
Instructions
Preheat oven to 400 F and line a baking sheet with foil or parchment.
In a small bowl, combine the cranberries and sugar. Set aside.
Peel the squash with a sharp knife or vegetable peeler. Cut the peeled squash in half and scoop out the seeds. Dice the squash into 1-inch chunks and arrange on the baking sheet along with the sliced onions, sage, and a generous sprinkle of salt and pepper. Spray everything with olive oil spray, toss and arrange in a single layer on the baking sheet. Scatter the sugared cranberries over the squash.
Roast for 45–55 minutes, or until the squash is tender, tossing once or twice to make sure the onions aren't burning.
If you're feeling super fancy, squeeze a bit of orange or lemon juice over the top and serve.
The trick to making sure the onions and squash are both cooked but not burnt is the size of your sliced onion and diced squash. Dice the squash in 1-inch chunks and keep the onions on the thicker side, about 1/3- to 1/2-inch thick.
Wondering what your macros might be? Wondering how to track macros in the first place? Check out our Macro Calculation Cheat Sheet & 18 Tips and Tricks for macro counting!
Recent Posts: